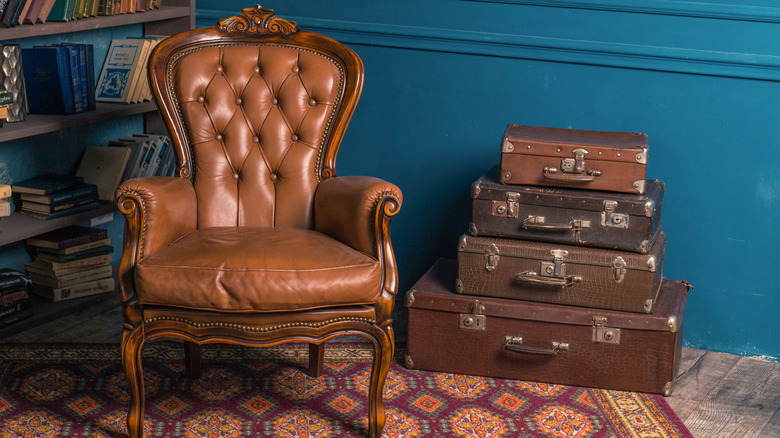 You know you're getting old when you visit an antique shop and they start appraising you. And speaking of appraisals, is that the way to go with antiques? How can you tell what an antique is worth, anyway? We know you have questions, so we've sought out answers, in typical House Digest fashion! But before we get into all the options you have for finding out what your antiques are worth, let's talk a little about what makes an item an antique to begin with. According to Farm Antiques, the criteria is the item must be at least 100 years old. Alternatively, the term vintage is highly subjective, but generally means anywhere from 40 to 99 years old.
In determining value, technology has brought us information at our fingertips via the internet. If we want to make a big purchase, we can easily compare prices and assess quality, see reviews, etc., resulting in the ability to make much more informed decisions. Likewise, if we want to sell an item, we can research it to get a good idea of its worth before we try to sell it, lessening our chances of getting ripped off. But when it comes to antiques, there are so many variables that it's challenging to know what something is worth, with any degree of certainty. Crawford Direct lets us know that with antiques, much of an individual item's value is determined by its quality and condition.
Additionally, with very unique items that aren't in high demand, the value is truly dependent on what someone is willing to give you for it. Researching the item thoroughly is key. Here is how to figure out if what you have is valuable.
Get a free online estimate
One of the easiest things you can do to at least get a general idea of what something is worth is to get a free estimate online, according to Heirlooms at Home. However, to ensure accuracy, always check more than one source. Know going in that this is just a ballpark figure meant only to give you a possible range. Remember, these are typically antique dealers who give low estimates to create an opportunity to purchase the item for less, so they make money. Then again, because they are in the antique business, it can be helpful to know how much you could reasonably expect to get for it. There are a few additional drawbacks to this method, however.
For one thing, a free appraisal cannot be used for insurance purposes — or anything else, really — other than to satisfy your curiosity. Furthermore, they are far less accurate than getting a paid estimate, whether online or in person. These people will not do much, if any, research on the item, and they rely on this aspect of their business making them money, not you. That said, there are some decent online sources for this purpose, such as Instappraisal. This forum is great because it's community driven and thus free to, thus provides both expert and individual advice and information. The platform offers estimates, classifieds, and information on history and value — all for zero dollars. But remember, this is just one of many options for free online estimates, as a quick Google search will show.
Do your due diligence!
Before even considering hiring a professional or getting a paid estimate, you have a personal responsibility to do your due diligence! Know the estimated value of your items before you request an appraisal. If you take this widely agreed upon personal responsibility seriously, you know this means actively doing at least some of your own research in an attempt to both educate and protect yourself. For instance, Antique Appraisers Auctioneers says knowing the difference between an appraisal and a valuation is important, because you may need an official appraisal for insurance purposes, especially if you have valuable antiques. A valuation is much less formal and may only be verbal, but either way is not typically accepted for any other purpose — though there are exceptions.
The appraiser is usually hired to determine the value for insurance purposes, tax purposes, or a will. Prestigious auction houses such as Christy's or Sotheby's will have items officially appraised beforehand. The professional appraiser considers things such as condition, whether it's been restored or not, if there's a maker's mark, and supply and demand in the market. They do extensive research, and according to Consumer Reports, you can expect to pay anywhere from $200 to $400 an hour. Appraisal Institute reports that certified appraisers adhere to a set of professional standards that range from the structure of a review and appraisal form to ethical principles. Perhaps this is why it pays to choose a reputable, certified appraiser carefully if you need an appraisal as a legal document. Do your due diligence!
Look for certain indicators
No matter which method you ultimately decide to go with, before you ask for anyone's professional opinion, Woman's Day says you can look for certain indicators. These include maker's marks or brands, identifying information, quality and materials, and condition. Additionally, Antiques Trade Gazette talks about provenance; is there a significant history of the item, a unique story, or famous ownership that makes it special? Is there a high demand for the particular category of the item? How rare is the item in today's antique market? These are some questions you should try to find the answers to. First of all, try to find out who made the item. Often, this can be found on the bottom of the piece, also called a maker's mark. Check the material it's made of and the condition it's in. If it's mechanical, does it still function?
You'll also want to determine if it's all original and if all the pieces are there (this applies to sets, as well). Restored items are typically not worth as much, but it depends on the quality and care taken with the restoration. If you're dealing with silver or precious metals, take a magnet and hold it up to the piece you want to test. If the magnet sticks, it's not silver, gold, or platinum. Although precious metals will not stick to a magnet, this test is not definitive; it's only a starting point. Also, remember that a patina or aged surface is a sign of value, and if you attempt to restore it, the value actually decreases. While many factors must be professionally evaluated, you can get an idea by knowing the basics.
Hire a professional for an in-person appraisal
When you're sure you have something valuable, you'll still need to get a professional appraisal, and it's a smart thing to have for obvious reasons. Liberty Mutual says a detailed, written appraisal can take four to six weeks to finalize, and offers some great tips for finding a good appraiser. For one thing, find one that specializes in the antique(s) you have, if possible. That will, of course, ensure a higher level of accuracy. Also, look for one who belongs to one of the three major appraiser associations: the International Society of Appraisers, the American Society of Appraisers, or the Appraisers Association of America. Each of these organizations has a list of all members, including their level of certification, so you can find one on their websites if you like. Don't hire an appraiser that charges a percentage of the item's value. Ask what exactly they provide, their process, and how they bill you. Check references.
Money.com says a common mistake people make is getting an appraisal from any person or place that may have an interest in purchasing the item(s). Obviously, this person could be giving you a low estimate to give themselves an advantage on price. By hiring a certified appraiser from one of the aforementioned institutions, this person is bound to ethical standards which prevent them from purchasing any item or items they are hired to appraise. Money.com also lists the three associations from the above paragraph, and adds that the appraiser's background and past appraisals can be found on the websites as well, so hiring one with experience in similar items is easier. You can send the items in, or have an appraiser come to you in person. For insurance purposes, this is the way to go.
Get a paid appraisal online
Although we've discussed getting a free online appraisal, you can have a paid version done if you're iffy about that. Some reputable places do this inexpensively, like Mearto. This website has a 48-hour turnaround which is a plus if you want something faster than four to six weeks. It's also very simple since you only need to take plenty of pictures and write a good description of the piece, which the site guides you through, and you can ask questions at any stage of the appraisal. The cost is easy on the wallet at just $21 per item, and Mearto works with many major reputable auction houses. It can appraise just about any item, and if you decide to sell it, it will connect you with a buyer. However, it is estimating the wholesale value of the item. In other words, the amount your piece could fetch if sold at an antique auction. This is different from the item's retail or collector value.
ValueMyStuff has a 24 to 48-hour turnaround and charges a $28 base price per item. It has over 50 categories of specialization, with at least one expert in each. This site works on credits you purchase; the 48-hour appraisal is one credit, while the 24-hour appraisal costs two credits. The more items you appraise, the less each item costs per credit. This website additionally provides a certification, an estimated value for insurance purposes, and an estimate for an auction sale price. If you decide to go this route, the results can provide both sets of numbers for you. This sounds like a viable option at a competitive price.
DIY with a price guide
There are still many people who prefer to go the extra mile and do the pricing themselves — at least for general purposes. If you love antiques, finding out about them and how they're valued is knowledge worth pursuing, so you might consider purchasing the actual guides on Amazon or other retailers. You can also access the online version of the most important price guides, such as Kovels. This is a major authority on antique price guides, widely used, and accepted as accurate to a high degree. You can access all its convenient pricing tools with a free trial period, after which you'll pay roughly $30 a year if you decide it's worth it. Since antique prices are constantly fluctuating, we can see the value in having a membership and being able to access the latest market information on all kinds of antiques — especially if you're in the business of buying and selling them.
Another great resource is WorthPoint. It also offers a free trial, but here you'll pay about $250 a year, or $20 bucks a month. That's a significant difference, especially if you're not an antique dealer. This website offers lots of perks, like access to a digital library with over 1,000 books about antiques, access to its comprehensive price guide Worthopedia, virtual postcards you can send for the holidays or anytime, an online research guide where you can explore marks, autographs, patterns, and a virtual vault where you can keep records of your items. For the antique aficionado, this membership may be desirable.
Check local outlets
Another option you have to find out what your antiques are worth is to visit a local antique shop, especially if you know the proprietor! Heirlooms at Home suggests visiting local consignment shops in addition to local antique dealers, where you can get an idea of retail prices or ask the proprietor what they would offer for the item(s). Local shop owners can be a wealth of information, especially if they've been in business for a while. You might be able to find out all you need to know just by developing a relationship with a local business like this. However, remember that with antiques in particular, always get more than one opinion on a price before selling.
LoveToKnow suggests keeping tabs on local antique shows, fairs, and auctions. Often these events will host a day where they offer free appraisals to the public. Watch for these, and plan ahead to attend. Many auction houses will also give you a free appraisal, but it will be a wholesale estimate from someone who likely wants to buy it. Keep these factors in mind, and again, get more than one opinion. Local flea markets and antique shows can be additional resources for understanding what items similar to yours may be worth.
Use eBay
Another great resource for finding out what your antiques are worth is eBay. According to Columbia Daily Tribune, eBay is a terrific way to get a good idea of the current market value of any antique or collectible. It has auction-type sales and buy-it-now prices, but there's an easy enough method for finding out what similar items to yours are currently selling for. When you're on the website, you'll see a search area at the top of the page. To the right of the search box, click on the "advanced" button, where you'll see many different criteria you can choose from to help find the item you're looking for specifically. Be sure you check the box that says "sold listings," and you'll get a list of items that match your criteria that have sold and the prices they've sold for. The prices will show up in green.
According to Statista, eBay's active user base has been steadily declining for years, but today still has 138 million (second quarter 2022) active members. Sarasota Antique Buyers warns that when searching for similar items on eBay, don't make the mistake of looking at asking prices. Just look at the sold items with prices in green for what similar pieces have actually sold for because sellers often put impossibly high price tags on their items to garner attention. You can also sort the results to display the highest listed price first, allowing you to see the best-case scenario.
Use social media
Nowadays, everywhere you look, the news is gleaned from social media outlets. The fact is, if you're an aspiring entrepreneur, own a business, a website, work in marketing, etc., you know how important social media is to your business strategy. Why? Because everyone is always talking on social media, and it's a great way to access a lot of people at once. Look at learning about your antiques the same way — you can access a ton of people who can help you on these platforms. Take it from The Art Newspaper, which stated that the antique, collectible, and art markets are now embedded onto the internet and are there to stay.
What's more, the pandemic has accelerated this process and has shown how many more high-net-worth (younger) individuals are collecting art and antiques online these days. All of this is good for the market in general, which has been slipping. Prices have gone up, and there are countless opportunities, no matter your niche. The point is, take advantage of free tools like Facebook, Twitter, Instagram, and TikTok to get advice and possibly offers for your antiques. Although you might receive a good amount of worthless communication, chances are you'll receive a few gems, too.
Request an estimate from a consignment shop or auction house
This option might be for you if you want to find out the value of your antiques and sell them. For instance, if you know you have something of considerable value, say over $1,000, you can go to Christie's or Sotheby's and request an estimate. They'll evaluate your item(s) and give you a free estimate if they decide to auction them for you. You can take it or leave it — there's no guarantee — and they charge a percentage. According to Indeed, a typical commission for an auction house is 10% to 15%. If you have items of high value and want to sell them immediately, this is probably the route to take.
If your antiques are yet undetermined, and you're not at all sure they're of that caliber, you can try asking a local (or online, if you're willing to ship the item yourself) consignment shop for a free appraisal. Most of them will do this if you're interested in consigning with them. But remember, if you can afford to wait for the right buyer, it may make a difference you won't want to miss. Whatever your situation, try to educate yourself as best you can before attempting to sell anything. And good luck!