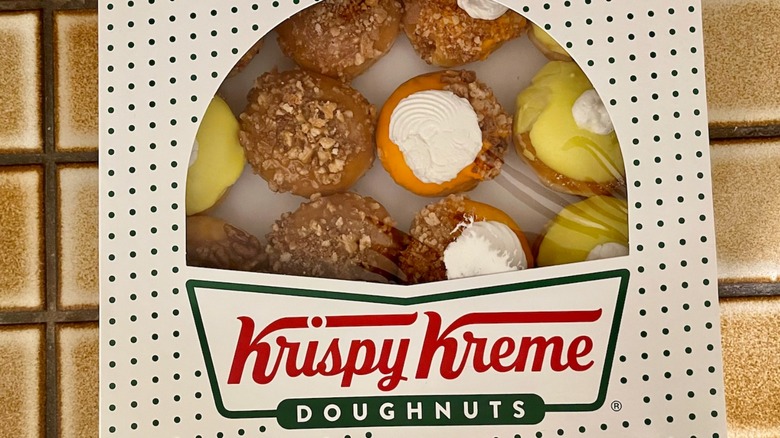 Krispy Kreme debuted another seasonal special in early November, just in time for Thanksgiving. Pie remains our favorite Thanksgiving staple, so when we got word of Krispy Kreme's mini pie doughnuts collection being offered for a limited time, we knew we had to try these four new flavors.
It's the most incredible time of year when we share our gratitude, enjoy a delicious meal with loved ones, and cozy up by the fire as the weather cools down. A lot of stress can come with bringing a dish to Thanksgiving dinner, so save yourself time in the kitchen and grab some Thanksgiving mini pies from your local Krispy Kreme instead.
After tasting Krispy Kreme's Autumn's Orchard Collection and the Haunted House Collection, we wanted to see whether these Thanksgiving mini pies live up to the hype. We tried all of Krispy Kreme's new mini pie doughnut flavors, and here's everything you need to know.
What's in the new mini pie doughnuts?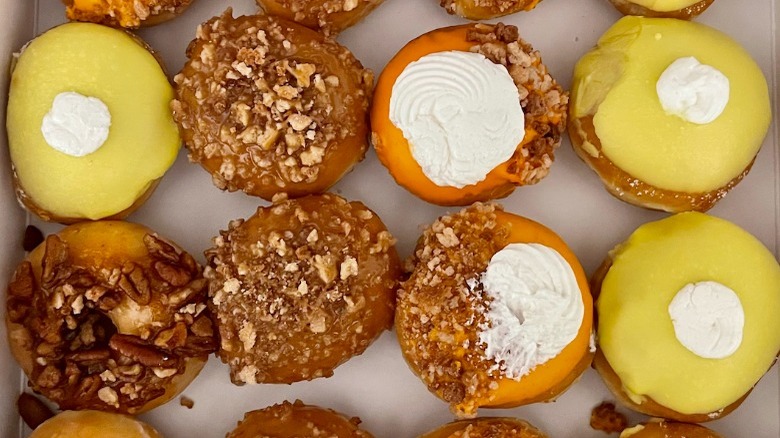 Krispy Kreme launched four new flavors in its mini pie doughnuts collection. The flavors cover the Thanksgiving pies you typically reach for on the dessert table: mini pecan pie, mini pumpkin pie, mini lemon kreme pie, and mini dutch apple pie.
The mini pecan pie doughnut takes a mini original glazed doughnut and tops it with tart filling, chopped pecans, and snickerdoodle cookie pieces. The tart filling and snickerdoodle pieces balance one another out deliciously. The mini pumpkin pie doughnuts contain pumpkin-pie filling and are then dipped in pumpkin-pie-spiced icing and topped with snickerdoodle pieces and a small dollop of signature Krispy Kreme.
We don't usually reach for lemon creme, but this mini doughnut with lemon filling that is dipped in icing and topped with kreme hits the spot. Finally, we're suckers for apple pie, so the mini dutch apple pie doughnut satisfies every time. This mini doughnut contains apple filling, is dipped in caramel-flavored icing, and is topped with cinnamon sprinkles, snickerdoodle cookie pieces, and caramel-flavored icing. It's chef's kiss.
How much does each mini doughnut cost?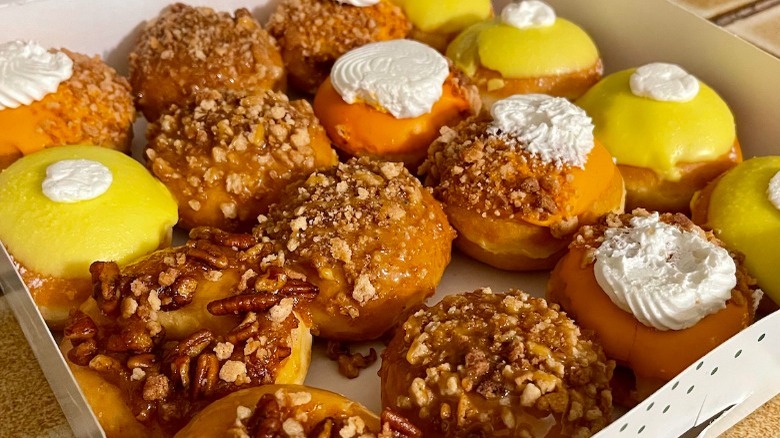 Krispy Kreme's mini pie doughnuts will complete any Thanksgiving dessert table, but how much will they set you back? We're trying these mini doughnuts from Southern California, so consider this when we discuss pricing.
If you're purchasing for a group, we recommend purchasing the specialty 16-count box. This box includes three mini pecan pies, three mini pumpkin pies, three mini lemon kreme pies, three mini dutch apple pies, and four mini Original Glazed doughnuts. This 16-count box costs $17.49.
If you're looking to for only one or two doughnuts, you'll have to go with the standard flavors, as Krispy Kreme does not offer a la carte options for the mini pie doughnuts. Thankfully, with the holidays comes large gatherings of family and friends, but we will say we were disappointed to learn we couldn't grab one or two minis on our next trip through the drive-thru.
How long and where will they be available?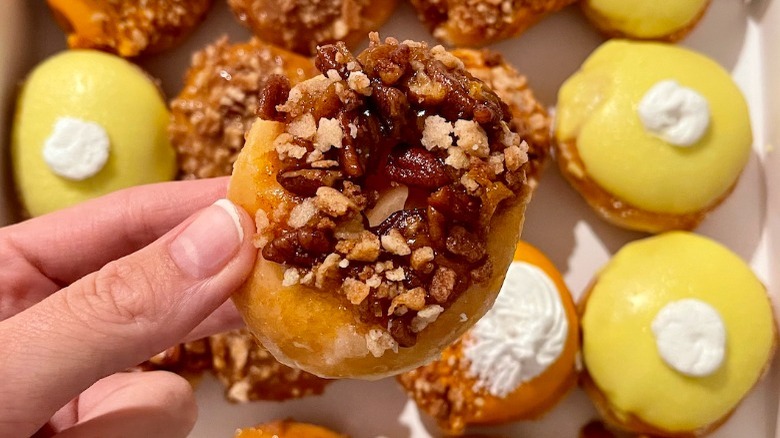 Compared to some of the earlier promotions, like the release of the Pumpkin Spice doughnuts in August, we appreciate Krispy Kreme's time-appropriate launch for the Thanksgiving season. Launching minis instead of the standard doughnuts makes for a perfect bite-sized dessert you can enjoy with the other Thanksgiving food items.
Like any good Krispy Kreme holiday special, the new mini pie doughnuts are available only for a limited time. The mini doughnuts launched on November 7 and will be available through Thanksgiving, which is November 24. Stock up before the big day to enjoy these doughnuts with leftovers all weekend.
Thankfully, our local store carried these delicious mini pie doughnuts, but you can check the store locator online to see whether these doughnuts are available at a Krispy Kreme near you. The mini pie doughnuts can be found at participating Krispy Kreme locations in the United States and Canada.
What's the nutrition information for each mini doughnut?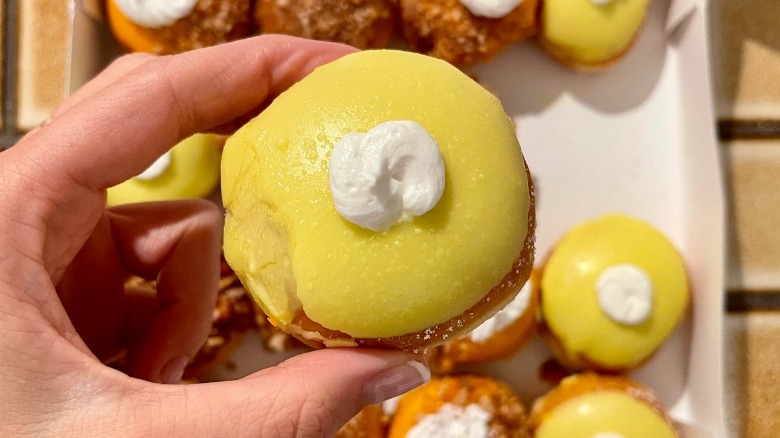 While we like to ignore nutritional information as much as possible during the holiday season, especially when it comes to desserts, we would be remiss if we did not share what to expect when you dive into a box of mini pie doughnuts this season.
The mini pecan pie doughnut contains 170 calories, 21 grams of carbohydrates, 12 grams of sugar, and 2 grams of protein. These have significantly fewer calories, carbs, etc., compared to the standard-sized doughnuts, which we appreciate. The mini pumpkin pie doughnut contains the same amount of calories and protein but has 26 grams of carbohydrates and 14 grams of sugar.
The mini lemon kreme pie doughnut contains fewer calories than the other two at 150 calories. It also has 23 grams of carbohydrates, 11 grams of sugar, and 2 grams of protein. Finally, the mini dutch apple doughnut contains 160 calories, 25 grams of carbohydrates, 11 grams of sugar, and 2 grams of protein.
Overall, the metrics among the four are pretty similar, so don't let calorie information stop you from grabbing your favorite flavor.
How do they compare to other doughnuts?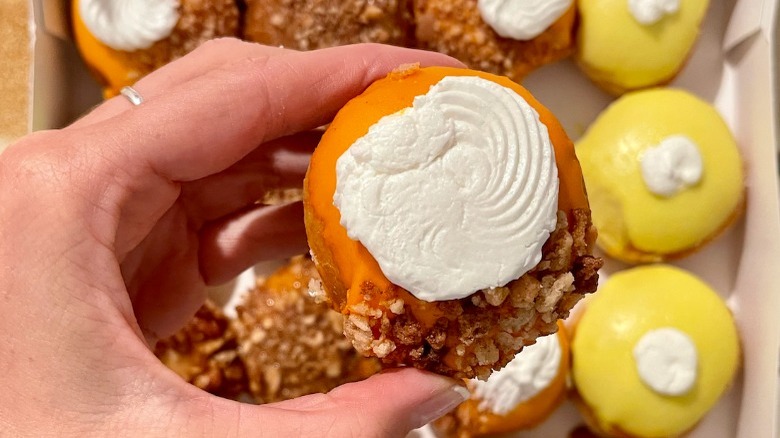 First and most obviously, these doughnuts are significantly smaller than the other seasonal doughnuts we have tried. Although small, these mini pie doughnuts pack a serious flavor punch.
We love that three of the four new doughnut flavors contain fillings; it's like a little surprise in every bite. While no exact doughnut can be compared one to one to the minis, we thought the Spiced Apple Filled Doughnut from the Autumn's Orchard Collection could most commonly be compared against the mini dutch apple doughnut.
For apple lovers, both doughnuts hit the spot; however, we love the mini's additional toppings, such as cinnamon sprinkles, snickerdoodle cookie pieces, and caramel-flavored icing, instead of simply cinnamon.
The mini pie doughnuts give the larger specialty doughnuts a run for their money; we can't believe how much sweetness and flavor can be crammed into such a small treat.
The verdict: We left no crumbs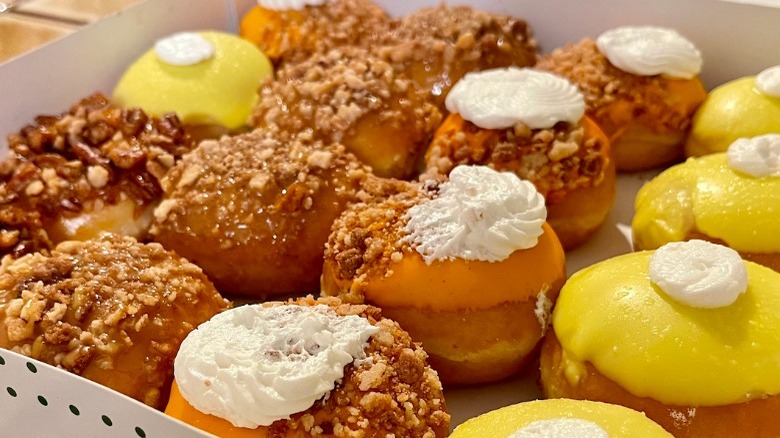 Did the new mini pie doughnuts live up to the hype of the other seasonal flavors? In short, yes.
We loved the different Thanksgiving-themed mini pie doughnuts and wished Krispy Kreme offered more mini options year-round. The plain glazed, chocolate iced glazed, and strawberry-iced with sprinkles minis satisfy in different ways. We're already dreaming of future holiday options and hope the mini doughnuts make the cut. A peppermint mini doughnut sounds divine, doesn't it?
If you're craving pecan, pumpkin, lemon kreme, or dutch apple pie, these mini pie doughnuts make for the perfect treat without causing an upset stomach or breaking your diet. It's a solid substitute for your typical slice of pie. These iconic flavors will be the talk of your Thanksgiving or Friendsgiving table for years to come.
The verdict: We left no crumbs after trying Krispy Kreme's new mini pie doughnuts, the perfect spin on Thanksgiving dessert.