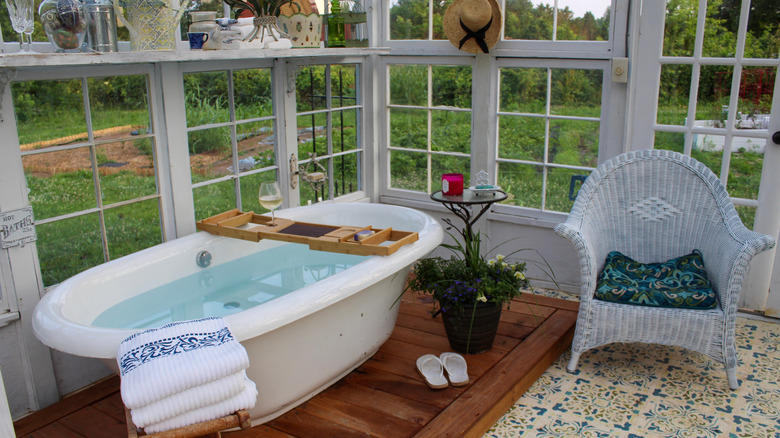 There are many options for customizing your home; while many homeowners only focus on the house interior, having the outdoors tailor-made to your liking is equally essential. Creating the outdoor setting of your dreams needs not stop at installing a fire pit or a magical garden — an outdoor soaking tub is also an excellent option. Installing an outdoor soaking tub is necessary to take comfort to the next level. It gives you the unique opportunity to kick back and relax over the weekend after a long week. The good news is that you can outfit your outdoor soaking tub with hot and cold water to provide you with all-year-round service.
According to Realtor, putting in an outdoor shower will improve your home value, so while you are at it, installing an outdoor soaking tub as well will take the luxury up a notch. But after all, is said and done, do you really need to buy an outdoor soaking tub for your home? To answer this question, it is necessary to look at both the pros and cons of this luxurious addition. Only then will you be able to make an informed decision on whether to buy one. Stick around to find out more!
They don't take up a lot of space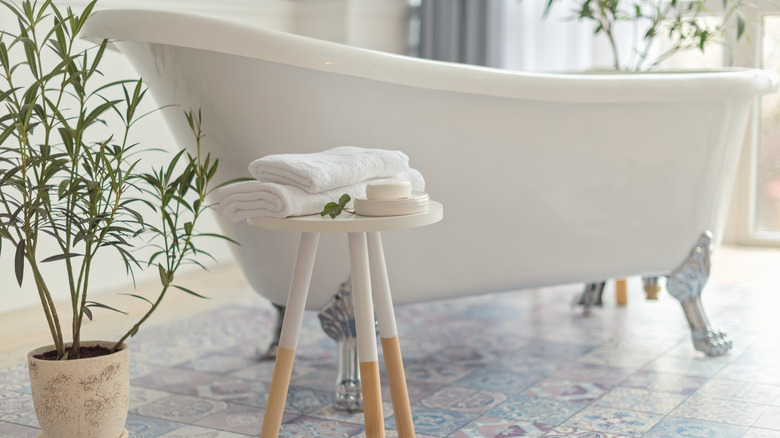 It can get quite frustrating if you are short on space, especially when you want to fit an outdoor hot tub or swimming pool. The good news, however, is that the soaking tub's design often inclines to the bathtub size, which doesn't take up too much space. Essentially, the design of the outdoor soaker is ideal even for yards with little room to spare. They are even smaller than standard-sized, multi-person outdoor hot tubs. According to MasterClass, the average diameter of a soaking tub is between 40 to 50 inches with a depth of up to 34 inches.
Also, the fact that they can be customized to fit into most spaces makes it easy to integrate into the most awkward positions in your yard. Regardless of the size or shape of your outdoor space, you can always come up with a design that is ideal for you. You don't have an excuse for not having this little piece of heaven in your yard. Other than being smaller and customizable, outdoor hot tubs can also fit into most home designs. You have the luxury of choice when it comes to colors, materials, and also size. Because most of them are small, they are less imposing, making them ideal for a rather minimalistic design approach.
They are cheaper than swimming pools
Deciding whether to install a pool in your yard is easier said than done; there are a lot of variables to consider, for instance, the available space, maintenance, and, even more importantly, the installation cost. Fortunately, outdoor soaking tubs give you the perfect compromise. They can easily fit into the tiny space in your yard and are relatively cheaper to install than inground swimming pools. Typically, the average cost of installing an inground swimming pool ranges from $30,000 to $70,000, according to HomeServe.
On the flip side, however, the cost of installing an outdoor soaker is a far cry from what you will need to install a pool. An outdoor soaker that is deeper than a hot tub and big enough to fit two people costs a minimum of $2,000, via Modernize. However, if you need to install a dedicated heater for your outdoor soaking tub, you will need to dig deeper into your pockets for that extra luxury.
They require lots of water
It goes without saying that you will need a water source to enjoy your time outdoors in the tub. Because of that, you will need to hire a plumber to connect underground pipes all the way to your soaker. Depending on how far you want it installed in your yard, you may pay a lot of money for the plumbing services. While you can use a hose to supply water into your tub, you must contend with soaking in ice-cold water. Usually, since these tubs hold a lot of water, your regular home's water heater might not be able to heat the water effectively.
For this reason, your soaker will need a dedicated water heater. Essentially, the cost of purposely installing a heater for your soaker ranges between $1,000 and $3,000, depending on the size, type of heater, and fuel type, via Home Depot. The heating source also needs to be close to the outdoor soaking tub, and the need for water and an additional dedicated heating source are just some of the cons of installing an outdoor soaker.
Think about privacy
While soaking out in the sun is nice, it can be tricky, especially if you live close to your neighbors. Before installing an outdoor soaking tub, think about the position and whether it is private enough to bathe without worrying about prying eyes. The best location is in a secluded corner of your yard, preferably away from the fence. Since not everyone is comfortable taking a bath on display, the only options left are wearing a swimsuit or putting up a privacy screen as recommended by Signature Hardware.
It is also important to mention that as you consider erecting a screen around your soaker, you need to be aware that you might have to compromise your viewing experience. Blocking the view will defeat the whole purpose of having your soaker outdoors. For the best experience, you need to find a way of keeping your outdoor soaking area private without getting in the way of the beautiful outdoor views.
So, is an outdoor soaking tub worth it?
If you are interested in creating your outdoor oasis where you can kick back and relax without breaking the bank, then an outdoor soaking tub is ideal. As mentioned, it can easily fit into the tiniest of spaces and also complement your home design. This unique addition to your home offers endless choices as far as custom designs are concerned. However, owning an outdoor soaker also presents its fair share of challenges.
Other than the concern for privacy and the tremendous water requirements, Modernize also mentions that you need to remember that they are often more expensive than regular tubs. Keep in mind that these tubs are made to withstand different weather elements. Also, consider the extra cost of the unique plumbing requirements during installation. If you can find a way of overcoming the disadvantages mentioned above and are also able to make use of your soaker all year round, then it is a worthy investment.