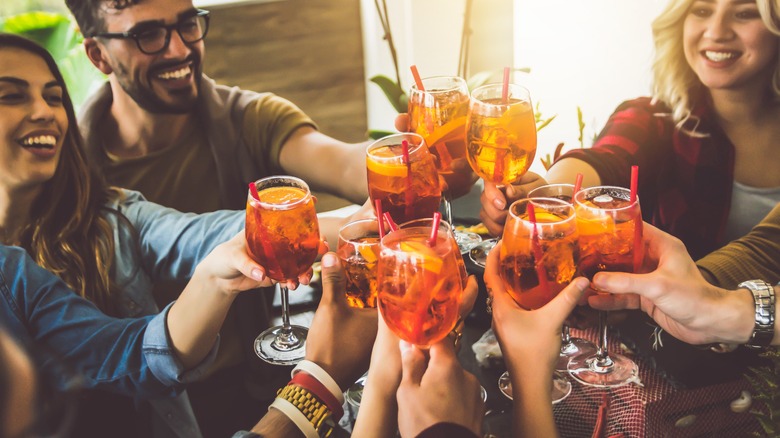 Of course it's a challenge to host 15 to 20 people for dinner, or even more if you're ambitious. But chances are, you've got your planning and shopping routine down pat. You're experienced. But if you want to celebrate the unofficial end of the two-year pandemic in grand style, you've got some planning to do, particularly if you want to pull out all the stops and set up a functional, enticing bar alongside your Thanksgiving turkey (per The Washington Post).
First you should estimate how many people will attend your holiday gathering. Then you should decide which cocktails to include on your bar menu before calculating how much of each type of liquor, mixer, and soft drink you'll need, the Spruce Eats says.
You might have the most fun with the second step, especially if you want to pair the cocktails on your drink board with your dinner menu as seamlessly as sweet potatoes topped with toasted meringue. Once word gets out that you're spotlighting five cocktails as your "house specialties," you're bound to open the floodgates to suggestions. But keep the bar — the other type of bar — set high. Obviously, autumn is the season for pumpkin and toasted pecans. But fruit-laced, fizzy cocktails may be best at balancing out a heavy meal with their light, refreshing flavor.
Thanksgiving Sangria
It really should be no surprise that Liquor.com refers to sangria as a type of punch — a wine-based drink that originated in Spain. The chopped fruit on top doesn't have to be floating in a punch bowl; sangria looks equally festive in wide-mouth pitchers and trifle bowls, too. Most sangria recipes start with a base of red wine, but you can use rosé, white wine, or sparkling wine, if your guests prefer.
However, if they think you've simply inserted the word "Thanksgiving" in front of your sangria offering, they'll be in for a pleasant surprise. This recipe for Thanksgiving Sangria will keep them guessing (which means it could morph into a fun party game, too). Three cups of pomegranate juice and ½ cup of spiced rum will provide the elements of surprise; sparkling cider, allspice, and cinnamon will provide the lip-smacking finishing touches that will cause a line to form for refills.
Bourbon Bramble
It would be going too far to say that hosting a Thanksgiving bar without Wild Turkey bourbon would be un-American, but a mere glance at the bottle should convey to your guests that you've embraced the holiday spirit — and they should too.
There is a lot to unpack with this bourbon, partly because it's been aged in white oak barrels. It emerges at least five years later with the distinct aroma of oak (naturally), caramel, and vanilla. The resultant aroma commingles with the flavors of vanilla and caramel and traces of honey and orange, via Wild Turkey Bourbon.
With all of that complexity, it's no wonder that the Bourbon Bramble keeps things simple — literally. It doesn't need more than simple syrup, lemon juice, and a splash of blackberry liqueur. (However, even one, small blackberry garnish has been known to provide the element of perfection the Bramble is known for. It's the drink you want in your hand when photos are taken.)
Pumpkin Pie Martini
Have your guests decide: is the Pumpkin Pie Martini more pumpkin or more martini? (And another drinking game is born…) But first, your appointed bartender can't be in too much of a hurry to line up the martini glasses on the bar. A reserve of whipped cream must be set in the freezer — enough cream to create a dollop on top of each glass. The cream will add to the richness of the drink while keeping it chilled at the same time.
While the cream gets cold, the rest of the ingredients are combined in a shaker. This includes vanilla vodka and rum, boosted by pumpkin puree, half and half, and maple syrup. A dash of pumpkin pie spice and a handful of ice elevate the mixture from dessert to cocktail. Or is it the other way around? This could be up for your guests to decide, though they may require seconds to reach the correct verdict.
The Apple Cranberry Moscow Mule
You may know that the original Moscow Mule is a snap to mix. It includes only vodka, lime juice, and ginger beer, Simple Joy says. (Ginger beer is similar to ginger ale in that they're both non-alcoholic. But ginger beer is spicier and more flavorful, Town & Country says.)
The Apple Cranberry Moscow Mule raises the flavor quotient one notch by including apple juice and cranberry juice, using two fruits that dominate the Thanksgiving landscape. Topping the cocktail with fresh cranberries will give it an added festive touch, though you may wish to warn your guests not to confuse their drink with all the sangria glasses around them.
To add to the holiday spirit, many people drink Moscow Mules in copper mugs, which help keep drinks chilled. As the host, your twin motivation may be that copper mugs look stylish, and their reflective sheen creates a soft glow of attention.
Negroni Cocktail
As many giggles as your impromptu bar-trivia games may be spawning, you can draw the line at the Negroni cocktail. It's a drink of "thirds" — one-third gin, one-third red vermouth, and one-third Campari (via The Pioneer Woman). Most drinkers (or at least, the serious ones) agree that a Negroni wouldn't be a true Negroni without the Campari, an Italian liqueur. A softer chorus would disagree over more than just a technicality. They say that the Negroni is, for all intents an purposes, an Americano, which is made with club soda instead of gin (via Liquor.com).
Be forewarned that Negroni lovers tend to have strong opinions about what twists enhance the bitter Italian classic most. If this happens on your clock, try a diplomatic approach and focus on what sits next to the cocktail glass instead of what's inside of it: kettle chips seasoned with garlic salt and paprika. It's a zesty companion to bring balance to this intense drink — probably similar to some of the people at your holiday party (per The Pioneer Woman).