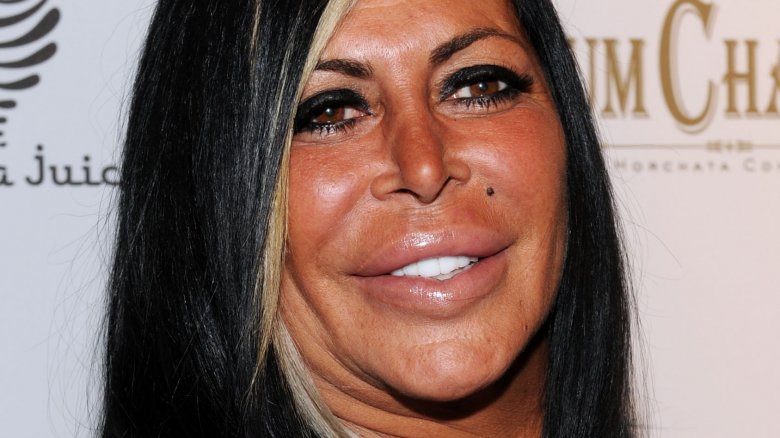 We may receive a commission on purchases made from links.
Known for her larger than life personality and straight-out-of-central-casting look, Angela "Big Ang" Raiola shot to stardom on the VH1 reality series Mob Wives. She was "the niece of Salvatore "Sally Dogs" Lombardi, a deceased captain of the Genovese crime family," according to the Daily News, but her connection to organized crime wasn't what endeared her to fans.
Raiola's good-natured spirit and sense of humor — all delivered with her trademark rasp — made her a star, which is why fans took her death particularly hard when she lost her brief battle with brain and lung cancer in February 2016.
Unfortunately, cancer wasn't her only fight. Though she achieved fame later in life, Raiola's ups came with plenty of downs — right up to the end. Here's a look at the tragic life and death of Big Ang.
Big Ang lost the battle with stage-four cancer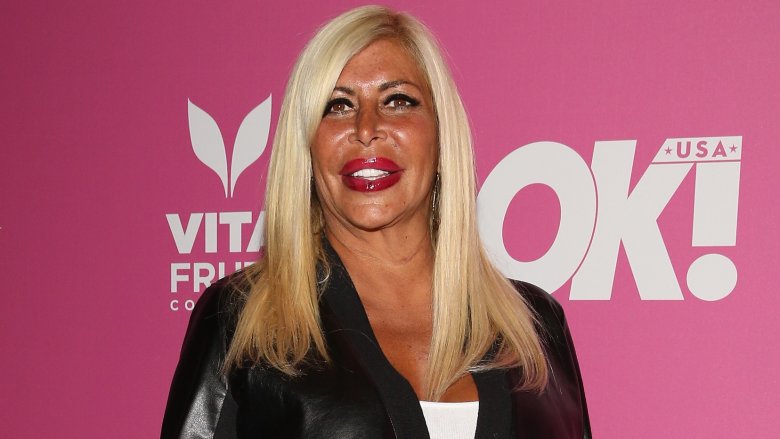 The hearts of Mob Wives fans were broken into pieces when it was revealed that Raiola had been diagnosed with stage four lung and brain cancer in December 2015. According to her final interview on The Dr. Oz Show (via People), by January 2016, it was apparent that her chemotherapy treatments had been unsuccessful. Raiola then attempted a "newer, experimental immunotherapy," but was unable to receive the treatment due to "a lung problem physicians found the morning of her first appointment."
To fund her alternative treatment, Raiola's sister, Janine Detore, created a GoFundMe page. The goal was to reach $25,000, which they surpassed with donations topping $46,000. Shortly after her cancer news went public, Raiola tweeted a special thank you message to her fans, saying, "I know I've said it before, but I just want to make sure it's always known. Thank you ALL for the concern, support, love, & well wishes." In the following tweet, she added, "I truly love you all."
A few weeks after her sit-down with Dr. Oz, Raiola passed away on Feburary 18, 2016, after contracting pneumonia, according to The New York Times.
But this wasn't Big Ang's first health scare
Raiola was reportedly diagnosed with a cancerous, lemon-sized tumor in her throat in March 2015. At the time of the diagnosis, Raiola referred to her stage 2 lung cancer as a "minor setback," and underwent two major, ten-hour surgeries on her road to recovery. In September 2015, Raiola spoke to People about her cancer battle, admitting it forced her to change her lifestyle immediately.
"I'd smoked for 40 years. No one could tell me what to do," she confessed. "[The tumor] was blocking my airway. I quit smoking the day I found out." Raiola added that having surgery over chemotherapy treatments ultimately had a severe impact on her body. "If I had known, I might have picked the treatments. It feels like they cut my head off and put it back on."
At the time, Raiola said that doctors told her that she was "a very lucky person," and that she was "doing the best [she could do], taking it day by day." Unfortunately, it wouldn't take long for her luck to change.
Big Ang separated from her husband a month before her death
Fans of Big Ang's stint on Couples Therapy already knew that her marriage to husband Neil Murphy wasn't on solid ground. Years before the reality TV marriage counseling attempt, Raiola described their union as "rocky" in her 2012 memoir, Bigger Is Better. But the final straw apparently came during her cancer battle, as she revealed to Radar Online just one month before her death that she and Murphy recently separated.
"I don't need to be with somebody who doesn't support me and I don't need him," she told the tab, adding, "I just feel like Neil not being a man put pressure on it [the marriage] … I learned that you're better off by yourself because you really don't need a man in your life."
Despite that shockingly public rebuke, Murphy somehow saw the situation differently. After Raiola's death, Murphy told Entertainment Tonight, "I never left her side. … even though she didn't want me, I went. I was there at the hospital for the last two days with her. I mean, to me, we weren't 'estranged.'" He speculated that Raiola's decision to distance herself from him was due to doctor's advice on limiting her "stress," much of which came from their troubled relationship.
In the end, however, Murphy still had kind words for his late wife. "It was kind of a crazy life being married to her, but it was good," he said. "I would never change anything."
Big Ang had a brief window of hope
TMZ reported the return of Raiola's cancer in December 2015, claiming that doctors told her a few months earlier that she had been "cancer free." The tab said that Raiola received the bad news during "a routine check-up," where she was also told there were signs that the cancer had spread to other parts of her body.
Dr. Oz later elaborated on Raiola's diagnosis, telling People in February 2016 that after her surgeries to remove tumors in her throat, she also had a tumor removed from her lung. Following that, she was "declared healthy," until December when doctors discovered that her cancer had "metastasized to the brain and the adrenal gland," which Dr. Oz described as "a much worse scenario" than her previous throat and lung cancer diagnoses.
According to Hollywood Life, fans only got the official word about the fatal diagnosis just days before Raiola's death when the revelation was featured during an episode of Mob Wives. While live-tweeting along with the episode, Raiola also broke her silence on the matter, writing, "Not looking forward to reliving this moment right now. But it is part of my journey and people need to be educated on it for their health."
Big Ang's mother died at the same age
After Raiola's death, her sister, Janine Detore, revealed that Big Ang and her mother, Jean Sambuco, were both 55 when they died, and that they both died in February. Detore detailed the eerie coincidence to Radar Online, telling the tab that she, her sisters, and her mother all shared the same birth month, June, as well.
Raiola previously opened up about the death of her parents in her memoir, Bigger is Better, writing that both of them "[died] too young." In a distressing entry about her mother's passing, Raiola wrote that she was in her "mid-twenties" when she went to visit her mother in Florida, where she lived at the time. While her mother was "down the hall" doing laundry, Raiola and her stepfather "heard a loud thud." Her mother had collapsed after suffering an aneurysm. She was rushed to the hospital, where "she fell into a coma and stayed on a respirator for two days." Eventually, she was declared brain dead and taken off of life support.
Raiola's aunt Rita wrote a passage for the memoir about Sambuco's passing, in which she described Raiola as "devastated" afterwards. "That event changed Ang's whole life and her way of thinking," Aunt Rita wrote, adding, "She learned she had to depend on herself."
Big Ang got arrested for selling drugs
In 2012, The Smoking Gun uncovered that Raiola was arrested in 2001 for selling cocaine. The arrest was part of a larger undercover investigation by the DEA that had been "targeting a mob-tied drug ring operating in New York City." Raiola, whose handbag reportedly contained 14 small plastic bags of cocaine at the time of her arrest, was later indicted on six felony counts and sentenced to three years' probation and four months of home arrest after pleading guilty to one of the counts. Her sentence was subsequently modified to include "an outpatient and/or inpatient drug treatment or detoxification program," according to the report. Reasons for the amended sentence were not revealed.
Raiola later explained the arrest in her book Bigger Is Better. She wrote that someone she "thought [she] could trust," who she nicknamed "Scumbag," ended up "[stabbing her] in the back" by wearing a wire and ratting her out to authorities. As for why she became a drug dealer in the first place, Raiola confessed, "I was a single mom, supporting my family, paying $3,000 in rent. I did it for the money. I wouldn't do it again and haven't since. I learned my lesson."
And so did Big Ang's son
The same year Big Ang's drug-dealing past hit the headlines, her 23-year-old son, Anthony "AJ" D'Onofrio (pictured above), was arrested for allegedly selling painkillers and other drugs, according to the New York Post. At the time, police told the Post that D'Onofrio had been indicted in a "five-person narcotics ring involving the sales of Oxycodone, marijuana and cocaine" that began in October 2011.
D'Onofrio, who was "charged with criminal sale of a controlled substance, criminal possession of a controlled substance and conspiracy," ultimately entered rehab as part of a plea deal that allowed him to avoid jail time. The incident marked one of many run-ins with the law for D'Onofrio. According to the report, he was booked on DWI charges in October 2011, only a few months after he was "accused of hitting a man with a pipe." He was also previously booked on drug charges in 2010. In 2008, cops discovered "an unloaded gun and a small amount of weed" after he was pulled over for talking on his cell phone while driving.
A man died outside Big Ang's bar
Big Ang's famous — make that infamous — Staten Island bar, Drunken Monkey, had trouble staying out of the headlines. For starters, in 2012, two men stole "a trailer full of kitchen equipment" worth around $1,000 from the establishment's parking lot, according to SILive. Two years later, in a much more tragic example example of the neighborhood watering hole's issues, a man got killed outside the bar.
The Daily News reported that 47-year-old Abdou Cisse was killed after "[falling] backward and [cracking] his skull on the pavement" at about 3:40 a.m. while trying to break up a fight. Two men reportedly fled the scene immediately thereafter. The tragic death of Cisse hit Raiola hard. "He was not just a customer, but a gentle giant that I loved," Raiola, who was reportedly filming Mob Wives in Brooklyn when the fight went down, tweeted. "I personally share my heartfelt condolences to his loved ones, and we too are feeling this loss in our drunken monkey family," she wrote in a follow-up tweet.
The man who allegedly struck Cisse, Stephan Fassano, was eventually caught; in December that year, he was sentenced to three-to-nine years in prison.
And then her bar got shut down
If you recently watched a marathon of Mob Wives and felt the urge to rush out and visit Drunken Monkey — even knowing that, sadly, you won't get served by Big Ang — well, you can't. That's because the bar got shut down by the New York State Liquor Authority in February 2015.
According to SILive, the shutdown was ordered after the state discovered that Raiola was a silent owner of the bar. Apparently, because she pleaded guilty to a felony back in the day, Raiola "cannot own a bar without some form of special permission from the state." Although she never applied to be on the bar's liquor license, the report says she was still "listed as a signatory in a bank account affiliated with the bar, and she was given power of attorney over the place." In other words: bye bye, bar.
But it's not all bad news. SILive reported in January 2016, that the bar rebranded as the Funkey Monkey and reopened. Big Ang was even on hand "for a duel grand opening and Mob Wives premiere viewing party" for the reincarnated roadhouse, where she "packed the house with her family, friends, fans, sponsors and media."