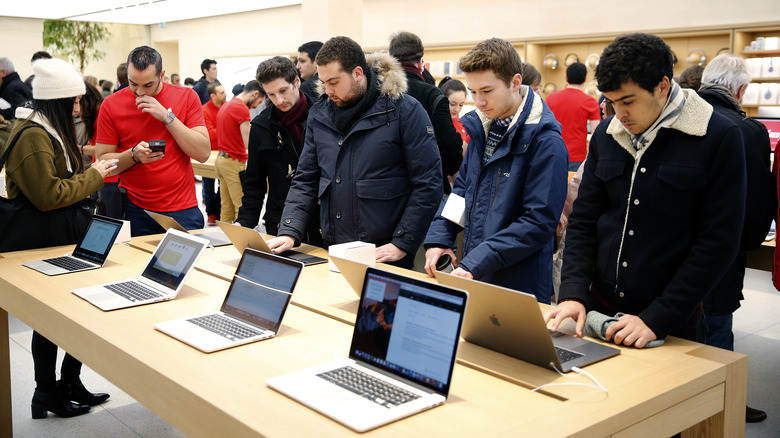 We may receive a commission on purchases made from links.
An affordable laptop can be interpreted in many ways. Some people may be interested in a laptop under $100 that can browse Facebook and watch YouTube videos. Others may want a more work-focused laptop that has a strong battery, and, enough power to multitask various apps at once. In addition to this, you'll also find content creators and gamers who may be in the market for an inexpensive laptop that includes a dedicated graphics card. As always, better specs usually increase costs, but there are workarounds with different brands, specials, and upgrade potential.
Whatever your circumstances, we have searched high and low to bring you 15 affordable laptops that we recommend. Each laptop has been evaluated in proportion to its internal components and sale price. Simply put, you'll get the best value for money within each specification tier (entry-level, work, and gaming). Therefore whether you have a one-hundred-dollar budget, or a few thousand to spare, you'll find a potential laptop that aligns with your wallet.
Dell Chromebook 11 3120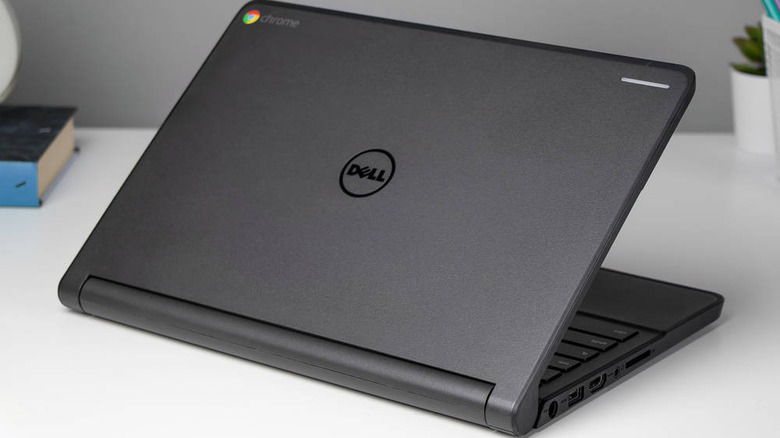 Finding a working laptop under $100 can be a challenge. Your options are generally quite limited, from secondhand marketplaces to shady imports that sound too good to be true. Well, we've got some great news. We've managed to find a Dell Chromebook for $69, and, it comes with a warranty!
Although sold as a renewed product, these laptops are sold on Amazon, and marketed as "professionally inspected, tested, and cleaned by Amazon-qualified vendors." They are in excellent condition and show no signs of cosmetic damage.
But, what can a $69 laptop actually do? Surprisingly quite a lot, and there's a lot of value for money here. The Dell 11 3120 Chromebook includes an 11.6-Inch HD display, 4 GB of RAM, 16 GB of storage, Wi-Fi connectivity, and a webcam. If you're looking for a laptop that can handle simple tasks such as browsing the web, sending emails, or writing documents, then this little guy might just be what you're after.
Having said that, the Chromebook runs on an older Intel Celeron N2840 processor, so we wouldn't regard it as highly-responsive. Once you open a few tabs things will begin to slow down. On the plus side, the Dell 11 3120 does have an amazing battery life of up to 10 hours. Your experience may vary though, as heavier resource-intensive tasks can decrease these numbers to the mid-three to five hour range. Finally, if you're itching to increase the storage space, you can do so via the SD card reader.
Samsung Chromebook 4
If the renewed Dell Chromebook caught your interest, then you're definitely going to like the Samsung Chromebook 4. This is a more updated version being a 2021 release, and is sold brand new! At just $120 you can experience an improved Intel Processor, 32 GB of storage, and an even better battery life of 12 hours!
Generally speaking, most Chromebook tasks are meant to be completed within the Chrome browser. While these laptops do offer app support, they aren't intended for heavy workloads. The RAM speed in particular can play a role in the responsiveness of a laptop. The Samsung Chromebook 4 N4020 processor, therefore, has a higher RAM speed support of 2400 MHz versus the N2840 at 1333 MHz. Is it a huge upgrade? No, but you'll definitely experience fewer delays under heavy loads.
The Chromebook 4 also comes with more connectivity options when compared with the Dell 11 3120. In addition to Wi-Fi, you'll also have access to an Ethernet port and Bluetooth. You can use a cable for a steadier internet connection, or, tether your phone's internet via Bluetooth. Did we mention the laptop includes USB-A and USB-C support too?! That's plenty of options for something so close to $100.
Size-wise, the Samsung Chromebook 4 has an 11.6-inch HD screen, measures 11.33 x 7.96 x 0.66-inches, and weighs 2.60lbs. It's, therefore, a pretty good handheld companion should you want to walk around the house and browse at the same time.
Acer Chromebook Spin 311
Are you unsure whether to buy a tablet or a mini laptop? Perhaps you're debating the convenience of a touch screen versus the more accurate keyboard and touchpad combination. Well, what if you could have both for under $200? The Acer Chromebook Spin 311 is a convertible laptop with a unique design. Its 360° hinge allows you to rotate the display and keyboard to any angle to create a notebook, tablet, or stand-up display.
Now, hang on, you might be thinking to yourself, a foldable laptop under $200 might cut a few corners on build quality. Furthermore, how long until you eventually snap this thing in half? Well, Asus offers a 1-year warranty and the option to increase any maintenance or servicing plans upwards of 3 years.
Inside you'll find an Intel Celeron N4000 processor, which handles most day-to-day tasks with ease, 4 GB of RAM, and 64 GB of built-in storage. The Acer Chromebook Spin 311 also has a good amount of ports too. There are 2 x USB-C, 2 x USB-A, and a Micro-SD slot to increase storage capacity. You'll also find Wi-Fi and Bluetooth connectivity, however, an Ethernet port is absent, unfortunately.
One of the best highlights of the Acer Spin 311 is the battery life. Users can expect up to 15 hours of playtime with relatively fast charge times. If you want a unique design and enough power to last the entire day, the Spin 311 might be calling your name.
Asus BR1100
Buying a laptop for younger kids can be tricky. Besides the concern of giving them access to the internet, you've also got to worry about them accidentally dropping the thing. In most cases, manufacturers aren't too lenient with warranty claims involving fall damage. But, times are changing, and the new 2022 Asus BR1100 could be the answer to all your child-friendly concerns.
Right away, you'll notice that the Asus BR1100 is built to last. The laptop is made of a combination of both rubber and plastic so it can definitely protect itself. Asus claims that the BR1100 has military-grade durability, therefore it should withstand "everyday knocks, bumps, drops, and spills without damage." They're so certain about the build quality, they're even including 1-Year accidental damage protection. It may not be the most attractive laptop, but at least it's tough.
Specifications-wise, the Asus BR1100 includes an Intel Celeron N4500 processor, 4 GB of RAM, Windows 10, an 11.6-inch HD display, and Wi-Fi or Bluetooth connectivity. At the present moment of writing this article, there are four variations in storage size and price. The cheapest option is the 128 GB model which retails for $180, while the bigger 640GB model is $230.
Build quality aside, our favorite feature of the BR1100 is the privacy shutter. This allows you to hide the webcam and protect your kids from any unauthorized contact. The noise-canceling microphone is also great, as it reduces background noise when they do decide to head into a virtual class.
HP Chromebook 11a
Many factors determine a laptop's battery life. More than often, resource-intensive tasks will drain your battery faster than you expect. Manufacturers may advertise a 10-hour lifespan, but these numbers dwindle when you open apps such as YouTube. While the quality of your battery may play a part in this, your processor may be the root of the problem.
The HP Chromebook 11a is built with a powerful Mediatek MT8183 processor, that not only promises upwards of 15 hours of battery life but retains those values whatever the task. We're not saying it's an M1 MacBook (more on that later), but it's really optimized. Movies, shows, or video calls will not drain the battery any faster than browsing the web or sending an email. Even better, the 11-inch HD display has an anti-glare coating that reflects light, so you'll never miss a moment of the action.
While the MediaTek processor can handle most Google Chrome and Android apps we would advise against the gaming feature as advertised by HP. The 11a series has a modest 4 GB of RAM, 32 GB of storage, and an integrated graphics card. Therefore, any form of gaming will likely slow the system down.
The HP Chromebook 11a measures 11.22 x 7.59 x 0.66-inches in dimension and weighs 2.36 lbs. Its snow-white finish and extended battery life make it a good option for those wanting performance and style on a budget. At $150 the Chromebook 11a is a steal!
Acer Aspire 5 Slim
What makes a good workstation laptop? For starters, it definitely needs to go beyond the capabilities of small tasks such as web browsing. A workstation laptop needs to offer versatility and the power to run various apps and documents simultaneously. Storage or memory space shouldn't be a problem, and your operating system shouldn't slow down under pressure.
If you're in the market for a laptop that can do the above, and more, then the new 2022 Acer Aspire 5 is worth checking out.
The Acer Aspire 5 Slim is an improvement in terms of technical specifications from the previous laptops we have listed. Although it retails between $450 and $800, the internal components are worth the money. The middle-range $500 version has 12 GB of RAM, and a 512 GB SSD. You'll also find an AMD Ryzen 3 3350U processor and a fingerprint reader!
The final result is a business laptop that can handle any task you throw at it. Whether that's listening to music while editing a document, or, entering a call while sharing your screen. Speaking about screens, the Aspire 5 has a beautiful 15.6-inch full HD IPS panel. If you're into vibrant colors, the display does not disappoint in terms of warmth and picture clarity.
What's more, it's not called the Slim for nothing, considering the beefy internal components. The Aspire 5 weighs 3.97 lbs with a closed height of just 0.71-inches. Place it into any briefcase and you're ready to go!
HP 15-ef1020nr
View more and carry less, the HP 15-ef1020nr is another work-focused laptop that combines long-lasting battery life with a thin micro-edge bezel design. What separates the HP from the Acer Aspire 5 though, is its unique 15.6-inch touchscreen capability and cheaper price of $400. There is a trade-off though, and that comes in the form of slightly weaker system components.
What it lacks in high-end business components it makes up in portability. The HP is more compact than the Aspire 5 at just 9.50 x 14.10 x 0.70-inches in dimension, and, 2.99lbs in weight. So, who should really dub the Slim title? Jokes aside, the better internal components of the Aspire 5 would be more in proportion to its total weight, but, the HP still puts up a good fight.
The HP is equipped with an AMD Ryzen 3 3250U processor, 8 GB of RAM, 256 GB of SSD storage, and an impressive lithium-ion battery. This model really shines in its battery life with up to 9 hours on a single charge. You can also go from 0% to 50% in just 45 minutes using the HP Fast Charge feature.
It's important to note that the HP 15-ef1020nr also offers upgradability options. You can increase the RAM capacity to 32GB, as well as the storage space. Unfortunately, there is only one slot for storage, so you'll have to remove the existing 256GB NVME SSD and replace it with a larger one.
ASUS VivoBook 15
If you don't need a touchscreen, and you like the high-end features found in the Acer Aspire 5, then the ASUS VivoBook 15 might be a good middle-ground between price and performance. Similar to the Aspire 5, the VivoBook has a full HD IPS panel that offers rich detailed colors. You'll also find the premium features of a fingerprint scanner and a backlit keyboard that comes in handy at night.
In terms of internal components, the VivoBook 15 is quite similar to the HP 15-ef1020nr. It has an Intel i3-1005G1 processor which is comparable to the AMD Ryzen 3 3250U CPU. The laptop also includes 8 GB of RAM, and a 128 GB SSD. RAM can be increased to 16 GB and you can further upgrade the internal storage via a 2.5" SSD slot. The best part is that the VivBook is only $365, so you can spend the extra $30 on an additional 8 GB stick of RAM!
Port wise you'll find everything you'd need for a work laptop. USB 3.2 Type-C, USB 3.2 Type-A, USB 2.0, and HDMI are all accounted for, as well as Bluetooth and Wi-Fi connectivity. Another standout feature is the NanoEdge bezel display with a stunning 88% screen-to-body ratio. This is similar to the HP touchscreen laptop, but instead of a 1366 x 768 resolution, you're rocking 1920 x 1080. The only shortfall we found was the battery life which is around 5 hours. But that's likely due to the larger resolution and backlit keyboard.
Acer Swift X
Here is a 4K laptop that is on the high-end spectrum for gamers and content creators. If your work requires you to edit footage or focus on designing, then you'll likely need a laptop with a good graphics card. Performance-based laptops and gaming laptops can therefore clash in some ways. You'll find laptops that meet your requirements, but their prices are inflated by unnecessary gaming features such as RGB.
Now, we're not saying that gaming laptops are overpriced, but sometimes you're looking for a better processor and graphics card only, with the rest of your laptop being pretty standard. This brings us to our Acer Swift X creator laptop choice. The Swift X has an AMD Ryzen 7 5800U CPU, with an NVIDIA RTX 3050Ti GPU. It also includes a 512 GB SSD, a 14-inch full HD IPS display, 16 GB of RAM, and a fingerprint scanner. You're therefore getting everything you'd want from a business laptop, with the added high-performance parts you'd find in gaming.
There's also a cool feature that allows you to instantly change the speed of your laptop fans to silent, normal, or performance. In other words, it increases the airflow when your system is under pressure, but can stay silent during less demanding tasks. Battery life is advertised at 12 hours, but it's likely much less if you're pushing the 3050Ti GPU. You can pick the Acer Swift X up for $800.
2020 Apple Macbook Air
Although Apple products are usually quite expensive, our list wouldn't be complete without including the legendary 2020 Macbook Air, which can be yours for $900 today! While it is two years old, the laptop includes the remarkable M1 chip that will remain relevant for many years to come.
Why would you pay more for Mac products when compared to Windows and Linux? Well, if you're new to Apple, and specifically Macbooks, they're simply more polished. These laptops are built incredibly well and will usually last upwards of 5+ years. Not only that, MacOS is easy to operate and highly optimized with minimal bloatware. If productivity is your main focus, a Macbook 2020 is the endgame.
Specifications-wise, you'll find a 13-inch 2560×1600 display, an M1 chip with an 8-core CPU, 256 GB of storage, 8 GB of RAM, Touch ID, and the best battery life on the market. You may think these specs sound similar to those listed above but they're vastly different. Apple manages to balance its high-performance cores with ultimate efficiency. We're talking 18 hours of battery life no matter what you're doing. It's also not called the Air for nothing, the laptop is whisper quiet with no internal fans!
There is a small inconvenience to the Macbook Air 2020, and that is the inability to upgrade the SSD or RAM. You're basically restricted to what is onboard. You can, however, opt for a larger storage model, but that will increase the price.
Acer Nitro 5
We thought it would be a good idea to include a few gaming laptops as well. While gaming laptops can reach upwards of $4000, we have found the most affordable options covering all resolutions, refresh rates, and, graphics card tiers. We'll therefore start with the entry-level Acer Nitro 5, which has a 1080p resolution, 144 Hz refresh rate, and an NVIDIA RTX 3050 graphics card.
The Acer Nitro 5 is more than capable of pushing high frames at low-to-medium settings in-game. This is a golden opportunity for budget gamers who are interested in esports titles for the first time. The Nitro 5 should have no problem reaching 100 frames per second (FPS) consistently in Valorant, Dota 2, or CSGO.
Inside you'll also find an Intel i5-10300H processor, 8 GB of DDR4 RAM, and a 256 GB NVMe SSD. The 1080p 144 Hz display is also complimented by an IPS panel. Similar to the business laptops above, it gives games a rich vibrant aesthetic when compared to most TN panels. That's not to say the Acer Nitro 5 is perfect, you won't be able to play AAA games at high settings. You will experience a few FPS dips the harder you push the laptop.
The Acer Nitro 5 can be found for under $800, with the possibility to later upgrade its RAM and storage space. Before you buy, keep in mind all its RGB goodness comes at the cost of a 2-5 hour battery lifespan.
MSI GE76 Raider
If you're looking for a high-end 1080p gaming experience, then the MSI GE76 Raider has a lot to offer. The GE76 Raider has a 17.3-inch display with a 144 Hz refresh rate to match. Now, you may think these specifications sound similar to the Acer Nito 5, but we'd consider the GE76 Raider as the more grown-up older brother. It has everything you'd want in a 1080p gaming experience with little-to-no upgrades required in the future.
The Intel Core i7-11800H processor and GeForce RTX 3060 graphics card will handle most games comfortably right now at 1080p. You'll likely see over 200 frames per second in esports titles, followed by 70 to 100 FPS in more modern graphically intensive games. The MSI GE76 also includes the sweet spot of 16 GB of RAM, and a 1TB NVMe SSD. It's a plug-in-and-play 1080p experience that should give you a few good years of gameplay.
As a 17.3-inch laptop, the GE76 is also a great desktop alternative. Sure, you can transport it, but it is quite heavy at 6.39 pounds. With that said, the added weight is probably due to the fact that the laptop has a Titanium Blue finish that feels strong and sturdy. We're not saying it will survive a drop, but the shell feels premium. The laptop also sports quite a bit of RGB, with a customizable keyboard and bottom bar to match. You can get your hands on a GE76 for around $1300.
GIGABYTE AORUS 15P
The Aorus 15P is a sleek gaming laptop with a matte black finish, and sharp corners. It's clean and minimalistic while still offering an RGB undertone. It is also incredibly compact when considering its internal components of an Intel Core i7-11800H processor, an RTX 3070, 16 GB of RAM, and 1 TB of SSD storage.
If you're serious about competitive FPS games, then a high refresh rate is paramount. While the GE76 Raider is more than capable of outputting high FPS, it's still somewhat limited by its 144 Hz refresh rate. 144 Hz panels refresh every 6.94ms, while 240 Hz panels refresh every 4.17 ms. This may not be noticeable for some, but if you're a serious esports competitor, any advantage can push you ahead of your foes.
It's therefore no surprise that the Aorus 15P includes a 240 Hz IPS panel at a 1080p resolution. While the laptop isn't cheap at $1400, it does give a few desktops a run for their money. You'll likely find gaming desktops with similar specs hovering around the same price if you take into consideration the price of a 240 Hz IPS monitor and an RTX 3070 GPU alone.
With that said, the Aorus 15P should be prioritized as a competitive gaming laptop only. Although it can certainly play other games at high frame rates, you could save a few dollars by opting for a 144 Hz laptop with the same RTX 3070 GPU instead.
GIGABYTE AORUS 15 XE4
While a 1080p display is enough for most gamers, some prefer a display that is more crisp and refined. The 2022 Gigabyte Aorus 15 XE4 has a 1440p display, for all you nerds who love high-textured graphics. Not only that but it is supported by a 165 Hz refresh rate! It's the best of both worlds, having amazing picture quality, and a buttery smooth refresh rate to match.
The Aorus XE4 is also the world's first four-sided super thin bezel screen. This means the Aorus 15 XE4 is fundamentally borderless creating an immersive experience that draws you into the action. Borderless displays provide gamers with the intended size of the display. For example, you'll often find 24-inch monitors that are actually 22-inches in terms of their usable screen size.
More pixels also require more power, and that's why the Aorus 15 XE4 includes exceptional components. Inside you'll find an Intel i7-12700H processor, an RTX 3070Ti, 32 GB of RAM, and a 2 TB SSD. The Aorus XE14 has been praised for its efficient cooling system, so while you push your games to their limit, your system will remain stable.
Finally, AAA games such as Elden Ring, Call of Duty, and APEX legends can all be played at max settings. The laptop is also VR-ready, so you'll be able to say hi to your friends in the metaverse. Therefore, if you're looking for a top-end 1440p gaming laptop, the Gigabyte Aorus 15 XE4 2022 edition is a good candidate at $1799!
MSI Creator 15
The MSI Creator 15 is the top-line option for both artists and visual gamers. Unlike the Acer Swift X, this laptop has some of the best specs out right now for content creators. The RTX 3080 graphics card is an absolute monster. Paired with an Intel Core i7-11800H processor, 16 GB of RAM, and a 1 TB SSD, you can do just about anything your heart desires. While the MSI Creator 15 can likely play any game at its glorious 4K resolution, it will still be limited by its 60 Hz refresh rate. In other words, if you're a competitive gamer, run for the hills.
The 15.6-inch UHD 4K display offers the very best picture clarity and accuracy prioritizing visuals above everything. This is made possible by the OLED display, which results in each pixel emitting its own light. Each pixel knows exactly how much color it needs, which removes the effects of white backlight bleed as seen in standard LED displays.
You may regard the $2,599 price as steep, but you also have to take into consideration the internal components. The GPU alone would set you back upwards of $800 if you had to buy it as a standalone product. The Creator 15 is also extremely compact considering the power inside at just 0.78 x 14.11 x 11.54-inches and 5.39 lbs in weight. You'll therefore have the benefits of a portable laptop at hand, with the capabilities of a high-powered multimedia workstation.