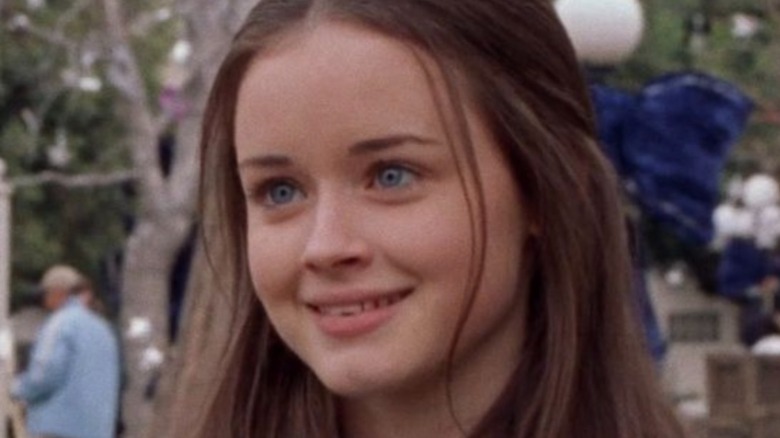 Once upon a time in a little town called Stars Hollow, there lived a young, bright teenager named Rory Gilmore, who had the world at her feet. This golden girl was destined for great things: She had sparkling wit, fierce intelligence, and buckets of ambition. But somehow, it all fell apart.
We are, of course, talking about Rory from "Gilmore Girls," played by Alexis Bledel. Although this character was once a fan favorite, over the years, the straight-A student lost her way. By the time the show's reboot rolled around in 2020, she had made too many mistakes for redemption — and she had, according to many, become the show's most hated character.
So, where did it all go wrong for Rory? When the show began, she was sweet, funny, loyal, and very likable — but by the time it ended, she seemed to be nothing but entitled, selfish, and lost. Whether you love her or hate her, it's impossible not to wonder how Rory ended up the way she did. Here is the evolution of Rory Gilmore, from a promising young bookworm to a disappointed and burnt-out millennial.
Rory Gilmore was raised by her mother and had a promising future
We meet Rory Gilmore in Season 1 of "Gilmore Girls," when she is 16 years old and a sophomore in high school. We learn that her character was raised by a single mother, Lorelai (played by Lauren Graham), who had her when she was just 16 herself. While Lorelai has wealthy parents, Emily and Richard, she has chosen to forge her own path and raise Rory on her own.
From the very beginning of the show, it's hard not to fall in love with the iconic mother-daughter duo. With their fast-talking, witty banter; mutual love of junk food, coffee, and old movies; and heartwarming bond, they seem to be — well — pretty much perfect. As for Rory, she seemed to be a wholesome, sweet teenager with a shy side and a bright future. Not only was she a bookworm and a straight-A student, but she was also hugely ambitious, with plans to go to Harvard and become the next Christiane Amanpour (via Marie Claire). Suffice it to say, the character had a highly promising start.
Rory meets Dean just before leaving Stars Hollow High School
As "Gilmore Girls" kicks off, Rory is attending Stars Hollow High School. There, she meets her first love interest, Dean Forester, in a hallway. When Dean gets her reference to "Rosemary's Baby," it's practically love at first sight, and the pair soon begins dating. They share their first kiss and Dean is welcomed by Rory's mother. In many ways, he's the perfect high-school boyfriend — sweet, understanding, generous, and respectful. But when he tells Rory he loves her on their three-month anniversary, she can't say it back, and the pair briefly breaks up. Eventually, they find their way back together.
As one fan pointed out, via Bustle, Dean was the epitome of a stable, steady boyfriend — someone who promised a happy, long-term relationship for Rory. And Rory's own mother, Lorelai, seemed to agree. But Dean simply wasn't exciting enough for Rory, and she was soon pulled in a new direction. Maybe the fact that Rory and Dean didn't work out at the beginning of the series was our first sign that Rory didn't have it all together the way we initially thought.
Rory starts private school at Chilton
A big moment in Rory Gilmore's evolution comes early in "Gilmore Girls," when she transfers from the local high school to a nearby prep school, Chilton, for her senior year. It's the first time that Rory and her mother have accepted help from Lorelai's parents — and it also marks a change in their relationship with them. In exchange for the tuition for Chilton, Rory and Lorelai agree to have a weekly dinner with Emily and Richard. Ultimately, it marks the end of Rory's simple, quaint, sheltered life with her mother as her only influence.
As some users pointed out, Rory's enrollment at Chilton is when she begins to become part of the upper-class world. "I know everyone, of course, must evolve and grow, but she became low-key annoying and got totally sucked into the blue-blood world," noted one fan. It could be that attending Chilton marked the beginning of a big change in Rory's character.
Rory gets her first D grade and starts a rivalry with Paris Geller
Rory Gilmore's Chilton career gets off to a rough start. She misses a test after hitting a deer with her car on the way to school and ends up getting a D. She also develops a bit of a feud with Paris Geller, another high-achieving, type-A student. However, Rory eventually becomes a top student and even runs for the student council with Paris as her vice president. She also joins the student paper and eventually becomes an editor.
Rory's frenemy, Paris, ends up being instrumental for her. In fact, without Paris, Rory never would have known to take part in extracurricular activities. As Paris tells Rory in one episode, "When you apply to an Ivy League school, you need more than good grades and test scores to get you in. Every person who applies to Harvard has a perfect GPA and great test scores. It's the extras that put you over the top. The clubs, charities, volunteering" (via ScreenRant). Without this advice, Rory may have never gotten into Harvard or Yale.
When Rory meets Jess, an unhealthy love triangle begins to form
Rory Gilmore meets her second love interest, Jess Mariano, Luke's bad-boy nephew, in Episode 5 of Season 2. By the end of Season 2, they've shared their first kiss at Sookie St. James' wedding — even though Rory is still dating Dean at the time. This is just the beginning of Rory's problems with staying loyal in relationships, leading Showbiz CheatSheet to wonder, "Is Rory Gilmore a serial cheater?"
Rory and Jess begin dating in Season 3, but their relationship is tumultuous. The romance fizzles out after Jess realizes that his and Rory's lives are simply too different. When she eventually decides to go to Yale, he leaves for Los Angeles without even officially breaking up with her — but it's pretty clear things are finished between them when he skips her prom and graduation. In a heartbreaking phone call during her high-school graduation, Rory shares her feelings with him. "You didn't handle things right at all, you could have talked to me. You could have told me that you were having trouble in school and weren't going to graduate … but you didn't … that's it for me … I'm moving on," she says.
Rory graduates from Chilton and decides to go to Yale
Despite her love life troubles, Rory Gilmore ends up graduating from Chilton with excellent grades and is even voted valedictorian. Instead of accepting her place at Harvard as she always planned, Rory ends up choosing Yale, her grandfather's alma mater.
As ScreenRant noted, Rory's decision to choose her grandfather's school marks the first cracks in her relationship with her mother. While Lorelai has always forged her own path separate from her parents, Rory begins to grow closer to her grandparents. When she chooses Yale over her mother's choice of Harvard, it's a clear sign that her allegiance is shifting.
Of course, Rory's choice to go to Yale is also a practical one. As Decider noted, Yale is much closer to Stars Hollow, which made the rest of the show a lot easier to write.
Rory loses her virginity to the now-married Dean
Rory Gilmore's moral code continues to slip as she enters her first year at Yale — and her boy troubles continue. In Season 4, Rory reconnects with her high-school ex, Dean Forester, who got married shortly after graduating. Throughout the season, the pair begins flirting as Dean pushes his wife away. Finally, in the season finale, Rory loses her virginity to Dean in her childhood bedroom. Not only does Rory make an objectively bad decision in sleeping with her married ex-boyfriend, but she also refuses to acknowledge her mistake. In fact, when her mother expresses her disappointment, Rory is defensive and rude in return. As Vox pointed out, this episode might be proof that mothers and daughters can't be best friends all the time.
Many fans saw Rory's affair with Dean as yet another example of her character's decline. "She didn't learn from her 'mistakes,'" wrote one fan on Reddit. "Worst of all: She didn't face any consequences. Ever."
Rory starts dating Logan and things start going wrong
Rory Gilmore's third major love interest in "Gilmore Girls" comes in the form of Logan Huntzberger, a wealthy Yale student whose father runs a newspaper conglomerate. The pair begins to fall in love in Season 5 after Rory's tumultuous affair with Dean Forester comes to an end. Even though they both think they want a casual relationship, things quickly get serious. However, they soon face problems.
Rory begins an internship with Logan's father, and when he tells her she probably isn't suited to a career in journalism, Rory is naturally devastated — after all, she's been dreaming of becoming a journalist for years. In fact, it's pretty clear that she's built her entire personality around the career. So, when she is told she might fail, she spirals out of control.
Instead of dealing with this blow rationally, Rory lashes out — and Logan is there to help. She proceeds to steal a yacht with Logan, gets arrested, drops out of Yale, and moves into her grandmother's guesthouse. We have to say, Rory certainly seems less mature and responsible at this point in the series than she did at the beginning.
Rory and her mother have a huge fight
After Rory Gilmore's yacht debacle, she doesn't just temporarily drop out of Yale — she also cuts off contact with her mother. It becomes their biggest fight in the series, and the pair doesn't speak for half a season. It's easy to see why Lorelai stops speaking to Rory after she effectively blows up her life over some constructive criticism. But while Rory may have been in the wrong for wanting to drop out of Yale, Lorelai wasn't necessarily entirely innocent, either.
As one fan noted on Reddit, it's pretty heartbreaking that Lorelai doesn't even tell her own daughter that she's engaged. "Not telling your daughter that you're engaged? Cutting off all contact … and then getting surprised when she goes to another safe house like her grandparents?" they wrote. "And then telling Luke to not talk to Rory, and basically try to turn everyone against her? That's not a punishment, that's just spiteful and immature."
Rory graduates from Yale without her dream internship
Even though Rory Gilmore eventually recovers from the blow of being told she might not be a great journalist, she never really regains her old determination and drive. When her friend Paris Geller asks if she's looking for her next step, Rory replies vaguely, "Not really. I mean, not yet. I will, probably." As the series draws to a close, her dream life seems to be drifting further and further away. She graduates from Yale without a single job prospect. In fact, she turns down one job offer in the hopes that she will be chosen for a journalism fellowship (per Showbiz CheatSheet).
As the Foundation for Economic Education pointed out, Rory graduated at a time when the journalism industry was changing and becoming more competitive than ever. Even though she has a degree from Yale, there was no guarantee that she'd glide effortlessly into the workforce. And, as Her Campus pointed out, like many other people in her generation who were deemed to be "gifted" when they were young, burnout is all too real. After piling so much pressure on herself as a teen, she is exhausted and demotivated by the time she's ready to get a job.
The original series ends with Rory breaking up with Logan and landing a job covering Obama
The original "Gilmore Girls" series ends on a small high for Rory. Even though her dream job didn't pan out, in the series finale, Rory is offered a position at an online news outlet covering Barack Obama's election campaign in Washington, D.C. As Bustle noted, this job was a great opportunity for a graduate and should have set Rory up for a career in the industry.
And then there's Rory's long-term boyfriend, Logan Huntzberger. As the show goes on, it becomes pretty clear that the couple has their share of problems. Logan proposes to Rory at the end of their time at Yale and she says no, choosing her career over the relationship.
With this clean slate, it seems that Rory's mistakes and disappointments might be over — and maybe she'll be able to finally live up to the potential that everyone has been talking about for so long.
Nine years later, Rory is a dissatisfied freelance journalist
Despite the "Gilmore Girls" series ending on a high, when the reboot picks up again nine years later, things are not going too well for Rory Gilmore. After publishing a few big pieces, Rory is a freelance journalist with little direction, and her career seems to have stagnated. Plus, despite having a pretty nice boyfriend, she's having an affair with her ex, Logan Huntzberger.
Nine years after graduating from college, it seems Rory has lost her sense of purpose. She still seems to be drifting through life, expecting opportunities to fall into her lap — because, after all, that's what she's always done. When she lands an interview at a media company, she arrives woefully unprepared without a single pitch. "That's a little weird, I thought you'd bring some ideas," says the editor. As Marie Claire summed it up, "She's not even trying." If Rory was approaching "gifted kid burnout" at her Yale graduation, it seems that nine years later, that burnout has definitely hit.
The series ends with Rory working at the Stars Hollow Gazette, expecting a child
"A Year In The Life" doesn't exactly offer a redemption arc for the fallen Rory Gilmore. After making more mistakes and fumbling more job opportunities, Rory eventually winds up living back in Stars Hollow and taking a job at the local newspaper. In the final moments of the show, she reveals to her mother that she is pregnant, presumably with Logan Huntzberger's child. It's hardly the starry, glamorous journalism career she had hoped for, but it is perhaps a realistic outcome. And considering that Lorelai once raised an unplanned child in Stars Hollow, there is some symmetry to this ending.
While Rory's journey may feel disappointing for some fans, it does serve as a reminder: When you grow up being told you're special and destined for greatness, you sometimes expect to rest on your laurels — and in the real world, that fall back to reality can feel long.