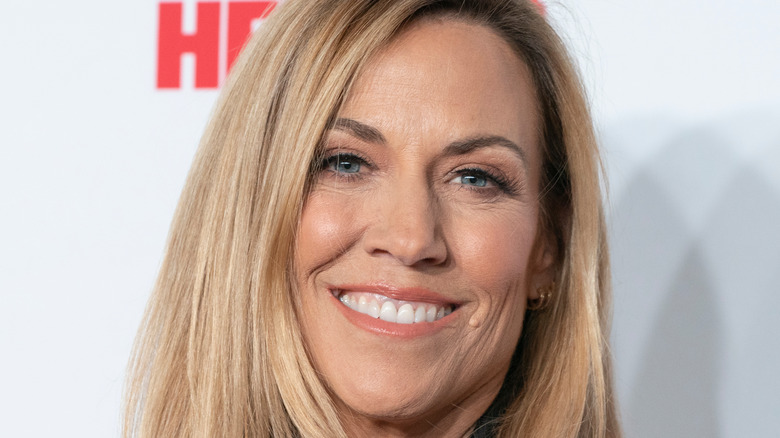 Country music star Sheryl Crow is known for her many hits, such as "The First Cut is the Deepest" and "Picture" with fellow musician Kid Rock, via Billboard. However, despite her stardom, the singer still leads a vastly normal life. According to an interview with Architectural Digest, Crow stated that when her current home came on the market, she had a day off on her tour and immediately left to see the Nashville estate. She recalls that when she walked in the door for the first time, she immediately felt like she was at home. While there are many features of the estate that she loves, the "If It Makes You Happy" singer noted that she was also drawn to the fact that all the bedrooms, including the primary, are all on the same floor.
Since the home sits on 50 acres, the country star says that the selling point for her was the home's flow. Many rooms of the residence open up to the outside, which Crow loves as it allows her two children to be outside more. While the family uses every room of the house, including the basement as a playroom, they made a few tweaks to the property. In addition to adding a barn, the singer also built a recording studio and added an old-school church. If you desire your home to be like hers, here's how you can steal Sheryl Crow's southern farmhouse-inspired home style.
Have many sitting rooms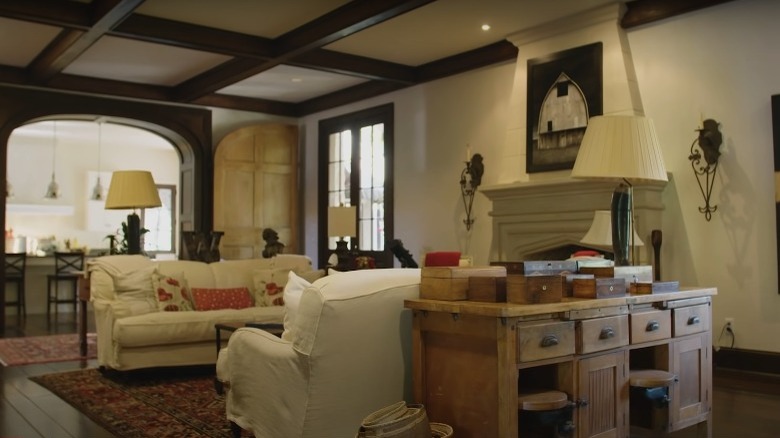 One of the most noticeable aspects of the country singer's home is the many sitting rooms, via YouTube. While there are four sitting areas throughout the property, they spend the most time in the indoor den. One of the reasons why this room is so popular for the family is that it's set up away from the TV and instead centers around two sofas with a table in the middle where they play board games. A formal living room is located elsewhere in the house that doesn't contain a TV at all. However, Crow states that the family doesn't spend as much time here. Outside of the home is another den as well as another sitting room located within the barn.
Most homes come with at least one sitting room; however, some also come with two. If this isn't enough, or you only have one, there are many ways to add another. One way is to turn an extra bedroom into a living room. While this could be potentially small, Star Furniture says the main items you need are seating areas such as a sofa or recliner, coffee tables or end tables, some sort of lighting, and décor pieces. In addition, if you don't use your dining room, you can turn it into a second sitting area as well. Lastly, consider turning a back deck or front porch into an extra den by adding outdoor furniture.
Keep rooms open, bright, and sunny
The kitchen is the primary room that Crow and her family entertain guests in, as per YouTube. Therefore, the star decided to keep it open and bright. There are several wide windows installed near the kitchen table without any curtains to let in the bright sunlight. To add to this setting, several pendant lights are hung above the kitchen's center island and the table. The entire kitchen is painted white, which USB Science Line says reflects the light. In addition, the formal living room, like many other rooms, is painted white and contains two floor-to-ceiling wide mirrors that are located on each side of the entryway. Of course, since there is a den located outside, it is made of mostly windows and painted white to be as bright as possible.
The most common way to keep a room open and bright to let in sunlight is obviously through the windows. Consider taking down any curtains or blinds that block out nature. If you live in a public or busy neighborhood, you can add some sheer curtains to have a sense of privacy. However, you'll need some light during the nighttime to brighten up the room. Pendant lights are always useful; however, you can always add standard lamps and fluorescent lights. Lastly, you can paint the walls in the room you want to be brightened up with a shade of white.
But also old, rustic, and southern
According to YouTube, the singer's music room is one of the most rustic areas of the home. For starters, the room is made of brown wooden paneling. She even has a paper mache elephant located above the fireplace. However, the most southern and rustic feel to the whole estate is the barn area. Of course, the barn itself has an older feel, but the family room beside it is even more so. The ceilings are made of wooden paneling, while the fireplace is formed of stone bricks. A bar is located off to the side of this room with many different alcohol choices, which are fairly common in the southern region, via The Journal of Studies on Alcohol.
Adding an old and rustic feel to a home can be challenging, especially if it's a modern estate. However, there are many ways to incorporate this while still obtaining the modern feel. While Crow has an actual barn, you can switch out a standard door for a barn door. These work best in common rooms such as living rooms or dining rooms. In addition, you can also add wooden paneling to your walls or even install wooden beams on the ceiling. While not as common, you can display quirky décor pieces throughout your house. Finally, don't be afraid to add a bar similar to Crow's and fill it with all your favorite alcoholic beverages.
Incorporate as many antiques as possible
Since Crow is a musician, she spends much of her time on the road. However, according to YouTube, this allows her to go antique shopping frequently. Displayed in her dining room is an old mirror she got on tour in Texas, with an old upholstery table underneath. On the dining table is an old rocking horse that makes up the centerpiece décor. Several subtle antique items are in the formal dining room, including chairs and porcelain figures. Within the sitting room in the barn are two unique death masks on the wall. Many signs are hanging on the ceiling in her studio, including one that says "fried chicken," that Crow says she purchased off of an old barn.
Incorporating antiques into your home is a fairly easy task. Usually, there is at least one store in your town or nearby. To add these items to your home, you can first look at your home as a whole and find empty spaces where you can place pieces. If you have a blank wall in a room, consider adding an older sofa, bench, or chair. If you need a new piece of furniture, you can replace it with an antique piece. Don't forget to incorporate items in a subtle way as well. Random shelf décor or signs on the wall may seem small, but they can enhance a room in a big way.
Display your beliefs
One of the main aspects central to Crow's home is her personal religious beliefs, via YouTube. Perhaps, the biggest way she displays this is with the church she purchased and moved into the woods of her home. The "If It Makes You Happy" singer stated that she wanted a place on her property that was a source of inspiration. It should be noted that almost everything in her chapel, including the doors, has an old aspect to it. There are many religious figures displayed as well as an old pew with a shelf located on the back. Residing at the very top of the chapel is a church bell that can be rung from the inside. Not to be missed, she also has a few religious art pieces hung in her formal living room.
Displaying your beliefs doesn't mean you have to go out and buy a church. You can add a variety of pieces throughout your home, as Crow did in her formal dining room. Porcelain figures or paintings are all subtle ways to incorporate your beliefs without going overboard. Of course, not everyone has religious beliefs. However, you can still incorporate what you believe in or are passionate about in the same way. Much like antiques, you can find many items at antique or thrift stores. If you can't find exactly what you are looking for, you can make it more personal by doing a DIY project or two.