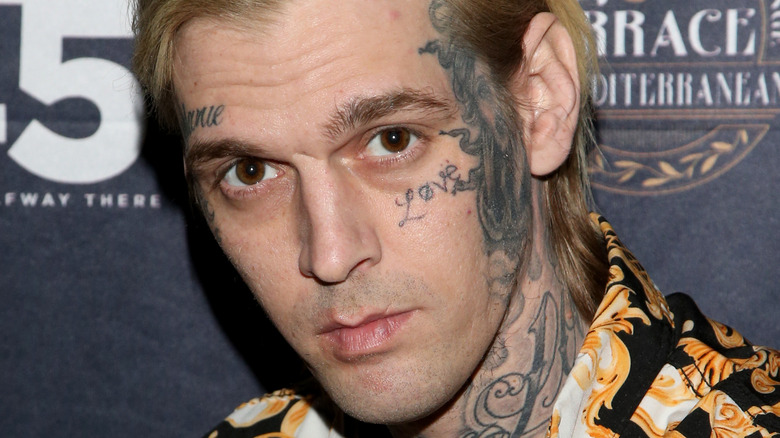 This feature discusses addiction and eating disorders.
Lots of music fans are aware of the so-called "27 Club," an unofficial group of musicians who made an incredible mark on pop culture before unfortunately dying at the age of 27. Inductees of the 27 Club have sadly included Amy Winehouse, Jimi Hendrix, and Janis Joplin, all of whom had phenomenal careers that were cut too short by their untimely deaths. When Kurt Cobain died at 27, his mother famously told the Associated Press (via The Seattle Times), "Now he's gone and joined that stupid club, I told him not to join that stupid club."
Less discussed are pop stars who died in their 30s. However, their young deaths are no less tragic just because they didn't die at a trendy age. Not everyone is able to make it to their golden years, and sometimes fans lose their favorite singers too early. The following musicians all had their lives and careers tragically cut short, when they likely had so much more to share with the world.
Chris Trousdale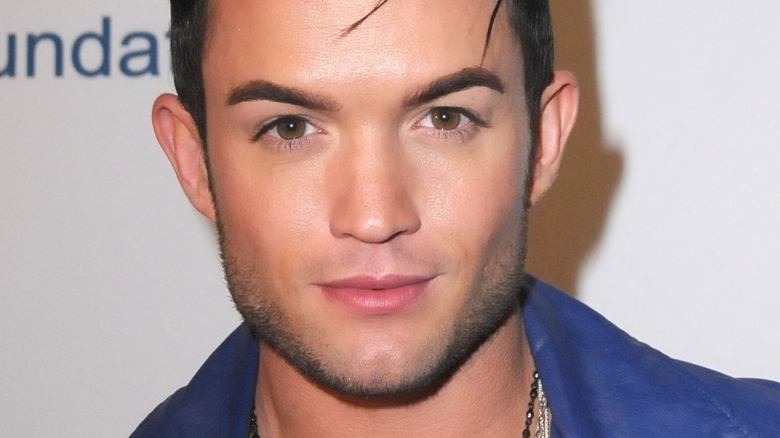 When he was young, Chris Trousdale auditioned for a project that would turn out to be the teen-pop boy band, Dream Street. "We didn't know what exactly was gonna be put into all this stuff. We just auditioned like normal — danced, sang, do what we do best. And it took off, and we were really happy about it," he said in a behind-the-scenes interview. Per Idobi, the band put out a self-titled album that topped the Billboard Top Independent Albums chart. While singles like "It Happens Every Time" ruled the Radio Disney charts, they embarked on a tour supporting fellow pop sensation, Aaron Carter. According to Billboard, in 2002, parents of the boy band members sued management, alleging that the underage boys were exposed to alcohol and pornography. The broke up soon afterward.
Still, Trousdale continued working and the star made a crossover into acting. Per IMDb, he starred as himself in the 2005 film, "The Biggest Fan, " and also went on to appear in Disney Channel shows like "Shake It Up," and "Austin & Ally." He also acted in the Netflix holiday rom-com, "A New York Christmas Wedding," in 2020. That same year, the former boy band star died from complications related to COVID-19, per TMZ. He was 34. On Instagram, Trousdale's former Dream Street bandmate, Jesse McCartney, paid tribute to the late star, writing, "Chris had an explosively charming personality with boundless amounts of talent."
Sarah Harding
Sarah Harding was part of the ultra-successful British girl group, "Girls Aloud," which was formed on the TV show "Popstars: The Rivals." Alongside Nadine Coyle, Nicola Roberts, Kimberley Walsh, and the mononymous Cheryl, Harding and her band ruled the British music charts with hits like "Sound of the Underground" and "Something Kinda Ooooh." The group was together on and off until 2013, at which point they went on a reunion tour and then called it quits for good. "Your love and support will stay with us forever but we have now come to the end of our incredible time together," the band announced on Twitter.
The star went on to launch a solo career. Appearing on "This Morning," she said shooting a music video without her former bandmates was a very different experience. "It was very strange. It was," she said. "But it was a really fun day!"
In August 2020, Harding announced on Twitter that she had been diagnosed with breast cancer. Thirteen months later, the pop star died from the disease, aged 39. "Sarah was the sparky one of our group," recalled Cheryl in an essay for Vogue. "She was full of the spark of life and loved what we did." Having spent time with Harding toward the end of her life, she warmly recalled, "In the last few days spent with her, we got to laugh, cry, reminisce, cook, watch spiritual [TV shows] (our shared love), and pray together."
Aaron Carter
Aaron Carter first found fame in the early 2000s as the adorable younger brother of Backstreet Boys breakout, Nick Carter. Aaron was a star in his own right, having released hits like "I Want Candy" and "That's How I Beat Shaq." According to RIAA, his second album, "Aaron's Party (Come and Get It)," went triple platinum. Within a few years, he was dating both Hilary Duff and Lindsay Lohan, after putting in a memorable appearance in "Lizzie McGuire." This caused an infamous feud between the Disney Channel queens, but Aaron had a simple explanation for what happened. "I just got a little bored," he told CNBC (via Us Weekly).
Per Complex, as his career fizzled out, he spent the next part of his life embroiled in debt and scandal. On top of suing former manager, Lou Pearlman, for unpaid royalties, he also filed for legal emancipation from his parents, alleging them of embezzlement. The star was open about his experiences with addiction, entering rehab in September 2022 amid a custody battle over his son, according to The U.S. Sun.
On November 5, 2022, TMZ reported that the singer was found dead in his home, at the age of 34. Tributes poured in from his former co-stars and family, including Duff, who wrote on Instagram, "Boy did my teenage self love you deeply." Nick, who had been estranged from his brother toward the end of his life, wrote, "Even though my brother and I have had a complicated relationship, my love for him has never ever faded."
If you or anyone you know needs help with addiction issues, help is available. Visit the Substance Abuse and Mental Health Services Administration website or contact SAMHSA's National Helpline at 1-800-662-HELP (4357).
Lisa 'Left Eye' Lopes
In the 1990s, the R&B girl group, TLC, garnered legions of fans thanks to hits like "No Scrubs," "Waterfalls," and "Unpretty," scoring nine top 10 hits. In addition to Tionne "T-Boz" Watkins, and Rozonda "Chilli" Thomas, the third member was Lisa "Left Eye" Lopes. She had her finger on the pulse of pop culture, telling MTV News, "A lot of things that are attributed to pop come from hip-hop first. So no matter what turn hip-hop takes, whatever hip-hop decides to do, it's going to spread. Because hip-hop will try anything."
After achieving cultural domination with TLC, Lopes also put out a solo album called "Supernova" in 2001. She explained the inspiration for the title in an interview with MTV, where she elaborated, "A supernova is a rare star, and it increases its normal shine up to a billion times in brightness … it's very important to me that I reach as many people as I can through my music and through love and through healing."
Sadly, this rare star died the following year. According to Rolling Stone, she was in Honduras on her way to a spiritual retreat when her car crashed. "Everyone feels like they know me because they follow the news," she told the music magazine shortly before her death. "And they don't have a clue as to who I am." She was only 30 when she died.
Minnie Riperton
In the 1970s, Minnie Riperton's voice enchanted listeners on albums like "Perfect Angel," co-produced by Stevie Wonder. "We tried to keep that album real organic and simple," her husband and co-producer, Richard Rudolph, recalled years later to Okayplayer. "Instrumentally, it was very complex in a lot of ways because of Stevie's and Minnie's genius. We had more of a minimalistic approach to it." The album contained the Billboard Hot 100 number 1 single "Lovin' You," a song that shows off the singer's iconic whistle register. Talking about her 5.5-octave range on "The Mike Douglas Show," Riperton said simply, "I'm very lucky. I'm very blessed."
In 1976, Riperton went public with her breast cancer diagnosis and the fact that she'd had a mastectomy. "I've gotten incredible amounts of response from all kinds of people, not only women but a lot of men who really appreciated the whole thing," she told Douglas. She worked with the American Cancer Society to raise awareness of breast cancer, and she even received an award from President Jimmy Carter for her advocacy. Unfortunately, she died in 1979, at the age of 31, per The New York Times.
Riperton's daughter is "SNL" veteran, Maya Rudolph, told uDiscover Music that she hears from her mother's fans a lot and that it was sometimes hard. Now, she appreciates it. "I took such enormous pride in knowing that she really stands out as this individual, this one-of-a-kind gem of a human being," she said.
Sam Cooke
Sam Cooke was known as the King of Soul. In the '50s and '60s, he released numerous super-successful singles that blended various genres, bringing soul music into mainstream American listening. As AllMusic wrote in a review of his hit "Cupid," "Cooke … helped usher in a new era of pop composition that combined Latin, R&B, jazz, and mainstream pop elements."
Speaking with Dick Clark on "American Bandstand," Cooke had an idea as to why his career had taken off the way it had. "I think the secret is really observation," he said. "If you observe what's going on and try to figure out how people are thinking and determine the times of your day, I think you can always write something that the people will understand." Iconic songs like "Wonderful World" and "A Change Is Gonna Come" proved him right.
Cooke's legacy was cut short when he was killed in 1964, aged 33. The Associated Press reported (via The New York Times) that he was shot by a motel manager during an incident involving a young woman he'd picked up at a nightclub. The woman claimed to have fled his room amid allegations he had kidnapped her. According to History, his murder was thought to be suspicious. However, the killing was ruled a justifiable homicide. As People noted, questions about the incident have lingered for decades after his death. Boxing great, Muhammad Ali, was reported to have commented, "If Cooke had been Frank Sinatra, the Beatles, or Ricky Nelson, the FBI would be investigating."
'Mama' Cass Elliot
"Mama" Cass Elliot was part of the successful recording group "The Mamas & the Papas." The band was famous for hits like "California Dreamin,'" and "Monday, Monday." Within a few years, the group disbanded, and Elliot embarked on a solo career. As she confessed in a 1968 interview with Rolling Stone, she wasn't really a fan of The Mamas & The Papas' music. "I will admit in all honesty there are a very few songs on all the Mamas and Papas albums that I'm really proud to listen to," she said. "I don't have the records in my house. Not because I'm a snob. I just don't feel like listening to them."
In her solo career, she recorded hits like "Dream a Little Dream of Me," and she appeared in a number of television specials, including hosting her own, "The Mama Cass Television Program" and "Don't Call Me Mama Anymore." In 1974, she completed a run of shows at the London Palladium that earned her good reviews, according to Flashbak. Several days later, aged 35, she died of a heart attack. The Hollywood Reporter suggested she had choked to death on a ham sandwich, which simply wasn't true. Writer, Sue Cameron confessed to People that she printed the lie at the urging of Elliot's manager who was afraid drugs had been involved. The autopsy found no such substances present. Still, the myth persists to this day.
Patsy Cline
Country singer, Patsy Cline, is considered one of the most influential artists of all time. Boasting huge hits like "Crazy" and "Walkin' After Midnight," her songs were massive on pop charts as well as on country ones. Per CBS News, in 2003, singer LeAnn Rimes attempted to explain the musician's enduring legacy. "Her voice was so powerful and amazing," she gushed. "You can put her up against any artist now and she would blow a lot of those away. To come across a true singer like that doesn't happen very often."
When she was only 30 years old, Cline boarded a small plane with fellow country stars, Lloyd "Cowboy" Copas, and Hawkshaw Hawkins. In addition, Cline's manager, Randy Hughes, was flying the aircraft. The commercial flight originally booked for the four of them had been canceled due to bad weather. According to American Songwriter, they were discouraged from attempting the journey themselves. Hughes was reportedly only an amateur pilot, and it seems that he was unable to land the plane safely. All four passengers aboard were killed when their flight crashed just 85 miles short of a Nashville airstrip.
Speaking about the tragedy decades later, Cline's husband, Charlie Dick, told The Tennessean, "Today, Patsy seems to get top billing," he reflected. "But Patsy was a big fan of Copas and Hawk, and they were stars. Everybody on that plane was important to the music business. And all of them were top dogs."
Karen Carpenter
Karen Carpenter was best known as one half of the brother-sister pop duo, Carpenters, who released smash hits like "Please Mr. Postman," and "Top Of The World." Her brother, Richard, did most of the arranging, while Karen sang. They enjoyed incredible success when she was still just a teenager, and by the following decade they had to take some time off. In an attempt to quash speculation surrounding her health, Karen insisted that she wasn't ill and was simply tired out from working so hard for so long. "I was just pooped," she insisted in a 1981 interview. "When you've been on the road for all those years without stopping …"
In 1983, Karen died of a heart attack, brought on by complications due to anorexia. "Losing Karen was absolutely devastating," Richard told Reader's Digest decades later. "I got through it as best as I could, by keeping myself busy working on some tracks which we hadn't finished but where we had her vocals." According to Time, her death helped to raise awareness of eating disorders, which had been little discussed in pop culture before her passing. According to The New York Times, doctors pushed for a crackdown on emetic drugs, while a made-for-TV movie about Karen's life several years later brought more attention to the topic.
If you or someone you know is struggling with an eating disorder, please contact the National Eating Disorder Association's Helpline at 1-800-931-2237 or chat with one of their helpline volunteers on NEDA's website.
Jeff Buckley
Jeff Buckley's father, Tim Buckley, may have been a folk music star in the '70s, but his son spent the '90s forging his own path. He was a session musician, a cover artist, and an independent singer-songwriter before finally releasing his only album, the critically acclaimed, "Grace."
According to Rolling Stone, Buckley wrote his own press biography, wherein he described himself as, "the warped lovechild of Nina Simone and all four members of Led Zeppelin with the fertilized egg transplanted into the womb of [Edith] Piaf out of which he is borne and left on the street to be tortured by the Bad Brains." That points to the wide influences he drew from in his own music — on "Grace," he put everything to work. Columbia Records A&R executive, Steve Berkowitz, told Rolling Stone that the recording sessions were chaotic. "It was hundreds of ideas and guitar parts and vocal parts and backward parts and extra drum parts," he recalled.
Several years later, the musician headed down to Tennessee to record his follow-up. While swimming in the Memphis harbor, Jeff was overwhelmed by a speedboat wake and drowned, according to The New York Times. He was 30 years old. The singer is best remembered for his cover of Leonard Cohen's "Hallelujah," which appeared on "Grace." Jeff had a sensual take on the song, explaining to OOR magazine, "Whoever listens closely to Hallelujah will discover that it is a song about sex, about love, about life on earth."