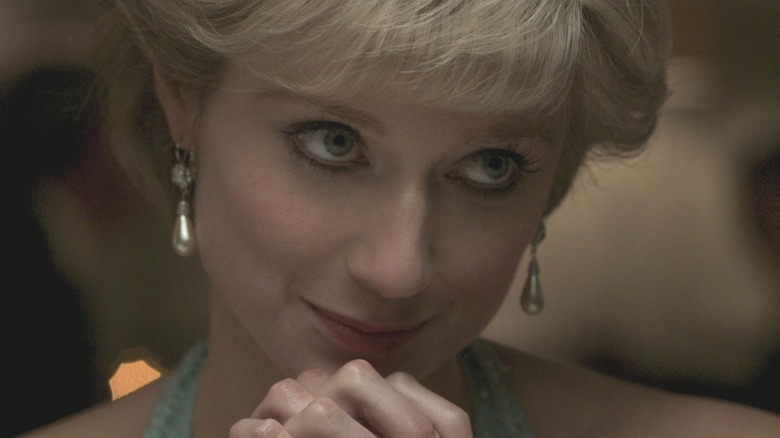 November 9, 2022 saw the long-awaited return of Peter Morgan's opulent dramatization of Queen Elizabeth II's life and reign, "The Crown," documenting events starting prior to her coronation all the way up to the last day for the late Princess Diana. In Season 4, we left off with a very restless Diana (Emma Corrin) spending Christmas with the Royals at Balmoral, with both her and Prince Charles (Josh O'Connor) set on finally separating. In Season 5, we pick up with a brand new cast as the baton is passed once again. Imelda Staunton replaces Olivia Colman as the Queen, alongside Jonathan Pryce as Prince Philip. Elizabeth Debicki portrays a grown-up Princess Diana, with Dominic West as Charles. Lesley Manville steps in as lovable Princess Margaret.
After a pause in production (via Deadline) following the passing of Queen Elizabeth II, we rejoin the royals amidst a high-profile divorce, and what The Queen called (via Cosmopolitan) an "annus horribilis," meaning a horrible year. Intriguing indeed. As viewers of "The Crown," we know Peter Morgan can't cram everything into 10 episodes. But with each episode landing around the 40-minute mark, there is a lot of ground covered; and you might miss some stuff if you check your phone or make a quick cup of coffee. We're going to dive into some small details you might have missed, from accurate real-life royal easter eggs to eerie foreshadowing.
Spoilers ahead for anyone yet to finish season 4 or 5, now streaming on Netflix.
Symbolism of the Queen and the royal yacht
"The Crown" loves to play with metaphors and symbolism, and Season 5 is no exception. The most effective ones come in the form of the royal yacht Britannia in relation to Queen Elizabeth. Let's break down what viewers might have not spotted. Episode 1 opens with a black and white flashback of the Queen, with Claire Foy reprising her role. She gives a speech to the nation about her brand new royal yacht, the Britannia, which would become wildly important not only to her, but to all the royals. When we get to the present day, with our first glimpse of Imelda Staunton as the Queen, she is concerned about getting repairs for the yacht. She compares the boat to another palace, although she claims to have a stronger connection to Britannia because she commissioned it.
At the same time, a poll hits British newspapers with a staggering opinion that Queen Elizabeth has outstayed her welcome as sovereign. Words like "old" and "stuffy" are thrown around and the general consensus is that Charles should take over. The Queen then has to barter for funds to repair Britannia and keep the yacht in use. Writer Peter Morgan does an excellent job at mirroring this. At this point, the monarchy is being viewed as outdated (via Vanity Fair), with the British public rallying for the Queen's figurative decommission, even as the Britannia slips through her fingers. In the final episode of the season, Labour Prime Minister Tony Blair offers a solution that involves the Britannia being decommissioned. It is indicative of a more forward-thinking Britain, less focused on the spectacle of the monarchy.
Parallels between Princess Diana and Queen Elizabeth
In addition to the Elizabeth-Britannia metaphor is the royal yacht's link to Princess Diana, who is on the road to tragedy in Season 5. Arguably, the overarching sense of doom surrounding Britannia can be applied to Diana too. She herself has been sailing along for some time, until she decides that enough was enough. Season 5 shows us the famed BBC interview, featuring highlights such as Diana saying, "There were three of us in this marriage." She slams back at the system that has treated her unfairly, and as a result, the Queen finally grants a divorce for Charles and Diana. The divorce settlements mirror the back and forth conversations regarding Britannia's repair, all while the marriage, which is beyond fixing, sinks.
This point hit the hardest in the Season 5 finale, titled "Decommissioned." In an emotional performance from Imelda Staunton, the Queen walks around Britannia and says her final farewells. This is cleverly intertwined with scenes of Princess Diana, getting ready for a holiday with her sons and the Fayeds. She herself is saying goodbye, to a life she wishes to leave behind. Diana looks at her reflection in the mirror and smiles a farewell smile. Her time as a royal is behind her. The scene then immediately cuts to Queen Elizabeth, her face half-showing in a mirror. Diana and Elizabeth are mirrors of each other: the Queen, and one that was meant to become Queen.
Princess Anne's career
This season of "The Crown" finds itself disrupted by Charles and Diana, justifiably so. However, some characters end up getting less screen time. This includes beloved and honest Princess Anne, now older and somehow even wiser following her separation. A small detail that might have slipped past viewers is the mention of one of her books. Early in Season 5, she brings it to the Queen for her to read. It gives viewers a tease of what else Princess Anne has been getting up to, as someone with quite an interesting life indeed. Anne is credited with three books, ranging from a lecture-turned-book regarding the punishment of communities to an exploration of her love for horses and her time in the Olympics.
It is always intriguing to gain some insight on other members of the royal family that are not at the forefront of the show. Princess Anne, particularly, could have a whole episode about her if the producers desired. New Princess Anne actress Claudia Harrison, when asked whether she likes the Princess, told the Radio Times: "I think I'm playing the best royal! She's a proper feminist. She doesn't put a foot wrong and she leads by example." We can probably all agree that we would like a bit more Anne.
Princess Margaret, Diana and Desert Island Discs
Another subplot is a revisit to Princess Margaret, much of the focus in the first two seasons of the show. Early fans of the show have come to miss the wild Princess. Her episode in Season 5 is beautiful, highlighting lost love and what could have been. Margaret appears on the radio show "Desert Island Discs," although the real segment, which premiered in 1981, can be listened to here. Now obviously, this season of "The Crown" is set in the 1990s, but writer Peter Morgan pulls this radio appearance forward into that decade for the purpose of bringing Margaret back in contact with her first love, Peter Townsend. It serves as a reminder to Townsend, when he hears Margaret on the radio, picking a song they held dear to them during their time as a couple.
Only people with an extended knowledge of the Princess would spot the inaccuracies, in terms of the time it took place and the song choices — she also apparently included a passage from "Swan Lake."
Peter Morgan may be nodding to this when, later in the season, Princess Diana watches a ballet production of "Swan Lake." The music dominates the scene, continuing as the Princess leaves and talks with Mohammed Al-Fayed, the father of her future lover Dodi (portrayed by Khalid Abdalla). Depending on how much you would like to dig into it, this might be a rather poetic connection between Margaret and Diana. Margaret, as someone else with a big personality and flair, also has her spark diminished by the royal system. Both women suffer with mental health issues, and end up in marriages that break them down, ultimately without finding true love.
Princess Diana's iconic fashion
Delving into more of Diana, Season 5 displays a few outfits that viewers might recognize, with Diana's fashion being highly regarded and extensively covered in the '90s. Post-separation and divorce, she is able to dress however she wants and these outfits can be spotted in the new season, including the sweatshirt and biker shorts combination, and the infamous revenge dress. Her legacy in the fashion world was explored in a recent article in People magazine, which wrote, "Some of her most casual moments have sparked massive trends, such as the recent resurgence in athleisure." The article names her style as one of "timeless elegance."
The new season captures her style perfectly. An article about the costumes for Netflix, regarding the Harvard sweatshirt that Diana wore in real life, states, "Harvard made the original '90s [sweatshirt] for us," which shows just how important these details were. Sidione Roberts from "The Crown" costume department explained how Diana had to rediscover herself post-separation: "I think there was a real (feeling of), 'Okay, who am I outside of this?'" Roberts said. "There's a real strength to how she decides to dress." The more you watch Season 5, the more details you will notice, with the costume department getting Princess Diana 100% right. Her clothes are a symbol of who she is becoming outside of the royal family, although of course this new path in her life is tragically cut short.
Martin Bashir and the BBC Interview
Another important plot point to dissect is the infamous BBC "Panorama" interview with Princess Diana, spearheaded by journalist Martin Bashir. It acted as a catalyst for the eventual divorce between Diana and Charles, and was an important moment for Princess Diana to finally speak her truth about the way she has been treated; unfortunately, the logistics surrounding this interview were rooted in deceit. "The Crown" shows Bashir forging payment documents that serve as "proof" that people close to Diana are being paid to spy on her, such as her private secretary. Bashir shows these to Lord Spencer, Diana's brother, who trusts Bashir's word initially.
Feeding into Diana's paranoia, Bashir meets with the Princess and offers her the opportunity to have her say in a tell-all interview. Driven by anxiety and fear, Diana agrees and goes ahead with it. What viewers may not know, however, is the truth behind Bashir's manipulation was not revealed until 2021. According to Vanity Fair, Lord John Dyson dropped the bombshell in a report on the reality of Bashir's deceit. It's an unfair sequence of events, especially for the Princess, who's already struggled through the previous decade with mental health issues. It makes for some excellent television, despite how infuriating it is. The secretive nature of the interview, Bashir's unethical means of securing it, and even the way in which the TV crew has to sneak into Kensington Palace disguised as audio equipment installers, gives the entire event what a Vogue article described as "all the nail-biting tension of a heist movie."
King George V and his parrot
Season 5, Episode 6 brings us a flashback episode that deals with the royal family's involvement with the Romanov family and the events that lead to the deaths of some of the latter clan's members. It gives viewers a peek into the life of then King George V, grandson of Queen Victoria and grandfather of Queen Elizabeth. An intriguing detail about the former monarch is the large parrot on his shoulder. It seems like something made up, and more likely to appear in the royal circles of "Game of Thrones" rather than "The Crown." While it is not uncommon for royals to keep pets — we are already used to the Queen and her band of corgis, and even her love for horses — the parrot is an interesting choice.
In an episode about loneliness on Elizabeth's part, it's a nice sentiment that King George was never quite alone, since he did indeed have a parrot named Charlotte. According to Wonders and Marvels, George acquired Charlotte in his youth and the bird would perch on his Majesty's shoulder, acting as "a critical eye over state papers and confidential documents, shouting 'What about it?' in a stentorious voice." Apparently, when George fell ill, Charlotte was the first visitor that he requested. This is totally bizarre but strangely wholesome.
Prince Charles in waiting
This whole season of "The Crown" is setting up Charles to take over for his mother, though we know it will not be happening for a while yet. Charles, amidst his separation from Diana, is shown getting restless. The secret conversation that Charles has with Prime Minister John Major shows him expressing his desire to become king before he gets too old, much like Queen Victoria's eldest son. But in real life, Sir John Major called this conversation a "barrel load of malicious nonsense" (via the Daily Mail). The exploration of Queen Victoria and her son mirrors and foreshadows Queen Elizabeth and Prince Charles. Minor details like him being described as "empathetic" and "impressive" get viewers ready for him as king.
While preparing viewers for King Charles, Peter Morgan does not shy away from digging up some of his worst scandals, including a phone call between him and Camilla that was sold to the tabloids. It is difficult to watch and completely cringeworthy, but a necessary part of the 1990s storyline. Peter Morgan finishes the episode with Charles' charity work for The Prince's Fund. In an Esquire review of the season, Rachel Dodes sums this choice up perfectly: "It feels almost as though Morgan is trying to apologize to Charles for dredging up the mortifying scandal." It's a brave decision indeed, especially given the current real-life situation with King Charles finally being on the throne.
Tragic foreshadowing
While Season 5 does revolve heavily around Charles, the real focal point of the season is Princess Diana. It is a precursor to her untimely death, building up a sense of dread throughout. Writer Peter Morgan is not subtle about this. An obvious scene of foreshadowing comes in the second half of the season, when Diana is shown driving her car on the way to visit her brother. While at a traffic light, some men in the car next to her recognize her and shout her name, taking pictures. Once the light changes to green, she drives off quickly. But then her brakes fail, and she swerves across the road.
It is hinted at once again in the season finale. An impressive shot of Diana is shown after she has watched "Swan Lake," looking out the back of her car as paparazzi follow her and cameras flash. It is a hold-your-breath moment, designed to create suspense. It is not bad storytelling, but it may be considered superfluous. In an article from Digital Spy, Laura Jane Turner argues, "It feels as though the writers are drawing from sensationalised tabloid headlines rather than handling the nuances of her health and situation with care." We have to hope that Season 6 will deal with the Princess' death with respect, especially given that this is still relatively recent history.
Season 5 of "The Crown" deals with its topics in a superficial way, with perhaps less complexity below the surface than before. However, there is a good amount we can still dig into and analyze. It might need a second or third watch, but it is still an impressive and cinematic fictional retelling of one of the worst periods for the royal family.