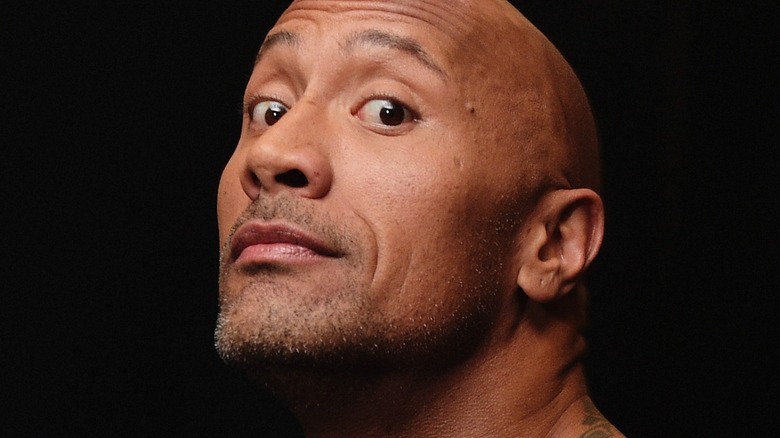 Simone Garcia Johnson sure is a strong and inspiring young woman. The oldest daughter of legendary wrestler-turned-actor Dwayne "The Rock" Johnson and his first wife, Dany Garcia, has already made Golden Globes history, drafted some very lofty career plans, garnered a few enemies on Instagram by unapologetically supporting causes she's passionate about, and yes, kicked off a professional wrestling career. And though she may be the kid of one of the most famous humans on the planet, she stays humble.
"Growing up in the industry, my parents have just always taught me to be the most authentic version of myself," Garcia Johnson once told Teen Vogue. "My dad has always told me to live in the moment, and I feel like that advice is so perfect. My mom has just always told me to be the most authentic version of myself, be true to myself and be a strong, confident woman." Clearly, those pieces of advice have worked out rather well for her.
Let's learn more about this chip off the ol' Rock.
The Rock's daughter was raised by two superstar parents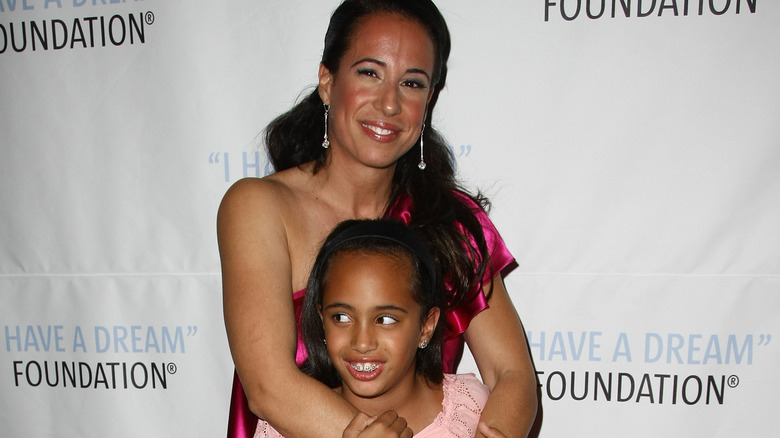 Although Simone Garcia Johnson's mom may not be as instantly recognizable as her dad, she is still a pretty big deal in Hollywood circles and is a superstar in her own right. In addition to being the co-founder and co-CEO of Seven Bucks Productions, bodybuilder Dany Garcia became Dwayne "The Rock: Johnson's manager in 2008 (the same year the couple divorced) and is largely credited with his massive success.
Garcia and The Rock's business relationship has evolved over the years, and every professional step they've taken together sure has seemed to pan out. For starters, Johnson was named the highest-paid actor by Forbes in 2016 — not a bad outcome for a pair of former spouses. Speaking of her decision to leave a successful career on Wall Street in order to manage her ex full-time, Garcia admitted to Marie Claire in 2017, "I had to become very comfortable, very quickly, with creating a new paradigm: 'Yes, I am his manager. Yes, we were once married. Now, let's go build s*** together.'"
The Rock got his daughter working young
Given her parents' ties to the film industry, you might assume Simone Garcia Johnson would try to get into the industry at an early age. But head over to her IMDB page and you'll only spot a handful of credits under her name, citing her appearances on Entertainment Tonight and at the 75th Golden Globes, all as herself. (Aside from her WWE work, that is — but we will get into all of that in a bit.)
However, as the budding young star revealed to W magazine in January 2018, she has actually been pretty involved in showbiz from the time she was just 12 years old. As it turns out, Dwayne "The Rock" Johnson's daughter has taken on the unofficial role of a mini-producer next to her famous parents. As she told the publication, "They've always wanted to know my input on certain things." According to W, one of the projects she weighed in on was a short film about bodybuilding called "Inside the Olympia."
Simone Garcia Johnson became an older sister late in life
When Simone Garcia Johnson was 14, she became an older sister for the first time, as Dwayne "The Rock" Johnson and his longtime girlfriend, singer/songwriter Lauren Hashian, welcomed their first child together, a baby girl named Jasmine (above), in December 2015. Fast forward to December 2017 and the pair announced their family was about to grow even bigger with the addition of another little girl in Spring 2018, making Garcia Johnson a sister again. As the proud papa joked, "once again, big daddy is completely surrounded by beautiful estrogen and loving, powerful female mana… I wouldn't have it any other way."
Though Garcia Johnson is the eldest of The Rock's three kids, she's still the wrestling legend's baby. On Garcia Johnson's 16th birthday, The Rock wrote on Facebook, "Feels like just yesterday I held her tiny body in my hands the day she was born as I whispered 'I'm gonna love and take care of you for the rest of my life.'" Aw.
Simone Garcia Johnson was signed by IMG
When she was in high school, Simone Garcia Johnson began exploring possible career opportunities when she signed with IMG Models. In 2016, the big name agency announced Dwayne 'The Rock" Johnson and Dany Garcia's daughter had been added to their roster. "We are excited to welcome #SimoneGarciaJohnson to the IMG family!" the company tweeted. "We're looking forward to a bright & beautiful future."
A little over a year after she was signed by IMG, Teen Vogue chatted with Garcia Johnson about her career and her platform. When asked who she would love to work with at some point, the future wrestler said, "The first person that comes to mind who I really admire is Ashley Graham; I admire her fierce body positivity and all the amazing things that she has done for the modeling industry." And even though she became a pro model when she was still a teen, she told the outlet that her parents have always made sure she never loses sight of who she is.
The Rock's daughter made Golden Globes history
Simone Garcia Johnson received quite the gift for her 16th birthday when she learned that The Hollywood Foreign Press Association (HFPA) had chosen her to be the first-ever Golden Globes Ambassador – a role reserved for the children of Hollywood's elite and previously dubbed Miss or Mr. Golden Globe — for the awards' 75th anniversary. As Dwayne "The Rock" Johnson's daughter told Teen Vogue, "They changed it to the Golden Globe Ambassador this year to make the title become more inclusive and promote equality, and those are things that I'm really passionate about and that I love."
"I feel so blessed and so excited to be part of this, especially being the first Golden Globe Ambassador and knowing that this tradition is going to be carried on — it's going to be amazing," Garcia Johnson gushed to The Hollywood Reporter following the announcement.
Simone Garcia Johnson's on a mission to empower women
As part of her duties as the first-ever Golden Globes Ambassador, Dwayne "The Rock" Johnson's daughter was tasked with picking a charity to partner with throughout her year-long tenure. She chose Global Girl Media. As the nonprofit's website explains, "(GGM) develops the voice and media literacy of teenage girls and young women, ages 14-25, in under-served communities by teaching them to create and share digital journalism designed to improve scholastic achievement, ignite community activism and spark social change." In the digital age, media literacy is as important as ever, and Garcia Johnson has used her platform to bring awareness to the great work that Global Girl Media does.
"They're an incredible organization," the newly crowned ambassador explained of her decision. "And they empower young women through digital journalism, and they give them all the tools they need to get their voice heard." She echoed those sentiments in a chat with Teen Vogue a couple of months later, concluding, "I'm super excited to be partnering with them."
Simone Garcia Johnson got into NYU
Despite pursuing a modeling career and proudly fulfilling her Golden Globes Ambassador duties, Simone Garcia Johnson also found time for her studies. Speaking with W in 2016, she said, "School's definitely a priority for me, and so is college." At the time, Dwayne "The Rock" Johnson's daughter was attending high school in Florida. She shared her plans for the future, which included graduating, taking the SATs for a second time, and then going on to study business at university.
Evidently, her second attempt at the SATs went really well. As her dad wrote on Instagram in 2019, "Very proud of my first daughter graduating high school, kickin' a** and is now NYU bound." However, as Garcia Johnson shared on a 2020 episode of the "Swerve City" podcast, she ultimately had a change of plans. "At the very end of July, I blew my knee out completely … I was like, "Alright, I think I don't want to go to New York anymore,' and I wanted to stay in Orlando." So, she decided to stay in Florida and train in a certain sport that may or may not be a very big deal in her family.
Instagram backlash doesn't bother The Rock's daughter much
Looking ahead, Simone Garcia Johnson told W she wants to use her platform to encourage others to stand up for what is right and against what is wrong. This is something she herself has done on Instagram. "I think that social media is a great way to speak up about issues that people are passionate about and things that they feel need to be changed," she said. "I've definitely gotten some backlash over certain things, but you can't please everyone. I'll read the comments sometimes, but I tend to focus more on the positive ones."
What else does she focus on? "I just support equality 110%," The Rock's daughter passionately told Teen Vogue before listing causes close to her heart, including "Black Lives Matter, trans rights, or women's rights." She also taken to Insta to let her X followers and counting know she supports helping refugees, the NFL's #TakeAKnee national anthem protests and has even called out tabloids for body-shaming celebrities.
Simone Garcia Johnson joined a powerful movement
On January 1, 2018, the day the Time's Up movement against sexual harassment launched as a direct response to the Harvey Weinstein scandal and a follow-up to the #MeToo movement, Dwayne "The Rock" Johnson's daughter took to Instagram to share her support for the cause. "The clock's been ticking on the abuse of power. I stand in solidarity with women across every industry to say #TIMESUP on abuse, harassment, and assault," Simone Garcia Johnson declared in a since-deleted Instagram post (via Insider). "#TIMESUP on oppression and marginalization. #TIMESUP on misrepresentation and underrepresentation."
Garcia Johnson's dad must've made her proud when he wore all black in solidarity with the #MeToo movement at the 2018 Golden Globes. Yes, that was the very same award ceremony where he introduced her as the first ever Golden Globes Ambassador; that family was probably feeling a lot of pride that evening.
Watch out world, The Rock's daughter is coming
Having grown up with a wrestling legend as her father, it comes as no surprise that Dwayne "The Rock" Johnson's daughter has massive respect for the sports entertainment universe. "It's a sport that is unlike anything else in the world," Simone Garcia Johnson told The Hollywood Reporter back in 2017. "There's just a certain amount of passion that every move and match requires, and that's so admirable. It's definitely something I've thought about and want to pursue."
Laying out her plan, the teen went on to reveal, "I plan to study business in college — NYU, hopefully — and after graduating, I want to pursue wrestling." Then, after that, she hopes to take a cue from her mother — "I've watched my mom build and grow a business, which I've been so inspired by!" — and get into the management game. However, as previously noted, Garcia Johnson would make some changes to that timeline.
She faced ridicule following in her dad's footsteps
Simone Garcia Johnson had been speaking about following in her father's footsteps for years when, in February 2020, her dreams came true. At just 18, Dwayne "The Rock" Johnson's daughter officially signed with the WWE, per People, and, as the WWE announced, she immediately began training at the WWE Performance Center in Orlando, Florida. Jump to May 2022 and she got one step closer to going pro as she unveiled her in-ring moniker: Ava Raine. Unfortunately, a slew of fans took to Twitter to criticize the choice, bashing the fact that Simone hadn't picked a name that was an ode to her father. "I'm slightly disappointed she won't be known as The Pebble," tweeted one person while another suggested, "The stone?"
Simone wasn't impressed. "I beg of you guys to find a new joke," she tweeted. She then explained that she merely wanted to make a name for herself and argued that it didn't diminish her respect for her family's wrestling legacy. "I could build my entire career around my father and people would still bash me anyway," she mused. Indeed, Simone's passion for the sport runs deep and goes far beyond her family ties. As she told The Hollywood Reporter in 2017, she was drawn to how unique wrestling is, saying, "There's just a certain amount of passion that every move and match requires, and that's so admirable."
Simone Johnson's WWE debut was a big hit
After more than two years of training at the WWE Performance Center, Simone Garcia Johnson was finally ready to make her big WWE debut and she did so with a bang. It all began in early October 2022 when the WWE NXT trio known as The Schism was joined by a mysterious fourth member. As WWE teased them as a new on-air personality, they began appearing backstage and in the audience until, on October 25, they hit the squared circle. Dressed in a red hooded sweatshirt and yellow mask, Simone (who goes by Ava Raine in the ring), joined existing Schism members Joe Gacy, Rip Fowler, and Jagger Reid in the ring and unveiled her alter ego for the first time on TV. Sporting red and black hair and one red contact lens, she proudly told fans, "The love and acceptance The Schism has given me defies any preconceived notions of who I'm supposed to be." It's a sentiment she also shared on Twitter where she happily posted, "I've found my family."
The reveal was a hit and fans applauded the addition. "I wasn't interested in this group before, definitely interested now," tweeted one supporter while another gushed, "She looks incredible." And while some seemed let down and questioned the WWE's decision to add Simone to The Schism, many more argued it was just the perfect fit. As one fan noted, "That's a really good spot for her, she gets to learn behind some veterans."