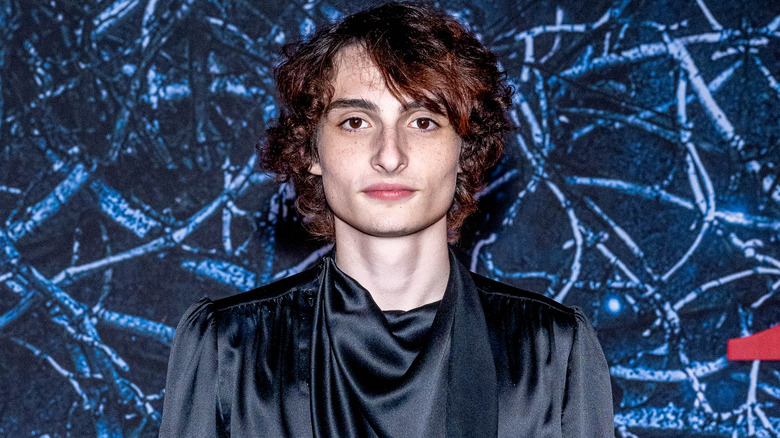 Since becoming a breakout star on Netflix's "Stranger Things," Finn Wolfhard has made himself a household name and has become a force with which to be reckoned in both the film and entertainment industries. After making his debut as Mike Wheeler on the popular supernatural show in 2016 (via IMDb), the young actor went on to find himself cast in a variety of different films and in some pretty iconic franchises and more.
If you haven't gotten the chance to start binge-watching "Stranger Things" ahead of the latest season, or haven't seen any other film in which Wolfhard is featured — what are you waiting for? But before that, allow us to give you a brief overview of everything you need to know about the actor, including an overview of his career, his personal passions, and his dating history. Keep reading to find out more about the stunning transformation of Finn Wolfhard!
He got his first acting role through a Craigslist ad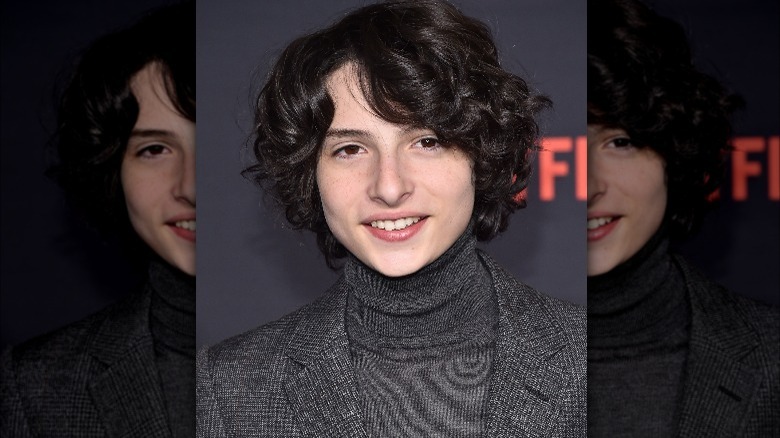 Growing up, Canadian-born Finn Wolfhard found his passion for film through his father, Eric Wolfhard. His dad was an aspiring screenwriter, so the "Stranger Things" star was exposed to everything movie-related at a young age. However, unlike most actors, Wolfhard didn't get his first acting gig from an agent: He actually got it by responding to a Craigslist advertisement!
It wasn't always the young ingenue's goal to become an actor. In fact, he actually wanted to become a filmmaker. In a 2019 interview with The Irish Times, Wolfhard explained that he already had a goal in mind when he first began his career in the acting world. "I only wanted to start acting because I wanted to be a filmmaker. I still do. I still want to be a director. But I thought acting was the best way to get into the film industry so I started acting when I was nine and I loved it and I've never looked back."
Finn Wolfhard grew up with the Stranger Things cast
When Netflix debuted "Stranger Things" in 2016, everything changed for the teenage cast. The show quickly grew in popularity, and the characters, Finn Wolfhard, Millie Bobby Brown, Noah Schnapp, Caleb McLaughlin, and Gaten Matarazzo immediately grew a massive fan following on social media. Ahead of Season 4, the cast prepared fans to see a grimmer and more serious side of the tweens with which we originally fell in love. Not only did each season of "Stranger Things" get increasingly better and even more binge-worthy, but we also got to watch our favorite group of young entertainers grow up!
According to Insider, Wolfhard claimed that as the cast aged, the more exciting the seasons became. Wolfhard said of Season 4, "It gets funnier, gets scarier, gets more dramatic. And I think that just comes with all of us growing up and getting older. We're not all going to be in like mop-top wigs, and we're like, 40 years old, like screaming about like, Demogorgons and stuff."
He's been part of iconic film franchises
In the blink of an eye, Finn Wolfhard became one of the most well-known teenage actors in Hollywood, largely in part to Netflix's "Stranger Things." Since his grand debut, he has gone on to work on some massive projects with high-profile names in the industry. His latest project is "When You Finish Saving the World," which opened at the 2022 Sundance Film Festival (via The Hollywood Reporter). Additionally, Wolfhard starred in other hit films, including 2020's "Ghostbusters: Afterlife," 2017's "It" and 2019 follow-up "It: Chapter 2," and 2019's animated remake of "The Addams Family" (via IMDb).
In fact, being in "Ghostbusters" was a pretty big deal to Wolfhard. In an interview with NME, the young actor claimed that starring in the movie was a big deal to him and said that it was a film that seemed to surround him as a child. "My dad would quote it all the time," he said. "It was a huge part of growing up. Being in the new one doesn't feel real, I still haven't figured it out yet."
Finn Wolfhard is passionate about music
When Finn Wolfhard isn't fighting demons in the Upside Down, he can be found playing guitar with his band! Yup, that's right, he's a singer and an actor! In 2020, Teen Vogue reported that Wolfhard launched a new band, The Aubreys. The band released their first EP, "Soda & Pie" the same year. The album featured a collection of three indie rock songs. When announcing the news of the band, Wolfhard posted to Instagram a screenshot of the Spotify list with the caption, "It's out. Thank you to all of our friends who supported us during and after we recorded this. We are so grateful." The Aubreys feature both Wolfhard and Malcolm Craig, who plays the drums.
However, this isn't the first time the "It" actor has been in a band. Back in 2019, he was also involved in the band Calpurnia, but the group dissolved in late 2019. Although Wolfhard has been in bands for years, he felt that it was initially difficult to successfully separate his "Stranger Things" identity from other passions. In a 2018 interview with Stereogum, Wolfhard said Calpurnia's first few shows were not what he hoped for due to fans screaming references to the popular Netflix show. He said that after more time performing, however, people began to "know their place" (via Teen Vogue).
He has even added modeling to his resume
Finn Wolfhard is a man of many talents! Not only is he an incredible actor who has already been featured in a wide variety of iconic films, but he is also a rockstar on the guitar, and as of 2019, added modeling to his outstanding resume! That year, Saint Laurent Creative Director Anthony Vaccarello named Wolfhard as the brand's ambassador (via Vogue). The "Ghostbusters: Afterlife" actor then went on to become the face of the fashion line's Fall/Winter 2019-2020 campaign.
In a series of 2019 Instagram posts featuring shots from the fashion campaign, Wolfhard wore a button-down shirt, leather jacket, and two-tone sunglasses while sporting a shaggy haircut and a moody expression on his face. "Stranger Things" fans naturally went wild over the campaign in the comments, and even "Treat You Better" superstar Shawn Mendes commented, "This is amazing" (via Page Six). He wasn't wrong!
Finn Wolfhard was rumored to date co-star Millie Bobby Brown
Naturally, when we see characters who play love interests in a popular television show, we immediately hope for them to be a couple in real life. In some cases, it's impossible to think that they aren't already a couple when they have such great chemistry on set. This was reported to happen almost instantly with Finn Wolfhard and co-star Millie Bobby Brown, who plays the character of Eleven in "Stranger Things." Though legions of fans hoped that the two were dating, the two never confirmed if they were ever an item (via Distractify).
In 2019, Brown told E! News that the two have an easy camaraderie within their friendship. "It's in the scripts and we feel comfortable with each other, we feel trusted, we're in a safe environment, so it's relatively easy. I think people hype it up to be awkward, more awkward than it is, but it's just like your friend, so it's chill," she said at the time.
He had a super scary experience with a fan
Celebrities over the years have come across certain fans who seem to take it a little too far. Finn Wolfhard is just one young entertainer who has reportedly been stalked by an adult fan. As a young adult trying to live their life as simply as possible, that can be a pretty scary and uncomfortable situation. In 2020, Wolfhard told Mastermind magazine (via Twitter) about the moment he realized some overzealous fans were following him.
"When I was 13, some adults followed me back to my condo when I was shooting 'It,'" Wolfhard said at the time. "'Stranger Things' had just come out, and I was by myself. As I walked faster, they walked faster, and I was getting a bit antsy by the time I got to the door. Suddenly, they were like, 'Hey, dude, can we get a selfie?' And I was like, 'No you can't have a selfie! How about don't follow children?'" Wolfhard added that some fans have even gone as far as to hide inside cars and tail his vehicles. "I also had my taxi followed and, out of the taxi, the person continued to be pretty relentless," he said.
The star had to clear up some crazy rumors
Like most celebrities, crazy rumors can quickly spread, and thanks to social media, information nowadays travels at the speed of light. That's why when one particularly interesting rumor started spreading across Twitter about Finn Wolfhard, the actor had to speak out and clear his name. Back in 2017, several reports alleged that the "Stranger Things" actor drank water out of a bidet while visiting France.
According to Page Six, the rumor started after Wolfhard tweeted, "Yo France just drank from your water fountain. Why is it in a toilet, and why does is [sic] taste weird? #thewondersofeurope." He continued with, "Update just found out the toilet water fountain is called a bidet?? Stay tuned for more details." He later shared a screenshot featuring the definition of bidet and captioned it, "Oh god." Naturally, this blew up online, and people began questioning whether or not he actually drank from the bidet. When appearing on SiriusXM's Entertainment Weekly Radio, he cleared the air. "I'm like, 'Do you actually think think [sic] I would drink from a bidet?! Like, it's in the toilet!" he said on the radio show.