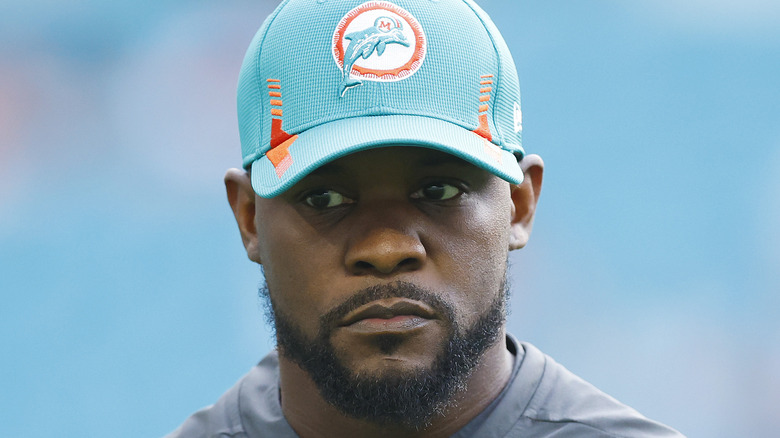 Miami Dolphins head coach Brian Flores was fired after three overachieving but ultimately unsuccessful seasons, according to USA Today. Flores led the Dolphins to a 9-8 finish in the 2021 NFL season following a 1-7 start and capped by an impressive victory over AFC division rivals, the New England Patriots in the final game of the year. Flores began his career as an assistant coach and defensive play caller for New England before moving on to the head coaching position in Miami, per the official Dolphins website.
"After evaluating where we are is an organization and what we need going forward to improve, I determined that key dynamics of our football organization weren't functioning at a level I want it to be and felt that this decision is in the best interest of the Miami Dolphins," Dolphins owner Stephen Ross said about the decision to move on from Flores, per USA Today. It's widely speculated that Ross, a Michigan graduate, may tap University of Michigan head coach Jim Harbaugh as Flores' replacement, although Ross denies any such plans are in place.
With a resume like his, it's unlikely we've seen the last of Flores coaching in the ranks of the NFL or in college football. As the 2021 NFL season concludes, here's a look at the life and accomplishments of Brian Flores.
He was nearly the victim of police violence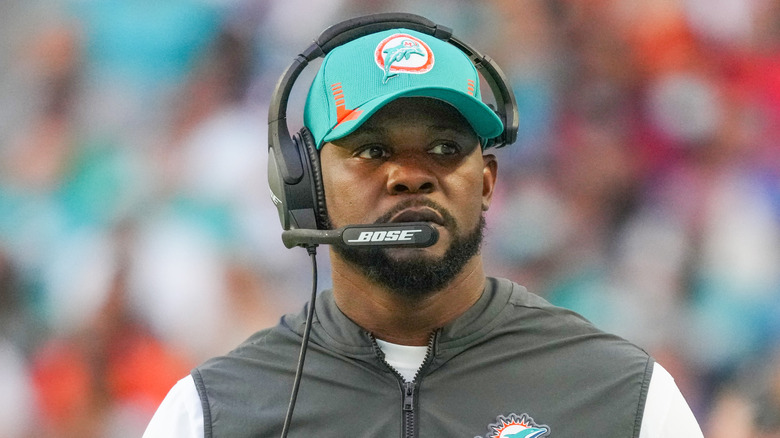 Brian Flores was born in Brownsville, New York, one of the roughest neighborhoods in New York City, via the Miami Dolphins website. On the strength of his football potential, he played for Boston College before an injury derailed his playing career. His first job as a coach was with New England, where he was first hired in the scouting department. Following league controversy surrounding then 49ers quarterback Colin Kaepernick's decision to kneel on the sidelines during the national anthem as an expression of protest, and as social justice issues grabbed headlines across America in the wake of the George Floyd murder, Flores spoke of his own experience with police overreach as the child of Honduran immigrants in New York City.
According to the South Florida Sun-Sentinel, Flores said, "We all know and understand things aren't where they need to be [in society] right now … I lived this. I've had guns pointed at me by police officers. This is not something I take lightly," he said.
He offered to work for free
Per Pro-Football History, Brian Flores began his career with an entry-level position with New England after a college injury halted his dreams of playing in the NFL. He remained at Foxboro for 11 seasons, learning under head coach Bill Belichick. Dry cleaning duty was among his first responsibilities for the franchise, and he even offered other NFL teams his services free-of-charge prior to working for New England, per the Miami Dolphins website.
From his time in the scouting department, Flores then moved on to work as a coaching assistant for the team, followed by an offensive assistant and special teams coach. After that, he was promoted to defensive assistant coach and play caller, before serving as a safeties coach, and finally a linebackers coach. Miami tapped him for their head coaching position in 2019. Looking back on his start in New England, Flores said, "I moved up the ranks and fell in love with coaching," per the Dolphins website.
Among the few Latino coaches in NFL history
Prior to his firing, Brian Flores, a second-generation American Honduran immigrant with African ancestry, was only one of three minority head coaches in the NFL, per The Shadow League. He was also one of two Latino coaches currently active in the league, next to Ron Rivera of the Washington Football Team, according to Our Esquina. Also, via Our Esquina, Tom Flores (no relation, pictured above) was the first person of Mexican ancestry to serve as a head coach in the NFL, winning a Super Bowl title with the Oakland Raiders in the early 1970s — the only Hispanic coach to ever win the Lombardi Trophy.
Prior to Tom Flores, hall-of-famer Tom Fears was the first Latino head coach ever, leading the New Orleans Saints in the late '60s, with no championships. As can be seen, there's much work remaining for the NFL to address minority and Latino representation in coaching positions. With Brian Flores' record of success, it's likely he'll be quickly picked up by another football team in the NFL or in the ranks of college football, serving dual purposes, improving diversity in the front office while also providing an excellent brand of football on the field.
He has the New England Patriots' number
Serving for a bit more than a decade under the tutelage of New England Patriots head coach Bill Belichick seems to have put Brian Flores at an advantage when facing his former team as the head coach of the Miami Dolphins. During his tenure in South Florida, where according to Pro-Football History, he went 24-25 giving the Dolphins their first two winning seasons in 10 years, Flores has a 4-2 record against the Patriots, culminating in their season finale victory over the Patriots on January 9, 2022.
Despite his efforts to turn around the Dolphins franchise with star quarterback Tua Tagovailoa (pictured above), Flores was unable to take the team to the playoffs. Contributing perhaps to Dolphins owner Stephen Ross' decision to make a change at the head coaching position, even with the executives' confidence in the young roster Miami has in place. According to Sports Illustrated, Ross said, "I want to thank Brian for his hard work and wish him nothing but the best in his future."
Players love him
Despite his firing, Brian Flores was on track to become one of the best head coaches in Dolphin history, according to Phin Phanatic, an authoritative fan site. He was only 17 victories away from being the second winningest head coach in franchise history, besting Dave Wannstedt who won 42 games with the team. What's also for certain, the Miami decision to part ways with Flores was not in any way related to his relationship with the players.
As Phin Phanatic reports, Dolphins players were known to show up for voluntary workouts on account of Flores when they otherwise might not have done so, and he built a culture of high expectations and accountability during his time with the team. Despite the slow start Miami experienced in the 2021 season and in light of their remarkable turnaround, Brian Flores' sudden firing shocked NFL fans and insiders alike. From humble beginnings to success at the highest levels of the NFL, Flores seems destined to be among the most notable football coaches of his generation, despite his recent setback with Miami.