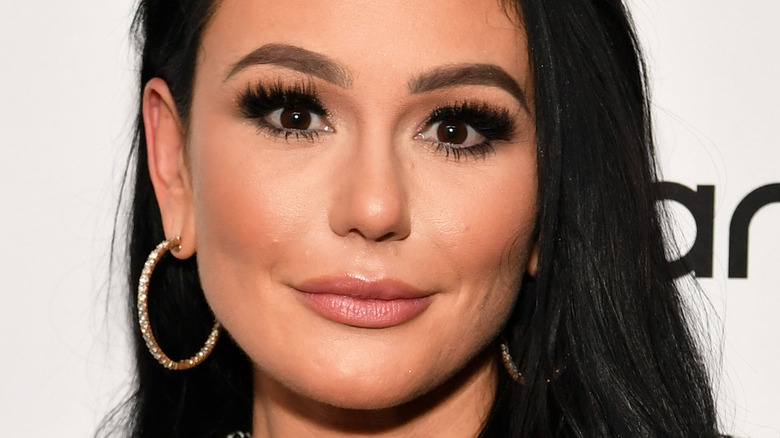 Jenni "JWoww" Farley burst on the scene in December 2009 with the premiere of "Jersey Shore," in which she was one of several 20-somethings living together "Big Brother"-style in a beach house in the Garden State. In a review of the first episode, The New York Times summed it up thusly: "eight young people of dubious intelligence and accomplishment … thrown together in a lavishly appointed residence in Seaside Heights … for a hormonally charged, alcohol-fueled summer." While the series upset Italian American organizations, "Jersey Shore" proved to be an out-of-the-gate hit; as Entertainment Weekly reported, the show's ratings were massive, making instant stars out of its young cast.
Farley was one of the show's standouts; after "Jersey Shore" ended its six-season run, Farley and co-star/BFF Nicole "Snooki" Polizzi headlined their own spinoff, "Snooki & JWoww." "[It's just] us being us, like 'Laverne and Shirley' for 2012," Farley told Fox News at the time. The pair ultimately reunited with their original castmates for "Jersey Shore: Family Vacation," a reboot/spinoff arriving nearly 10 years after the original series.
After more than a decade as one of the most popular personalities in the reality television milieu, fans have watched Farley get married, have children, endure a painful divorce and much more as she lived her life in front of the camera. Yet there's much more to her than meets the eye, something that will become apparent by reading further to delve into the untold truth of Jenni "JWoww" Farley.
Her original career goal was to become an animator
Long before shacking up with the rest of the "Jersey Shore" crew in Seaside Heights, Jenni "JWoww" Farley envisioned an entirely different career path for herself. "I wanted to work for Disney when I finished college because I love animation," she revealed in a feature for Us Weekly. Becoming an animator wasn't some vague pipe dream, but something she was actually working toward by studying computer programming at the New York Institute of Technology. "Right before I turned 21 I moved to New York City, and I had a dream of being an animator for Disney, Pixar, anyone that would take me," she explained on her YouTube channel.
However, her plans took a huge detour when she confronted the opportunity to join "Jersey Shore," which presented something of a conundrum in that the show's shooting schedule wouldn't permit her to do both the show and graduate from NYIT. We all know what she ended up choosing to do. As she told Us Weekly, "I wasn't the greatest at animation."
While Farley may have downplayed her animation skills, fans can draw their own conclusions by catching a glimpse of what could have been; Gawker came across a website that was believed to have showcased some of Farley's artwork from that time, including drawings of figures and geometric shapes, in addition to sketches of "Family Guy" character Stewie Griffin, Shrek, and the Mrs. Potts the teapot from Disney's "Beauty and the Beast."
Jenni Farley is a Disney super fan
Given Jenni "JWoww" Farley's early ambitions to become an animator with Disney, it shouldn't come as a surprise that she's something of a Disney super fan. That was evident in the Disney-themed nursery that she designed for her son, Greyson. In a YouTube video, she highlighted one wall of the room, which features romantic scenes from such Disney animated classics as "Aladdin" and "Beauty and the Beast," along with the words, "Once Upon a Time" adorning the wall. "I want my son to grow up looking at these pictures and knowing what it's like to treat any woman he comes across like a princess," she said.
Farley's love of Disney can also be seen on her epidermis. "I got a full sleeve of my version of Disney on my arm: a woman's 'ruin' tattoo," she told Us Weekly of the piece. In a 2016 chat with Inked, Farley said tat, which features a grim spin on four different Disney couples, both celebrates and subverts the stories. "It is sort of like 'Happily never after,'" she explained. After describing the inspiration behind each of the renderings, she said, "To me, that is the reality of relationships, they are crazy and take hard work — not that happily ever after bulls**t."