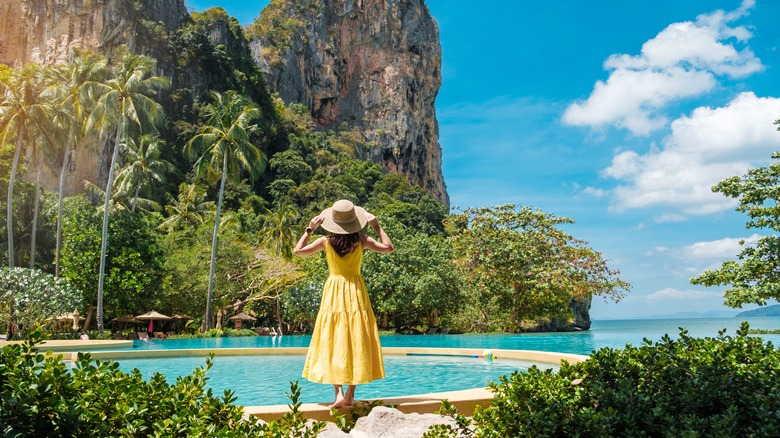 There are so many amazing places to see in the world. With seven continents, 195 countries, and millions of cities, it's truly impossible to see it all. If you like to travel, you probably have a bucket list in the works, but you may be unsure of which destinations deserve a space. Or, maybe your list is miles long and you're looking for a way to narrow it down to a number of places you might actually be able to visit in a lifetime.
The best travel destinations in the world will be a subjective subject, of course, but we put a lot of thought into each place on this list. Some cities are filled with incredible art, like Paris and New York, while other locations contain Wonders of the World, like Beijing and Machu Picchu. Whether it's food, architecture, history, wildlife, culture, or something else, we guarantee that each destination on this list deserves a spot on your bucket list.
Rome, Italy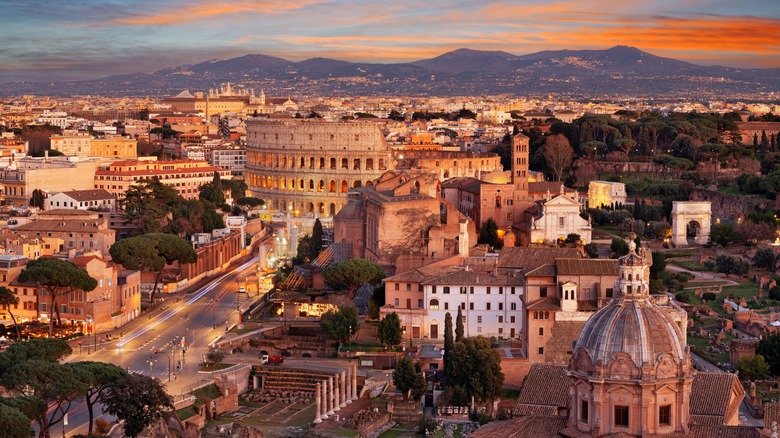 Rome, Italy is a city rich in history and culture. There are many famous landmarks and attractions to see such as the Colosseum, Sistine Chapel, Borghese Gallery, and more. When visiting Rome, a must-see is the Colosseum. This ancient structure was built almost 2,000 years ago and is a great example of Roman engineering and architecture (via The Colosseum). It is one of the most popular tourist destinations in the world, and is one of the New 7 Wonders of the World.
Another popular attraction is Vatican City. This is the smallest country in the world and home to many famous landmarks such as St. Peter's Basilica and the Sistine Chapel, according to Britannica. The Sistine Chapel is especially worth a visit as it contains some of the most incredible artwork by Michelangelo. And no trip to Rome would be complete without seeing some of the ancient ruins that are scattered throughout the city. The Roman Forum and Palatine Hill are two of the most popular places to see, and offer a glimpse into what life was like in ancient Rome (via History). Rome is also a great place to enjoy some of the best food in the world — don't forget to eat your weight in pasta, tiramisu, and gelato!
Kruger National Park, South Africa
Kruger National Park is one of the most popular national parks in Africa. The park is home to a large number of wildlife species, including the Big Five: lions, leopards, elephants, buffalo, and rhinos, according to National Geographic. Other popular animals in the park include zebras, giraffes, hippos, and crocodiles. If you are interested in seeing Kruger National Park for yourself, there are many different ways to do so. You can take a safari, go on a self-drive tour, or stay in one of the many lodges or campsites within the park.
According to Siyabona Africa, Kruger National Park is a year-round destination, so you're likely to see wildlife any time you visit. However, your experience will vary depending on the seasons. In the summer, for example, lots of rain will mean a lush landscape but more difficulty seeing animals. While the temperature is colder in the winter, this is a great time to see wildlife because it is the dry season and more animals will be out looking for water. Be sure to research ahead of time to make sure you visit during a season that will meet your expectations.
Paris, France
There are so many reasons to add Paris to your travel bucket list. The city is home to some of the world's most famous attractions, museums, and food options. The Eiffel Tower is probably the first thing that comes to mind when you think of Paris. This iconic landmark sits on the west side of the city overlooking the Seine. You can see this amazing structure from two main vantage points: Parvis des Droits de l'Homme, a plaza and park across the Seine, and Champ de Mars, a large park directly in front of the Tower.
Another popular attraction is the Notre Dame Cathedral, although your experience may be limited for a while. In April 2019, a fire caused severe damage to the 850-year-old structure and it has been closed to the public since, not expected to fully reopen until 2024. However, the outside is still worth a visit today. And no trip to Paris would be complete without a visit to the Louvre Museum, which houses some of the most famous paintings in history, including Leonardo da Vinci's Mona Lisa (via the Louvre). And finally, don't miss out on the food. The French love good food, and you'll be hard-pressed to find a bad meal if you stick to local restaurants and avoid touristy areas. Be sure to try dishes like escargot (snails), crepes (thin pancakes), and crème brûlée (a custard dessert with a caramelized top), per CNN Travel.
Iceland
If you're looking for a breathtaking natural landscape, Iceland is the place for you. The island is home to some of the most stunning scenery in the world, from towering waterfalls to snow-capped mountains. And with its many hiking trails, Iceland is a nature lover's paradise. A geothermal spa called the Blue Lagoon is a popular tourist destination. While there, you'll be able to relax in the warm waters and enjoy stunning views of your surroundings. Gullfoss Falls is another must-see destination, according to Guide to Iceland. This massive waterfall is one of the most beautiful in Iceland, and it's easily accessible from Reykjavik, the capital city.
Fjaðrárgljúfur is a canyon located in southern Iceland that's known for its dramatic cliffs and lush vegetation. It's a popular spot for hiking and photography, and another must-see spot in this beautiful country. Iceland is also extremely safe according to World Population Review, making it a great destination for people of all ages, races, and genders. You can take a tour around the country, but we recommend renting a car and going at your own pace. This will give you the flexibility to stay as long as you want at each destination and get a people-free photo at sunrise whenever you want.
London, England
London is one of the most popular tourist destinations in the world and definitely deserves a spot on your bucket list. This historic city has something for everyone, from world-renowned museums and architecture to delicious food and a vibrant nightlife (via Visit London). Out of the many attractions, don't miss a chance to see Westminster Abbey. One of the most iconic religious buildings in England, this site has been the site of many important historical events, including royal coronations and funerals. The Tower of London is another destination that all history buffs will appreciate. This imposing fortress has served as a royal palace, a prison, and even a zoo over the centuries, via Historic Royal Palaces. Today, it's one of the most popular tourist attractions in London.
Fans of the royal family will want to make a stop at Buckingham Palace and Kensington Palace, two royal residences that are located relatively close to each other (via The Royal Household). While there's plenty to do and see in the city of London, a quick day trip will take you to even more fantastic locations, including Stonehenge. This UNESCO World Heritage site is definitely worth a visit if you have the time and easy to access from the city.
Hawaii, USA
An entire US state might seem too broad for a bucket list, but every inch of Hawaii is beautiful. From the sandy beaches of Maui to the lush rainforests of Kauai, Hawaii has something for everyone. Some of the top attractions in Hawaii include the Honolulu Museum of Art, the Waikiki Aquarium, and the Diamond Head State Monument, all located on the island of Oahu (via Go Hawaii). Of course, no trip to Hawaii would be complete without spending some time on the beach. whether you're snorkeling in Hanauma Bay while on Oahu or soaking up the sun near Hanalei Bay while on Kauai, you'll never want to leave.
When it comes to food, Hawaii is best known for its seafood. From fresh fish tacos to Hawaiian-style poke bowls, there's no shortage of deliciousness to be had. And with so many different cultures represented in Hawaii, you'll find cuisine from all over the world, although Asian cultures stand out here (via Hawaii Magazine). When visiting Hawaii (and all locations on this list), remember to be a responsible and ethical traveler. According to Go Hawaii, you can do this by learning about the culture, respecting the land, and spending money on local shops, hotels, and restaurants when possible.
Phuket, Thailand
Thailand is a bucket list destination for many travelers, and for good reason. While the city of Bangkok is bustling and Chang Mai is filled with lush jungles, you don't want to miss Phuket. This area is your gateway to island boat tours, white sandy beaches, and jungle excursions.
There's no shortage of things to do in Phuket. You can visit the Big Buddha, which is one of the most popular tourist attractions on the island. The 45-meter-tall statue is made of white marble and provides stunning views of Phuket and the surrounding islands. One of the best ways to see Phuket is from the water. There are plenty of boat tour operators that offer everything from day trips to multi-day excursions. You can choose to relax on a deck chair and soak up the sun or go snorkeling and diving in the clear blue waters. The Phi Phi islands and Khao Phing Kan island are two of the most popular boat destinations from Phuket. And don't forget to try the food — Thai food is some of the best in the world, and it will never taste better (or be more affordable) than when you're in Thailand.
Barcelona, Spain
Barcelona is a beautiful city with a rich history and plenty of things to see and do. Just a few of the main attractions include the La Sagrada Familia, Casa Batlló, Park Güell, and the Gothic Quarter. The La Sagrada Familia is a world-famous church that was designed by Antoni Gaudí. It is one of the most popular tourist destinations in Barcelona. Casa Batlló is another popular tourist destination in Barcelona, which is a UNESCO World Heritage Site and one of the most unique buildings in the world.
Park Güell is a public park that was also designed by Antoni Gaudí. Although it's a bit of a hike if you're walking there from the city center, it's a great place to relax and enjoy the incredible views of Barcelona. The Gothic Quarter is a must-see for anyone who visits Barcelona. It is the city's medieval center and it is full of narrow streets, quaint shops, and beautiful architecture (via Barcelona Tourist Guide). The beach is also one of the best things about Barcelona — you can sunbathe, swim, or just enjoy the stunning views of the Mediterranean Sea. And of course, no visit to Barcelona would be complete without trying some of the delicious Spanish food. Tapas are a must-try, and you can find them in almost any restaurant in Barcelona (via CNN).
Beijing, China
China can be more complicated due to visa requirements, but Beijing is definitely worth a visit for anyone who takes the time to get there. First and foremost, Beijing is the closest large city to the Great Wall of China, one of the Seven Wonders of the World. It was built over 2,000 years ago and spans over 5,000 miles (via Britannica). There aren't many experiences more surreal than strolling down the wall gazing at the mountain landscape around you.
The Forbidden City is another must-visit destination in Beijing. The Forbidden City was the imperial palace during the Ming and Qing Dynasties, per National Geographic. It is now a museum that houses artifacts from that time period. The Forbidden City is a large complex with many buildings and courtyards, so it's best to allow a full day to explore everything it has to offer. Or visit the Summer Palace, a vast imperial garden that was once used by the royal family. It is now a public park and one of the most popular tourist destinations in Beijing. The Summer Palace is beautiful all year round, but it is especially stunning in the spring when the flowers are in bloom. And, of course, we can't forget about the food in Beijing. You'll find plenty of classic Chinese dishes here, as well as some of the best street food in the world.
Bali, Indonesia
Bali, Indonesia is a beautiful island destination that offers something for everyone. Whether you're looking for adventure, relaxation, or cultural experiences, you'll find it all in Bali. One of the most popular reasons to visit Bali is for the stunning beaches. With dozens of beaches to choose from, you're sure to find the perfect spot to soak up the sun or go surfing (via Wonderful Indonesia). If you're looking for a more active vacation, there are plenty of activities to keep you entertained. Scuba divers will love all that the ocean has to offer, while those who prefer to stay on dry land can enjoy hiking, biking, and exploring the many temples and rice terraces.
Bali is also home to a number of museums and galleries, which offer a glimpse into the island's rich culture and history. For foodies, Bali offers an abundance of delicious Indonesian cuisine, as well as international restaurants. And no trip to Bali would be complete without a visit to one of the many spas, according to Bali.com.
New York City, USA
There are many reasons to visit New York City, and its main attractions, museums, food, and culture are just some of them. One of the most popular tourist destinations in the world, New York City is home to some of the most iconic landmarks and attractions. From the Statue of Liberty and Ellis Island to the Empire State Building and Central Park, there's no shortage of things to see and do (via NYC & Company). And with so many different neighborhoods to explore, you're sure to find something that interests you.
If you're a fan of art and history, you'll be spoilt for choice when it comes to museums. The Metropolitan Museum of Art, the American Museum of Natural History, and the Guggenheim Museum are just some of the must-see museums in New York City. And no trip to the city would be complete without experiencing its famous food scene. From street vendors selling hot dogs and pretzels to Michelin-starred restaurants, there's something for everyone. Whether you want to try traditional New York dishes like pizza and bagels or something more adventurous, you're sure to find it in the city.
Japan
When it comes to reasons to visit Japan, there are endless possibilities. From ancient temples and shrines to delicious food and cutting-edge technology, this country offers endless experiences for visitors. Japan is home to some of the world's oldest temples and shrines, many of which are still in use today (via Japan Guide). A visit to places like Kyoto's Kiyomizu-dera or Tokyo's Senso-ji will give you a glimpse into the country's rich history and culture.
In contrast to its ancient landmarks, Japan is also home to some of the most cutting-edge technology in the world, per the Japan National Tourism Organization. From high-speed trains to robotic toilets, you'll be amazed by the country's modern conveniences. Japan is unsurprisingly home to some breathtaking scenery, from the bright lights of Tokyo to the cherry blossoms of Kyoto. No matter where you go, you're sure to find beautiful views around every corner.
Finally, Japanese cuisine alone might be worth the time and stress of traveling. With easy access to the water, Japanese sushi and sashimi are as fresh as it gets when enjoyed in the country. If you prefer to stay away from seafood, opt for ramen or other Japanese specialties while you're testing out new restaurants. With such a large variety of dishes, it's har to find bad food anywhere. Finding somewhere to eat is easy — just walk around until you find a restaurant or food stand that looks good.
The Great Barrier Reef, Australia
The Great Barrier Reef is the world's largest coral reef and one of Australia's most iconic tourist destinations. It is home to an astonishing diversity of marine life. The reef is 1,800 miles long and is so large that it can be seen from space, according to GreatBarrierReef.org. Sadly, the Great Barrier Reef is under threat from climate change (via NPR). Rising ocean temperatures are causing mass bleaching events, in which the corals lose their color and eventually die. While some areas have begun to recover, the overall health of the reef is declining. Unless we are able to reverse some of the effects of climate change, this natural wonder won't be around forever.
Despite the challenges, the Great Barrier Reef is still an amazing place to visit. The sheer size and beauty of the reef is breathtaking, and there is nothing quite like snorkeling or diving among the colorful corals and fish. Many people stay in Cairns, Australia and take boat tours out to the reef from there, but Port Douglas and Hamilton Island are also popular spots, per Australia.
South Island, New Zealand
The South Island of New Zealand is an incredible place to visit, with something for everyone. From the stunning landscapes and natural beauty, to the exciting adventure activities on offer, it's the perfect spot for people who love the outdoors. One of the best things about the South Island is that it has a relatively low population, with just over 1 million people occupying the entire south half of the country (via Britannica). This means that you can really get away from it all and enjoy the peace and quiet of nature. The landscapes are simply breathtaking, and there are plenty of opportunities for hiking, camping, and fishing.
If you're looking for some excitement, Queenstown is the place to be. Here you can try your hand at bungee jumping, sky diving, jet boating, and more, per the Queenstown website. There is also a great selection of restaurants and bars, as well as plenty of shops to explore. Other towns you'll want to visit include Christchurch, Dunedin, and Kaikōura. No matter what your interests are, you are sure to find something to love on the South Island of New Zealand.
Athens, Greece
Athens is one of the oldest cities in the world and has a rich history that dates back thousands of years. The city is home to many well-preserved ruins from ancient Greece, making it a must-visit destination for anyone interested in history or archaeology.
Some of the most popular tourist attractions in Athens include the Acropolis of Athens, the Parthenon, the Acropolis Museum, the Panathenaic Stadium, and the Temple of Hephaestus, according to Visit Greece. The Acropolis is an ancient citadel located on a hilltop in Athens. It was here that some of the most important buildings in ancient Greece were built, including the Parthenon. The Parthenon is a temple dedicated to Athena, the goddess of wisdom and warfare. The Acropolis Museum is located near the Parthenon and houses a collection of artifacts from the site. The Panathenaic Stadium was used for the Panathenaic Games, which were held every four years to honor Athena. The Temple of Hephaestus is a well-preserved temple dedicated to the god of blacksmiths and craftsmen.
Visiting Athens is a unique opportunity to see some of the most important ruins of ancient Greece up close. These ruins are not only interesting from an archaeological perspective, but they also give visitors a glimpse into what life was like in this ancient city.
Amsterdam, Netherlands
If you're looking for a European city that has it all, Amsterdam is the perfect choice. From world-famous museums to iconic canals, there's something for everyone in this Dutch capital. One of the best things about Amsterdam is that it's easy to get around, per I Amsterdam. The city is compact and most of the attractions are within walking distance of each other. And if you do need to use public transport, the tram system is efficient and straightforward. Or you can travel like the locals and use a bike, but you may be overwhelmed with just how many people use this method of transportation to get around.
When it comes to museums, Amsterdam has some of the best in the world. The Rijksmuseum houses Rembrandt's masterpieces as well as works by other Dutch Golden Age painters. The Van Gogh Museum is dedicated to the post-Impressionist painter and has the largest collection of his work in the world. If you're interested in Anne Frank, you can visit the house where she and her family hid from the Nazis during World War II. And no trip to Amsterdam would be complete without trying some of the local food. From stroopwafels to pickled herring, there are plenty of delicious things to eat.
Banff National Park, Canada
Banff National Park is the oldest national park in Canada, located within the Canadian Rocky Mountains. Jagged mountains, crystal-clear blue lakes, and an array of wildlife make this national park a popular destination for outdoor enthusiasts. Within the park, there are numerous opportunities for hiking, biking, skiing, and camping.
Banff's landscape is truly breathtaking. The Rocky Mountains loom large over the park, providing a stunning backdrop for everything from hiking and camping to simply enjoying a picnic lunch. Lake Louise is another must-see, with its turquoise waters and majestic mountain views (via Banff & Lake Louise Tourism). Banff National Park is also home to an incredible variety of wildlife, including elk, bighorn sheep, grizzly bears, and wolves. While you're unlikely to see a bear or wolf in the wild, you might get lucky and spot one while driving through the park. Keep your eyes peeled and your camera ready!
Finally, Banff National Park is a veritable playground for outdoor enthusiasts. Hiking, biking, skiing, and camping are all popular activities in the park. There are also plenty of opportunities for wildlife watching, birding, and photography. No matter what your interests are, you're sure to find something to love in this national park.
Bora Bora, French Polynesia
Bora Bora is an island in French Polynesia that is located in the Leeward group of the Society Islands, according to the Islands of Tahiti. Visitors enjoy a variety of activities around the beautiful beaches, such as snorkeling, diving, kayaking, and stand-up paddleboarding. There are also many hiking trails that wind through the lush jungle and offer breathtaking views of the island.
One of the best things about Bora Bora is that it is relatively small and intimate. Unlike some of the other popular tourist destinations in the world, Bora Bora has a laid-back atmosphere where you can truly relax and take it slow with your loved ones (via Tahiti.com). The island is also home to a number of luxury resorts, so if you're looking for a luxurious vacation unlike any other, Bora Bora is the perfect destination. You will truly feel like you're on another planet.
Egypt
If you're looking for an amazing and exotic travel destination, Egypt should definitely be on your list! From the iconic pyramids of Giza to the ancient temples of Luxor, there's so much to see and do in this fascinating country. The Pyramids of Giza are perhaps the most well-known Egyptian landmarks. These massive structures were built over 4,500 years ago and are truly a sight to behold, per National Geographic.
But don't limit yourself to Giza and Cairo. Luxor is home to some of the most impressive Egyptian temples, including the Temple of Karnak and the Valley of the Kings. The Temple of Karnak is particularly spectacular, with its huge columns and intricate hieroglyphics (via Britannica). And the Valley of the Kings is where you'll find the tomb of Tutankhamun, one of the most famous pharaohs in history. The best way to see everything is on a Nile river cruise, which will allow you to see all the major sights while enjoying some beautiful scenery along the way. Egypt is a good place to hire a tour guide to help you get around and communicate with locals, especially in smaller towns.
Machu Picchu, Peru
Machu Picchu is a site of immense historical importance located in the Cusco Region of Peru. The ruins, which are situated on a mountain ridge 2430 meters above sea level, were built by the Inca civilization between 1450 and 1500 AD. The site was rediscovered by Hiram Bingham in 1911, and has since become one of the most popular tourist destinations in the world, via UNESCO.
Machu Picchu is a truly spectacular sight. The ruins are spread out over an area of more than 3 square miles, and offer stunning views of the surrounding mountains and valleys. It is also a place of great mystery and intrigue. Despite being one of the most well-known archaeological sites in the world, we still do not know definitively why Machu Picchu was built.
Finally, Machu Picchu is a UNESCO World Heritage Site, and as such is of great importance to our understanding of global history. The site provides valuable insights into the Inca civilization, and its architecture and engineering are truly remarkable. Visiting Machu Picchu is an experience that you will never forget. The journey to get there is an adventure in itself, and standing amongst the ruins is an unforgettable experience.
Hanoi, Vietnam
Hanoi is the perfect place to visit if you are looking for unique culture, delicious food, and friendly people. The capital of Vietnam is home to a unique culture that is a mix of traditional Vietnamese values and French colonial influence (via Britannica). This can be seen in the architecture, art, and cuisine of the city, per Vietnam Tourism. Hanoi is known for its delicious food, which is a reflection of the city's diverse cultures. There are many street food vendors as well as fine dining restaurants to choose from. Some must-try Vietnamese dishes include pho (noodle soup), banh mi (Vietnamese sandwich), and spring rolls.
While the city of Hanoi has plenty to offer, it's also close to many nature-based excursions including Ha Long Bay, Mai Chau Valley, and Cuc Phuong National Park, according to the blog Vietnam is Awesome. The people of Hanoi are incredibly friendly and welcoming, making it a great place to meet new people and learn about their culture.
Isle of Skye, Scotland
The Isle of Skye is one of the most popular tourist destinations in Scotland, and it's no wonder why. The island, located off the west coast of the Scottish mainland, is home to some of the most stunning scenery in the world. From its towering castles and fishing villages to its lush green landscapes, this area is worth the trip from Edinburgh.
If you're looking for a breathtaking hike, look no further than the Quiraing. This iconic landscape features a series of huge landslips that have created a unique and otherworldly landscape (via Isle of Skye). The hike itself is challenging but rewards hikers with unbeatable views of the surrounding area. For those interested in history, the Isle of Skye is home to many castles and ruins. Dunvegan Castle, located on the northwest coast of the island, is one of the most popular attractions. The castle has been the seat of Clan MacLeod for over 800 years and is well worth a visit. Although the roads on the Isle of Skye are narrow, renting a car and traveling at your own pace is the best way to tour this region.