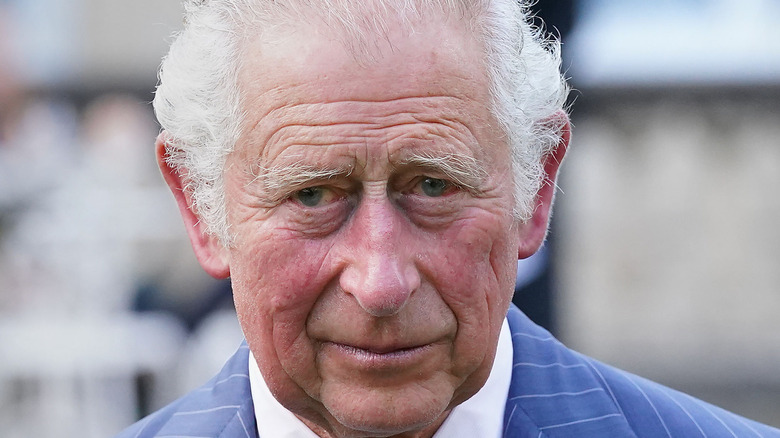 The new king is said to be hard to please, so luckily, we have a list of things to avoid when meeting King Charles III, according to The Times (via Yahoo!). Before we get into what not to do, you should know the most important rule to follow, which is to acknowledge his divine right as king. Failure to support his total power could end with a visit to the tower's famed torture rack up close and very personal. Wait … that's if you met King Charles I (via World History Encyclopedia). Things have changed a bit since the medieval times when the first and second King Charleses ruled.
The English Monarchy has existed for around 1,200 years, and in the 21st century, King Charles III became Britain's new monarch at 74 years old, making him the oldest monarch to be crowned in British history. King Charles took the throne on September 8, 2022, following the death of his mother, Queen Elizabeth II — the nation's longest-reigning monarch, who ruled for 70 years and 214 days.
He is known to have a temper, and his age probably won't help that matter. But it seems like there may be fewer traditional rules to follow with his ascension. King Charles has said that he "wants to balance tradition and progress" (via the Washington Post), but here are nine things you should never do when you meet King Charles.
Give him a leaky pen
If you try to make a good gesture by offering a pen, be sure it's not leaking — especially if the offer is to King Charles. In a recent video, we saw King Charles lose his temper at a leaking pen while signing a visitors' book in Northern Ireland during a stop on his royal tour of the U.K.'s four nations. In the video, the king mutters, "Oh god, I hate this! I can't bear this bloody thing … every stinking time." But let's be honest, who hasn't ranted after dealing with an exploding pen?
We could write this off, but it isn't his first pen-related incident. This video came out shortly after another pen-related incident. In the footage, we see him gesturing in irritation at his staff after a pen holder got in his way while trying to sign a document for his accession ceremony, waving his arm at staff to take away what he thought were too many pens.
"Maybe King Charles is just stressed out right now. Maybe that's why this is happening," TV host Trevor Noah said on The Daily Show (via Twitter). "But if you paid attention to Charles back during his prince days, you would know that this is pretty much how he's always been." As a general rule, however, it's probably best not to offer anyone a leaky pen.
Let Liz Truss introduce you
Former British Prime Minister Liz Truss was in the media plenty of times for her awkward interactions. But, her greeting with King Charles at Buckingham Palace took the cake, and the video of their interaction quickly went viral. Jennifer Cassidy, lecturer in diplomacy at Oxford University, said it was "a scene straight from The Office … political awkwardness and unintentional comedy at its finest" (via Twitter).
In the video, Truss enters through the palace doors and does a courtesy-bow hybrid, then steps forward to shake the king's hand, saying, "Your Majesty … Lovely to see you again." In reply, King Charles shrugs his shoulders and shakes his head, "Back again? Dear, oh dear. Anyway …" To be fair, we can't know if he was joking or serious — or maybe even a bit of both. Their meeting was the first since the mini-budget Truss made, which sent the markets spiraling and the pound reached a record low against the dollar (via Bloomberg). It's safe to say their relationship is strained, so if you want to meet the king through your connection to Liz Truss, maybe rethink that plan.
Just six weeks after becoming prime minister, Truss announced that she was stepping down (via CBC). If you have a connection to Rishi Sunak, the incoming British prime minister, maybe you'll get a better introduction. Only time will tell.
Try to set him up with your daughter
In 1970, King Charles was a young 21-year-old Prince visiting the U.S. for the first time with his sister Princess Anne (via Life). He was one of the most eligible bachelors worldwide, and many dreamed of marrying the "prince charming." During his visit, he went to Washington to meet with then-President Nixon and spent time with his daughter, Tricia Nixon. The two saw the sights and went for dinner and a baseball game.
The royals infatuated President Nixon. Times columnist Hugh Sidey wrote, "He has hired more bands and had more ceremonies and designed more funny police uniforms and worn more white ties than any recent President in his intense but vain search for the magic which the prince and his sister carried along so casually."
But, The Prince was not overly charmed during his introduction to Americana and the president's daughter. "That was quite amusing, I must say," he told CNN. "That was the time when they were trying to marry me off to Tricia Nixon." Unfortunately for Nixon, the pair had other designs, and his plans of becoming royalty were dashed. Less than a year later, Tricia married Harvard Law student Edward F. Cox, and they're still married today (via Nixon Library). Prince Charles had a decade of bachelorhood before marrying Lady Diana Spencer and divorced after 15 years. He then married Camilla Rosemary Shand, now Queen Consort of the United Kingdom (via Brittanica).
Give him the Senate rule book as a gift
When choosing the perfect gift for your meeting with King Charles III, avoid the "Senate rule book." During another interesting moment of his trip to the states in 1970, covered by The New York Times, Richard Nixon gave him a customized "Senate rule book" with his name embossed on the cover. But the book was recently purchased in a used bookstore in 2018 for $20 (via Twitter). If this is indeed King Charles III's book, maybe it wasn't a treasured gift.
A "Senate rule book" as a gift to the monarch of the country that yours absconded through a war of independence was an interesting choice. The Constitutions of the U.S. and the U.K. are the most popular in the world but are based on two entirely different political systems (via Britannica). In the U.S., there's a presidential form of government, whereas the U.K. has a parliamentary system based on a constitutional monarchy. Maybe the gift was meant to be tongue-in-cheek since the two countries have been friendly for so long. If you have a copy lying around, save it for an American historian type rather than the King of England. Although, that wasn't the strangest gift ever given to The King. The royal family has received many bizarre gifts over the years (via Express). Prince Charles was given "a packet of fairy dust" when visiting New Zealand (via DailyMail).
Serve him American style tea
Former President Ronald Reagan wrote in his diary that the White House offended then-Prince Charles when they served his tea the American way. In his diary, Reagan wrote, "The ushers brought him tea — horror of horrors, they served it our way with a tea bag in the cup."
So what exactly is the difference between British and American tea? In this situation, the most significant issue was the tea bag left in the cup. According to English standards, this is unacceptable, but the customs for English tea extend even further. George Orwell wrote in the "Evening Standard" (via Reader's Digest), "tea is one of the mainstays of civilization in this country." And the British drink a whopping 60 billion cups per year, according to UK Tea and Infusions Association.
Ringtons Tea outlines some golden rules for the perfect cuppa; helpful if you need to make the King one. Use a strong black tea, prepare the tea in a pot or cup, remember always to put fresh water in your kettle, pour the boiling water from the kettle on top of the tea, and steep for one or two minutes for a cup or 3-5 minutes for a pot, remove the tea bag/strainer after steeping, then add milk and sugar. British tea culture runs deep; it's an obsession, explains the BBC, so stick to the rules, and you'll fit right in with royalty!
Ask John Travolta to waltz with his dancing partner
During a White House gala dinner in 1985, handsome actor and dancer John Travolta tapped Princess Diana on the shoulder and asked her to dance. In an interview with Travolta on Inside Edition (via YouTube), he said that the princess dipped her head in a "Lady Diana way" and gave him her hand in assent. The pair shared a picture-perfect waltz across the floor, twirling beautifully for fifteen minutes to the "Saturday Night Fever" soundtrack (via Reader's Digest). Leaving her escort and husband, Prince Charles, with no partner for the dance.
"I didn't know or expect to dance with Princess Diana," Travolta continued in the interview. "It was the president's wife, Nancy Reagan, that said, 'It is her wish.'" Travolta added that it was a night he would "never forget" as well as a "storybook moment." Princess Diana didn't know the Reagans had arranged the dance for a press photo op, and Travolta didn't know the princess never said she wanted to dance with him. According to Paul Burrell in the documentary "The Last 100 Days of Diana," she said, "I didn't really want to dance with him, I wanted to dance with Mikhail Baryshnikov because he is my hero."
After the iconic dance, when the press asked the prince if Diana had enjoyed her dance, he snapped his responses. Saying, "I'm not a glove puppet" and "she'd be an idiot not to" (via New York Magazine).
Address him with a Hi, King
When King Charles was in America on a state visit, an unknown American made a grievous error by not using his full title. There are many rigid rules for meeting British royalty (via Royal UK). For men of the Royal Family, the title used first is "Your Royal Highness" and afterward, "Sir." In the book "Not in Front of the Corgis" by Brian Hoey, he says that King Charles was upset that this individual said, "Hi, Prince." during his visit to the U.S., Asking his Private Secretary to tell future hosts that if fellow guests could not manage his full title, he would prefer a plain "Charles." Now that Charles is King of Great Britain, the proper way to address him is "Your Majesty," and after that, as "Sir" (via Mirror).
In 1997, at a gala celebrating the 21st anniversary of the Prince's Trust, the "Spice Girls" broke all kinds of royal protocol (via YouTube). Geri "Ginger Spice" Halliwell and Melanie "Scary Spice" Brown kissed King Charles' cheeks, leaving lipstick marks. Halliwell even "patted" his bum. "Patting him on the bottom was against royal protocol, but we're all human," she told The Times. "There was a lot of nervous energy … young women, happy antics."
"Now that Charles is our King, it kind of makes it even more naughty," Melanie "Sporty Spice," Chisholm told People. "Those naughty Spice Girls!"
Use pardon instead of thank you
The royal family is a 1,000-year-old institution chalked full of tradition and hundreds of rules. And these rules extend to language as well. So If you find yourself with the honor of meeting king Charles, and you've greeted him with the proper title of "Your Majesty," as shared above, you'll need to know what to say next so you don't put your foot in your mouth.
Some American vocabulary thought of as polite is actually offensive to royalty. When you want to use the polite word: pardon, zip those lips instead! Apparently, it's a terrible word to the royals, akin to a swear (via Business Insider). So Instead, use sorry. In the book "Watching the English," social anthropologist Kate Fox shared that, "this word is the most notorious pet hate of the upper and upper-middle classes; using a lower-class word is worse than swearing. Some even refer to lower-middle class suburbs as 'Pardonia.'"
The Britannica dictionary defines "pardon" as a polite way of saying something when you are interrupting someone, trying to get someone's attention, or disagreeing with someone. But royalty in Britain uses a different dictionary than the rest of us. So remember to keep those "pardons" to yourself when around The King and other nobility, or you'll be outed as *gasp in horror* a commoner!
Admit you don't speak to plants
King Charles has long been a green thumb, dedicated to his garden and plants (via Town & Country). On the Royal Family YouTube, he said, "Plants and trees play an utterly invaluable and indispensable role in our lives." He's been vocal about environmental causes since the '70s, calling for changes in how we treat the environment (via Wired).
In the '80s, The King told BBC1's Countryfile that he talks to plants (via Daily Mail). "I just come and talk to the plants, really. Very important to talk to them, they respond." Adding in a later interview, he said, "I happily talk to trees and listen to them." His personal relationship with trees extends even further; after he plants one, he "gives a branch a friendly shake to wish it well." Also sharing on Clarence House Instagram, "As someone with a passion for planting trees, I can only encourage you all to get planting for Plant Britain."
He supports sustainability, organic farming, renewable energy, and biodiversity. He even converted his Aston Martin sports car to run on … wine and cheese! The biofuel is made from wine unfit for human consumption and a whey byproduct from cheese, according to TopGear. During a BBC interview in 2021, he said he was "deeply worried" about the future of the planet and over-exploitation of the earth's resources. Maybe an environmental king could give people some hope for the planet's future.