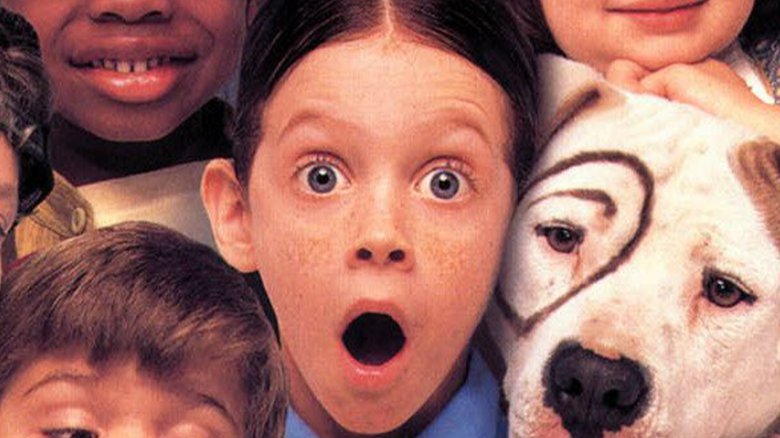 Fans of the early '90s Little Rascals reboot will recall the awkward, gangly, loveable, crooning child who captured our tiny 10-year-old hearts with his bow ties and suspenders. Flash forward about two decades and Bug Hall, the actor who played Alfalfa, has grown up quite a bit.
Actually that's an understatement. Alfalfa grew up, grew a beard, became a total lumbersexual (we'll explain), got married, became an uncle, played a villain in Criminal Minds, had a kid of his own … the list doesn't end. Let's check out what he's been up to since he took the "He-Man Woman Haters Club" club co-ed.
From Alfalfa and Darla to Alfalfa and… LiLo?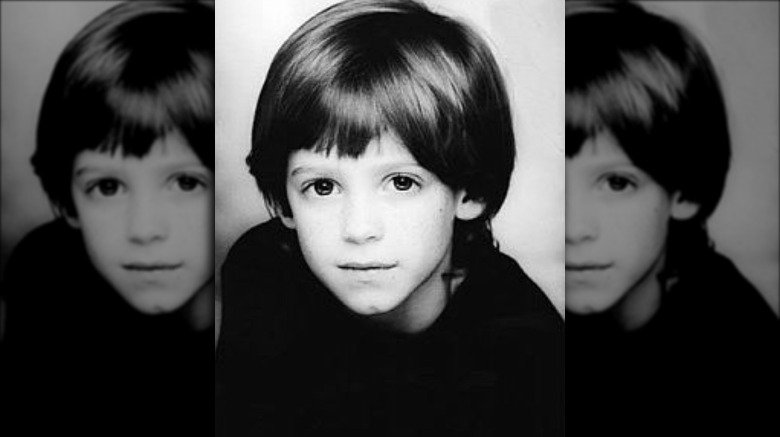 Back when she was still a fresh-faced Disney star, Lindsay Lohan starred opposite Bug Hall in the classic 2002 Disney Channel Original Movie, Get a Clue. Lohan portrayed the classic rich, popular girl at a New York City high school who falls in love with Hall's character, the adorable nerd she despised and grew to love. All the while, the two attempt to solve the mystery of their beloved teacher's disappearance.
Though Hall had yet to fully transform into his new "lumbersexual" look, which Buzzfeed describes as a dude who wears flannels and sports a beard but doesn't actually make a living chopping wood, he had already become almost unrecognizable from his Little Rascal days.
Shedding his Alfalfa persona with an American Pie spin-off
Hall really shed the child star persona when he took the lead role in American Pie Presents: The Book of Love, a straight-to-video spin off of the 1999 film that redefined the teenage comedy… and pastry, forever. In The Book of Love, Hall's character and his two best friends spend the length of the film hitting the usual American Pie beats, including a virginity-loss pact, gross-out humor, and uncomfortable moments of teenage sexuality like the homage to Jason Biggs' infamous pie love scene, only this time with a peanut butter sandwich.
During an interview with Crave Online, Hall talked about his time shooting the movie, describing the experience as one of his "all time favorites." Eugene Levy, an original cast member, returned for the seventh installment, and Hall describes him as a sort of mentor throughout the experience. But there was another bonus for Hall, who at the time of the shoot was in his early twenties.
"We had more fun than we knew what to do with," Hall said. "The cast, you know, everyone really got along, and … naked women, right? I mean, hey, it's work, and there's boobs in my face. I don't know if you can really complain about that." Man status confirmed.
Alfalfa grew up to be… lumbersexual?
What's a biker without a beard, right? Years before Justin Timberlake rebranded himself as "Man of the Woods," Hall and a bunch of other woodsman cosplayers donned plaid shirts, a glop of beard oil, and gave birth to the aforementioned "lumbersexual" look. And since the internet basically runs on '90s nostalgia and cat memes, it was an especially big deal when the kid who played Alfalfa reappeared after years of relative obscurity looking like the offspring of Paul Bunyan and a Brooklyn barber.
The viral surge was not lost on Hall, who capitalized on his furry reemergence by posting shots like the one above to his Twitter and this nostalgic Instagram shot looking back fondly on his "beard days."
That's right, Hall has gone back to the clean-shaven look, but don't worry, he's still just as manly as when he rocked a sweet face fro.
Alfalfa didn't end up with Darla, but Bug did find his leading lady
Perhaps one of the biggest signs of growing up is Marriage with a capital M. According to Us Weekly, Hall wed Jill Marie DeGroff on Feb. 11, 2017. He commemorated the occasion on Instagram with a series of shots from their wedding and enviable honeymoon in rural France. One particularly sweet caption from Hall's online wedding album read, "Not much in the world really changes, save for the light around and within. Experiencing the world with a new candle by my side has been, so far, the greatest joy of my life. #MarriedLife." Aww!
So the kid who played Alfalfa didn't end up with Darla, but he's now a manly biker who can grow a sick beard and also happens to be a hopeless romantic? That's how you pivot from child stardom to manhood! You taking notes, Macaulay Culkin?
Bug Hall's social media game is strong
Hall is basically the king of selfies. Seriously, check out his Instagram: he's all about that selfie life, as well as sharing classic photos with fans. He's not only mastered the art of Instagram, but he's also become a self-styled "Garbage Philosopher" on Twitter, dolling out sage gems like, "When bad things happen to good people we aren't reminded that bad things happen, but rather that goodness is special."
These are not the words of a child star, but the insightful musings of a well-educated, bright, grown-up brain. But it's not all Existentialism 101 on Hall's social media channels. He also knows how to self-promote, debate politics, and, of course, share videos of his taco lunch. Clearly he's quite the savvy young man.
Alfalfa grew up to be poppa bug
Thanks to Hall's generous inclination to share his personal life on social media, we know that he and his bride welcomed their first child, a beautiful baby girl, in November 2017. Hall announced the little bundle of joy in March 2017 with an Instagram post captioned, "Our little rascal is about 6 centimeters, but I love this tiny living human person already."
The doting dad hasn't stopped posing new photos. He even posted a side-by-side comparison shot of baby Josephina Joy with a still shot of Alfalfa and captioned it, "Yup, she's mine –( : ) #Alfalfette."
Alfalfa's still longing for the Lone Star State
Though he went Hollywood when he was just 9-years-old, Hall is originally a Texan who still clearly calls the Lone Star State home. Of the "20 or so" times he's trekked halfway across the country on a crotch rocket, it's been to make the trip from Los Angeles to North Texas, where his boyhood home is located.
Speaking with the Star-Telegram, Hall said that even though he no longer lives there, in his heart he'll always be a Longhorn. "In fact, of the last four years, I've spent about two of them in Texas. My family lives in Weatherford and I love being home with them as much as I can," he said. "When they call me back to work, of course, I jump on a plane. But I love nothing better than sitting out on my granddad's property and watching the sun go down over the hills. That's home to me."
Alfalfa is a wild hog
You could say Hall traded in his classic two-wheeler from childhood for a motorized death machine. In August 2013, Hall tweeted a photo (above) from his first motorcycle accident in 2003. Hall broke 17 bones and, yet, he still got back on his hog. In fact, Hall is a lifelong enthusiast who claims that he's "totaled" 12 of the 16 bikes he's owned, according to People.
Though it sounds like he's basically a walking advertisement against motorcycles, Hall's passion for them hasn't downshifted since he got his first bike at 14-years old, a Honda Shadow. "I didn't ever drive a car until a few years ago," he told People in 2016, adding, "I've been cross country 10 plus times. Then halfway across cross country 40 times or so."
Hall also once said that he "would rather ride than work," so perhaps unsurprisingly, his personal and professional passions finally collided in early 2016 when he landed the role of Arthur Davidson in the Discovery Channel miniseries, Harley and the Davidsons.
A dream come true when he was paid to ride
Playing one of the founders of Harley-Davidson was not only a dream role for Hall, but one he was seemingly born to play. As a lifelong rider (full disclosure: Hall is a BMW man), he's always had an appreciation for Harleys. Hall also brought a bit of mechanical acumen to the role in addition to his clear ability to actually ride the early model hogs.
But the shoot wasn't exactly a smooth ride. Set in the early 1900's, the miniseries features many early model bikes that were not equipped with the kind of standard safety features found on modern machines — you know, like brakes. Speaking with Hemmings Daily, Hall said that his own prideful ignorance about the dangerous nature of the bikes resulted in him taking a turn too fast, "going down hard," and ending up with a broken collarbone, bringing his lifelong broken bone total to 26.
Even though he ended up in a sling, Hall still had nothing but praise for the experience, telling Collider it was a "once in a lifetime opportunity" that changed his perception of Harleys forever. "It's the kind of thing where you'll never look at that object the same way again," Hall said. "I will always bring these associations when I hear any motorcycle, but especially when I hear or see any Harley-Davidsons."
Shedding his Alfalfa past to become a master of his own destiny
In a 2016 interview on the WCIU morning show, You & Me, Hall revealed that he takes "huge, two-year sabbaticals" to "write" and "focus on his company." He also mentioned his production company twice in an interview with Hemmings Daily, saying, "Several of my buddies and I decided to take time off to start a company, and we all agreed to not accept any acting roles in order to spend more of our time writing and developing our own story ideas."
As of this writing, Hall doesn't have any writing or producing credits on his IMDb, but he reiterated that he and "a few other guys" are "still writing and developing projects" while he seeks further opportunities in television. "I think that if you have a passion for something, you should just do that something," Hall said.
We look forward to what Hall has in store, both as a leading man, and a producer of his passion projects.