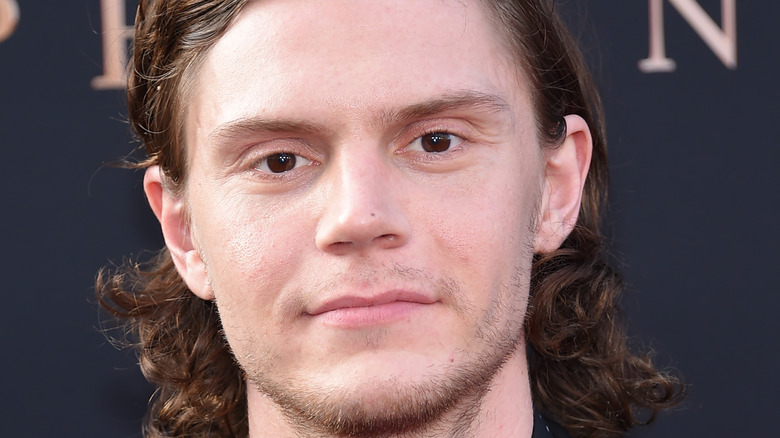 Evan Peters' serious but unique demeanor gives him a mysterious aura that is just as captivating. It's no wonder the actor has shot to stardom with his performances on the hit cult series "American Horror Story." With appearances in nine of its 11 seasons, Peters is one of the staples of the show. As Vulture noted, "Peters is the ultimate utility player, and the show would be impossible without his constant metamorphoses." His portrayal of killers and other dark characters on "American Horror Story" earned him a bevy of nominations, including a Fangoria Chainsaw Award for Best Supporting Actor and an iHeart Horror Award for Best Actor.
But Peters has shown that though he excels in bringing to life the nuances of terrifying criminals, he is much more than that. His recent appearances on the acclaimed HBO limited series "Mare of Easttown" and on the Marvel miniseries "WandaVision" prove that the St. Louis native has a well of skills yet to be explored. In fact, Screen Rant argues that "American Horror Story" actually "underused" the actor's capabilities. "The anthology series has increasingly prioritized outlandish twists and ostentatious line readings … It's a formula that has led to success for the series … But it doesn't leave a lot of room for the building of character and chemistry that has garnered Peters his recent acclaim," Screen Rant's Abdullah Al-Ghamdi wrote.
Having turned 35 on January 20, 2022, Peters is young and showing he's just getting started. Keep scrolling to check out his journey so far.
Evan Peters jokes he moved to Los Angeles in an attempt to meet the Olsen twins
Evan Peters, a St. Louis, Missouri, native, was living in Michigan with his family when he had the epiphany that he wanted to be an actor. The desire prompted him to look in the Yellow Pages for agencies and drama schools. "I found a local agency in Grand Blanc, Michigan, of all places. There was a Flint Youth Theatre that I was involved in a little bit, but I stayed out of it in high school because I was new, and I never did it in grade school," Peters told W Magazine's Lynn Hirschberg in 2018. "I mean, we did grade school plays and stuff, but I wanted to separate the two, you know? I just didn't want to get beat up, I guess."
When he was 15, he asked his mother to move to Los Angeles to pursue acting, according to The Flint Journal. Funnily enough, he wanted to move to California so could meet his celebrity crushes: the Olsen twins. "Yeah, they kind of got me out to L.A. in a way, because I was like, 'I gotta meet 'em!'" Peters told W Magazine. He did eventually meet Ashley Olsen, who was "sweet," though by then his crush had fizzled out and he was able to maintain his composure, he said in a separate W Magazine interview. "I was a little nervous, but she was cool," Peters said.
Evan Peters had only auditioned once before he landed his first role
Evan Peters doesn't remember his first audition, but he remembers his second one vividly. That's because it resulted in his first-ever performance in "Clipping Adam" (2004). His portrayal of Adam Sheppard, a grieving boy who loses his mother and sister in a car accident, was recognized with a Best Breakthrough Performance win at the Phoenix Film Festival. "I had this incredible Whitesnake mullet for the whole movie, which was hilarious," he told W Magazine in 2018.
Also in 2004, Peters starred in the MGM film "Sleepover," which earned him a Young Artist Awards nomination. His first TV roles also happened that year, when he appeared in the short-lived ABC series "The Days," in addition to having a recurring role as Seth Wosmer in season 1 of the Disney Channel science sitcom "Phil of the Future."
Around that time, as he worked to find his footing in Hollywood, Peters appeared on a series of commercials, including Progressive Insurance, Kellogg, Papa John's Pizza, PlayStation and Sour Patch Kids, per IMDb. Peters remembers this time with fondness, even though he learned the hard way that commercial actors don't actually get to collect the spoils. "They don't give you anything. I thought I was gonna get Sour Patch Kids, I thought I was gonna get a PlayStation," the actor told W. "I didn't get anything, but I did like it. I thought they were fun."
Evan Peters had his breakthrough when he landed a role on 'American Horror Story'
Evan Peters's big break came in 2011 when he starred as twisted teenager Tate Langdon in Season 1 of "American Horror Story." "I had no idea what I was signing up for. All I knew was what I was told right before my audition, and that was everything that Ryan Murphy touched turned to gold," Peters told the Observer, referring to the show's creator. His first audition involved the therapy session in which Tate Langdon discusses his "fantasies," the 35-year-old explained. "Later, I found out from Ryan that he knew I had the role by the way I said this line, right after I was talking about these blood rituals," who is said to have been captivated by Peters's "dreamy, awful smile," per the Observer.
Peters went on to become one of the main attractions of the FX anthology series. "By the time the credits rolled on the first episode, a relatively unknown young actor had revealed himself as 'American Horror Story's' beating and bloody heart," wrote the Observer critic Drew Grant. "Evan Peters, from the moment he appeared on screen as Tate Langdon, was the coronated Prince Joffrey of 'American Horror Story's' Westeros."
After eight seasons, the "X-Men: Apocalypse" actor announced in 2019 he would step back from his role on "American Horror Story," as Metro reported. "It's hurting my soul and Evan as a person," he told GQ in a 2018 interview.
In 2012, Evan Peters entered into a complicated relationship with Emma Roberts
In 2012, Evan Peters starred in the independent film "Adult World," sharing the screen with John Cusack and Emma Roberts — and Roberts was directly involved in his auditioning for the role, per the Daily News. "We met at a Mexican restaurant at a dinner party. It was before the film that I met her and really liked her. I had read the script for 'Adult World' and she said she was doing that next. I told her, 'I should audition for that and see if I could get in there,'" he recalled.
They began dating that same spring, and it wouldn't be long before they made headlines over turbulence in their relationship. They were in a hotel room in Montreal in July 2013 when neighbors called the police after hearing them fight, as TMZ reported. Authorities allegedly found Peters with a bloody nose and a bite mark, arresting Roberts on domestic violence charges. Peters declined to press charges, and Roberts was released a few hours later. "It was an unfortunate incident and misunderstanding," reps for the couple told People in a statement. "Ms. Roberts was released after questioning and the couple are working together to move past it."
In 2014, Peters announced their engagement, though they never actually tied the knot and eventually ended their on-again, off-again relationship in 2019. "Losing something is hard," Roberts told Cosmopolitan that year, without naming Peters.
Despite widening his repertoire, Evan Peters returned to 'American Horror Story'
When Evan Peters decided to sit out a season of "American Horror Story," he had just played a complex character on the acclaimed FX series "Pose" — also created by Ryan Murphy. Set in the 1980s and centered on the decades' LGBT+ culture, Peters portrayed a yuppie who becomes involved with a transgender sex worker, as Rolling Stone described. This role combined with the eighth season of "American Horror Story" took a toll on him, as the "Dahmer" star told GQ in 2018. "There's this massive amount of rage that's been called upon from me, and the emotional stuff that's been called on me for 'Pose' has been heartbreaking, and I'm sick. I don't feel good," he said.
Speaking with Entertainment Weekly in October 2019, Murphy described that Peters was under a lot of stress during "AHS: Cult," which preceded his role in "Pose." "He really suffered while making it, it took him I don't know … two years to recover?" Murphy said, adding that "we spoke in the past month about him coming back to the show some year and I hope we will." Apparently, all Peters needed was some time.
After skipping Season 9, he returned to the FX anthology's 10th season, titled "Double Feature," as Screen Rant first reported in February 2021. In that series, he portrayed the character Austin Sommers. He also recently received rave reviews for his portrayal of Jeffrey Dahmer in Ryan Murphy's "Dahmer – Monster: The Jeffrey Dahmer Story," per Variety.