Sony has finally peeled back the curtain on its upcoming PlayStation VR 2 headset for the PlayStation 5. The headset comes with a hefty price tag of $550, but it also comes with some impressive specs. With a full OLED display and a resolution of 2000 x 2400 in each eye, the headset promises to deliver some really great visuals. The headset also comes with brand new controllers that integrate the PlayStation 5's adaptive triggers and haptic feedback as well as introducing finger touch sensors.
With the headset's new specs, it is no surprise that VR fans are excited for its release, and numerous VR titles have started announcing that they are heading for the platform sometime next year. Some of the games are ports of previous VR titles, while others are entirely new titles designed with the PSVR2 specifically in mind. So, here are the top twelve most anticipated games coming to Sony's newest VR platform.
12. Jurassic World Aftermath Collection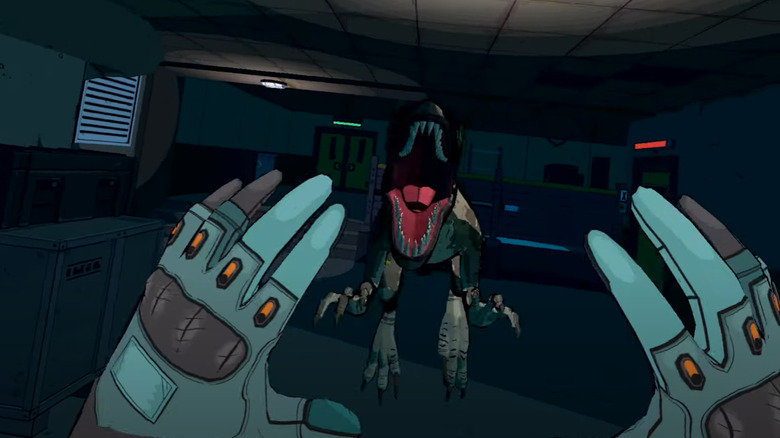 Dropping players into an island filled with hungry dinosaurs that are more than happy to chew on a human is a perfect recipe for a horror game. Sneaking through an abandoned amusement park trying to hide from nearby dinosaurs is always thrilling, and "Jurassic World Aftermath" captures that experience greatly. The "Jurassic World Aftermath Collection" contains the full game and an expansion with graphical and performance improvements made possible with the hardware of the PSVR2.
The games are both available on the Oculus Quest 2 and are coming as a non-VR title on the Nintendo Switch, which keeps it from getting any higher on this list. The collection coming to the PSVR2 will help it reach a wider audience, however, which is always welcome to see. The game's immersion will also be improved thanks to the new features of the headset, like its haptic feedback, rumbling headset, and 3D spatial audio.
Genre: Survival Horror
Release Date: February 22, 2023
Modes: Single Player
11. The Light Brigade
"The Light Brigade" is a historically themed first-person shooter roguelite that takes advantage of randomly generated levels and backgrounds to always keep things fresh for players. It's inspired by "The Charge of the Light Brigade" by Alfred Tennyson, but seems to also draw influence from other sources, too. Interestingly, "The Light Brigade" utilizes a physics-based combat system, allowing players to interact with the world and their weapons in interesting ways only possible in VR. The game features numerous historical weapons for players to find throughout their runs as well as magical abilities.
What players can all expect from the magic options in the game remains to be seen, but the game's trailer shows a spell that attacks enemies with a barrage of light projectiles. The game has also provided peeks at mystical-looking locations and a crystal boss battle that stands in stark contrast to the more grounded historical enemies that the trailer shows the player fighting.
Genre: First-Person Shooter, Roguelite
Release Date: Q1 2023
Modes: Single Player
10. Hello Neighbor: Search and Rescue
"Hello Neighbor" has a delicate balance of puzzle-solving and horror, which helped it become a viral sensation. The newest entry in the series, "Hello Neighbor: Search and Rescue," aims to raise the frights even more by bringing it to PSVR2. Not only will this open up the possibilities for new puzzles and interesting interactions, but it will undoubtedly raise the tension as players slink through the Neighbor's house as well.
"Search and Rescue" also brings an interesting new mechanic by introducing multiple playable characters. Players will be able to switch between a team of kids working together at any given time, with each one having their own abilities and unique tools to help them traverse the Neighbor's house. The game is being developed by Steel Wool Studios, the team behind the popular "Five Night's at Freddy's: Help Wanted," so it seems as though it is in good hands.
Genre: Horror, Puzzle
Release Date: February 22, 2023
Modes: Single Player
9. Low-Fi
"Low-Fi" is an upcoming open world cyberpunk RPG that is heavily inspired by movies like "Blade Runner." The game has received a lot of praise for its gorgeous visuals and how immersive its world is. In the game, players take the role of a sheriff in the slums of a sprawling futuristic city. The player's actions are also promised to leave a large impact on the world as they make decisions and have to live with the consequences.
"Low-Fi" aims to deliver a life simulator experience that allows players to pursue whatever interests them in the city. They can solve crimes, explore the narratives of people in the city, or just hang out and enjoy their favorite view. The game is currently available on Itch.io and was developed by a single developer, but it is steadily updated with new features and content leading up to its full release in 2023.
Genre: Open World RPG
Release Date: 2023
Modes: Single Player
8. Runner
"Runner" is already available on Oculus headsets but has been announced to be coming to PSVR2 sometime after launch as well. With how extremely well received the game's Oculus release has been, its release on PSVR2 is definitely welcome. "Runner" is for players that are fans of neon-soaked environments, blistering speed, and waves of enemies to shoot, all punctuated with slow-motion effects.
In "Runner" players race a motorcycle through seven levels at extremely high speeds while being pursued by waves of robotic enemies. While driving, players also have to defend themselves by dual-wielding pistols and a sword that can be used to deflect enemy shots. The game is very difficult but offers a gorgeous visual style that also extends to its beautiful and stylish cutscenes that tell an anime-inspired story of a fugitive on the run as an entire city hunt for her.
Genre: Arcade Shooter
Release Date: 2023
Modes: Single Player
7. Firewall Ultra
An exclusive new shooter for PSVR2, "Firewall Ultra" is the sequel to the original PSVR's "Firewall Zero Hour." The sequel builds upon the original and adds new features, content, and improvements over its predecessor to make it the next evolution of the series. The game features tactical objective-based gameplay that is similar to "Rainbow Six Siege," but with all the bells and whistles that come with being a blockbuster VR title.
The announcement of "Firewall Ultra" was met with a lot of excitement from fans of the first game, especially some of its technological improvements. The original "Firewall" featured matches that were only played out over a single round, which made them go by quickly despite long load times. "Firewall Ultra" has confirmed that it will feature significantly improved load times as well as matches that are played in a best-of-three format, answering two of the biggest complaints that fans had with the original.
Genre: First-Person Shooter
Release Date: 2023
Modes: Online PvP, Online PvE
6. Firmament
Cyan is the team behind one of the most classic puzzle games of all time, "Myst," and it is bringing its expertise to the PSVR2 with its new game "Firmament." The game was originally planned to be developed for the original PSVR, but support for the platform was dropped in favor of delivering a more visually consistent product using the new power of the PSVR2. Originally announced back in 2018, the game has been in development for a long time, but its gorgeous visuals seem well worth the wait.
While much of the game has not been shown to preserve its sense of mystery and the puzzles players will need to solve, the details of the game's world that have been shown have Cyan fans very excited. Cyan's worlds are known for being beautifully intricate, and "Firmament" looks as though it won't disappoint in that regard on the PSVR2.
Genre: Puzzle
Release Date: Q1 2023
Modes: Single Player
5. Crossfire: Sierra Squad
"Crossfire: Sierra Squad" brings the explosive shooter franchise to the PSVR2. The game puts action and excitement above all else, and will feature more than sixty missions for players to tackle in single player or online co-op. The game does not have any online PvP, and instead focuses on delivering bombastic levels filled with excitement and fun set pieces as well as a selection of more than 40 weapons.
The game's trailer shows off a variety of different mission locations and some impressive motion tracking, allowing players to shoot from behind cover, give hand signals to teammates, and even catch grenades in mid-air to throw back at enemies. While some fans are disappointed at the lack of a PvP offering, the game still looks fun enough to have players excited and it looks like it will take full advantage of the PSVR2's hardware and capabilities to make it an unforgettable shooter experience.
Genre: First-Person Shooter
Release Date: Summer 2023
Modes: Single Player, Online Multiplayer
4. Resident Evil Village
The most recent "Resident Evil" game will also be available on PSVR2 the same day that the hardware launches, allowing players to experience the game's frights from an even more terrifying perspective after recently adding a third-person option. "Resident Evil 7" also received a popular VR mode, but "Village" takes advantage of the new headset's improved capabilities to deliver a significantly improved experience that has series fans understandably excited.
The VR trailer for "Village" showcases some of these improvements in action, such as full support for motion controls. The trailer shows some impressive motion controls such as picking up objects in the environment and even tossing a pistol from one hand to the other. The trailer also shows players being able to dual-wield weapons like a shotgun in one hand and a pistol in the other, which carries some large gameplay implications with it.
Genre: Survival Horror
Release Date: February 22, 2023
Modes: Single Player
3. The Walking Dead: Saints & Sinners – Chapter 2: Retribution
The first "Saints & Sinners" was a very popular PSVR title, and its upcoming sequel seems to deliver more of what fans loved of the original. The new game's trailer has revealed that it will continue the story of the first game as it explores the politics and conflicts of the multiple gangs that have risen to power in post-apocalyptic New Orleans.
"Saints & Sinners 2" promises to continue the original's tense balance of gathering resources, brutal zombie combat, weighty story decisions, and managing one's stamina well enough to survive levels. The game also seems to include some really satisfying combat that is filled with gore, weighty weapons, and impactful firearms. There is a lot for fans to be excited about, and players will be able to experience the apocalypse more clearly than ever before thanks to PSVR2's vastly improved performance specs.
Genre: First-Person Shooter, Survival Horror
Release Date: 2023
Modes: Single Player
2. The Dark Pictures: Switchback
"The Dark Pictures: Switchback" is a PSVR2 launch title and spiritual successor to the studio's PSVR "Until Dawn" spin-off. It features very similar gameplay to its predecessor and sees players riding on roller coasters and having to shoot at enemies and targets to get points and survive its levels. However, it also introduces numerous new features and improvements that have VR fans looking forward to its release.
One of the biggest of these features shown in its trailer is its new and original story that can be explored through branching pathways in every level. This will greatly help the game's replayability, as well as make it feel a lot more like one of Supermassive's iconic horror games, which are filled with player choice. Another particularly interesting feature is enemies and other elements that have unique actions or behavior when the player blinks, allowing them to strike or move when the player is most vulnerable.
Genre: Horror, First-Person Rail Shooter
Release Date: February 22, 2023
Modes: Single Player
1. Horizon Call of the Mountain
Perhaps the biggest title coming to PSVR2, "Horizon Call of the Mountain" brings one of Sony's biggest franchises to VR for the first time. The game is developed by Firesprite, the developers of previous VR titles like "The Playroom" and "The Persistence." The game follows an entirely new protagonist in the "Horizon" series, although the developers did confirm that players will interact with Aloy throughout its campaign (via GamesRadar+).
"Call of the Mountain's" trailer has given "Horizon" fans a look both at the game's incredible graphics and the sort of gameplay that they can expect. The game features exploration sections with multiple paths for players to follow, chaotic first-person combat, and interesting climbing sections. The developers have also stated that alongside the game's main campaign it will feature a more stationary experience, seeing players defending themselves while riding down a river. Perhaps the most exciting part of the game for fans, however, is its gorgeous graphics and the chance to see "Horizon's" iconic robotic dinosaurs up close and in first person.
Genre: First-Person Shooter
Release Date: February 22, 2023
Modes: Single Player