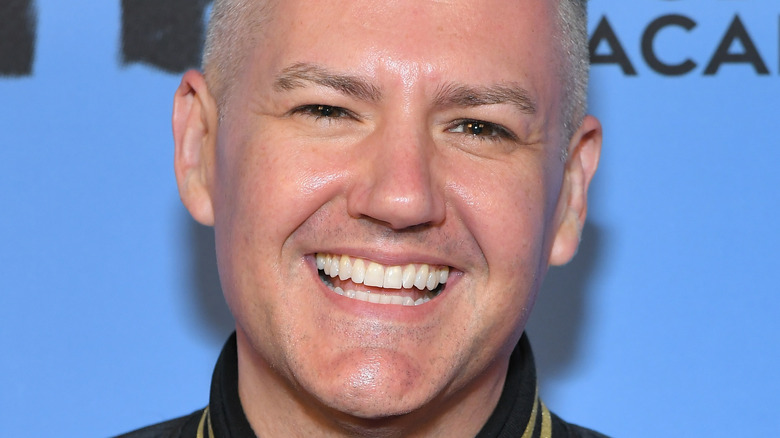 We may receive a commission on purchases made from links.
Media personality Ross Mathews has been a television mainstay for nearly two decades. Audiences first got to know Mathews as the ever-eager "Ross the Intern" on "The Tonight Show with Jay Leno." A trailblazer for LGBTQ+ representation on TV, he eventually graduated from late-night TV and joined the ranks of reality competition series, breaking a sweat on shows like "Celebrity Fit Club" and taking up house on "Celebrity Big Brother." In between stints battling it out with former child actors and '90s music stars, Mathews cultivated a reputation as a go-to red carpet correspondent and chat show guest for his pop culture-friendly hot takes and his sparkling charisma.
Mathews lives his life out loud, and as much as he's a celebrity in his own right, he thinks of himself as a regular superfan who seized some great opportunities. While you might know him best as a judge on "RuPaul's Drag Race" or perhaps as Drew Barrymore's daytime sidekick, there is plenty to learn about this multifaceted presenter. So relax in a Palm Springs poolside lounger, cook up a "Rossipe," and enjoy these delightful facts about Ross Mathews.
Mathews' childhood dream was to host a TV talk show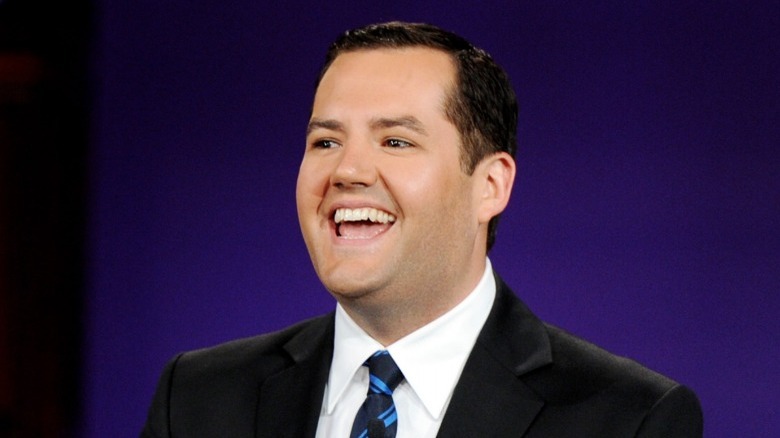 Growing up, Ross Mathews dreamed of hosting his own TV talk show. Living in Mount Vernon, Washington, far away from centers of media excitement, little Ross learned the chat-fest ropes by watching the best that '90s daytime talk had to offer. In his book "Man Up!," Mathews shared that, like any connoisseur of daytime TV, he loved Oprah Winfrey. He also was captivated by other titans of gab like Sally Jesse Rapheal, Montel Williams, and even Jerry Springer. But for Mathews, it was "Live with Regis and Kathie Lee" that made his future clear. He wrote of his revelation, "My life's purpose suddenly became crystal clear one morning while watching Reege 'n' Kath interviewing the star du jour." Mathews told LiveSigning that his childhood idol was Regis Philbin, and he shared on Twitter that Reege's "easy nature, storytelling & uproarious sense of humor made me want to be like him."
Mathews achieved his childhood dream when he hosted his talk show "Hello Ross" on E! for two seasons, but the show was canceled in 2014 in a network talent reorganization (via The Wrap). He confessed on the "LGBTQ&A" podcast that the demise of "Hello Ross!" left him "rudderless." Despite the painful career setback, some of Mathews' biggest work triumphs still laid ahead of him, including sashaying into hosting duties on Emmy Award-winning "RuPaul's Drag Race" in 2015.
Not everyone was supportive of Ross the Intern
Ross Mathews started his broadcasting career like many in the entertainment industry do: as an intern. Ambitious youngsters often get their first taste of Tinseltown glamour by grabbing coffee for showbiz higher-ups, and Mathews was no exception. Being labeled "Ross the Intern" on "The Tonight Show with Jay Leno" was no bit — he really was an intern. He shared on "What a Joke with Papa and Fortune" that producers asked him to fill in as the show's "Ocean's 11" premiere correspondent. Mathews was a hit, and "Ross the Intern" stayed with the show until Jay Leno retired in 2014. As "Ross the Intern," Mathews charmed his way through a variety of jobs, including local news weatherman, zookeeper, and cattle rancher.
Although the "Ross the Intern" segments struck ratings gold for NBC, not everyone embraced Mathews, an unapologetically out gay man, on television. He opened up to the "LGBTQ&A" podcast about the lack of LGBTQ+ representation on TV when he started on "The Tonight Show" in 2001 and how it affected perceptions of him as a media personality. Mathews said in his early days, he received hate mail, a "majority" of which was from gay people claiming he was "setting the movement back." Not backing down, Mathews wrote people back with the same message: "If your bigoted parents could accept me in their living room back in 2001, your life just got a little easier."
Gwyneth Paltrow is his celebrity BFF
Ross Mathews has made a career out of interviewing Hollywood's hottest celebrities. From his red carpet coverage at major award shows and movie premieres to his talk show "Hello Ross!," Mathews has chatted up serious A-list stars. Some Hollywood icons might not have taken a shine to Mathews, like Elizabeth Taylor, whom he mistakenly called "Dame Edna." He has, however, formed a lasting friendship with Gwyneth Paltrow, one of Tinseltown's biggest stars. Mathews told People he and Paltrow met at a Vanity Fair party, where he simply asked her to be his best friend. He shared with E!, "People think I'm crazy for asking. I think she's the crazy one for saying yes."
The showbiz pair became fast friends, but their bond was much deeper than hobnobbing at Hollywood events. Both Mathews and Paltrow lost their fathers around the same time, and he said on "Hey Qween" that this shared experience "solidified" their friendship. Over the years, Mathews and Paltrow have remained close, and they support each other's endeavors. Mathews told the Associated Press that having his bestie Paltrow as a guest on "Hello Ross!" "was a stamp of legitimacy" for the program. She also presented at the GLAAD Media Awards, which Mathews hosted. He proudly tweeted a backstage moment, writing, "Me & my bestie of over 17 years backstage." He added, "But the real show was the convo backstage! Girl…" Safe to say these two have some seriously fun and juicy gossip sessions!
Ross Mathews was almost the first male co-host of The View
Ross Mathews could have made television history as the first male co-host of "The View," if not for a few changes in the storied ABC talk show's regime. Mathews wrote in his book "Name Drop" that his first encounter with "The View" was in 2007 while doing press for his reality TV series "Celebrity Fit Club" — the first time he'd actually be a guest on any show. Barbara Walters, legendary broadcaster and creator of "The View," was so charmed by Mathews that she invited him back to co-host. The only problem was that when he took her up on the offer, she didn't remember him (via Page Six). Awkward! Mathews didn't let Walters' rude behavior toward him thwart his dreams. In fact, he told ET Canada that the experience made him a better broadcaster.
Jump to 2014, when Mathews' broadcasting career was on the rise and he was asked back to co-host "The View." He served as a popular guest co-host on a number of episodes that year, and talking with ET Canada, Mathews said his fill-in stints were inadvertent auditions for a permanent seat at "The View" table. Mathews passed the audition, and he was told the gig was his. However, he then read the TMZ headline "'The View' Firing Massacre." All the folks who'd assured him the job was his had been fired, and in an instant, Mathews' "View" became a little less bright.
He came in second on Celebrity Big Brother
Television superfan Ross Mathews got to live out a boob tube dream by becoming a houseguest on the inaugural season of CBS's "Celebrity Big Brother." At the onset of "CBB" in 2018, Mathews told ET that he'd been watching "Big Brother" since its start and called himself a hardcore fan. An astute observer of the show, he believed his strategies would make him that season's winner. Mathews faced some fierce competition, with celebrities like rock star Mark McGrath, "Real Housewife" star Brandi Glanville, and reality TV star-turned-political operative Omarosa Manigault, all vying to be top HouseGuest (per EW).
After a heated and dramatic 26 days, Mathews was narrowly defeated by "Hairspray" actress Marissa Jaret Winokur to become the first "CBB" Head of Household. As the season's runner-up, Mathews won the second-place $50,000 jackpot, but he was also named America's Player, earning an additional prize. A tough competitor and knowledgeable player, Mathews told Entertainment Weekly of his almost-victory, "I played this game hard. If I didn't, I would have been home sooner. I made it all the way to the final two. I don't apologize for anything I did it in this game." Clearly, there were no hard feelings between Winokur and Mathews, as they hosted the "Big Brother" after-show, "Off the Block."
He's been candid about his health journey
During his years in the public eye, Ross Mathews has been candid about his health journey. Like many celebrities in the 2000s, Mathews appeared on a VH1 "celebreality" show for a career boost. In 2007, as a contestant on "Celebrity Fit Club," Mathews lost 41 lbs. He dropped the pounds, but didn't pick up a fitness habit, admitting to People, "Exercise sucks. It will never not [suck]. The reason it feels good when you're done, is that you're done." Years after "Celebrity Fit Club," Mathews became a spokesperson for Jenny Craig, and he embraced working out, telling People, "You know those annoying people who are like, 'If I don't work out I feel … ugh'? I might be becoming one of those people."
In recent years, the scale moved up for Mathews, and he took a health-forward approach to weight loss. After the death of his mother in 2020, Mathews' tragic loss led to him seeking comfort in food, but he soon was inspired to work on his wellness. He shared with Today, "It was about replacing some things and really just knowing that if nothing changed, nothing changed." Ross lost 50 lbs. by focusing on mindful food choices.
Mathews also partnered with WW and Bolthouse Farms, and he's shared his tasty, healthy "Rossipes" on social media. Mathews takes his health journey day by day, and he's shared on Instagram, "I will always be a work in progress. I may mess up again. I dunno. All I know is that I'm very grateful."
Ross Mathews' fiery social media feud with Billy Eichner
Ross Mathews' celebrity-friendly reputation was put to the test during a social media feud with comedian Billy Eichner. Mathews' "Ross the Intern" TV segments put him in numerous fish-out-of-water scenarios with relative strangers. He riffed on this bit in a Capital One commercial in 2016, slinging rapid-fire questions at unsuspecting pedestrians. Eichner, host of his own man-on-the-street comedy series "Billy on the Street," wasn't having any of what he saw as a blatant copy of his show. And so began the tale of Eichner and Mathews becoming Twitter's Main Characters of the day.
Eicher started the spat by airing his grievances on Twitter, posting, "Yet another Billy on the Street ripoff. I usually ignore but this one is SHAMELESS and PATHETIC. (And not funny)." He doubled down on his stance by adding, "This is stolen intellectual property." Mathews replied to Eicher, tweeting, "Are you serious? I've been doing man on the street interviews since 2001. I've never even seen your stuff." Eicher softened slightly by directing his ire at Capital One, tweeting that they reached out to his agents about doing the ad first. Still, Mathews wasn't backing down, writing, "Thanks for passing on it. We had a great time together. Happy pride & good luck with everything in the future!"
Their Twitter beef eventually cooled off, and Mathews tweeted about the experience, saying, "I treat everyone equally & respectfully, even when they're pompous and wrong."
He hosts his own drag brunch
Ross Mathews has spun off one of his most high-profile TV jobs into an entertaining side hustle. Mathews became a regular judge on "RuPaul's Drag Race" in 2015. The groundbreaking reality competition series, which kicked off in 2009, put the art of drag performance front and center in the global pop culture zeitgeist. In 2020, the show surpassed "Dancing With the Stars" to become the most-awarded competition series in Emmy history (per EW). Judging "Drag Race" is meaningful to Mathews, who shared with Today, "I really, truly believe we're putting something worthy out there. Something that's really kind of changing the game and changing people's attitudes and minds."
Matthews decided to put his own game-changing spin on drag when he launched his Dragtastic Bubbly Brunch in 2019. He's very particular about putting on a great show for the mimosa-sipping crowds. He told Palm Springs Life, "I set the menu, I pick the drag queens, and I'm very specific about the tone I want to do. I come every single chance I get." He also shared that his drag brunch is all about a fantastic escape, saying, "We try to just shut the door on that outside world, and just smile for a few hours."
Mathews takes his show on the road, and chatting with KERO, he said he makes it a point to bring his Dragtastic Bubbly Bunch to cities that could use diverse entertainment.
He was a soap opera star
Ross Mathews' authentically exuberant and bubbly persona has made him an in-demand host and television personality, but every now and again, he's been able to slip into another character with some choice acting gigs. As noted in his memoir "Man Up!", Mathews' thespian days began on the high school stage, starring as Prof. Henry Higgins in "My Fair Lady." He tapped back into his acting roots in 2008, when he was cast as Chris on the legendary NBC soap opera "Days of Our Lives." Soap Central billed his appearance as a special cameo, but Matthews' portrayal of the Salem Health Club guest lasted far longer than one episode. Chris became a recurring character on "Days," appearing on the occasional episode until 2011.
Like sands through the hourglass, so are the days of Mathews' acting career. He has a few more acting credits to his name, like doing voice work on the cartoons "Mike Tyson Mysteries" and "Ten Year Old Tom," but these days, Mathews mostly sticks to being himself in front of the camera. Who knows, now that "Days" has moved to Peacock, with Showbiz411 reporting the show's steep decline in ratings, perhaps Mathews will be asked back as a bit of stunt casting.
He's the unofficial mayor of Palm Springs
He might have grown up in Washington state, but for Ross Mathews, the desert oasis of Palm Springs, California is home. After high school, Mathews high-tailed it to California, attending the University of La Verne near Los Angeles. In 2001, while still in college, he interned for "The Tonight Show with Jay Leno" from "beautiful downtown Burbank." But the following year Mathews visited Palm Springs, remarking to Palm Springs Life about his first impression of the city, "I thought, 'This is the mothership!' There's something very special here — mineral waters, warmth. There's something going on."
Mathews chronicled his quest for the perfect Palm Springs pad on "House Hunters," when he and then-partner Salvador Camarena were purchasing their own slice of paradise in 2012 (via Dirt.com). He and Camarena later moved onto another Palm Springs home, with the Los Angeles Times reporting Mathews bought a mid-century modern retreat in 2016. Talking to the Los Angeles Times in 2017, Mathews said he split his time between Burbank and Palm Springs.
More recently, he and husband Wellinthon Garcia keep a bicoastal lifestyle, jetting from New York to the Coachella Valley (per The Knot). Mathews loves Palm Springs so much that comedian Fortune Feimster quipped on "What A Joke with Papa and Fortune" that he's "the unofficial mayor." Doubling down on the joke, Mathews joked about running for mayor in 2038. Considering he won a Palm Springs Chamber of Commerce award in 2018, maybe Mathews will consider taking a run at local politics more seriously one day.
Writing his books proved to be a difficult challenge
Not only is Ross Mathews a massively successful TV personality, but he's also an accomplished author. In 2010, Deadline reported that Chelsea Handler scored her own book imprint deal, allowing her to tap talent from her talk show "Chelsea Lately" for the publishing world. Mathews, a regular at the "Chelsea Lately" roundtable, was the first to get a crack at writing a book, but penning his thoughts proved to be tough. He pondered about the writing process to AfterElton.com, saying, "By the way, who knew that writing a book was so hard?" He added, "It is the most difficult thing and the largest undertaking I've ever challenged myself with." Despite any difficulty he faced, Mathews had plenty of friendly support for his 2013 memoir's "Man Up!: Tales of My Delusional Self Confidence," with BFF Gwyneth Paltrow writing the foreword and Handler the afterword.
Mathews' 2020 follow-up book, "Name Drop: The Really Good Celebrity Stories I Usually Only Tell at Happy Hour," was written for pop culture superfans like himself. Even though he's arguably a well-known celebrity in his own right, Mathews still views himself as just another Hollywood stargazer. He told ET Canada that he's just "one of us," so he was totally comfortable penning Tinseltown gossip in "Name Drop." Sure, we might not be friendly with Rosie O'Donnell or Brandi Glanville (via NY Daily News), but we're glad Mathews is chummy enough with them to spill his celebrity secrets.
He'd love to be a game show host
Ross Mathews has been an entertainment industry mainstay for years, amassing over 100 television credits as himself (per IMDb). He's competed in reality competition series like "Celebrity Fit Club" and "Celebrity Big Brother," gone shopping for real estate on "House Hunters," and become a go-to gabber for a number of chat and lifestyle shows. Despite his impressive television resume, there's still one elusive gig Mathews covets the chance to do: host a game show! Yes, he's been a contestant on a slew of game shows, including "Celebrity Family Feud," "Match Game," and "The $100,000 Pyramid," but Mathews has never wrangled contestants as a host.
Mathews shared on "What a Joke with Papa and Fortune" that he wants to do a game show. He confessed that "in a perfect world" he'd host a classic game like "The Price Is Right" or "Let's Make a Deal." Watch out Drew Carey and Wayne Brady because Ross Mathews could be coming on down to take your place as television's next prize MC! In the meantime, Mathews integrates game show elements into his live performances, telling The Columbus Dispatch, "I've done so much over 18 years in TV. What I've never done is a game show, so I decided to … get contestants from the audience to compete for prizes, like the book or a Ross T-shirt." If you can't give away a sensible vehicle with California emissions, then personal merch will suffice.
Ross Mathews' Zoom dating led to lasting love
Ross Mathews' love life has never been dull, and he hasn't been shy about sharing it. He and stylist Salvador Camarena open up about their relationship with the media, and whether it was looking for the perfect Palm Springs abode on "House Hunters" or teaming up to refresh a guest's wardrobe on "Revenge Body with Khloe Kardashian," they were living the celebrity power couple life. But in 2018 after nearly 10 years together, Mathews and Camarena called it quits. Mathews posted about their split on Instagram, writing, "This split is amicable and filled with kindness, compassion and a genuine love for one another."
Mathews quickly moved on to date friend Ryan Fogarty, with sources telling Us Weekly that the pair got romantic once Mathews was single. Their romance would eventually fizzle out, opening Mathews up to new love.
As detailed in the The Knot, Mathews met Dr. Wellinthon Garcia in Mexico just before the COVID-19 pandemic shutdown. The duo got to know each other through Zoom dates, with Mathews sharing with ET, "It was a very pandemic love story … We would just catch up. And it seems it would be impersonal, but it really forced us to have deep conversations and really get to know each other." Mathews even proposed to Garcia under the guise of a Zoom party. Of course, Garcia said yes, and the couple got married poolside in Puerto Vallarta, just a short ways away from where they first met (per People).
Drew Barrymore was the flower girl at his wedding
Ross Mathews and Dr. Wellinthon Garcia got married in a romantic oceanside ceremony in Puerto Vallarta, Mexico, and it might not have happened if not for Drew Barrymore. Mathews shared with The Knot that, while visiting Garcia in New York City, he was asked to be a guest on "The Drew Barrymore Show." It went so well he was asked to stay on the show. Mathews shared, "I don't know that we would have been on such a fast trajectory if Drew hadn't given me work in New York."
Not only did Barrymore inadvertently give Mathews and Garcia's romance room to blossom, but she played a major role in the couple's wedding day. Naturally, the founder of Flower Films and FLOWER Beauty asked to be their flower girl during an episode of her eponymous talk show and she even gave input on the location. Mathews recalled to People that Barrymore told him, "'Do it where you're supposed to do it, and the people who are supposed to be there will be there.' So we chose the place where we first met."
And she was true to her word. Barrymore glided down the aisle as a flower girl, tossing petals gleefully while wearing a beautiful chartreuse gown. Mathews told People, "She's been the conductor of our love story, so it makes sense that she's there on the big day."