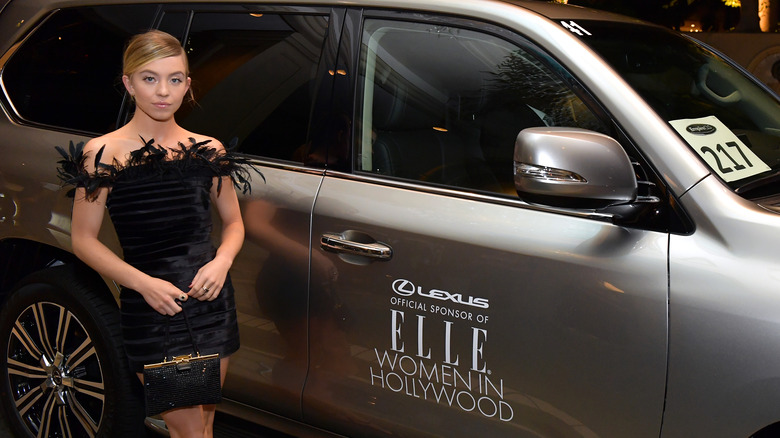 After making her breakthrough as Cassie in the HBO drama Euphoria, Sydney Sweeney has landed a variety of high-profile roles including major parts in The White Lotus and Madame Web. The 24-year-old has also appeared in The Handmaid's Tale and Once Upon a Time in Hollywood. She started acting when she was just 12 years old and now has her own production company, along with a net worth of around $5 million.
She's also a fan of classic cars and isn't scared of getting her hands dirty. While her vehicular adventures pop up across all of her social media accounts, the best place to see what the Handmaid's Tale actress is working on is her Tik Tok account, Syd's Garage, which has over 1.5 million followers at the time of this article's publication. Since 2021, it's featured clips of Sweeney getting to grips with car mechanics as she worked on restoring her 1969 Ford Bronco. Although the Bronco is where she wants it, the actress does not plan to retire from her side gig as an amateur mechanic — promising there's plenty more to come.
Interestingly, bringing classic cars back to their best may not be the actress' most surprising hobby. She's also a trained MMA fighter, having taken up the sport at 14. As with her acting career, Sweeney has seen success during her time in the fight game. She first competed at the age of 18 in a "grappling competition" and claims to have taken the top spot.
Sweeney's car collection contains more than her project pieces
Although working on cars is gaining Sydney Sweeney a large new fanbase, the majority of her vehicles are just fine as they are. The highlights of her collection are a Porsche 718 Boxster, a Mercedes-Benz S-Class, and an Audi Q7. While this is a combination of everyday drivers and entry-level vehicles, you could consider it a good starting point.
Take the Porsche 718 Boxster, it's accessible and a clear gateway vehicle that will probably lead to something like a 928 or a 911 somewhere down the line. Its 2-liter straight-four engine produces 300 horsepower, and a more powerful "S" version is available. There's also a four-liter, naturally aspirated, V6 version that produces just shy of 400 horsepower, but if you're throwing more money around you should really consider buying a proper Porsche instead. In an interview with HypeBeast, Sweeney confessed she would love to own a vintage Porsche one day. So you can expect to see her in at least one more model from the German sports car manufacturer in the future.
The Mercedes-Benz S Class is a fantastic luxury car with a persistent habit of standardizing features about ten years before they make it to the cars normal people are stuck driving. Examples include things like adaptive cruise control, an electronic stability program, and a functional anti-lock braking system (via Hagerty).
Then we have the Audi Q7, a large, functional, luxury SUV boasting seven seats, Audi's "Quatro" all-wheel-drive system, plenty of power under the hood, and a list of safety features longer than the Q7 can travel on a gallon of gas. While the classics are what really give Sweeney's car collection some promise, there is a solid foundation underneath it all.
Sweeney's passion for classic cars began at a young age
The Euphoria star's passion for cars began at a young age, and she's definitely got preferences when it comes to the type of car. Sweeney claims to have "always been a huge fan of vintage vehicles," which explains the Bronco she worked so tirelessly on and the Mustang which was recently added to her collection. In terms of inspiration, it may have been down to the twin sisters who took care of her when she was young. Speaking to Harper's Bazaar during the eBay Motors' New York Auto Parts Show, Sweeney said:
"My babysitters when I was little actually used to be race car drivers, and I'd go to the track a lot, and I thought I was going to be a race car driver when I grew up."
She also talked to Architectural Digest about her early obsession with cars, saying: "I had a family that loved cars. We never had really nice cars, but there was a lot of talk and dreaming of cars." During the interview, Sweeney claims her Bronco was always one of her "dream cars" and stated she was "obsessed" with the classic SUVs.
With that long-held passion for vintage cars, came a desire to restore one herself. Unfortunately, as she told Drew Barrymore, Sweeney did not "have the means to do it" for a long time. However, with success comes cash, and cash can get you a nice vintage car in need of some TLC, and the parts required to restore it to its former glory.
Her Main Project was a Ford Bronco
While being interviewed by Drew Barrymore Sweeney mentioned she bought a 1969 Ford Bronco from an "auction site" that was "all original." Sweeney acquitted the cherry red truck in February 2021 and soon after launched her Tik Tok channel to catalog her work on the vehicle.
Sydney Sweeney's topless SUV wasn't just acquired as a project car, she confessed to HypeBeast that she also wanted the Bronco to become the "perfect car for when the sun's out." The actress also wanted to challenge herself and her mechanical abilities with the rebuild. Although her car collection has several other vehicles in it, the Bronco has the distinction of being the first car Sweeney actually bought for herself.
The Bronco, which Ford claims is the world's first sports utility vehicle, first rolled off the production line in 1965 and is still being produced today. During that time, its popularity has fluttered between being the most popular off-road car on the planet and relative obscurity. In producing the Bronco, Ford drew on the experience it gained from manufacturing over 20,000 Jeeps during World War 2. It also conducted some market research, surveying the owners of Jeeps and similar vehicles to see what they disliked and what could be improved on. It had some racing success in the outdoor offroad category, including winning a title in the hands of Larry Minor and Rod Hall in 1969. It was also the basis for one of Pope John Paul II's "Popemobiles." Ford discontinued the Bronco in 1996, before reviving it in 2021. Despite the new Bronco's being well received, Sweeney may have made the correct choice by opting for a classic with a "racing pedigree."
Her work has modernized the Bronco, while keeping its integrity
As she acquired her Bronco with all original parts, Sweeney was determined to keep the car's "integrity" intact. However, she did make some major performance-related improvements and documented the whole process on her Tik Tok channel. She personally changed out the axels and switched the old-fashioned drum brakes for modern, more efficient, disc brakes while also working on the car's leaf-spring-based suspension system. During the Harper's Bazaar interview, the actress confirmed: "I've changed a lot! I modernized the mechanics of it all without taking away its original integrity."
Although Sweeney did do some work on the outside of the vehicle, it was spared a major cosmetic overhaul. She was going to repaint it in her favorite color, baby blue, but she soon discovered how expensive a complete respray can be. Instead of dropping $30,000 on a paint job, Sweeney chose to just stick with the cherry red. Despite the fact she did a lot of the work herself, certain parts require specialist skills. As a result, the Bronco had to be sent away so the interior could be reupholstered. The Euphoria star says the hardest job she completed while restoring the Bronco was converting the transmission from the original manual gearbox to an automatic one. The conversion required several parts, which she sourced online. The actress' hard work finally paid off in January 2022, when she got to take her beloved 1969 Ford Bronco on the road (via Architectural Digest).
Sweeney wasn't working alone
Restoring a car is a huge undertaking. Many people spend years tinkering away with a garage full of parts, rust, and disappointment. Even when it all starts coming together, there's a good chance you'll experience failure after failure during your quest to get a classic back on the road. So obviously, having some help can make life a lot simpler and improve your chances of success. Sweeney is lucky in this respect, as her best friend's father just happens to be a mechanic who had some room in his shop.
Friends' dad's "mechanic credentials" come on a spectrum, from "has a tinker but doesn't really know what he's doing" to "runs a garage, but spends half the time overcharging for labor and messing up simple jobs" all the way through to "has been producing some of the most desirable custom Porsches for around three decades." Sweeney's pal's pop is on the ideal end of that spectrum.
It's Rod Emory, of Emory Motorsports fame. Cars Emory produces are the Outlaw, Outlaw 911, Emory Special, and the Emory RS. Most of the mechanical builds start out with a Porsche 356, before going on to incorporate both custom elements and parts borrowed from the flagship 911. Every build that Emory Motorsports undertakes is specific to the customer's specifications, as a result, no two may actually be the same. So Rod knows his stuff and was happy to provide tools and garage space — as well as remain on hand any time Sweeney needed some advice or a demonstration.
Her next project might be a 1967 Ford Mustang
Opting out of paying $30,000 to have the Bronco resprayed in her favorite color had a pretty big upside. Sweeney found another use for the cash and still ended up with a baby blue classic car in her collection. Speaking to Architectural Digest, she revealed that she became aware she could get a 1967 Ford Mustang for less than it would cost to repaint the Bronco. She soon sourced one in the color she wanted and revealed the car on her Tik Tok channel shortly afterward.
Sweeney has christened her new pony car "Britney," and revealed she has some mechanical plans for it too. She claims she isn't going to do anything "major" to the vehicle, but she did say she wants to fit a new engine to give her 'Stang a bit more power. Sweeney intends to start working on the Mustang "soon" and may have plenty of spare time and garage space now she has her Bronco how she wants it. The actress has also hinted at the existence of a mystery car that she will be unveiling and working on soon. No further details have been unveiled, but it is likely that the mystery vehicle will be another long-term project like the Bronco, instead of a one-job deal like the Mustang.