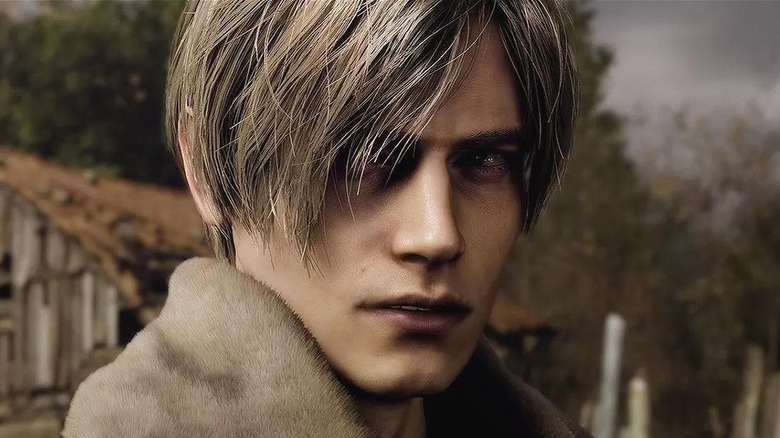 Gaming had a strong year in 2022. FromSoftware's latest game, "Elden Ring," became the company's fastest-selling game, while "God of War Ragnarok" has been regarded as nearly perfect. Other blockbusters for the PS5 included "Gran Turismo 7," "Horizon Forbidden West," and "The Last of Us Part 1," all of which received favorable reviews on the PS5.
Things aren't slowing down for the Sony system, either. Many PlayStation games are still waiting to be released. And although Insomniac's "Wolverine" game is a ways off and the "Star Wars: Knights of the Old Republic" remake has been delayed indefinitely, there's definitely enough to look forward to in 2023.
Yes, PlayStation is renowned for its first-party third-person action adventures, but there's way more on the horizon. Fighting games, adventure games, remakes, indie actioners, and more are set to come to the PS5 in 2023. Here are the PS5 games we're most looking forward to in 2023, ranked by just how hyped we are.
21. Atomic Heart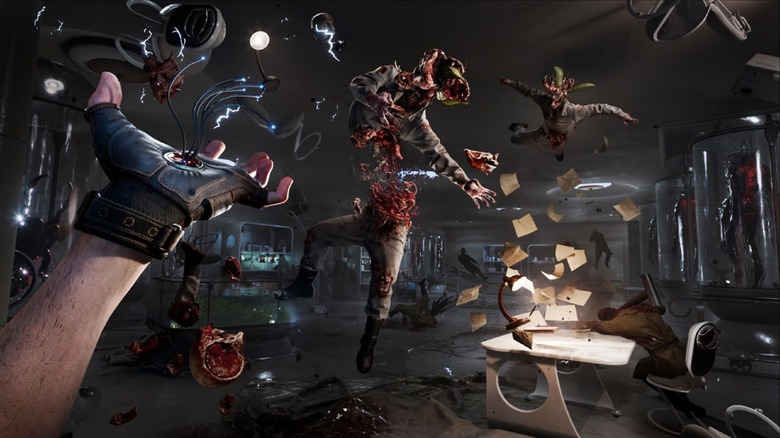 Developed by Russian studio Mundfish, "Atomic Heart" is an indie first-person shooter that seemingly has the presentation of a AAA release. What's known so far about "Atomic Heart" is that it follows a KGB agent in a technologically advanced version of the 1950s that's crawling with diverse robots.
These bots range from typical humanoid brawlers to a giant spherical killer that rolls about during combat. Another apparent highlight is the shifting landscape. An exhibition showroom displays different robotic models, while a rural farm has typical shacks and barns. This variety extends to the main character's arsenal, as the player utilizes handguns, makeshift melee weapons, and even supernatural powers. It resembles classic FPS titles like "Bioshock" — with gameplay largely focused on stealth, crafting, hacking, and gunplay, all with player choice mixed in — but it looks like it's putting its own spin on the genre.
What can be concerning is the development timeline. Mundfish's project has encountered multiple delays since production began. However, a release date trailer was unveiled with a February 21, 2023 date attached. Early 2023 isn't far off, so "Atomic Heart" could be a great way to kick off the new year.
Release Date: Feb. 21, 2023
Genre: First-person shooter
Game Modes: Single-player
20. The Wolf Among Us 2
It was a big surprise when Telltale Games was shut down in 2018. Mass layoffs and financial losses led to closure until the studio was resurrected by LCG Entertainment (per Polygon). Despite the absence of many former employees and creators, Telltale is back! The company looks to make good on that return with a sequel to "The Wolf Among Us," the fan-favorite adaptation of Bill Willingham's "Fables" that combines fairy tales with noir.
So far, "The Wolf Among Us 2" has generated a good but of excitement with its first two trailers. Both trailers hype the comeback of Bigby Wolf as the main character, but the game will see quite the graphical overhaul. Telltale CEO Jamie Ottilie revealed that this game will be made using Unreal Engine, rather than Telltale's own in-house game engine (via IGN). What will stay the same is the game's structure. The sequel will remain episodic like its predecessor. However, Ottilie made it known that all episodes will finish development simultaneously, so hopefully there should be no major delays between chapters. There's a lot to be pumped for — not only is Telltale back from the dead, but "The Wolf Among Us" is back too!
Release Date: TBA 2023
Genre: Point-and-click, Adventure
Game Modes: Single-player
19. Bomb Rush Cyberfunk
Sega was at its peak during the Dreamcast. The final Sega console was home to instant classics such as "Sonic Adventure" and "Crazy Taxi," but one game stood out for its sheer style, and that's "Jet Set Radio." It excelled at arcade-style gameplay that revolved around extreme roller skating and graffiti. A game like that is hard to replicate, but it looks like "Bomb Rush Cyberfunk" might deliver the goods.
"Jet Set Radio" was memorable for its innovative gameplay, vibrant art style, and rocking soundtrack. In an early trailer for "Cyberfunk," a character can be seen skating across the city, leading into a quicktime event in which the character tagging a building with graffiti. Fans of the Dreamcast era will no doubt get "Jet Set Radio" flashbacks, to the point that this could be mistaken for an official sequel. The game even employs a similar cel-shaded style. But the real draw is the return of the new game's composer, Hideki Naganuma, who also produced music for Team Reptile's previous game, "Lethal League Blaze." Get ready for plenty of chill tunes as you take to the streets.
"Bomb Rush Cyberfunk" has the makings of a great game that could captivate hardcore fans of "Jet Set Radio" and newcomers alike.
Release Date: 2023
Genre: Arcade, Platformer, Sports
Game Modes: Single-player
18. Stellar Blade
A PlayStation console exclusive, "Stellar Blade" is an upcoming action game that was first unveiled during a PS Showcase in 2021. The game was previously referred to as "Project Eve," after the name of its female protagonist. According to PlayStation.Blog, Eve must vanquish evil parasites that corrupt humans and seek to destroy the last city on Earth.
"Stellar Blade" looks like a mix between "Metal Gear Rising" and "Souls" games, as Eve is suited in futuristic armor and wields a sword as she fights off seemingly "Bloodborne"-inspired enemies. Players will be able to backstab, parry, and pull off some heavy combos. Third-person shooting can also briefly be seen in the trailer, so "Stellar Blade" pretty much has it all.
Game director Kim Hyung Tae offered a bit more detail on combat in the PlayStation.Blog post, explaining that defensive and offensive playstyles are both encouraged. In another blog post, Tae revealed that the DualSense controller will provide different haptic feedback depending on the weapon equipped. Overall, "Stellar Blade" seems to be a solid action-adventure that will make good use of the PlayStation 5's hardware and features.
Release Date: TBA 2023
Genre: Action, Hack-and-Slash
Game Modes: Single-player
17. Alan Wake 2
Remedy Entertainment struck gold when it released "Control," and now the company is set to return to one of its cult classics. The original "Alan Wake" combined third-person action with horror and sci-fi influences, calling to mind beloved properties like "Twin Peaks." "Alan Wake" remains a memorable Remedy project, especially considering its crossover appeal as part of the Remedy Connected Universe.
The trailer has sweeping shots of a town and city, then focuses on the titular character and quickly cuts to a bloody face. The trailer tells players almost nothing, but it's dripping with atmosphere. All of this alludes to an even more frightening and horror-centric sequel.
The first Alan Wake toyed with horror elements but it balanced it with action. When speaking with Geoff Keighly, Remedy Entertainment creative director Sam Lake declared that "Alan Wake 2" will be "Remedy's first ever survival horror game." As a result, fans of the genre and Remedy will likely have their expectations exceeded.
Release Date: TBA 2023
Genre: Survival horror
Game Modes: Single-player
16. Exoprimal
When gamers hear the words Capcom and dinosaurs, they probably think of "Dino Crisis." At least until Capcom unveiled its wacky new hero shooter, "Exoprimal." Currently, what's known about "Exoprimal" is that it asks players to team up against a mysterious A.I. and take out as many killer dinosaurs as possible.
The game's main mode, "Dino Survival," is highly competitive, so players will need to master different characters. In Dino Survival, two teams of five compete in finishing mission objectives, some of which are easier said than done. In a presentation for the game, Capcom elaborated on a mission called "Dinosaur Cull," in which "teams must eliminate a specific dinosaur."
Other mission types include "Vtol Defense" and "Omega Charge". "Vtol Defense sees characters defending a specific point on the map, whereas "Omega Charge" is more offense-minded and equips players with a destructive hammer.
"Exoprimal" certainly has a lot going on, and it's a very different kind of game from Capcom. Although the company doesn't have the best reputation with multiplayer shooters after "Resident Evil Re:Verse" and "Resistance," "Exoprimal" could be the exception.
Release Date: TBA 2023
Genre: Third-person shooter
Game Modes: Multiplayer
15. Black Myth: Wukong
Like "Atomic Heart," "Black Myth: Wukong" is an indie game that looks big-budget. Created by Chinese developer Game Science, "Wukong" is an RPG action game with a story based off of the classic fantasy novel "Journey to the West."
The main character wields a staff to combat enemies, but he isn't just swinging it in a usual manner. The protagonist performs all kinds of acrobatic moves with the weapon. For instance, he can slam the staff downwards to propel himself towards larger enemies, delivering flurry attacks and kick-oriented moves. One exciting moment in the trailer sees the character extending his staff upwards to unleash a head bashing swing against an intimidating enemy.
Another big hook to the game is the power to transform. For example, players can turn into a walking boulder creature that can protect from ranged attacks. Another transformation is that of a small insect, which can be used to avoid certain combat encounters.
There is no shortage of action games in 2023, but "Black Myth: Wukong" is definitely on people's radars. Online videos of gameplay have accrued upwards of 10 million views!
Release Date: TBA 2023
Genre: Action-adventure
Game Modes: Single-player
14. Forspoken
Square Enix has a number of legendary franchises to its name, and "Forspoken" aims to be another high caliber project. A few yeas ago, Square Enix put out early footage for "Project Athia," showing off magic attacks and fun mobility. That game has now become "Forspoken."
The new IP is being produced by developers who worked on "Final Fantasy 15," and the two share some commonalities. "FF15" was all about combining melee combat with spells, all while teleporting around the area of play. "Forspoken" seems to double down on those mechanics as it emphasizes spells and parkour movement. Co-director Takefumi Terada explained to GamesRadar that development decisions for this game were based off of what the team learned with "FF15."
In a gameplay "deep dive" video, "Forspoken" presents flashy moves for its hero, Frey, to learn and perform. For instance, Frey is able to shoot a stream of rocks and summon a force field. Some magical attacks can also simultaneously heal Frey, suggesting that her powers are deeplky connected to nature. In turn, these powers have the potential to connect with gamers in a deeply engaging and fun game.
Release Date: January 24, 2023
Genre: Action, Role-playing
Game Modes: Single-player
13. Wo Long: Fallen Dynasty
The first two "Nioh" games were critically acclaimed releases by Team Ninja, and that legacy continues with "Wo Long." There is a lot of familiarity here for "Nioh" fans, but don't mistake "Wo Long" for a copy-and-paste job. Team Ninja is working with Koei Tecmo on this project to essentially invent a cross between "Nioh" and "Dynasty Warriors."
A release year and trailer for "Wo Long: Fallen Dynasty" were released for the initial announcement. Since then, many outlets have tried the game out for themselves. After playing a bit of the game, Skill Up outlined the relation between "Nioh" and "Wo Long," stating both revolve around unique weapons, spells, and summons. But, the first impression review goes on to claim that "Wo Long" has received some alterations to streamline gameplay, like minimizing time spent in menus.
The "Wo Long" official website offers some additional details on combat. Actions are based on Chinese martial arts, and while there are different playstyles to experiment with, the game's systems demand that players have "the precision and skill necessary to become a true master of the sword." It pretty much tells the audience, "Yeah, this game is going to be difficult."
Release Date: TBA 2023
Genre: Hack-and-slash, Action-adventure
Game Modes: Single-player
12. Like a Dragon Gaiden: The Man Who Erased His Name
"Like A Dragon" — formerly the "Yakuza" series in North America — fully transitioned to turn-based combat with the release of "Yakuza 7." On the side is RGG Studio's spinoff "Judgment" series, which has kept the real-time brawler gameplay intact. Now, another spinoff, "Like a Dragon Gaiden: The Man Who Erased His Name," will feature that classic combat style and a recognizable lead character.
"Yakuza 6" was the grand finale of Kazuma Kiryu's story and paved the way for a brand new cast in "Yakuza 7." Despite that, it seems RGG studio is not done with its karaoke-singing hero, as "Like A Dragon Gaiden" will continue Kiryu's story.
As glimpsed in the official trailer, Kiryu has abandoned his name and is now working with new faces. It's a far cry from the tone of the original series, in which Kiryu is often desperately trying to get out of the traditional "Yakuza" life. As stated by the developers, this tale will be a direct prequel to "Yakuza 7" and the upcoming "Yakuza 8," so for those wanting to play either, this spinoff might be essential.
Release Date: TBA 2023
Genre: Beat 'em up, Brawler
Game Modes: Single-player
11. Diablo 4
"Diablo" has received mostly worldwide acclaim through its three mainline games. But after the unfortunate controversies surrounding "Diablo Immortal," Blizzard seems desperate to recover. Thankfully, the "Diablo 4" website has been highlighting the game's inclusion of an "open world," signifying a grander scale of adventure.
One of the biggest sources of excitement so far is "Diablo 4's" Necromancer Class. Many build guides have declared the Necromancer as one of, if not the best class in "Diablo 3" and "Diablo Immortal." The new games looks to continue that, as Blizzard has hyped up the class' scythe weapons and multiple possible playstyles.
Yes, Diablo is prone to rely on a formula, but there are some nice additions in "Diablo 4." For one, mounts will be at the forefront to aid in player traversal. Meanwhile, the game features extensive skill trees that will allow players to separate the Barbarians from the Druids, making each build feel wholly unique.
Players might want to be cautious about the potential microtransactions, especially after seeing the pay-to-win model of "Diablo 4." Having said that, a fresh coat of paint and class refinements are reason enough to anticipate the next mainline "Diablo."
Release Date: TBA 2023
Genre: Hack-and-slash, Action, Role-playing
Game Modes: Single-player, Multiplayer
10. Dead Space
The first two "Dead Space" games are still well-regarded, but "Dead Space 3" was seen as a bomb; its failure caused the franchise to go dark. Reigniting fan interest is a remake that is way more than a shined-up version of "Dead Space 1."
The "Dead Space" remake will aim to improve on the original in almost all categories. Visually, no original models or assets will be featured in this remake. Story-wise, it's an in-canon tale for the series that will have added improvements and character development. Also, in their hopes to immerse players fully, the developers have said that the game will be played seamlessly, "from the start screen to the end credits," with no loading screens. That's a lot of gory scares without much time to rest!
Glen Schofield, who created the series and led development on the original, is conflicted about the "Dead Space" remake. He said he was bummed that another team is trying to make a better game than the one he did, but he nonetheless seemed to give the project his blessing. Here's hoping it lives up the terrifying hype.
Release Date: Jan. 27, 2023
Genre: Survival horror, third-person shooter
Game Modes: Single-player
9. Assassin's Creed Mirage
"Assassin's Creed" used to be a bit more linear, based largely around pure action and stealth. But recently, the franchise has diverged into large-scale experiences with the release of "Origins," "Odyssey," and "Valhalla." These games are infamous for their huge maps, long runtimes, and RPG-style gameplay. However, "Assassin's Creed Mirage" could revive the old formula. "Mirage" is just one of many projects that will define the future of "Assassin's Creed," but for fans of the original game, "Mirage" might have the most potential.
A cinematic trailer for the new title depicts an Arabian setting with more of the traditional staples of "Assassin's Creed." Hidden blade kills, parkour, and sword combat are featured heavily, hearkening back to the early Ezio adventures. With this trailer, Ubisoft basically confirmed what many suspected about "Mirage," as initial rumors and leaks discussed stripping RPG elements, taking place in Baghdad, and going back to the series' basics.
This truly seems to be an example of "less is more." Older "Assassin's Creed" games perfected historical drama and intrigue with engaging stories and clever stealth combat. "Assassin's Creed 2" remains the most critically acclaimed entry in the series, so a new game building on what made the series so great is a compelling prospect.
Release Date: TBA 2023
Genre: Stealth, Action-adventure
Game Modes: Single-player
8. Suicide Squad: Kill the Justice League
It's hard not to be cautiously optimistic about "Suicide Squad: Kill the Justice League." On one hand, Rocksteady hasn't released a game since 2015 and the co-founders of the company are leaving. On the other hand, a multiplayer game featuring the Suicide Squad facing off against DC's greatest heroes — from the folks who made the "Batman: Akrham" series, no less — sounds kind of mind-blowing. The bad news about "Suicide Squad" is that the game has been delayed a few times. Nevertheless, the gameplay and trailers have looked excellent so far.
A high-octane gameplay trailer puts the spotlight on King Shark, Harley Quinn, Captain Boomerang, and Deadshot, and each of them look to play in unique ways. Harley swings with a hookshot while King Shark quickly climbs up walls. Captain Boomerang can speed through levels and Deadshot rides in on a jetpack.
In combat, each character has a different moveset and different ranged weapon. Although fan favorite characters like Peacemaker and Polka Dot Man have yet to appear, fans can probably expect plenty of surprises. After all, the Justice League act as the main antagonists, which is already an unpredictable turn of events.
Release Date: TBA 2023
Genre: Action-adventure
Game Modes: Single-player, Multiplayer
7. Like a Dragon: Ishin!
A samurai period game, "Like A Dragon: Ishin!" was an early entry for the PS4 console in 2014, but was released exclusively to Japan. This spinoff is inspired by actual events in 1800s Japan, but casts characters from the "Yakuza"/"Like A Dragon" series as real-world figures.
The zany premise is extremely appealing due to the whacky and over the top nature of "Yakuza," and "Ishin!" will set itself further apart with its renewed emphasis on sword combat. Gameplay footage depicts some flashy dodges and heavy sword slashes, while a PlayStation.Blog post describes four different styles of combat: Swordsman, Gunman, Wild Dancer, and Brawler. In the reveal trailer alone, bullets are sliced in half, and a tiger leaps onscreen. Things are going to get intense.
It's worth noting that this is a remake, not a port of the 2014 release. The aforementioned blog post highlights the new release's "astounding graphical quality" made possible with Unreal Engine. And judging by the developer's history with high-quality remakes, "Ishin!" will most definitely deliver.
Release Date: TBA 2023
Genre: Action-adventure
Game Modes: Single-player
6. Final Fantasy 7 Rebirth
A smash hit with fans and critics alike, "Final Fantasy 7 Remake" generated burning anticipation for the next chapter. Seeing as how the first part only adapted a sliver of the original, "Rebirth" is likely to be much bigger in scale. And like a few other games on this list, "Final Fantasy 7 Rebirth" is a PS5 exclusive.
Square Enix has been mostly tight-lipped, but we do know a few details. In a trailer, gamers learned that "Final Fantasy 7 Rebirth" would release in Winter of 2023. This came as quite a shock, since "Final Fantasy 16" is also coming out that same year. Hardcore fans will get their fair share of the franchise next year.
A snippet of gameplay in the same trailer sees Cloud and Sephiroth walking side by side together. There isn't much to comment on aside from the graphical quality of the environments. Fans will just have to wait and see how "Rebirth" deviates from the original game's story. Tetsuya Nomura and company declared that there will be no missing story elements from the original, but the order in which the player visits locations will differ (per MP1ST).
Release Date: Winter 2023
Genre: JRPG, Action
Game Modes: Single-player
5. Hogwarts Legacy
Initial leaks of "Hogwarts Legacy" hinted at a sizable RPG set in the "Harry Potter" universe — a leap forward from previous adaptations. This unofficial footage has kind of done a disservice to the game. The leaks came about in 2018 and an indirect result has been the constant disappointment in light of the game's delays. Having said that, all official trailers and a healthy gameplay showcase have generated a bit more excitement. The reveal trailer alone has garnered 30 million views!
During the aforementioned gameplay showcase, developers opened by revealing the detailed character creator. An assortment of different hair styles and eyeglasses are available for players to choose from as they build their ideal Hogwarts student. And how can "Harry Potter" be discussed without mentioning spells? The developers have announced that there will be "over 20 slottable spells" to equip during play.
The player character is in their fifth year at Hogwarts and must catch up to the other students. In doing so, the creators have produced a "Field Guide," which provides challenges and quests that in turn give XP and access to new abilities.
"Hogwarts Legacy" is shaping up to be a strong release for the PS5 with exclusive content for console owners, including a unique dungeon and shop.
Release Date: Feb. 10, 2023
Genre: Action, Role-playing
Game Modes: Single-player
4. Street Fighter 6
2023 has some franchises getting total reimaginings, but the most exciting sequel is probably "Street Fighter 6." Capcom appears to be changing the "Street Fighter" series for the better. Redesigned characters, smooth online, new mechanics, and a free-roaming story mode are all combining for potentially the best "Street Fighter" in recent memory.
In 2022, "Street Fighter 6" fell victim one of the biggest leaks in gaming. An entire roster sheet was found online and revealed both old and new faces appearing in the upcoming game. Leaks are never desired, yet this one has built up some hype. Heroes from the starting roster of "Street Fighter 2" will be available from the get-go. An exciting trailer followed soon after, putting the spotlight on favorites such as Ken, Dhalsim, Blanka, and E. Honda.
In addition to the story mode, in which players can explore Metro City and perfect their skills, the game features some more exciting systems and mechanics. For starters, there's a parry to combat enemy combos. Another move is a drive impact that bounces the opponent off the wall. Players are going to have a blast learning how much "Street Fighter 6" has to offer.
Release Date: TBA 2023
Genre: Fighting
Game Modes: Single-player, Multiplayer
3. Resident Evil 4
The "Resident Evil 2" remake set a high bar for all future video game remakes, wholly modernizing the PS1 game and captivating fans old and new. But what would happen if a game that doesn't really need a remake gets one anyway? "Resident Evil 4" innovated the third-person shooter, so redoing one of the most influential games ever is a daunting task. Fans and critics alike are in the same mindset that "Resident Evil 4" remake has to get it absolutely right.
Against all odds, Capcom has dropped tons of information that mostly alleviated fans' reservations. In a series showcase, Capcom revealed a revamp of the infamous village encounter that occurs early in the original game. The scene is truly glorious, just as frantic as the original, but with some nice (and horrifying) additions thrown in.
One particular gameplay tidbit is the fact that Leon can now use his knife to parry giant chainsaws (among other weapons). Other highlights are being able to better move while shooting, as well as Leon's newfound ability to crouch. It will be interesting to see how combat encounters and gameplay as a whole will differ between the remake and original, but this is poised to be another win for Capcom's zombie franchise.
Release Date: March 24, 2023
Genre: Third-person shooter, Survival horror
Game Modes: Single-player
2. Final Fantasy 16
"Final Fantasy" is in the midst of a renaissance right now. "Final Fantasy 14" is still going strong, while the sequel to "FF7 Remake" is just around the corner. Produced by the same team that did "FF14," "Final Fantasy 16" will be a different kind of "Final Fantasy" — it's rated M for Mature.
There's tons to analyze, but one of the biggest headlines is that "Final Fantasy 16" has thrown out certain types of combat. Now opting for action-oriented gameplay over turn-based combat, this "Final Fantasy" is geared towards a newer generation. Producer Naoki Yoshida explained that he grew up playing turn-based games, but felt that younger players seem less interested in that kind of action.
"Final Fantasy 16" will be like no other in the long-running series, and PlayStation 5 owners will want to get their hands on it, because it's exclusive to the console. And given that its development be held back by the PS4's limitations, "Final Fantasy 16" is leading the charge for the next generation of JRPG titles.
Release Date: TBA 2023
Genre: JRPG, Action
Game Modes: Single-player
1. Marvel's Spider-Man 2
"Marvel's Spider-Man 2" is what to keep on the radar going into 2023. It has it all: a continuing story, two playable Spider-Men, and Venom. Given how well Insomniac pulled off the first "Spider-Man" and "Spider-Man: Miles Morales," it's safe to say that "Spider-Man 2" will also achieve greatness. And this new entry in the quintessential superhero series is only available on PS5!
Maybe best of all: Insomniac has put delay rumors to rest. In a recent tweet, Insomniac wrote that the team is "making good progress and ["Spider-Man 2"] is still slated for 2023." It's unknown when gamers will see real gameplay or hear from Insomniac again about the project, but it's great to know that everything is on track.
Though it's only a small teaser trailer, there's a lot to dissect about "Spider-Man 2." Spider-Man and Miles fighting side by side led some fans to expect co-op multiplayer. A PlayStation Blog post quickly cleared that up, calling the sequel an "epic single-player adventure." Nevertheless, the ability to potentially switch between Miles and Peter while fighting all-new enemies is sure to excite. Insomniac has a stunning track record, so a direct sequel to one of the dev's best games in 2023 is an absolutely thrilling prospect.
Release Date: TBA 2023
Genre: Action-adventure
Game Modes: Single-Player