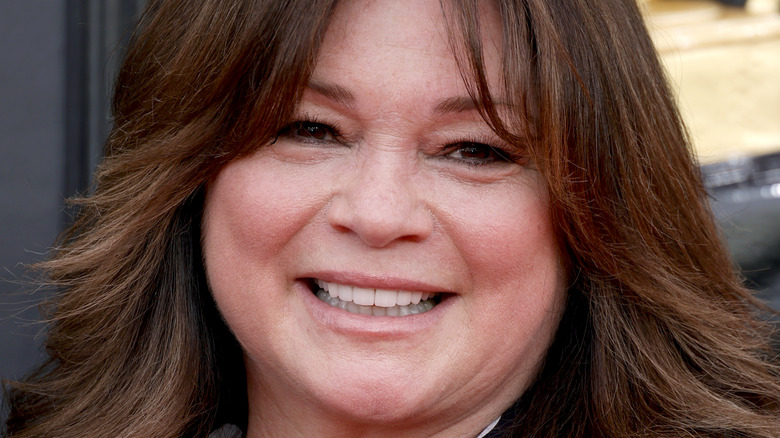 We may receive a commission on purchases made from links.
The following article includes brief references to drug and alcohol addiction.
With a career spanning nearly five decades, as well as two Golden Globes, two Daytime Emmy Awards, and a star on the Hollywood Walk of Fame on her list of achievements, former child star Valerie Bertinelli might very well be what you call a legend. While she first made a name for herself on television as Barbara Cooper on "One Day at a Time" in the '70s, she's continued garnering small screen credits on shows like "Touched by an Angel" in the early 2000s and the 2010s hit "Hot in Cleveland." She's also appeared in made-for TV movies like "The Haunting of Helen Walker" and "True Confessions of a Hollywood Starlet."
These days, however, Bertinelli finds most of her work in the world of reality TV. Since 2015, the longtime actor has hosted Food Network's "Valerie Home Cooking" and "Kids Baking Championship" — jobs fueled by her love for cooking. "I've been in front of the camera since I was 12 years old [but] I have been cooking longer than I have been acting," Bertinelli told Closer Weekly in 2019. "I was never quite comfortable acting. Now, I'm just able to be me and cook."
But beyond Bertinelli's acting skills and infectious smile is a life that is just as drama-filled as any Hollywood flick. Between two marriages, a tragic loss, and a whole new outlook on love, here's a peek into Valerie Bertinelli's complicated love life.
Valerie Bertinelli's reported 'fling' with Steven Spielberg
For over three decades, filmmaker Steven Spielberg has enjoyed a blissful marriage to his wife, actor Kate Capshaw. But before Capshaw were a number of relationships for the celebrated director, including an apparent fling with Valerie Bertinelli. In 2008, the "Taken Away" actor admitted to dating Spielberg after auditioning for one of his movies in 1980. "I went up to read for 'Raiders of the Lost Ark' which I was so wrong for," Bertinelli told Oprah Winfrey (via People). "And the next day I got a call and some flowers. … [Spielberg] asked me out. We went out a few times … and did more."
Despite the media's perception that they had something serious going on, Bertinelli insisted it was nothing more than a fling. "We had too many differences, including age, career status, and religion. I met his mother, and I knew he wasn't going to marry someone who wasn't Jewish," she wrote in her 2008 memoir "Losing It: And Gaining My Life Back One Pound at a Time." Their breakup, however, also came down to seemingly simpler stuff that actually meant a great deal — such as their food preferences.
"One night, as we made pasta for dinner, I started to chop up garlic, and Steven said, 'No. Stop. No garlic,'" Bertinelli wrote. "I stopped, all right, but it wasn't because I took direction from him. I thought, 'Are you kidding me? I can't date a guy who won't eat garlic!'"
She met and married Eddie Van Halen within a year
As written in "Losing It," Valerie Bertinelli and Steven Spielberg broke up in the summer of 1980. According to the actor, she was visiting her parents in Shreveport, Louisiana when she gave her soon-to-be ex, who was back in Los Angeles, a call after meeting the man who would become her first husband, rockstar Eddie Van Halen. "I didn't want him to hear it from anyone but me," Bertinelli wrote of Spielberg.
After seeing a picture of the guitarist on a Van Halen album cover, Bertinelli had agreed to go with her brothers to one of the band's shows in Shreveport — while backstage, she met Van Halen and was immediately smitten. "You had to peel me off the floor," she told Oprah Winfrey in 2008. They met up again a few days later, and in Bertinelli's own words, "We never separated from then on." In his 2017 memoir "Runnin' with the Devil," Van Halen's manager, Noel Monk, also recalled Bertinelli's first time meeting the rock musician. "It was kind of cute to see them together — they were both clearly nervous and somewhat reticent," Monk wrote (via Yahoo! News). "This struck me as a sign of genuine chemistry."
In December 1980, four months into their relationship, Van Halen popped the big question, and on April 11, 1981, a 20-year-old Bertinelli got married to her 26-year-old prince charming.
Valerie Bertinelli and her first husband had their fair share of troubles
Like many whirlwind romances, Valerie Bertinelli and Eddie Van Halen soon realized that marriage was not a walk in the park. Speaking to Oprah Winfrey in 2008, Bertinelli shared some of the sadder and more toxic details about her union with the rocker.
"He had his responsibilities of what he had to do, and I had my responsibilities," she explained. "And we thought if you just live in the same house there would be a connection, but no." The result? Admitted infidelity on both sides. While she claimed to have heard her then-husband talking to another woman on the phone, Bertinelli confessed to also stepping outside of their marriage a few times. "I just wanted somebody to touch me and love me. And I wasn't getting it at home. … But it was a big, huge wrong choice."
However, this unfortunately was not the first or last of their troubles. According to Page Six, excessive drug and alcohol use was also an issue — something that eventually took its toll on their already failing marriage. "It wasn't one thing or another as much as it was everything together. There was a lot going on," Bertinelli wrote in "Losing It." "… We just did not communicate as effectively as we should have."
If you or anyone you know needs help with addiction issues, help is available. Visit the Substance Abuse and Mental Health Services Administration website or contact SAMHSA's National Helpline at 1-800-662-HELP (4357).
Matthew Perry and Valerie Bertinelli allegedly once kissed
In his 2022 memoir "Friends, Lovers, and the Big Terrible Things," Matthew Perry took us into his world as an actor, as well as the feelings he developed for Valerie Bertinelli when they worked together on "Sydney," a sitcom that premiered in 1990. "I fell madly in love with Valerie Bertinelli, who was clearly in a troubled marriage," he wrote (via Page Six). "My crush was crushing; not only was she way out of my league, but she was also married to one of the most famous rock stars on the planet, Eddie Van Halen."
Though Perry noted that his feelings were unrequited, he managed to forge a friendship with Bertinelli. And then one night, while hanging out with Bertinelli and her then-husband in their home, the duo allegedly shared a moment. "As the night progressed, it was clear that Eddie had enjoyed the fruits of the vine a little too hard, one more time, and eventually he just passed out, not ten feet away from us," Perry wrote, before adding that he and Bertinelli apparently ended up having "a long, elaborate make-out session."
While Bertinelli has not officially commented on Perry's claims, as of this writing, she seemingly responded in a TikTok video captioned, "Anyone misbehave in their 20's and early 30's? Are you mortified?" as Taylor Swift's "Anti-Hero" played.
She remained friends with Eddie Van Halen till the end
Despite their many issues, Valerie Bertinelli and Eddie Van Halen were married for 20 years before separating in 2001 and eventually finalizing their divorce six years later — a decision inspired by their son, Wolfgang Van Halen. "Ed and I weren't treating each other like two people that loved each other, and that's what Wolfie was seeing," Bertinelli explained in an interview with Oprah Winfrey. "So I'm hoping that when he does get married and start a life for himself, that he takes his time and marries a friend and not just someone that he can't keep his hands off."
And while they might not have always had a happy marriage, Bertinelli and the musician stayed friends, remaining in each other's lives even after the split. "I can't explain the feelings Ed and I had for each other," Bertinelli told People in 2022. "I loved him more than I know how to explain and there's nothing sexual about it. It was more than that. And Ed and I understood that."
In October 2020, when Eddie Van Halen was nearing his death at age 65 of throat cancer complications, Bertinelli rushed to be by his side. "Maybe next time. Maybe next time, we'll get it right," the "One Day at a Time" actor told her ex-husband, according to People.
Valerie Bertinelli met husband No. 2 through her brother
While visiting her parents in Arizona in 2004, Valerie Bertinelli's brother introduced her to Tom Vitale, a father of four who was recently divorced. This, among other things, helped the couple connect pretty fast. "Val and I were coming from a tough time and wanting to move on but didn't want to trust anyone," Vitale said of their early days together to AARP. "We just understood each other completely. My family is her family. It wasn't love at first sight; it was family at first sight."
After six years together, Vitale proposed to Bertinelli during a romantic getaway to Italy. "We'd talked about getting married, but I was still shocked," Bertinelli told the magazine of the proposal. "It was sweet when he asked me, because he was so scared. I was like, 'Are you kidding me?'" Happy and in love, Bertinelli couldn't have been more grateful to have met Vitale when she did, something to which even her friends, like trainer Christopher Lane, attested in a 2010 interview with People.
And while Bertinelli looked forward to walking down the aisle, the "Hot in Cleveland" star hoped for a better marriage with Vitale than her first. "For me, it feels silly," she told People at the time. "I'm 50. It's not about the wedding. I just want to have a marriage. We're going to get married in Italy, just the two of us and a witness."
Valerie Bertinelli and Tom Vitale had a deep bond
On January 1, 2011, Valerie Bertinelli and Tom Vitale got married at their Malibu home in a ceremony much bigger than their original Italy plans. According to People, the 100-guest affair was attended by a number of stars, including Jane Leeves, Pat Harrington, and Mackenzie Phillips. But if marriage ever changed anything for some couples, Bertinelli and Vitale's love only continued waxing stronger after their nuptials.
"He's my buddy," she gushed Good Housekeeping the following month. "I love him. I adore him. I want to spend the rest of my life with him. And [now that we're married], it's just easier to say, 'This is my husband.'" Speaking further with the outlet, the Food Network star praised her second husband for accepting the many sides to her that she had kept buried for years. "He unlocks a lot of the stuff that I don't have to hold on to anymore," she added.
Of course, if there was any doubt as to how much these two had in common, Bertinelli notably revealed to Prevention in 2012 that she and Vitale had a good time cooking and making meals together. "It was Tom who turned me on to soups," she said. "The first time I made gazpacho for him, I thought I was going to be made love to the entire night!"
Her second marriage came to an end in 2021
A little over a decade into their marriage, Valerie Bertinelli filed for legal separation from her second husband, Tom Vitale, in November 2021. Per ET, the "Hot in Cleveland' actor cited "irreconcilable differences," adding that they had a premarital agreement dating back to December 21, 2010. In May 2022, Bertinelli amended her filing to a request for divorce. Even though Bertinelli still holds on to her love story with ex-husband Eddie Van Halen, she insisted it was not related to her divorce from Vitale. "We grew apart," she previously told People. "The decision has nothing to do with my love for Ed. I wish Tom the best and I know he feels the same way about me."
But it clearly wasn't all love, as Vitale soon challenged their prenup with a filing that saw him request $50,000 in spousal support and $200,000 in legal fees, according to court docs obtained by People. In response, Bertinelli filed a 13-page document, asking for a separate trial to determine the validity of their prenup. While the former couple eventually finalized their divorce in a proceeding settled by a private judge that September, a twist of events came the following month: Radar reported that Bertinelli and Vitale were heading back to court to finalize some remaining issues, such as personal property and real estate.
Valerie Bertinelli has sworn off love
The third time may be the charm for some, but Valerie Bertinelli has revealed that she's not bothering to try for another walk down the aisle. During a June 2022 appearance on the "Today" show, Bertinelli confirmed we have seen the last of her married and in love. "I am gonna be more than happy to be happily divorced and spend the rest of my life alone," she told host Hoda Kotb. "I'll be happy that way. Well, with my six cats and my dog and my son, and hopefully one day grandchildren."
As for her reason for giving up on finding romantic love again, Bertinelli referenced her divorce from Tom Vitale. "I can't imagine ever trusting anyone again to let into my life," she added. "So I have some trust issues that I'm sure I'm going to have to get past." In a step toward her new journey, Bertinelli announced on Instagram in September 2022 that she was letting go of some of the things she had worn during her 2011 wedding to Vitale. "Dropped a few things off with @therealreal," she wrote alongside a photo of shoes and Tiffany rings, noting that the items "have some bad memories attached."
Well, what can we say? Valerie Bertinelli is clearly leaving the past behind and looking to the future!