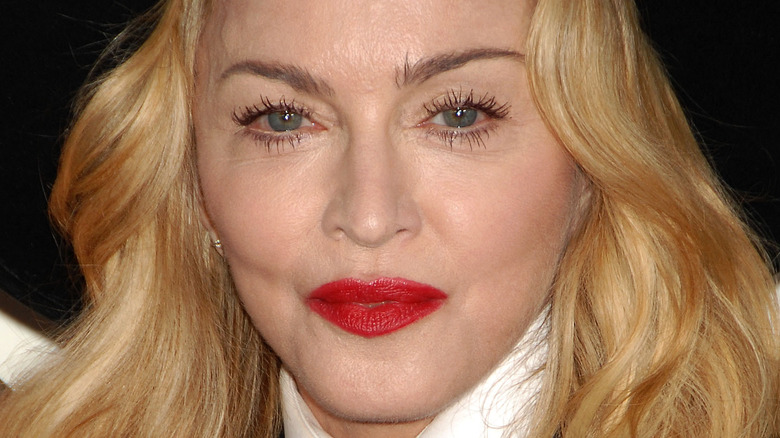 Though she started out as a dancer, Madonna is as successful a musician as they come. She is the Queen of Pop, whose claim to fame is being one of the best-selling musicians of all time. Forbes estimates Madonna's gross concert ticket sales at $1.2 billion. According to Billboard, her albums have maintained a top spot on the charts, year in and year out.
Outside of work, Madonna's love life is just as active. Sex is the fuel that tickles her fancy, she shared on "Finally Enough Talk: 50 Questions with Madonna." Now in her mid-60s, the singer has gained notoriety for dating younger men. During an appearance on "The Ellen DeGeneres Show," Madonna revealed that she didn't really pay attention to the ages of her lovers.
"I've dated all sort, all kinds. I dated Warren Beatty, I mean… Why is everyone so obsessed? Age is a number," she remarked. However, the singer was close in age to late artist Jean-Michel Basquiat. She told David Blaine for an Interview mag feature, "I remember getting up in the middle of the night and he wouldn't be in bed lying next to me; he'd be standing, painting, at four in the morning, this close to the canvas, in a trance. I was blown away by that, that he worked when he felt moved."
Over the years, many of the pop star's love interests have shared their thoughts on the one and only Madonna. Young or not, here's what they had to say.
Carlos Leon has no regrets
Before Carlos Leon began dating Madonna, he was living in a humble New York City apartment with his parents. On September 8, 1994, his life took a sudden turn when a routine bike ride at Central Park led him to meet Madonna, per Inside Edition. The pairing, unlikely but unsurprising, soon became the talk of Tinseltown. Leon's once low-profile life shot through the roof, and as with all things Madonna, was subject to scrutiny.
In 1996, 38-year-old Madonna gave birth to a daughter, Lourdes Maria Ciccone Leon, per the Los Angeles Times. Lourdes has since taken on a career in music, according to USA Today. The relationship between Madonna and Leon, however, came to a halt. "I'm forever grateful to [Madonna]," Leon told People. "I have no regrets. I wouldn't change anything. I got the best thing out of that relationship, and that's my daughter. My daughter is everything to me."
That things ended didn't mean Leon wouldn't have an opinion on his former lover's personal life. During Madonna's 2008 divorce from Guy Ritchie, he let his thoughts be known to Hello! (via Marie Claire). "It is a bad situation for both Guy and Madonna and I send them a lot of love and all the children involved. I think it is too early to say if the divorce will make things better or worse for the family," he said.
Sean Penn and Guy Ritchie still respect her
"Dead Man Walking" actor Sean Penn has been married twice; first to Madonna, and a second time to "House of Cards" actor Robin Wright. For two years post-divorce, Penn dated Charlize Theron, and while he did not directly mention Madonna or Wright by name, he let Esquire UK (via People) know that his relationship with Theron was mature, unlike his marriages, where he had little to work with.
"You say I've been married twice before, but I've been married under circumstances where I was less informed than I am today," Penn told the publication. There seems to be no bad blood between the pair, if Penn's appearance on "The Late Show with Stephen Colbert" is taken into account. Asked whom he'd choose between Madonna and Britney Spears, Penn said, "I love my first wife very much…you don't compare those things."
Penn's sentiments might be echoed by Madonna's second husband, filmmaker Guy Ritchie — who directed the music video for "What It Feels Like For a Girl," from her eighth studio album, "Music." Ritchie opened up to the Mail on Sunday's Event magazine in 2017 (via Yahoo! News). "A marriage breakdown is a death. That is all I can say. Now I just want to say positive things about her. I don't regret being married to her, I don't, you know, not in the slightest," Ritchie said. He added, "She's a wonderful mother and has been very good to the kids." Ritchie and Madonna, who split in 2008, share sons David and Rocco.