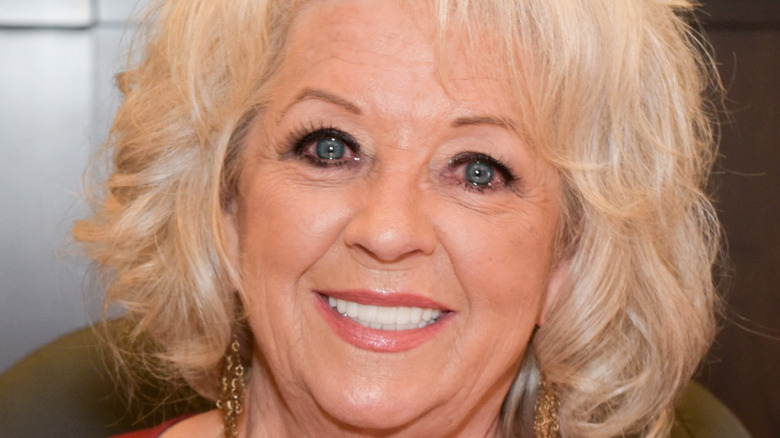 We may receive a commission on purchases made from links.
Not too long ago, Paula Deen was a relatively harmless figure. Sure, not everyone loved her brand of down home, Southern cooking, but she was still given the respect that comes with celeb status.
Deen was pretty much America's culinary grandmother, with her pleasant demeanor and Southern accent charming her millions of viewers. For a time, she seemed to be living the perfect life. Then, in 2013, everything changed. Accused of racism, Deen's star toppled and she disappeared from the public eye in disgrace. Her name became a running joke in the industry, and even her biggest fans were so horrified that they turned away from Deen. It was a tragic fall from grace, but Deen didn't let it stop her. Though it seemed for a while that she had retired in shame, Deen instead bided her time, all while planning her return to the top. Here's what really happened to Paula Deen.
A half-hearted apology didn't build any bridges for Paula Deen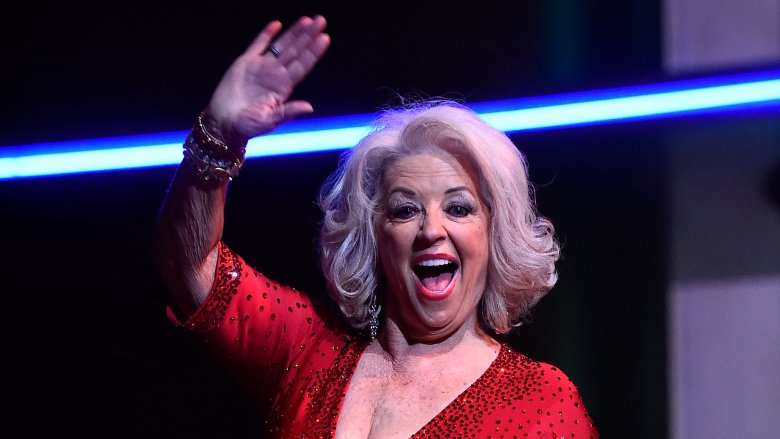 Paula Deen made things even worse by trying to excuse her poor behavior. She said that use of the "N word" was common in her era, and that she had simply been echoing the racism of her time. Her company also released a statement trying to put a historical spin on things, attempting to excuse Deen's racism on the basis of her age. "She was born 60 years ago when America's South had schools that were segregated, different bathrooms, different restaurants and Americans rode in different parts of the bus," said her company. "This is not today."
Deen did try to make amends, but the public was not convinced of her sincerity. In a now-deleted video apology, quoted by Eater, Deen said "I want to apologize to everybody for the wrong that I've done. I want to learn and grow from this… inappropriate and hurtful language is totally, totally unacceptable."
Paula Deen was kicked off the air
The public was in a fury that the seemingly sweet Paula Deen had such a sketchy past, and things started to go downhill for the chef. The outcry was shared by Food Network, which declined to renew Deen's contract after the scandal erupted. While they did not publicly explain why they were letting her go, it seems pretty likely that the network wanted to distance themselves from Deen's tarnished image.
Food Network was far from the only major company that had beef with Deen. The disgraced chef also lost a lot of her other business connections. Ballantine Books cancelled her book deal, even though she had a cookbook set to be released that had become a number one bestseller on Amazon through pre-orders alone. Other companies, including Walgreens, J.C. Penney, QVC, Walmart, and Target, announced that they would not be re-stocking her products once existing inventory had been sold off.
More shady stuff about Paula Deen came to light
After the scandal erupted, other shady dealings from Paula Deen's past came to light. Her former employee, Dora Charles, revealed a shocking story of how Deen had taken advantage of the African-American woman she had called her friend and "soul sister." Charles worked with Deen for decades as she built up her company, even helping to develop recipes. Deen promised that she would make Charles rich one day, but that never happened. "It's just time that everybody knows that Paula Deen don't treat me the way they think she treat me," Charles told The New York Times. She was living in a trailer park at the time.
Even after Deen hit the big time and had become a Food Network star, she continued paying Charles less than $10 an hour for years. Charles said that she also frequently heard Deen using racial slurs. "I'm not trying to portray that she is a bad person," she said. "I'm just trying to put my story out there that she didn't treat me fairly and I was her soul sister."
Paula Deen makes a killing hosting parties
Over the years, Paula Deen has obviously found ways to make money, even if she no longer has a Food Network show or lucrative partnerships with big box stores. But few of them are making us scratch our heads more than her Halloween Spectacular. In a move that we could never imagine the likes of Ina Garten doing, Deen is making fistfuls of easy money hosting Halloween parties. But here's the kicker: The parties, with 50 random people each, are not at an event center, or even one of her restaurants. They're at her home. According to Eventbrite, "Paula will spend the afternoon mingling with guests, sharing spooky recipes, hosting festive contests, and wrapping up the afternoon with a Halloween party…"
Need proof that Deen's fans have more than forgiven her? The four hour event was so popular that a second date had to be added, and at $400 a pop, the tickets aren't exactly cheap. No saying how much of it goes directly into Deen's pocket, but $40,000 for eight hours of "work" isn't too shabby.
Paula Deen was trying to unload her mansion
Does the listing of her Savannah, Georgia mansion say anything about Paula Deen's financial situation? We may never know the real reason she put up her "Riverbend" property up for sale — whether out of necessity or just to pad her pockets — but we do know that as of October 2019 it hasn't made her a dime.
The massive eight bedroom, eight-and-a-half bathroom, 28,000-square-foot French Provincial estate, complete with two guest cottages, a dock house, 300 feet of waterfront, and countless other amenities, has been on the market since May 2015 when it was listed for $12.5 million. Two years later, the home had still not sold, and the price was reduced a whopping 30 percent — to $8.75 million — but even the massive price drop hasn't prompted a sale. Eventually, it was removed from the market, but chances are she'd still jump at decent offer. Given Deen's current net worth — a cool $14 million, according to CelebrityNetWorth.com — we can probably assume that she can afford it (scandal be damned!), but the next buyer may be looking at forking over about $44,000 per month to live like Paula.
Paula Deen is breaking back into the business world
After being removed from the air, Paula Deen turned her attention to her existing restaurants — and some new ones. In 2014, a year after the scandal, Deen started a new firm, Paula Deen Ventures. Shortly after that she announced a new 20,000 square foot restaurant and store called Paula Deen's Family Kitchen.
The new restaurant helped keep her business afloat. Paula Deen's Family Kitchen soon opened more locations and, as of this writing, operates in Tennessee, South Carolina, Texas, Alabama, and Florida. Scandal or not, Deen was determined to prove that her cooking skills were still deserving of respect. "Paula Deen's Family Kitchen is filled with love and mouthwatering flavors," she said in a press release. "I can hardly wait to bring some of my favorite Southern dishes… to the Great Smoky Mountains. We are going to serve our meals family style, with big ol' bowls on the table, heaping full of fried chicken, collards, fried okra, corn and sweet potatoes."
Paula Deen launched a clothing line with unique features
The news of Paula Deen's scandal prompted announcements from many of her partners that their endorsement deals were over, but that didn't stop the once beloved southern cook from finding new companies to partner with. In 2016, Deen launched a clothing line with Evine, which was something she said she'd been wanting to do for years. "It was a little hard for me to break out of the kitchen because that's how people think of me," she told People. "But if you notice, I never cooked naked. I was always wearing clothes!" Speaking of not being naked, Deen had some very specific requirements for her line: "I don't know how to say this to you in a nice way, but it has to cover my front privates," she said. "I want my shirttail to cover my front privates and hopefully my back, too. I am aware of 'catfish belly' arms. Have you ever seen a catfish? You know how they have a smooth floppy belly on them? Well, that's what we refer to as 'catfish belly' arms." Okay, then…
She also, inexplicably, launched a line of home storage and organization products with Jokari, because who doesn't want official Paula Deen hangars for those shirts that cover your front privates?
A stint on Dancing With the Stars kept Paula Deen in the public eye
In 2015, Paula Deen was once more in the public eye, returning to television as a contestant on Dancing With the Stars. She did not prove to be as good on the dance floor as she is in the kitchen, but her good-natured attitude on the show helped to once again endear her to the public. She took some daring risks on the show, wearing provocative outfits and even flashing her underwear in the middle of a dance. Unfortunately, Deen's edgy moves didn't go over well with the judges and she was eliminated in the sixth week of the show. The chef met her loss with grace and said that she was happy to head home. "I'm excited," she said on air (via Eater). "I get to go see my grand babies."
She added, "It has been such a wonderful journey. It took them a long time to convince me to do this. It was wonderful. It was worth it."
Paula Deen embarrassed her family on a game show
If you thought "front privates" was the only cringe-worthy thing Paula Deen has said since her racist remarks came to light, you would be wrong — so very wrong. She doubled down on the awkward comments during her appearance on Celebrity Family Feud in 2016, when she was asked by host Steve Harvey to "name something people know about beavers." You can probably see where this is headed…
Before giving her final answer, Deen talked it through to herself, saying, "Well, down south, we got a name for something…" which elicited a forceful "No!" from one of her sons. But then, standing right next to her family, she went for it: "Men like 'em!" *Groan* Both Harvey and son Bobby visibly grimaced, presumably along with the rest of the audience and all of America, prompting her to exclaim, "Wait, maybe I should change my answer, my sons are dying, Steve! I've embarrassed my sons!" Unsurprisingly, Deen's answer was not on the board.
Paula Deen got into the pet food business
Given the success that fellow celebrity chef Rachael Ray has seen with her pet food brand, it's no wonder that Paula Deen decided to follow suit with a line of her own pet food, treats, and toys in 2015 when she partnered with Hugs Pet Products. "I want to share my love for animals with my fans and fellow pet lovers by creating special products and treats for their pets to enjoy," Deen said. But there's another reason this project is near and dear to her heart…
Announcing the product launch on her website, she wrote, "Y'all know how much I love all my babies, whether furry or feathered. Some of y'all might even know that if it wasn't for my pets, I would never have met my husband Michael." How's that? Well, they credit Paula's dogs for their meeting. According to Delish, they were neighbors when Deen's dogs wondered into his back yard. Talk about a fairy tale…
The truth about Paula Deen's marriage
Rumors have swirled for years that Paula Deen and Michael Groover were headed for divorce, thanks in large part to tabloid reports of Groover's alleged affair with a "sexy middle-age brunette." The fire was further fueled a few years later when Deen granted the deed to one of their homes solely to Groover. At the time, a spokesman for Deen said, "These rumors are completely false — they have a wonderful marriage. This deed of gift was just a part of Paula's estate-planning process."
So what does Deen have to say? She spoke to Radar Online during her stint on Dancing with the Stars, and had nothing but good things to say about Groover. "My marriage has always been good. My husband is so supportive. He has a huge career. He is a harbor pilot. All these ships come in from all over the world and he gets on them and he parks them on the Savannah River. He has been so good about taking time off for me…" she gushed. "He has always been so supportive to take his things and put them aside to be with me."
Paula Deen's Lumberjack Feud
In 2018, the chef opened Paula Deen's Lumberjack Feud in Pigeon Forge, Tennessee. It sounds like a battle between the chef and a bunch of men wearing plaid, but is actually a popular live show providing wholesome family entertainment. The competitive event features two teams of professional lumberjack athletes who compete in a test of skills, going head-to-head in such events as rolling logs, climbing poles, and other outdoor events.
Deen isn't the first celeb to have her name attached to Lumberjack Feud. It originally debuted in 2011, and in 2015, country singer Dolly Parton took over before passing the torch over to Deen. According to the Lumberjack Feud website, fans will soon be able to compete in lumberjack events themselves through Lumberjack Feud Adventure. The new Lumberjack Feud feature will boast an aerial playground for kids, a lumberjack-themed adventure park, a zipline roller coaster, and an 80-foot jump tower.
Paula Deen eased her way back onto TV
Paula Deen seems to have mostly put the past behind her, and the public is slowly forgiving her. In 2014, she launched the subscriber-based digital network The Paula Deen Network which featured network-exclusive videos of Deen and her guests cooking in front of an audience. In 2016, she began filming her newest television show, Positively Paula. The show, which is filmed at the chef's home in Savannah, Georgia, was originally broadcast in 40 areas around the country. "I am so excited to invite my friends from around the country into my home kitchen each week," Deen said at the time of the show's launch (via Delish). "We are going to have an incredible time cooking up a storm and sharing the most special memories."
It wasn't too long before the show gained a following and reached a broader audience. Early in 2018, the show entered syndication and began airing on RFD-TV, marking Deen's return to cable programming — and maybe the start of her journey back into our hearts.
Paula Deen released new cookbooks
During her hiatus from television, Paula Deen dove head first into her expanding her list of cookbooks. That's not a terrible business idea considering her written works have sold more than 11 million copies, according to her Amazon bio. In 2015, the well-known butter enthusiast published "Paula Deen Cuts the Fat." The mammoth 416-page tome features a whopping 250 recipes for healthier, lighter Southern dishes. That same year, Deen re-released her first cookbook, "The Lady and Sons Savannah Country Cookbook," with an additional 25 recipes.
Deen continued republishing in 2016 with a revised version of "The Lady & Sons, Too!" She also got in on the air fryer trend, converting 150 of her recipes for use in the popular appliance and compiling them in "Paula Deen's Air Fryer Cookbook." A year later she penned entertaining-themed "At the Southern Table with Paula Deen," followed by 2019's confectionary guide "Paula Deen's Southern Baking: 125 Favorite Recipes from My Savannah Kitchen."
Paula Deen opened new restaurants
One thing that's always been true about Paula Deen is that people love to eat her cooking. She has been serving the public food since 1989 when she started The Bag Out Lady out of her own home, as noted by her website. Deen opened her flagship restaurant, The Lady & Sons, in Savannah in 1996, and has since built a sizable restaurant business that has grown substantially over the past decade.
In 2015, Deen opened Paula Deen's Family Kitchen in Pigeon Forge, Tennessee. According to the family-style restaurant, "every entree, side dish, and dessert comes from Paula's cookbooks." It would prove to be the first of several locations. In the following years, Paula Deen's Family Kitchen expanded to locations in South Carolina, Missouri, Alabama, and Florida.
Deen has one other restaurant venture. In 2017, she opened Paula Deen's Creek House (via Bluffton Today). The spot was the former location of Uncle Bubba's Seafood and Oyster House, which she co-owned with her brother.
Paula Deen revamped her YouTube channel
If you can't get to the camera, bring the camera to you. That's been Paula Deen's thinking as she has significantly upped her presence on YouTube. The Southern chef's channel has been active since 2007, but when the country went into lockdown in the spring of 2020, Deen took to the platform like never before. For over a year's time, she released new videos on nearly a daily basis.
What kind of content can viewers expect? According to the channel, "Paula and her friends and family share easy, tasty recipes for breakfast, lunch, dinner, and dessert! She takes a no-fuss approach to cooking, preferring simple, down-home meals over complicated creations." So, yes, you'll find Deen in her kitchen whipping up southern fried catfish, country fried steak and gravy, and baked pimento cheese dip. But viewers of Deen can also see another side of her, out from behind the kitchen counter, when she posts more personal videos of her touring her garden, answering fan mail, or reflecting on the craziness that was 2020.
Paula Deen released her own mobile video game
Paula Deen, the Queen of Southern Cuisine … and gaming? In what had to be a surprise move to most, Deen announced in 2015 the release of her first mobile video game (per Business Wire). It turns out the chef is a big gamer, herself. "I am a gamer at heart and never leave my home without my ipad," Deen said in a press release. "Paula Deen's Recipe Quest is an incredible and one-of-a-kind game that will allow y'all to cook up a storm with me while solving exciting puzzles. Plus, it's free!"
In the game, players begin as amateur chefs in a home kitchen and work their way up to become chefs at Deen's restaurant, The Lady & Sons, before owning their own virtual restaurant. Along the way, they complete puzzles to mix and match ingredients in Deen's popular dishes and collect downloadable recipe cards.
Although it's a virtual game, players have the opportunity to win real-life prizes, including discounts at Paula Deen's General Store, subscriptions to the Paula Deen Network, and even the chance to cook alongside the famous chef on the Paula Deen Network.
Paula Deen is back on television
Aside from her brief stint on "Dancing With Stars," Paula Deen has been off national television since Food Network declined to renew her contract in 2013. That nearly decade-long stretch came to an end in 2021. In April of that year, Fox announced that Deen would be joining Season 11 of "MasterChef." The special season, which debuted in June of 2021, is dubbed "MasterChef: Legends," and as you'd expect it features an all-star lineup. Deen will be joined by the likes of Emeril Lagasse, Roy Choi, Nancy Silverton, Dominique Crenn, Curtis Stone, and "Iron Chef" star Masaharu Morimoto.
The popular competition show, hosted by none other than acclaimed chef Gordon Ramsey, pits 15 home chefs against each other as they work their way through a series of culinary challenges. This year, contestants will get some extra guidance from the legends. "Masterchef: Legends" will also include a new feature: a chance for one chef to go head-to-head in a challenge versus Ramsey.