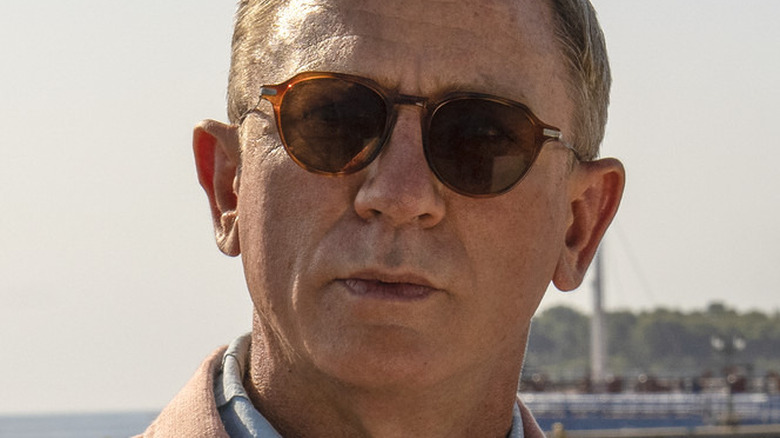 In 2019, director Rian Johnson premiered his now-iconic murder-mystery film, "Knives Out." The film takes heavy inspiration from Agatha Christie-esque whodunits, with Daniel Craig playing the role of Benoit Blanc, a Hercules Poirot-type hired to investigate the mysterious death of a mystery novel writer. Notably, "Knives Out" featured an incredibly strong ensemble cast, including Ana de Armas, Jamie Lee Curtis, Chris Evans, Michael Shannon, and Christopher Plummer.
Following the success of "Knives Out," which critics praised for its surprising take on the murder-mystery genre and use of whodunit tropes, Rian Johnson announced he'd be following it up with more films, potentially an entire franchise, following the misadventures of Craig's Benoit Blanc. Set to be released in theaters in November 2022 and later on Netflix in December, "Glass Onion: A Knives Out Mystery" features an entirely new ensemble cast of potential murderers.
Whereas "Knives Out" followed the colorful characters in the wealthy, close-minded Thrombey family, "Glass Onion" centers on a tech billionaire's long-time friends gathering for a murder-mystery party that, as one can expect, gets out of hand. Fortunately, Benoit Blanc is there to save the day, with early reviews following screenings of "Glass Onion" claiming it's bigger and even more elaborate than its predecessor. Prior to sitting down in the theater to experience the next chapter of Rian Johnson and Daniel Craig's partnership, audience members may want to become acquainted with the film's large and multi-talented cast.
Edward Norton
Few actors have had as strong a start to their career as Edward Norton. Fresh out of Yale University, Norton made his screen debut in 1996's "Primal Fear," in a role that would earn him nominations at the Golden Globes and Academy Awards. The critical acclaim wouldn't stop there for Norton, who rounded out the '90s with two of his most lauded films: "American History X" and "Fight Club," the latter of which has become a cult classic.
The 2000s would see Edward Norton continue to impress audiences in dramas like "The Score," "25th Hour," and "The Painted Veil." In 2008, he notably played Bruce Banner in the Marvel Cinematic Universe film "The Incredible Hulk," though his demands for script rewrites on set led to disputes with producers, as well as the film's screenwriter. Eventually, Norton would not reprise the role for future MCU films, starting with 2012's "The Avengers" where Mark Ruffalo took over. Nevertheless, Norton would continue to experiment with action films, such as the 2012 film "The Bourne Legacy."
However, like Craig, Norton has flexed his comedy muscles before. In 2002, he starred alongside Robin Williams in "Death to Smoochy," and played supporting roles in the 2014 Oscar-nominated films "The Grand Budapest Hotel" and "Birdman." He's also provided voice acting for animated films like the raunchy "Sausage Party" as well as Wes Anderson's "Isle of Dogs."
Daniel Craig
Of course, the main selling point of "Glass Onion: A Knives Out Mystery" is for fans of the first film to spend more time with Daniel Craig's Benoit Blanc, who debuted the character in the 2019 film "Knives Out." However, Craig surprisingly took a backseat in "Knives Out" thanks to the standout performance of Ana de Armas as Marta Cabrera, but "Glass Onion" will likely feature much more of the Gentleman Sleuth.
The role is a perfect fit for Daniel Craig, who has spent the last 15 years playing the iconic role of James Bond across five movies: "Casino Royale," "Quantum of Solace," "Skyfall," "Spectre," and "No Time to Die." Although, according to several sources associated with the Bond films, Craig was anxious to distance himself from the role of Bond. Despite most audiences becoming acquainted with Craig through that iconic franchise, he's obviously more comfortable in comedies like "Glass Onion" or "Knives Out."
In addition to "Knives Out," Craig also surprised audiences with his role in the 2017 comedy "Logan Lucky" alongside Channing Tatum and Adam Driver, playing a criminal hired to pull off a heist. Daniel Craig has also made several appearances on "Saturday Night Live," twice as host and once as a cameo in a 2021 episode hosted by his "No Time to Die" co-star Rami Malek. For fans interested to see more of Craig embrace silliness, sketches like "Deep Quote Game Night" and "A Loving Couple" are must-watches.
Kathryn Hahn
Unlike Craig and Norton, Kathryn Hahn is a seasoned comedic performer. Despite her start in the television drama "Crossing Jordan," she began to stand out to audiences with supporting roles in comedy films like "Anchorman: The Legend of Ron Burgundy" and "Step Brothers," both of which starred Will Ferrell and were directed by Adam McKay. She would later become a recurring figure in comedy films throughout the 2010s, appearing in "Wanderlust," "We're the Millers," "Bad Words," and "Bad Moms."
Nevertheless, television would remain a proper home for Hahn, who made recurring appearances in the NBC sitcom "Parks and Recreation" as the campaign manager of Paul Rudd's Bobby Newport, a role for which she was nominated at the Critics Choice Awards. She also starred alongside Kevin Bacon in the Amazon Prime series "I Love D***," which ran for one season. She'd finally make a strong return to TV with the 2019 HBO miniseries "Mrs. Fletcher," as well as her role as Agatha Harkness in the smash-hit MCU Disney+ series "WandaVision" opposite Elizabeth Olsen.
While comedy has been Hahn's bread-and-butter for 20 years, she's also debuted incredible performances in dramas, such as "Tomorrowland," "This Is Where I Leave You," and "Captain Fantastic." More recently, she appeared in the Apple TV miniseries "The Shrink Next Door," which reunited her with former co-stars Will Ferrell and Paul Rudd. One can expect her performance in "Glass Onion" will only remind audiences how much of a comedic tour de force she is.
Kate Hudson
Most audiences first saw Kate Hudson in Cameron Crowe's 2000 film "Almost Famous" as the real-life-inspired figure Penny Lane, who joined several bands as a groupie in the 1970s, including the fictional band in that film. However, as Hudson's career continued into the 2000s, she became the queen of romantic comedies, starring in iconic films of the genre including "How to Lose a Guy in 10 Days," "You, Me and Dupree," and "My Best Friend's Girl."
As the 2010s rolled around, Hudson's roles in studio comedies diminished in the place of independent films like "Wish I Was Here" with Zach Braff, and "Rock the Kasbah" with Bill Murray. However, she made a return to familiar territory with the 2016 Gary Marshall film "Mother's Day." She also stretched her acting chops in dramas like "Marshall," "Deepwater Horizon," and "Good People," as well as the 2021 musical "Music" alongside Maddie Ziegler and future "Glass Onion" co-star Leslie Odom Jr.
Outside of acting, Kate Hudson has also become the head of a business empire. Throughout the 2010s, she expanded her work with the lifestyle brand Fabletics, as well as the women's retailer New York & Company. She published two self-help books, one in 2016 and another a year later. In 2019, she also started a podcast with her brother Oliver, titled "Sibling Revelry." Nevertheless, her appearance in "Glass Onion" will likely be a warm welcome for fans of her previous performances.
Dave Bautista
In 2000, Dave Bautista signed with the World Wrestling Federation, before it was renamed World Wrestling Entertainment in 2002. Under the moniker "Batista," Dave found success in the wrestling ring, becoming an ally of Ric Flair and a rival to wrestlers like Kane and Triple H. Bautista later became the World Heavyweight Champion in 2005, continuing to compete until 2010, when he quit due to disputes with WWE, but has since briefly returned to the sport in 2014 and 2018.
Following his departure from wrestling, Dave Bautista made the transition to screen acting with the martial arts film "The Man with the Iron Fists." However, most audiences outside of wrestling would become familiar with him after 2014's MCU film "Guardians of the Galaxy," directed by James Gunn. In that film, as well as its 2017 sequel and subsequent MCU projects, Bautista played Drax the Destroyer, a vicious warrior hell-bent on revenge, who surprisingly has become a comedic relief figure due to his naivete and blunt way of speaking.
Though Bautista plans to hang up the role of Drax after "Guardians of the Galaxy Vol. 3" releases in 2023, he's far from done with acting. He starred alongside his "Glass Onion" co-star Daniel Craig in the Bond film "Spectre," as well as a critically-acclaimed appearance in "Blade Runner 2049." More recently, he played significant roles in Zack Snyder's 2021 film "Army of the Dead" as well as a role in the blockbuster film "Dune" and its 2023 sequel.
Leslie Odom Jr.
Leslie Odom Jr's career began on Broadway, starting with "Rent" in 1998 when he was 17 before taking on subsequent roles in "Dreamgirls," "Leap of Faith," and "Tick, Tick… Boom!" The latter of those would be Odom Jr's first time working with actor and playwright Lin-Manuel Miranda. The two would eventually reunite in 2015 when Leslie Odom Jr. originated the role of Aaron Burr in the off-Broadway premiere of Miranda's show "Hamilton." He would later reprise the role as the show moved onto Broadway, where it quickly became a global phenomenon.
For his role as Aaron Burr, the show's narrator and main antagonist, Odom Jr. won the Tony Award for best actor in a musical in 2016, beating out Miranda, who also starred as the musical's titular character. Odom Jr. also won a Grammy as a performer on the Hamilton cast album. Following the success of "Hamilton," Leslie Odom Jr's career skyrocketed in both music and film. This included a supporting role in the 2019 biopic "Harriet" as well as a Best Supporting Actor nomination at the Oscars for his role in "One Night in Miami…"
Notably, however, "Glass Onion" isn't Leslie Odom Jr.'s first appearance in a murder mystery film. He previously played Dr. Arbuthnot in "Murder on the Orient Express," the first in Kenneth Branagh's series of whodunits adapting the works of Agatha Christie. Though his character's motivations were nefarious in that film, perhaps his character in "Glass Onion" will be more innocent.
Madelyn Cline
Compared to the other actors in the ensemble of "Glass Onion," Madelyn Cline is a newcomer to the entertainment industry. Her earliest roles in Hollywood were in commercials, but she quickly scored small roles in movies and TV, such as the Lucas Hedges-led drama "Boy Erased" and Danny McBride's HBO comedy series "Vice Principals." She even played a small role in season 2 of "Stranger Things" as Tina, one of the girls in Steve Harrington's popular clique at Hawkins High.
Nevertheless, Cline made her starring debut in 2020 with the Netflix series "Outer Banks," playing the role of Sarah. The show follows the social divide in North Carolina between the rebellious Pogues and the high-society Kooks. Sarah bridges the gap between the two, as a Kook who rejects their lifestyle in favor of hanging out with the Pogues, including dating their ringleader John B, played by Chase Stokes. For some reviewers, the show is regarded as dumb but enjoyable, though it makes for a solid showcase for Madelyn as a rising star in Hollywood.
Though her future on "Outer Banks" remains open to speculation, Madelyn Cline is on the path to becoming a future A-lister. Fortunately, "Glass Onion" will only be the first step in that steep uphill climb. As Whiskey, she spends most of the film paired with Dave Bautista's Duke, who is a YouTube star. Odds are she'll have a lot to prove by matching Bautista's comedic charm.
Janelle Monáe
Janelle Monáe started off in music, releasing her debut EP in 2007 under Sean Combs' Bad Boy Records. Her first full-length album, "The ArchAndroid," was released in 2010, though she would see her biggest rise in fame after providing guest vocals on "We Are Young," a song by the short-lived indie-pop group Fun. Throughout the 2010s, Monáe would continue to release music to critical acclaim and commercial success, particularly netting them Grammy nominations and a Trailblazer of the Year award in 2018 by Billboard Women in Music.
Fortunately, Monáe's success translated onto the big screen. In 2016, the singer made their acting debut in two films: "Hidden Figures," following a group of Black women working as mathematicians at NASA, and "Moonlight," about the life of a man struggling with his sexuality. Both films were successful, but "Moonlight" in particular won best picture at the 2017 Oscars (after a brief but widely-reported incident where the award was accidentally given to "La La Land").
Despite Monáe continuing to appear in films like "Harriet," where they first performed alongside her "Glass Onion" co-star Leslie Odom Jr., she's also kept up a successful music career and public image. Hopefully, her performance in "Glass Onion" will prove to audiences that Monáe's talents aren't just in music and prestige dramas, but in farcical comedies too.
Jessica Henwick
Jessica Henwick's first credited role was as the lead in the BBC children's series "Spirit Warriors," alongside Benedict Wong. Following the series' success, Henwick made her theatre debut in "Running on the Cracks," a performance which garnered her rave reviews. Henwick's career continues to rise as she booked more roles on BBC television, but in 2015, everything came to a climax when Henwick made her debut in two of the biggest franchises in the world.
First, Jessica played Nymeria Sand in the fifth season of "Game of Thrones," a role which garnered controversy but nevertheless allowed for Henwick to shine in action scenes. Shortly after, she played a minor role as an X-wing pilot in "Star Wars: The Force Awakens," the highly-anticipated first entry in the "Star Wars" sequel trilogy. Though her character, Jess Pava, plays a minor role in the film, the character's backstory was expanded upon in spin-off novels and comics. Luckily, Henwick's appearance in major franchises wouldn't stop there.
Jessica Henwick later played a lead role in the Netflix Marvel series "Iron Fist" as Colleen Wing, later reprising it in "The Defenders." She also starred as Bugs in 2021's "The Matrix Resurrections," a role for which she garnered more critical acclaim, and was called the highlight of the film by reviewers. Though taking on the role of Bugs cost her the opportunity to be in "Shang-Chi and the Legend of the Ten Rings," hopefully Henwick will eventually return as Colleen to the Marvel Cinematic Universe.
Ethan Hawke
Surprisingly, not much is known about Ethan Hawke's role in "Glass Onion," despite the obvious draw it is to have a star like him in your movie. Allegedly, he plays the butler to Edward Norton's Elon Musk-esque character, but given the lack of promotion around his role, one can assume that his butler has a mysterious role to play in the murder mystery that will unfold when the film releases theatrically in November 2022. Nevertheless, Hawke's resume speaks for itself.
The young Texan actor got his start as a teenager, notably appearing alongside Robin Williams in the 1989 film "Dead Poets Society." He later garnered more critical acclaim for his role in "Reality Bites," as well as his appearance in films directed by Richard Linklater, including "Boyhood" and the "Before" trilogy, the latter of which were released between 1995 and 2013. Some of his most critically-acclaimed films, however, have been his roles in 2001's "Training Day" and 2018's "First Reformed."
However, Ethan Hawke also has a certain affection for big studio franchises. He recently played the antagonist in the Disney+ series "Moon Knight" opposite Oscar Isaac, officially making his MCU debut. He also recently appeared in the horror movie "The Black Phone" as well as the Robert Eggers epic "The Northman." Though "Glass Onion" will likely be one of the lighter films Hawke has done, he will certainly steal the show.