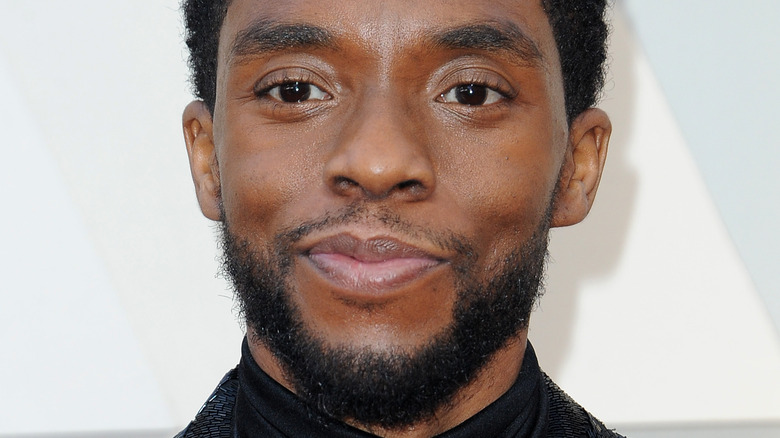 The following article contains references to suicide and substance misuse
Social media is, typically, a platform renowned for artifice. This is especially the case with Instagram, where users show off an augmented reality that's often disparate from most people's lived experiences and, indeed, the lives of the users themselves, as Good Morning America points out. Insta influencers love to show off their best selves on the platform, whether it's sipping an aesthetically pleasing coffee on a fall morning or posting an impossibly perfect sun-kissed bod on the beach. Of course, this is even more prevalent when it comes to celebs, with the likes of Kylie Jenner creating a Jennerssance of sorts, leading a multitude of fans to attempt to emulate her pout-perfect selfies on the 'gram.
But sometimes, celebs get real on Instagram, particularly in the lead-up to their deaths. Often, celebrities' final posts are littered with clues that signify the end is near. In other cases, when stars didn't know death was looming, their posts may appear painfully prophetic. And most tragically, there are those who did their best to conceal the truth from their followers, their final posts viewed as emotional farewells in the aftermath of their deaths. The power and permanence of images shared online exemplify that though these stars have dimmed, they are immortalized in their social media swansongs.
The following stars may be gone, but they'll never be forgotten. Be prepared to shed some tears as we uncover the heartbreaking final Instagram posts of famous celebrities.
Naya Rivera's final post was chillingly prophetic
A number of heartbreaking deaths have rocked the cast of "Glee." One of the most shocking, due to the sheer tragedy of the circumstances, was that of Naya Rivera. On July 7, 2020, Rivera uploaded her last Instagram post, a photo of herself cuddling her young son, Josey, with the devastating caption, "Just the two of us." The following day, she would be dead.
According to a report by People, Rivera was on a boating trip with Josey at Lake Piru on July 8th when the pair jumped into the water on the count of three. Tragically, Rivera became submerged in the waters, though in a heroic final act, she managed to save her child's life by carrying him back to the boat. Rivera was never seen again and was declared a missing person. "She helped him onto the boat and then he then heard [Naya] yell 'help' and she put her arm in the air," a report states. The actor's former "Glee" co-star and friend, Heather Morris, initiated a search to find her, per Vulture. Five days after the accident, Rivera's body was found. She was just 33.
As Ventura County Sheriff Bill Ayub said (via CNN), "She mustered enough energy to get her son back onto the boat, but not enough to save herself." Rivera's final Instagram post is particularly heartbreaking as it exemplifies the love that she had for her child, a devotion that propelled her to sacrifice her own life by saving his.
Robin Williams' final thoughts were of his daughter
Robin Williams' suicide remains one of the most startling celebrity deaths. For decades, the comedian brought joy into fans' lives with his impressions and madcap schtick, but his goofy antics hid a profound darkness. Much like his performances ranged from the zany ("Aladdin") to the poignant ("Awakenings"), this combination of warmth and humor was present on his social media accounts, too.
This was none more apparent than in Williams' final Instagram post, in which he paid tribute to his daughter, Zelda. On August 1, 2014, the actor shared a black and white photo of himself holding Zelda when she was a toddler. "Happy Birthday to Ms. Zelda Rae Williams!" he wrote. "Quarter of a century old today but always my baby girl. Happy Birthday @zeldawilliams Love you!" The decision to post a black and white photo, traditionally associated with death, seems eerily symbolic, as if the actor knew the end was near. Just days later, on August 11th, Williams died by suicide, aged 63. He had been suffering from the degenerative condition Lewy body dementia and was experiencing depression, paranoia, and anxiety in the lead-up to his death, per The Guardian.
Williams' bittersweet goodbye to Zelda meant the world to her. "My last day with him was his birthday," Zelda said in a statement (via the BBC), "I will be forever grateful that my brothers and I got to spend that time alone with him, sharing gifts and laughter. He was always warm, even in his darkest moments."
If you or anyone you know is having suicidal thoughts, please call the National Suicide Prevention Lifeline​ by dialing 988 or by calling 1-800-273-TALK (8255)​.
Chadwick Boseman's heartbreakingly optimistic last post
No one expected "Black Panther" star Chadwick Boseman to die so young. The multitalented actor, who was as adept at depicting James Brown as he was playing a Marvel superhero, was diagnosed with colon cancer in 2016, when he was just 39. However, he decided to keep his diagnosis a secret, continuing to work while he was gravely ill, per The Washington Post.
On August 12, 2020, he took to Instagram to express his joy at the Democratic Party's election win, and Kamala Harris' appointment as Vice President. "YES," he wrote, below a photo of himself and Harris gleefully embracing at a rally. The post illustrates the tragedy of a man so optimistic about a future that he would not see. But what makes Boseman's hopeful last Instagram offering all the more poignant is the fact that he thought he would survive his illness. As The Hollywood Reporter notes, Boseman was preparing to star in the "Black Panther" sequel, determined that he would recover in spite of the advanced stage of his cancer. It wasn't until a week before his death that the reality set in that he wasn't going to make it.
Two weeks after his celebratory post, Boseman died. He was 43. Paying tribute to the man who immortalized her in his final upload, Harris tweeted, "Heartbroken. My friend and fellow Bison Chadwick Boseman was brilliant, kind, learned, and humble. He left too early but his life made a difference."
Shane Warne was looking forward to a future he wouldn't see
Shane Warne's passing was one of the most shocking deaths in recent sporting history. The demise of the cricketer, for so long considered a living legend of the sport, was especially startling due to his vivacious persona, that of a larger than life character who seemed immortal.
On February 28, 2022, Warne posted a shirtless image on Instagram, which he captioned in his quintessentially humorous style as he detailed his efforts to get into shape by July. "Operation shred has started (10 days in) & the goal by July is to get back to this shape from a few years ago!" he wrote, along with the hashtags #healthy and #feelgood. But tragically, Warne would never see July. On March 4, the 52-year-old sportsman died suddenly while on vacation in Thailand. He is believed to have suffered a heart attack, per Sky News. Chillingly, Warne died the same day as fellow cricketer Rod Marsh, whom he mourned on Twitter just hours before his own death.
As Metro notes, Warne had previously discussed his decision to give up smoking, with his final, hopeful Instagram post illustrating his lust for life and, indeed, desire to live his best life. At the cricketer's state funeral in Australia, his father, Keith, paid tribute to this endearing zeal. "This was Shane," he said, per The Guardian. "Leading with infectious energy, his giving and that beaming smile. He somehow could always manage to make someone's day that little bit better."
Charlbi Dean's eerie final photos
Charbi Dean was a young South African actor with her whole life ahead of her. In 2022, she completed filming Ruben Östlund's satire "Triangle of Sadness," which won the Palme d'or at Cannes. "I'm like, constantly pinching myself," Dean told Vogue Scandinavia of scoring the role. "I feel like I should be screaming all the time, but that would be inappropriate." But her life was cut tragically short when she fell ill.
On August 25, Dean made her last Instagram post, a mostly black and white carousel of fashion promo shots. Upon reflection, the black and white images are somewhat eerie, making it appear as if Dean was already gone. Four days later, she died, per The Guardian. She was just 32. If one were to look at Dean's Instagram account following her death, they would be forgiven for mistaking her final post for a posthumous tribute posted by her family.
According to her brother, who spoke to Rolling Stone, Dean was immunocompromised due to having her spleen removed in an accident over a decade earlier. Subsequently, she developed a lung infection and her condition deteriorated rapidly thereafter. Her fiancé, Luke Volker, took her to the emergency room, where she died soon after. "This happened literally within the span of a day: getting a headache, going to sleep, waking up her boyfriend and saying please take me to the hospital," her brother explained. Gone but not forgotten, Dean lives on through her exemplary performances, as The Guardian highlights.
Jamal Edwards' touching tribute to a famous friend
Music exec Jamal Edwards was a giant of the UK hip-hop scene. As founder of SBTV, he was awarded an MBE at the tender age of just 24, and was instrumental in launching the careers of successful musicians such as Ed Sheeran and Jessie J, as Sky News highlights. Edwards and Sheeran were super tight and the former's final Instagram post was a touching tribute to his BFF. "Happy Birthday to the OG, Ed," he wrote. "Blessed to have you in my life brother. You know you've been mates a long time when you lose count on the years! Keep smashing it & inspiring us all G!" The celebration was moving, particularly as no one had any reason to believe that the pair's relationship would not continue for many more years.
But on February 20, 2022, just three days after posting the tribute to his pal, Edwards died suddenly. He was 31. At his memorial service, Sheeran mourned the loss of his dear friend, as the BBC reports. "I really don't think I would have been allowed through certain doors if it hadn't been for Jamal," he said. "He was just all about… showing people new opportunities." Edwards' mom, Brenda, explained on Loose Women that Jamal was at home with her and his sister when he died suddenly of a heart attack. "He passed with me holding his hand, so I get a little bit of comfort from knowing that I was with him," she said.
Goo Hara's secret goodbye
Pop singer Goo Hara was popular in both her native South Korea and around the world. But sadly, she struggled with her demons, which were exasperated by her own personal losses and the abuse she faced from her ex-boyfriend. Hara took to Instagram on November 22, 2019 to post a photo of her tucked in bed, as she wished her fans goodnight. On the surface, the photo appeared to be nothing more than a cozy bedroom snap. Little did fans know that the post was seemingly a secret farewell.
Two days later, Hara was found dead at her home in Seoul, from an apparent suicide, per NPR. She was 28. As the outlet notes, she was enduring immense personal strife in the last few years of her life. She was subjected to domestic violence by her ex-boyfriend, Choi Jong-beom, who also threatened to post the couple's sex tape online. It was later found that his blackmail plot was instrumental in Hara's suicide and he was sentenced to one year in jail, per The Straits Times.
Moreover, Hara was deeply affected by the death of her close friend, fellow K-pop star Sulli, who also died by suicide. As the BBC reports, Hara said that she and Sulli were as close as sisters. She also began a harrowing Instagram live in tribute to Sulli, tearfully declaring, "I hope you will live happily as you please up there. I'll live more diligently for you. I'll work harder," per ABC News.
If you or anyone you know is having suicidal thoughts, please call the National Suicide Prevention Lifeline​ by dialing 988 or by calling 1-800-273-TALK (8255)​.
Chester Bennington was seemingly full of hope
As frontman of the hugely popular Linkin Park, Chester Bennington inspired people the world over with his unique brand of family-friendly and unproblematic, yet angst-ridden, nu-metal. As such, his death in 2017 at the age of 41 shocked fans. Days before he died, on July 7, he posted a twilit snap on Instagram, in which he posed happily in front of thousands of fans during what would be his final live performance. That day, the band had concluded their tour of the U.K. with a show in Birmingham, England, per NME. "Birmingham, U.K. GB #OneMoreLight," he captioned the haunting snap, almost as if he knew this would be his last performance.
On July 20, he died by suicide in Los Angeles, per TMZ. According to his friend and bandmate Mike Shinoda, he had been distraught over the suicide of another alternative rock legend, Chris Cornell, with whom Bennington was extremely close. During a televised live performance following Cornell's death, Bennington was struggling to keep it together. "When we were doing a soundcheck, Chester couldn't even make it through the song," Shinoda told Audacy. "He was getting half way through and getting choked up."
As People notes, Bennington had a long history of depression, exacerbated by the trauma of being sexually abused as a child. His death and final post proved that we never really know what struggles a person is going through, no matter how ostensibly happy they may appear.
If you or anyone you know is having suicidal thoughts, please call the National Suicide Prevention Lifeline​ by dialing 988 or by calling 1-800-273-TALK (8255)​.
If you or someone you know may be the victim of child abuse, please contact the Childhelp National Child Abuse Hotline at 1-800-4-A-Child (1-800-422-4453) or contact their live chat services.
Tom Parker's bittersweet farewell
British boyband The Wanted were immensely popular back in the early 2010s. Their 2011 track "Glad You Came" was a huge hit and propelled the group towards stardom, per Official Charts. Sadly, member Tom Parker, then 32, was diagnosed with a malignant brain tumor in 2020, per OK! Magazine. He and his wife were expecting their second child right before his diagnosis. "I'm still in complete shock, it's so much to take in … I knew something wasn't right, but I never expected it to be this," he told the outlet. "You never think this will happen to you."
As he struggled with the effects of his illness, Parker resolved to perform with The Wanted one last time and the band embarked on a greatest hits tour in 2022, per The Mirror. Since Parker was too sick to perform at his last concert, he sat on a throne while his bandmates sang to him. Poignantly, they all wore sunglasses as a mark of respect for Parker, who wore shades to conceal some of the effects cancer had on his eyes. Memorializing the performance on Instagram, on March 28, 2022, Parker posted a photo of himself smiling as his bandmates knelt beside him in a serenade. "Dream Team," he wrote alongside a heart emoji. Two days later, he died, aged 33, per the BBC. Surrounded by friendship and joy, Parker's final post, bittersweet as it may be, is testament to how much he was loved; for that, he will always be remembered.
Betty White was looking forward to a momentous occasion
Betty White's ubiquitous presence on our TV screens — as well as our social media feeds — projected an illusion of an immortal icon. As she approached her 100th birthday in 2021, this became none more apparent, as both White and her admirers awaited the momentous occasion. On December 28, White posted an image of her upcoming People magazine cover on Instagram, expressing her excitement at celebrating her special day. "My 100th birthday… I cannot believe it is coming up, and People Magazine is celebrating with me!" she wrote. The actor was due to turn 100 on January 17. Tragically, she didn't make it.
Three days after her post, she died, aged 99, per People. In her cover story for the outlet, White reflected on the secrets to her longevity, her positive insights appearing deeply tragic in the aftermath of her death. "I'm so lucky to be in such good health and feel so good at this age," she enthused. Sandra Bullock, her former co-star, offered some equally devastating words in tribute to White, stating that she hoped she would celebrate her 100th birthday. "The same way she has celebrated every day of her life with humor, kindness and a vodka on ice, toasting to the fact that she's a badass who has left us all in the dust."
The veteran star won't be forgotten. Her infectious optimism and zest for life, not to mention the odd F-bomb, remain a lesson in age positivity that everyone can learn from.
Avicii hid his pain in his final post
Swedish DJ Avicii, born Tim Bergling, was highly influential in the electronica and dance scene. As Variety notes, his unique musical stylings helped to usher EDM into the mainstream, with his track "Levels" being a colossal hit that helped change public perceptions of the genre. Sadly, Bergling struggled for many years with mental health issues and substance misuse, per Metro.
On April 4, 2018, he posted an Instagram photo of himself walking through a swanky house, with the caption, "It's always sunny in California," along with two happy emojis. The cheery post hid the dark struggles the DJ was living with. Several weeks later, on April 20, he died by suicide while on vacation in Oman, per TMZ. He was 28.
As his final post illustrates, Bergling was adept at concealing his turmoil from those around him, including his own family. Vox points out that the DJ's untimely death was in stark contrast to his music videos, which, "so upbeat and positive, are almost unbearably poignant to watch now." As his father, Klas, told The Times, "It's obvious there were things I didn't see." He also revealed that his son was previously hospitalized due to excessive drinking, and was prescribed painkillers, which he became dependent on. "He was easily upset, easily irritated. It was hard to talk with him," he added. In honor of Bergling's legacy, his family launched a mental health foundation, per Rolling Stone.
If you or anyone you know is having suicidal thoughts, please call the National Suicide Prevention Lifeline​ by dialing 988 or by calling 1-800-273-TALK (8255)​.
If you or anyone you know needs help with addiction issues, help is available. Visit the Substance Abuse and Mental Health Services Administration website or contact SAMHSA's National Helpline at 1-800-662-HELP (4357).

Caroline Flack's devastating end
British TV personality Caroline Flack found herself in the media spotlight as the host of reality series "Love Island," as well as for her relationship with Harry Styles. Unfortunately, Flack was frequently the target of online trolls. As reported by The Sun, she was called a pedophile for dating Styles when he was 17 and she was 31 (the age of consent in the UK is 16). "Anyone could say anything. In the street people started shouting at me 'pedophile' and 'pervert,'" Flack revealed in her memoir, "Storm in a C Cup." In addition, she faced further backlash when she was arrested over alleged domestic violence charges and subsequently lost her job as "Love Island" host, as iNews notes.
Subsequently, Flack's Instagram presence was greatly affected by the bullying, as a result of which she disabled comments on her last post. On February 13, 2020, she posted a collage of photos in which she kissed and cuddled her pet dog, along with a simple heart emoji in the caption. Two days later, she died by suicide, per The Independent. She was 40.
As The Guardian argues, Flack's chirpy social media presence was in stark contrast to her personal struggles: "Our impression of her – as someone with loving friends, and a rich and interesting life – seems so at odds with a person who would take their own life, the loneliest act possible." Flack's tragic death initiated the "be kind" movement, which sought to prevent social media bullying, per the BBC.
If you or anyone you know is having suicidal thoughts, please call the National Suicide Prevention Lifeline​ by dialing 988 or by calling 1-800-273-TALK (8255)​.
Bob Saget was excited for the future
One half wholesome TV dad, one half raunchy comedian, Bob Saget entertained millions on the family sitcom "Full House," while also appeasing enthusiasts of late night adult comedy. Saget's final Instagram offering is particularly harrowing because he had no idea that death was looming right around the corner. Chillingly, he uploaded the post on January 9, 2022, mere hours before he died.
Waxing lyrical about the show he had just performed in Jacksonville, Arkansas, Saget reflected on his hopes and dreams for the future. "I'm back in comedy like I was when I was 26. I guess I'm finding my new voice and loving every moment of it," the 65-year-old wrote. "A'ight, see you in two weeks … And check BobSaget.com for my dates in 2022 — Goin' everywhere until I get the special shot. And then probably keep going cause I'm addicted to this s***. Peace out." The post is heartbreaking not merely because of Saget's excitement for his upcoming shows throughout 2022, which he ultimately never got to perform, but because of his palpable new lease of life. That night, he suffered a severe head injury, possibly from a fall in his hotel room, per People. Investigators suggest that he then went to bed and fell asleep, never regaining consciousness.
The comedian's death is a reminder that we never know what life has in store for us, but the legacy Saget leaves behind is a token of the immense joy he brought into the lives of millions.
Anne Heche appeared joyful in her last images
Anne Heche's haunting end is undoubtedly one of the most tragic and unexpected of celebrity deaths in 2022. The actor's demise is made all the more harrowing by the seemingly hopeful and happy post she uploaded in the lead-up to it. In her final Instagram post, uploaded on July 14, 2022, Heche posed gleefully with fellow actor Joey Lawrence and his wife, Samantha, writing, "Good times on set with Lawrence Bros!"
A few weeks later, on August 5th, she was involved in two unusual car accidents, per TMZ. First, she drove into a garage and sped away. Then, she crashed into a woman's home, which caused her car to burst into flames. The injuries she sustained would prove catastrophic; her brain was deprived of oxygen and she was badly burnt, effectively leaving her brain dead, per Deadline. Nine days later, she was taken off life support, as Reuters reports. She was 53.
Although many criticized her following the accident, seeing as the crash put the lives of the house's occupants in potentially grave danger and caused colossal damage to the property itself, the depiction of Heche as selfish was inaccurate. An organ donor, she ended up helping others through her death — a testament to her altruism (Healthing notes that organ donation can save up to 75 people's lives). Perhaps her final post was an omen of hope, not for herself, but for the lives she would go on to save.