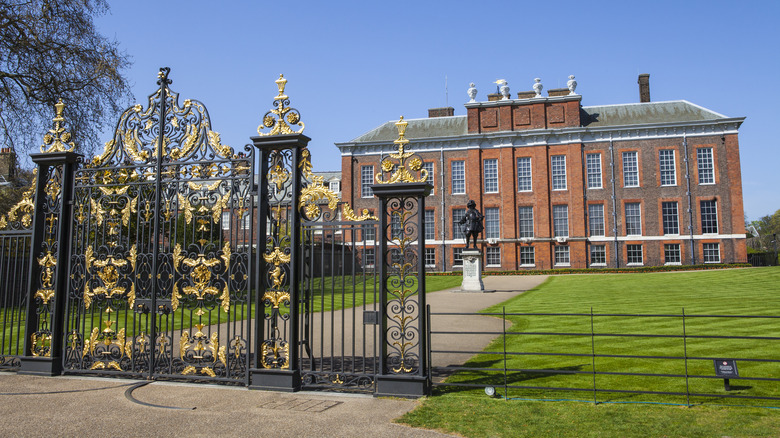 When you think of royalty, castles and palaces are the types of homes you picture. Since 2013, however, Prince William, Kate Middleton, and their three children — Prince George, Princess Charlotte, and Prince Louis — call Apartment 1A at Kensington Palace home. Before you raise an eyebrow in surprise that these British royals live in an apartment, let us explain: William and Kate's "apartment" is actually a four-story home with 20 rooms, surrounded by courtyards and lush gardens.
Royal expert Christopher Warwick, the author of Princess Margaret's biography, cleared up misconceptions and shared what the home is really like on a 2020 episode of True Royalty TV's "Royal Beat" (via Hello!). "All of these royal residences at Kensington Palace are called apartments," Warwick said, adding, "which of course makes people immediately think they are flats like the American term for an apartment meaning it is a flat. They are not." Instead, Warwick explained that Kensington Palace is built around several courtyards, so he suggested thinking of these royal residences as "red brick terrace houses" that are "all joined but separate."
Now that we've cleared that up, let's get to the nitty gritty. What does William and Kate's apartment actually look like? Follow along as we take you inside William and Kate's gorgeous apartment.
Prince William and Kate Middleton's four-story Kensington apartment is massive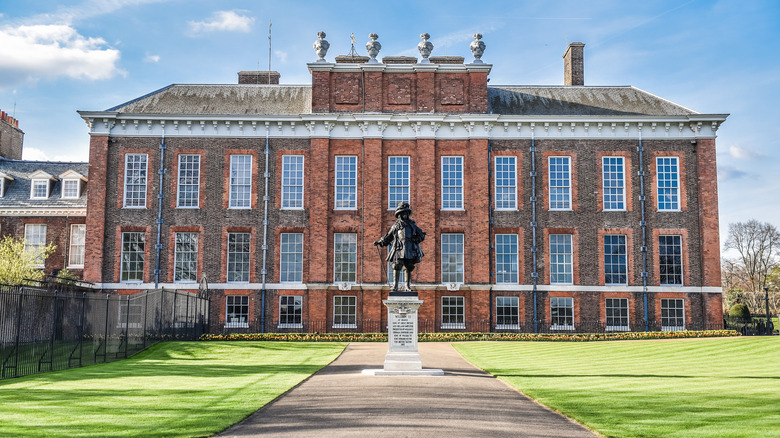 With four stories and 20 rooms — from the basement to the attic — Prince William and Kate Middleton's apartment is massive, taking up half of the Clock Tower Wing at Kensington Palace. The home features three main bedrooms — including two main-floor master suites and his-and-hers dressing rooms — along with five reception rooms, a gourmet kitchen, two separate nurseries, and staff quarters (via Hello!).
E! News shared that the royal residence also includes two living rooms, three main bathrooms, an elevator, a large basement complete with a gym and luggage room, and two nurseries — one for daytime play and one for sleep. Royal staff even have their own separate quarters, with an additional nine bedrooms and two kitchens. The living and reception rooms also feature several fireplaces – perfect for cozying up on London's rainy days. On sunny days, the private walled garden is the perfect place to grab a cup of coffee and enjoy the outdoors.
Prince William and Kate Middleton's apartment has quite an interesting history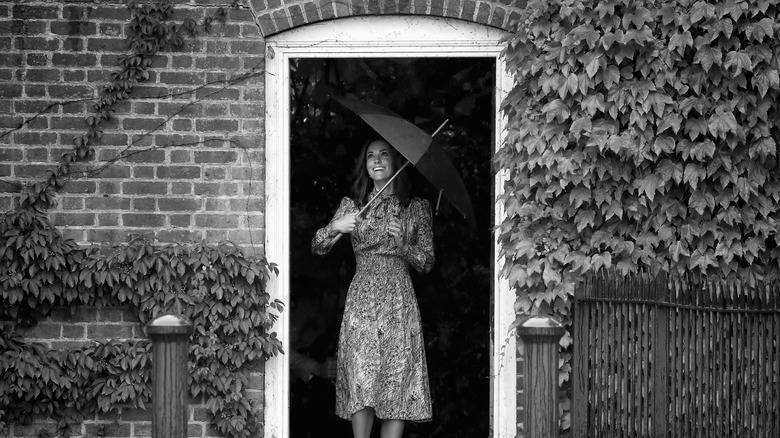 Though Prince William, Kate Middleton, and their three children have called Kensington Palace's Apartment 1A home since 2013, they are, by far, not its first residents. According to The Week, Kensington Palace was originally known as Nottingham House when it was built in 1605. King William III and Queen Mary II purchased the property in 1689 and worked with architect Christopher Wren to expand it.
However, according to the Daily Telegraph (via The Week), the property "fell out of [favor]" among the rulers who followed William and Mary and was divided into individual apartments for "minor royals." Edward VIII even once reportedly called the place an "aunt heap," presumably because of the older age of its residents (via The Straits Times).
Well, this former so-called "aunt heap" has been transformed over the years (more on that soon), making it perfectly suitable for other members of the British royal family — including William, Kate, Prince George, Princess Charlotte, and Prince Louis.
Prince William and Kate Middleton are not the first royals to inhabit their apartment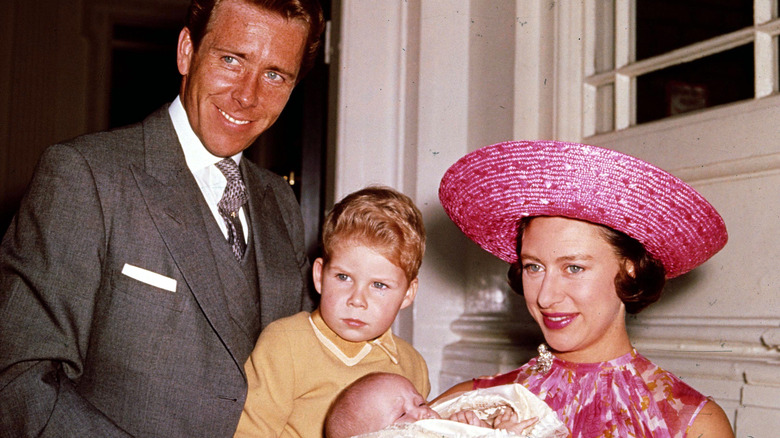 We know that Prince William and Kate Middleton's Kensington Palace apartment originally was home to King William III and Queen Mary II during the 17th century. But what other members of the British royal family lived in Apartment 1A before William and Kate? According to The Week, the apartment was presented to Princess Margaret — Queen Elizabeth's sister — and Lord Snowdon in 1960. Not wanting the space to "go to waste," the couple moved in and embarked on an £85,000 renovation — equivalent to about £1.5 million today.
The apartment also happens to be located very close to Apartment 8, where William's parents, Prince Charles and Princess Diana, lived together and raised William and Prince Harry. The Daily Mail noted that William had initially suggested living there to Kate; however, given William and Harry's childhood memories of the home, it's understandable why William and Kate did not ultimately choose to live there. Additionally, a source told the Daily Mail that, "Kate thought [that living there] would be too creepy." Makes total sense to us! Plus, it's kind of nice to start fresh as a newly married couple in a new place and create your own memories, don't you think?
Prince William and Kate Middleton have several royal relatives as neighbors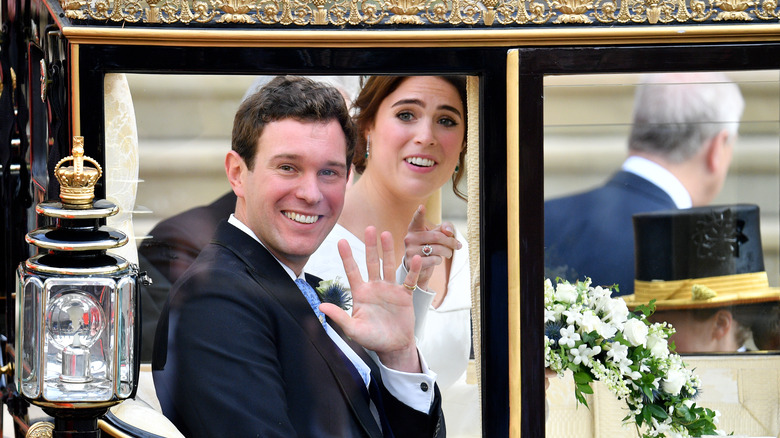 Prince Charles and Princess Diana raised Prince William and Prince Harry in Kensington Palace's Apartment 8. But William and Kate Middleton currently have other royal family members as neighbors. So whose door can they knock on when they're out of milk?
According to Hello!, William and Kate's next-door neighbors include the Duke and Duchess of Gloucester in Apartment 1. Apartment 10 belongs to Prince and Princess Michael of Kent (via Hello!). The Duke and Duchess of Kent live at Wren House, while Princess Eugenie and Jack Brooksbank live at Ivy Cottage, both on the grounds of Kensington Palace. In addition, before getting married in May of 2018, Harry and Meghan Markle lived at Nottingham Cottage, which is situated on the grounds of Kensington Palace. They later moved to Frogmore Cottage at Windsor Castle (via Hello!) before making the big move overseas to Southern California, where they currently live (via the Independent).
Victoria Arbiter, who lived at Kensington Palace when her father was the queen's press secretary, told Us Weekly, "It's a bit like ['Melrose Place']. You can knock on a neighbor's door if you need sugar." Sounds good to us!
Prince William and Kate Middleton's apartment received a $12 million renovation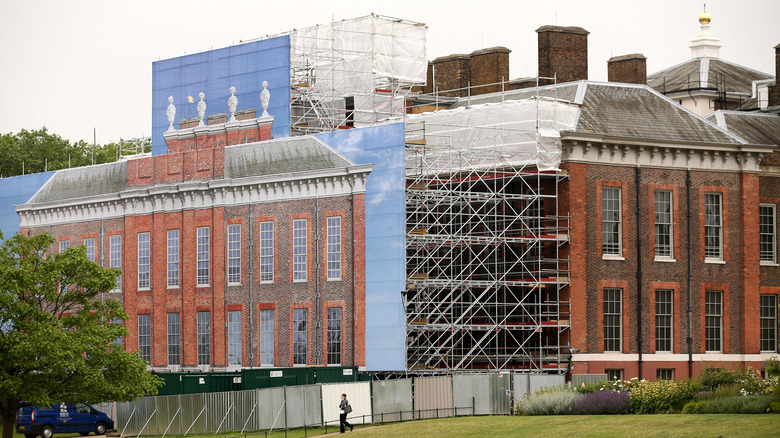 After their royal wedding in 2011, Prince William and Kate Middleton lived in Nottingham Cottage — where Prince Harry and Meghan Markle later lived — but the couple was looking for a larger home to raise their family. After considering a few options, the Daily Mail noted that William and Kate had set their sights on Princess Margaret's former residence at Kensington Palace. "William and Kate visited Apartment 1A and loved it," a source claimed in 2011. Kate "absolutely adored" the home and also liked the property's location near Kensington High Street.
In order for the royal couple to move in safely, however, major work was needed. According to The Week, the renovation cost approximately £12 million and required more than 100 workers. The work included rewiring and removing asbestos and lead (via Hello!), removing bomb damage from World War II (via The Week), and modernizing the property with 21st century necessities like air conditioning and WiFi (per E! News). Other safety additions included a panic room, video cameras in all rooms, and mesh curtains on the windows to catch shattered glass (via Curbed).
Prince William and Kate Middleton's gorgeous apartment features a stunning grand entrance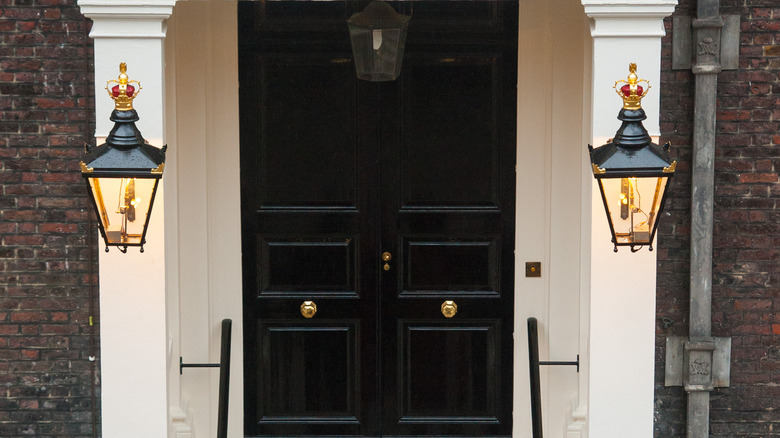 Nothing says you've arrived like a grand entrance. And, when it comes to grand entrances, Prince William and Kate Middleton's Kensington Palace apartment does not disappoint. Vogue described the apartment's "cobbled walkway [which] leads to ivory stone steps and Kate and William's grand double doors, complete with gold knobs." Flanking the massive black double doors are two white pillars which juxtapose the black and add a pop of elegance and glam to the brick exterior of the building. And, get this: An extra touch is the two red and gold crowns that sit atop of the lamps on either pillar.
The drama doesn't stop after opening the front door, either. "The entrance hall is beautiful with intricate cornicing and huge black and white flagstones," an insider shared with E! News. "There are large open fireplaces in all the main entertaining rooms and lovely big windows overlooking the garden," which add "a wonderful, bright feel" to the space.
Prince William and Kate Middleton hosted this former U.S. president and first lady here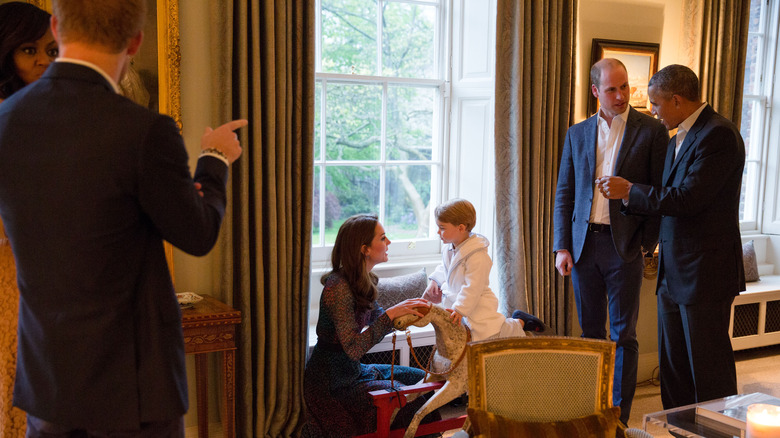 In 2016, the public got a first glimpse of Prince William and Kate Middleton's home at Kensington Palace when the royal couple hosted former U.S. President Barack Obama and former First Lady Michelle Obama in the apartment's drawing room. Vogue described the space, one of the apartment's several reception rooms, as featuring elements like antiques and gold accents, which add flair to the neutral tones of cream and beige.
The elegant space also includes several tall windows, bringing in natural light. Cream-colored sofas with floral-print pillows and an ottoman-style coffee table resting on a patterned area rug warm up the room, while the historic artwork framed in gold easily catch one's eye. In one corner of the room is a wooden piano topped with family photos, while another corner of the room is a designated spot for drinks and refreshments, similar to that of a butler's pantry (which we personally consider #lifegoals). However, it's the little things that really envelope the space in elegance: Multiple lamps bring warm light, candles and books rest on glass end tables, and vases with fresh flowers bring the outdoors in.
Kate Middleton was very hands-on with the apartment's decor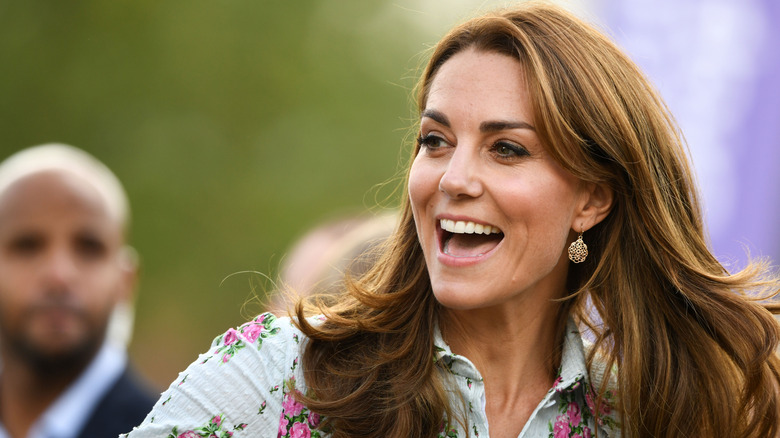 Like most of us ladies, Kate Middleton took the lead when decorating the apartment she shares with Prince William and their three children. E! News noted in a 2013 article that Kate was super "excited" about decorating the home during her and William's early days in Apartment 1A, and that she was still shopping for items while in the third-trimester of her pregnancy with Prince George. "Kate has taken a very personal role," a source explained at the time. "She has staff helping her, but she makes some of the calls herself and visited shops. She's very professional and organized."
When it came time to decorate the nursery in anticipation of George's arrival, Kate was spotted shopping for the nursery at London's Bernard Thorp & Co. E News! noted that she chose a more "gender-neutral" look for the nursery with earth tones including brown and sage green.
Reports are conflicting whether or not Kate sought the help of an interior designer to decorate the nursery. E! News noted that Kate may have worked with interior designer Kelly Hoppen, though the Daily Mail claims that the Duchess oversaw the decor on her own. No matter who took the lead, we're sure the nursery turned out just beautiful.
Prince William and Kate Middleton's Kensington apartment features a flair for florals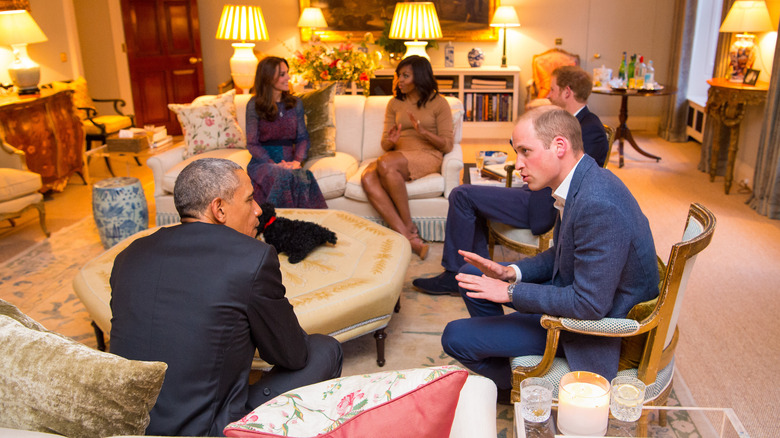 Kate Middleton is a fan of classic, elegant looks. Royal expert Victoria Murphy described the Duchess' style to ABC News as "very classic … very simple … very elegant."
If one thing is obvious, it's that the Duchess has a thing for floral throw pillows, of which Hello! calls her selection "seriously impressive." The magazine notes that floral pillows are found in the drawing room and in a smaller sitting area inside the apartment, among other spaces. "Floral cushions are a great way of injecting personality into your home," whether your style is modern or traditional, described the magazine.
If you'd like a similar look, Hello! has you covered. The outlet noted that although the exact pillows that Kate chose are sold out, it's still fairly simple — not to mention inexpensive — to recreate the look.
Prince William and Kate Middleton's apartment is a mix of pieces and styles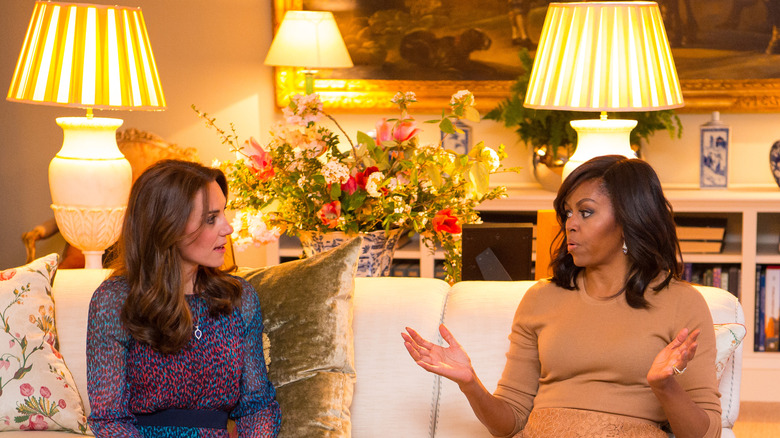 As senior members of the British royal family, Prince William and Kate Middleton can afford the best of everything. However, it's interesting to note that the royal couple chose to decorate their Kensington Palace apartment with a combination of old and new pieces and high- and low-budget items. Hello! noted that the Duchess, who holds a degree in art history, may have been inspired to "mix traditional antiques with modern furnishings" (via E! News) after visiting the home of the Crown Princess Mary and Crown Prince Frederik of Denmark.
During the renovation, Kate wanted to keep many of the historic details, like crown molding, as Us Weekly noted. The Duchess was also spotted browsing for home furnishings at the upscale Chelsea Design Centre in London as well as department stores (via the Daily Mail). Us Weekly described Kate as a "savvy budget shopper," while royal contributor Victoria Murphy shared the Duchess' affinity for bargain shopping with ABC News: "We know that she's haggled for antique things in markets" and that "she visits outlet stores," as she told the publication. Love to see it.
Prince William, Kate Middleton, and their children enjoy family time in the private palace garden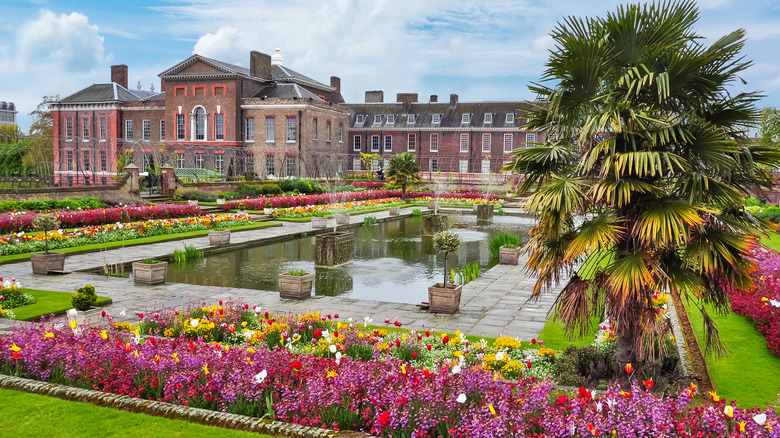 The typical apartment doesn't include perfectly-manicured gardens and ponds, but Prince William and Kate Middleton's gorgeous apartment does. The showpiece of the home is the private walled garden — visible from all of the home's main rooms — perfect for enjoying the lovely views while also keeping a watchful eye on the little ones (via E! News). In fact, the garden is something that particularly appealed to the Duchess. "Kate particularly adored the private walled garden because she loves gardening, and she just thought the house [had] so much potential," a source shared with the Daily Mail.
Kate is not the only member of the family who enjoys the garden; it's a favorite place for Prince Louis and his older brother, Prince George, and older sister, Princess Charlotte, to play. Indeed, the entire family loves spending time there — which is clear from this photo from William and Kate's official Instagram account. In particular, this royal family often enjoys one particular nook with a wooden bench, lush greenery, and a view of the pergola. Vogue noted that the couple even chose this spot to host a private screening of writer, producer, and director David Attenborough's 2020 film "A Life on Our Planet" with the famed filmmaker himself.
Prince William and Kate Middleton reportedly spent £170,000 renovating the main kitchen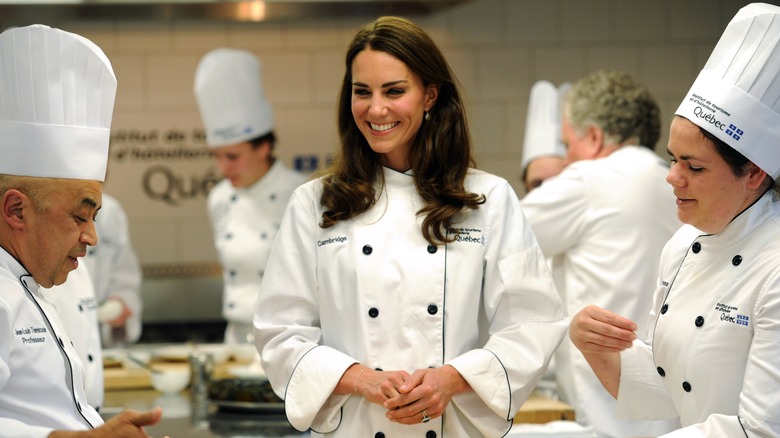 We all know that the kitchen is the "heart of the home," and Prince William and Kate Middleton certainly consider the kitchen to be of utmost importance. The Daily Mail noted that the couple reportedly "spent £170,000 of their own money" on the ground-floor kitchen to make it perfectly suitable for informal gatherings with family and friends. While Hello! noted that the couple's housekeeper helps out during meals, the outlet shared that Kate, herself, is quite the chef and cooks for the family of five from time to time.
Though this is the family's main kitchen in the home, two other kitchens can be found there as well. Though Hello! and Curbed both noted in 2013 that the additional two kitchens are for staff, a 2014 article for Elle Decor claimed that Kate had the wing of the home she shares with William reconfigured "to accommodate a second kitchen" for the couple's private use. Because one kitchen is never enough, right?
Prince William and Kate Middleton each have their own elegant and comfortable home office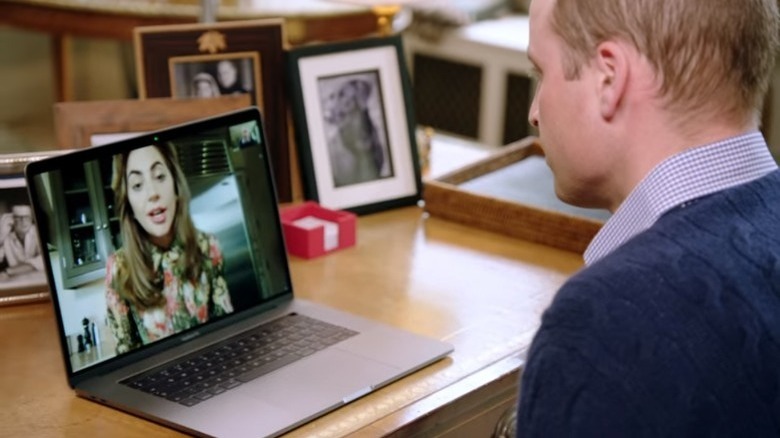 During the COVID-19 pandemic of 2020, the public was given a glimpse of Prince William and Kate Middleton's individual home offices. So what are the work spaces of the Duke and Duchess of Cambridge like?
William's office, as noted by Vogue, includes a majestic fireplace, a dark wooden desk, and a large traditional-style lamp. Above the fireplace is a large mirror framed in gold. A printer and what appears to be a frame sits on a side table next to the desk. Hello! noted that Kate's office includes a wooden chair with striped cushion and wooden desk complete with a collection of Penguin Clothbound Classics.
And, like us, the royal couple apparently has a few favorite spots for holding Zoom meetings. One spot, noted Vogue, includes a mint green sofa with printed throw pillows, as seen from the couple's official Instagram account. Behind them sits a wooden table displaying family photos, while a large potted palm graces the corner with a pop of color and helps bring the outdoors in. Another spot used has a pastel-colored couch, with a gold-framed mirror surrounded by antique plates on the wall and a similar patterned lamp resting on the console table in front.