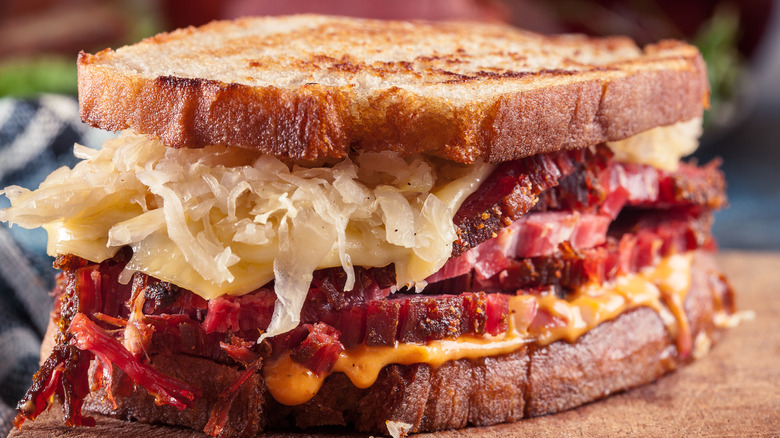 The Reuben sandwich is an undeniable deli classic. And for good reason: There's some inexplicable magic that happens when tender slices of corned beef are layered over melted swiss cheese, a bundle of pungent sauerkraut, and a healthy drizzle of tangy Thousand Island dressing, all of which are usually served on buttered and toasted rye bread. The Reuben is a textbook example of a sandwich that's greater than the sum of its parts, and each ingredient complements the others in a way that creates a complex and wildly delicious flavor profile.
The exact place of origin of this sandwich, however, seems to be up for debate. While some say the Reuben hails from Omaha, Nebraska, others insist a famished actor in New York City wandered into an iconic deli and inspired the sandwich (via GrubAmericana). Regardless of how the Reuben came into existence, most sandwich-loving deli-dwellers will agree that it's one of the tastiest handheld offerings around.
That said, there can be slight variations in its execution and overall quality. Is the corned beef made in-house? Is the rye bread baked on-site? There can be vast, discernible differences between Reuben sandwiches from deli to deli, from how thick the meat is sliced to the style of dressing used. There are various versions of the sandwich that are served all over the U.S., and among these, some are truly incredible.
Zingerman's Deli – Ann Arbor, Michigan
Zingerman's Deli in Ann Arbor, Michigan, has been in business for over 40 years. One of the things that sets it apart from other delis is the fact that its sandwich bread is freshly baked in the restaurant's bakery. In 1992, the restaurant teamed up with a trusted business partner to start up Zingerman's Bakehouse, a decade after opening the deli.
The bakery uses organic wheat flour, rye, and other grains that are grown in the Great Lake State, along with farm-fresh milk and butter. It's Zingerman's attention to detail and dedication to fresh, high-quality ingredients that make its Reubens one of the best in the country.
Zingerman's Reuben is served with corned beef, Swiss Emmental cheese, sauerkraut, and homemade Russian dressing, all loaded onto hand-sliced, grilled Jewish rye bread that comes fresh from its own bakery. Nothing is perfect in life, but the Reuben at Zingerman's comes pretty close.
Zingerman's, as a finalist of the James Beard award, is clearly getting the attention it deserves (via Detroit Free Press). For those feeling adventurous, the deli has some surprisingly unconventional offerings on the menu, like the TNT cowboy Reuben with shredded brisket, provolone, coleslaw, and barbecue sauce.
Attman's Deli – Baltimore, Maryland
Established in 1915, Attman's Deli has since become an iconic stop along Baltimore's famed "corned beef row" (via Baltimore Sun). For those unaware, corned beef row is a section of East Lombard Street in Baltimore that was home to a cluster of bakeries, markets, and delis during the early 20th century. These days, the once lively corned beef row has reportedly simmered down some, with only a few historic posts like Attman's Deli that have withstood the test of time.
The menu at Attman's is truly massive: there's so much on offer that each page will have you squinting your eyes like you're trying to read the fine print on the Declaration of Independence. But with dozens of high-quality classic and signature sandwiches, taking the time to thoroughly scan the menu and soak it all in is totally worth it.
The corned beef Reuben is served with the usual condiments and trimmings that you'd expect, but it's generously stacked with expert precision. Even renowned chef and cookbook author J. Kenji Lopez-Alt gave Attman's his seal of approval, praising the deli's tender, steamed corned beef (via Serious Eats). When a famous chef gives the corned beef his blessing, you know you're in for a real treat.
The Bagel Deli – Denver, Colorado
The Bagel Deli, which is featured on "Diners, Drive-Ins, and Dives," specializes in classic breakfast dishes and tasty lunch fare (via Food Network). It has been open for more than half a century. The Bagel Deli serves breakfast all day (which, in a perfect world, is something that all restaurants would do) and offers up homemade cream cheese for its bagels and inventive dishes like its Rubenesque scrambled eggs with corned beef, sauerkraut, swiss cheese, and home fries.
On the lunch menu, we have even more heavy hitters. Of course, there's the classic Reuben with hot corned beef, swiss, and sauerkraut. But if you want to experience the flavor profile of a Reuben sandwich in a different form, we'd also recommend the Reuben burger. The Reuben cheeseburger comes with a half-pound of beef, melted swiss, kraut, and your choice of corned beef or pastrami.
That might sound like a real belly buster, but we'd bet that any die-hard Reuben fan could take this beast of a sandwich down in no time. The Bagel Deli will even put your reuben on latkes if crispy potatoes are your jam. All things considered, The Bagel Deli offers so much more than just a delicious Reuben: the whole menu is packed with one indulgent treat after another.
Skipper's Smokehouse – Tampa, Florida
Now that you've feasted your eyes on so much corned beef, are you ready for a unique twist on the classic Reuben that offers up something refreshingly different? Skipper's Smokehouse in Tampa, Florida specializes in what it calls "Floribbean cuisine," an inventive culinary fusion of the flavors found in Florida, Louisiana, and the Caribbean. As you can imagine, the menu at Skipper's Smokehouse looks a lot different from the ones you'll find at a traditional deli.
As far as we're concerned, the crowning jewel of the menu is the blackened grouper Reuben sandwich, which has been featured on Travel Channel's "Man v. Food" and "Best Sandwich in America" (via World Food Championships). The grouper Reuben switches out the corned beef for freshly-blackened fish, and while that may sound a bit bizarre to some of you, you should know that professional food guru Adam Richman absolutely loves it.
Those with a more adventurous appetite will be pleasantly surprised to see some other dishes on the menu, like smoked gator ribs, crawdaddy mac-and-cheese, and fried gator tail. True to form, Skipper's blends regional cuisines to great success, adding inventive twists on classic dishes that are mouth-watering and surprisingly delicious. There's clearly a lot to love at Skipper's, with cheap beer on draft, a one-of-a-kind Reuben, and homemade key lime pie.
Manny's Deli – Chicago, Illinois
Chicago is famous for its deep dish pizza, hot dogs, and Italian beef sandwiches. It also has its fair share of good delis around town, and Manny's is considered by many to be one of the city's best (via The Infatuation). Manny's has been in business since 1942, and the dining room at Manny's is often scattered with newspaper clippings, reviews, and pictures of devoted customers over the years: a decorative testament to how beloved this family-run institution is.
Open for breakfast, lunch, and dinner, Manny's has an enormous menu loaded with daily specials. Its signature sandwich is the Reuben, which comes with your choice of pastrami, corned beef, or roasted turkey, along with the usual swiss cheese, sauerkraut, and Thousand Island dressing. Not only is the quality of everything in the sandwich phenomenal, but it's also generously piled up to form one monster of a meal.
Those who can't decide between pastrami or corned beef might want to go for the "The Chazzer," which features two types of meats, along with muenster cheese, coleslaw, and a side of Thousand Island dressing. Breakfast lovers also might want to check out the breakfast Reuben, which comes with two eggs, corned beef, kraut, swiss cheese, and a potato pancake with a side of dressing.
Langer's Deli – Los Angeles
A two-time recipient of the James Beard Foundation award, Langer's Deli has been in operation since 1947 (via Langer's Deli). Langer's Deli is best known for its pastrami, which is made in-house from the restaurant's original recipe and sliced by hand to order. The pastrami at Langer's is so popular that the restaurant estimates it has sold more than 8 million pounds of it since the deli opened up for business.
In fact, when the late Nora Ephron wrote about Langer's in the New Yorker, her opening line lovingly declared that Langer's Deli has the best pastrami sandwich in the world (via The New Yorker). How's that for an endorsement of deliciousness?
But Langers' impressive culinary creations go above and beyond pastrami. Langers' interpretation of the classic Reuben, dubbed the "#88" on its menu, comes with all the traditional ingredients except one: Russian dressing.
In this case, forgoing the dressing actually works in the sandwich's favor: the absence of Russian dressing puts the flavor of the corned beef more in the spotlight since the lack of dressing makes it easier to appreciate the finer nuances and complexities of the meat itself. However, big fans of Russian dressing's zesty creaminess will be glad to know that it's featured in several variations of Langers' hot pastrami sandwiches, and you can always order some on the side, too.
Kenny & Ziggy's – Houston, Texas
Kenny & Ziggy's in Houston, Texas has been open since 1999 (via Kenny & Ziggy's Deli). One of the owners, Ziggy Gruber, claims that being a deli man was his destiny since he comes from a family that has long had ties to the art of sandwich making. The restaurant is open for breakfast, lunch, and dinner and the menu mostly sticks to deli classics but also veers into more experimental territory.
Take the Reubies appetizer, for example, which fuses Asian dumplings with the traditional ingredients of a corned beef Reuben to delicious results. Another stroke of brilliance: the Queso-Ra-Sera bacon-wrapped hot dog that victoriously blends the classic flavors of a grilled weiner with the bold flavors of modern Tex-Mex. The Reuben's trademark flavor profile makes several appearances on Kenny & Ziggy's menu, from inventive appetizers to fusion hot dogs and cheeseburgers,
Of course, the restaurant offers the traditional Reuben sandwich, but it also serves it open-faced. Delicatessen purists may scoff at the idea of an open-faced Reuben, but the truth is that serving it open-faced is genius. Since the Reuben tends to be inherently messy sandwiches, spreading it out over a plate and eating it with a knife and fork makes perfect sense.
Additionally, Kenny & Ziggy's really piles on the melted swiss cheese. Between the tender corned beef that's cured in-house and the generous portions, Kenny & Ziggy's offers up one of the tastiest Reubens you'll ever encounter.
Hymie's Deli – Merion Station, Pennsylvania
Hymie's is located on the northwest outskirts of Philadelphia, and it has been in business for more than 60 years (via Hymie's Deli). Hymie's serves breakfast all day, along with tons of deli classics. The menu at Hymie's offers a wide range of dishes, including omelets, signature sandwiches, gourmet burgers, fresh salads, and Philly cheesesteaks. As expected, Hymie's makes mouth-watering Reubens and even offers them in a few different variations.
The Reubens are served with corned beef, pastrami, or turkey, as well as the traditional swiss, sauerkraut, Russian dressing, and rye. For those who want to venture into the breadless territory, Hymie's also offers a Reuben on crispy potato pancakes or wrapped up in a flour tortilla.
And, those who can't decide between pastrami or corned beef can always opt to have both by ordering "the best of both worlds" reuben sandwich. Another favorite is the "balebos" hoagie loaded with corned beef, pastrami, roast beef, and salami. Pickle lovers will also be happy to know that Hymie's has a pickle bar available (via Trip Advisor). The tasty and massive Reubens at Hymie's are some of the best in the business.
The SouthSide SmokeHouse – Lakewood, New Jersey
The SouthSide SmokeHouse in Lakewood, New Jersey, differs from other establishments in one distinctive way: the menu's roots dig just as deep into Southern fare as classic deli dishes (via The SouthSide SmokeHouse). In fact, the entire project feels like it strikes a perfect balance between the two, offering freshly-smoked ribs and brisket as well as homemade corned beef.
When it comes to sandwiches, SouthSide divvies up the menu into two different regions: deli sandwiches and smoked sandwiches. While the smoked sandwiches offer half-pound southern-inspired belly-busters, the deli side of the menu offers classic hits like pastrami Reubens and hot corned beef sandwiches.
What makes the Reuben at SouthSide so exceptional is the quality of the smoked pastrami. Because it's smoked in-house, the pastrami is as fresh as it could possibly be, packing every bite with an intensity of flavor. Fans of sausage may also enjoy the deluxe Reuben, which comes with smoked pastrami and grilled knockwurst. All things considered, The SouthSide Smokehouse successfully and deliciously embodies two of America's most beloved cuisines: Southern cooking and classic deli fare.
D.Z. Akin's Deli – San Diego, California
D.Z. Akin's Deli in San Diego has been open for over 40 years, and it has gradually expanded over the years to become a highly respected, family-owned, and operated institution of deli delights (via San Diego Reader). The menu at D.Z. Akin's is comfortably familiar as it serves breakfast, lunch, and dinner, staying true to tradition and mainly sticking to classics like simple cured meat sandwiches and other handheld fare.
Interestingly, where the kitchen gets most inventive is with its dessert menu, offering up nearly a dozen different interesting milkshakes and a handful of creative ice cream sundaes.
Back on the sandwich side, D.Z. Akin's lists over an impressive 100 options, ranging from the classic Reuben to patty melts and club sandwiches. The Reuben sandwich at D.Z. Akin's is generously stacked, lovingly prepared, and consistently delicious. Another thing we appreciate about the Reuben here is that there are five sides to choose from, which include potato salad or a fruit cup. If you're a fan of corned beef, you'll be pleased to see it featured in dozens of different combination sandwiches across the menu.
Sam Lagrassa's – Boston, Massachusetts
Sam Lagrassa's in Boston has been family-owned and operated since 1968, and it has a passion for high-quality gourmet sandwiches (via Sam Lagrassa's). Case in point: at Sam Lagrassa's, all the meats are prepared in-house, all dressings are made from scratch, and various types of breads are baked to the restaurant's precise specifications. Truly, attention to detail is king at Sam Lagrassa's, and our bellies are delighted all the more for it.
Where the menu really shines is in its section of hot pastrami sandwiches. The Reuben at Sam Lagrassa's comes with housemade pastrami, swiss, sauerkraut, and Russian dressing on grilled pumpernickel. Not only is the homemade pastrami out-of-this-world delicious, but the complexity and high quality of the grilled pumpernickel bread really pushes this Reuben into the higher tier.
After you've tried the Reuben, put the Pastrami Diablo on your to-do list for next time: this drool-worthy sandwich, with its jack cheese, hot cherry peppers, and barbecue sauce, will have you craving it on the daily in daydreams.
Katz's Delicatessen – New York City
New York's oldest deli, Katz's Delicatessen, has been around since 1888 (via Conde Nast Traveler). The Reuben at Katz's is the epitome of perfection: it consists of tender meat layered with gooey swiss, crunchy kraut, and a drizzle of luscious dressing on deli rye. The standard comes with corned beef, but you can swap that out for brisket at no extra charge, but if you ask us, it's worth the extra buck to go for the pastrami instead.
Chef and former "Bizarre Foods" host Andrew Zimmern's go-to order at Katz's is a mixed blend of fatty brisket and pastrami, a sandwich he orders with such consistency that he claims the kitchen starts slapping it together the moment he walks in the door. If you've always wanted to try a Reuben from Katz's but you're way outside the Big Apple, no need to fear: the deli actually has a Reuben package that it ships out nationwide.
This deal brings everything you need for four loaded Reuben sandwiches right to your doorstep, with two pounds of your choice of pastrami or corned beef, along with a pound of swiss cheese, small jars of sauerkraut and dressing, and half a loaf of rye bread. Katz's gets major points, not only for its top-notch Reubens, but also for making them accessible nationwide for the masses to enjoy.