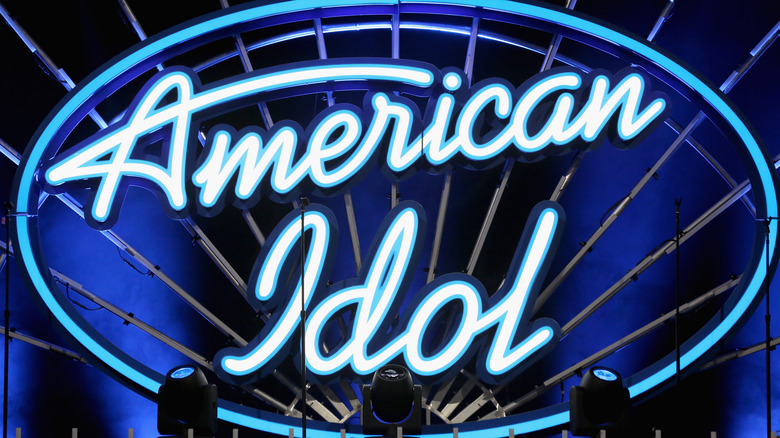 It might sound hard to believe, but "American Idol" has been on our screens for almost 20 years, first airing on Fox in 2002 with Ryan Seacrest and Brian Dunkleman hosting, and, of course, Simon Cowell, Paula Abdul, and Randy Jackson as the three judges in front of which numerous budding singers would try their luck (via Britannica).
While it's undergone plenty of changes in the years since, not least being revived on ABC in 2018 after a two-year hiatus, one thing never changes: There's always a whole load of drama and scandal. We could focus on the success of past contestants like Kelly Clarkson, Carrie Underwood, and Jennifer Hudson, but where's the fun in that? Instead, there's plenty of controversy to look back on. From feuding judges to hopefuls being removed from the show, "American Idol" has truly had it all over the years.
Here, we look at the biggest scandals in "American Idol" history.
Season 2 sparked a voting scandal for American Idol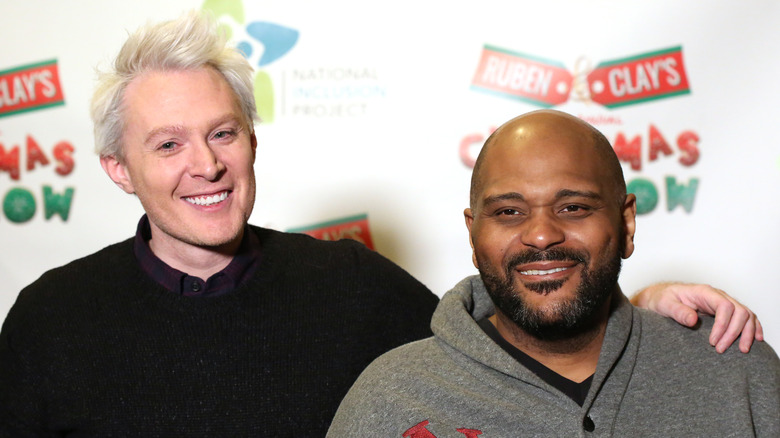 First, let's go all the way back to Season 2. The final two were Clay Aiken and Ruben Studdard, and Studdard became the winner in a closely fought battle between the two "American Idol" contestants. Indeed, out of 24 million votes, Studdard won by just 130,000 more votes, though the margin of victory had been stated as not only 130,000, but also 13,000 and 1,300 at various points (via Entertainment Weekly). Meanwhile, there were question marks over the validity of the public vote, with reports of the phone system being overloaded, causing 150 million votes to be dropped.
Despite the controversy, however, it doesn't seem to have had any lasting effects on the two guys. Aiken and Studdard have remained good friends throughout the years, and they've frequently been pictured together, even appearing alongside each other on their Broadway show, the "Ruben & Clay Christmas Show" from 2018 (via Deadline).
The scandal between feuding pop icons in Season 12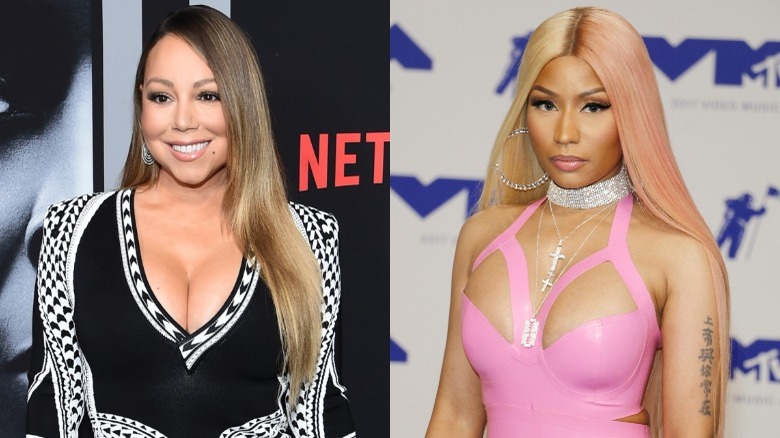 Over to the judges themselves now — and who can forget the famous feud between Mariah Carey and Nicki Minaj on the 12th season of the show?
We first caught wind of the drama in October 2012, when a video leaked to TMZ showed Minaj shouting at Carey during an audition in North Carolina. Meanwhile, it was also claimed that Minaj said about Carey, "If I had a gun, I would shoot that b****" (via The Hollywood Reporter). The drama escalated to the point at which even then-President Barack Obama got involved, saying that the feuding pair would "sort it out" (via The Guardian).
To Barbara Walters on "The View" the next year, Carey revealed that she felt unsafe on the "American Idol" set and had increased her personal security (via HuffPost), while Minaj told Ellen DeGeneres that they were "just two big old divas" (via Digital Spy). Both stars lasted just one year on the judging panel before leaving for new projects, and it's thought that the feud has at least cooled a little since then.
American Idol judge Katy Perry surprised a contestant with a kiss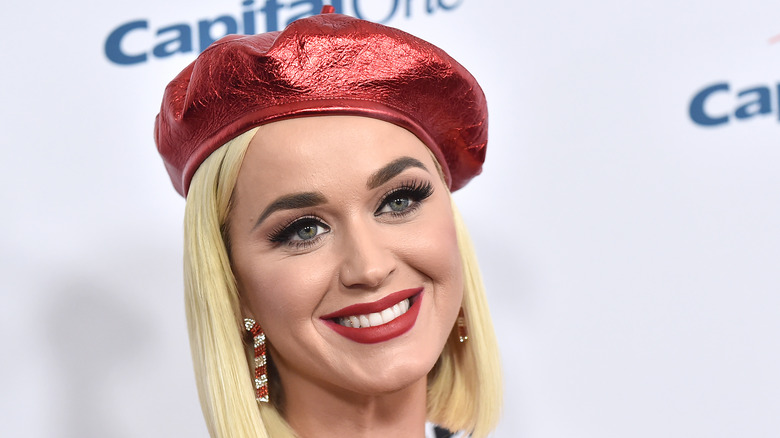 Another "American Idol" judge to come under fire was none other than Katy Perry. The singer joined the all-new panel when the show re-launched on ABC, alongside music legend Lionel Richie and country star Luke Bryan (via Metro), and remained on the judging panel for the following two seasons.
Oklahoma-based auditionee Benjamin Glaze revealed to the panel that he was yet to have his first kiss, and Perry invited him over to the judges' table for a kiss on the cheek. When he went to kiss her on the cheek, she turned so that he kissed her lips instead. He looked surprised by the kiss and fell to the ground, while Perry high-fived the other two judges (via BBC News).
Afterwards, he told The New York Times that he felt "uncomfortable" with the kiss, and "wanted [my first kiss] to be special." While Glaze stressed that he didn't consider the kiss to be sexual harassment, the incident still sparked a debate around consent and double standards between men and women.
Caleb Kennedy was seen in alleged racist imagery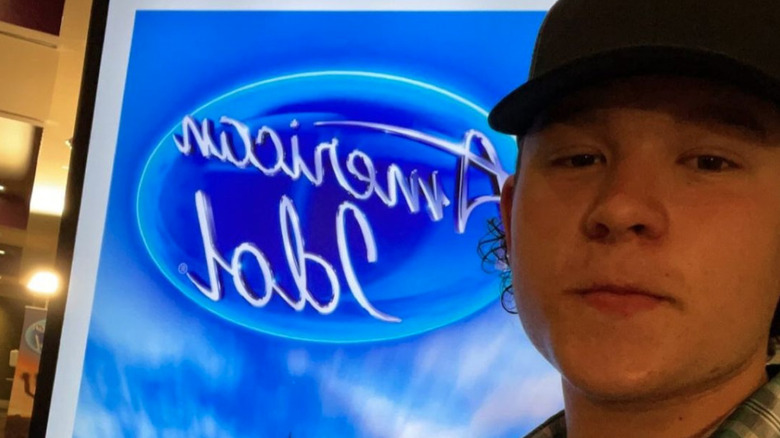 Here, we fast-forward a number of years to a rather more recent scandal — from May 2021. Caleb Kennedy, 16, had made it to the final five of the competition, but was forced to withdraw after a video was uncovered of the teenager with somebody wearing a hood resembling those worn by the Ku Klux Klan (via CBS News).
Kennedy confirmed on Instagram that he had left the competition, writing: "Hey y'all, this is gonna be a bit of a surprise, but I am no longer gonna be on 'American Idol.' There was a video that surfaced on the internet and it displayed actions that were not meant to be taken in that way. I was younger and did not think about the actions, but that's not an excuse."
He was defended by his mother, Anita Guy, who told the Spartanburg Herald-Journal that the clip had been taken out of context, and that Kennedy "doesn't have a racist bone in his body."
Frenchie Davis was forced to quit American Idol over a picture scandal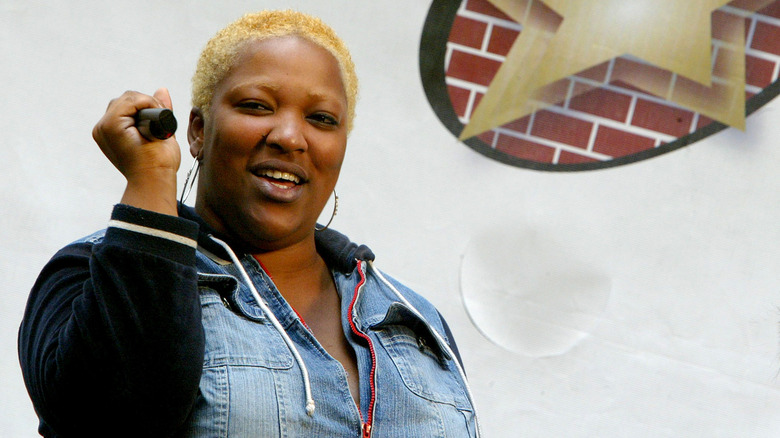 Of course, Caleb Kennedy was not the first "American Idol" contestant to have had their experience end prematurely. Back on the second season of the show, it was decided that contestant Frenchie Davis should not progress further in the competition due to topless photos taken a few years prior, when Davis was 19 years old.
According to Davis, she'd been open about the pictures. "They had given us all this paperwork to fill out, background checks and that whole thing … I had a discussion with some members of the production staff and I exposed to them a piece of my past; that when I was 19 years old, I took some pictures" (via CheatSheet). While nothing happened at first, the decision was later made to remove her from the show. "They had decided that because 'American Idol' was a family show," Davis said about the controversy (via Reality TV World).
One American Idol contestant claimed he had an affair with Paula Abdul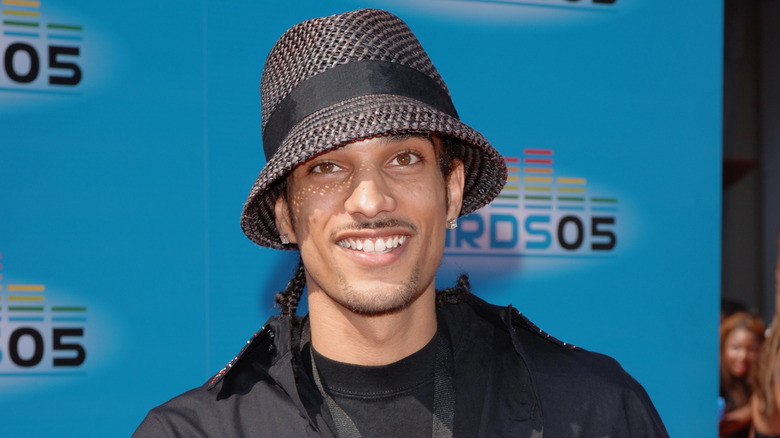 On the same season, it was revealed on The Smoking Gun that fellow contestant Corey Clark had pending criminal charges that he hadn't disclosed to producers — hours later, he was removed from the show. Two years later, he then claimed that he'd had an affair with "Idol" judge Paula Abdul. According to The Hollywood Reporter, he later sued Fox in 2013 for defamation relating to comments made about both his exit from "American Idol" and the alleged affair with Abdul.
Clark also accused Abdul of helping him style his look and choose his songs in order to get him to progress further into the competition, and claimed that the real reason he was removed from the show was because he was "making waves" by getting his fellow contestants to insist on lawyers before signing contracts — something he claimed that Abdul had encouraged him to do (via MTV).
Why was Antonella Barba allowed to continue on American Idol but Frenchie Davis wasn't?
Frenchie Davis might have been unceremoniously kicked off Season 2 of "American Idol," but, just a few years later, Antonella Barba didn't suffer the same fate despite being involved in a similar scandal. MTV News confirmed Barba was allowed to continue competing on the sixth season of the hit competition show despite revealing photos of her emerging online. The two women were even similar ages when the offending pics were taken. Davis was struggling to make ends meet while attending college; Barba, on the other hand, didn't get paid for her shots, which suggests she took them for fun rather than profit.
Davis was shocked to be kicked off despite being open about the pictures from the outset. However, she was even more surprised when Barba wasn't penalized in the same manner. "The View" co-host Rosie O'Donnell suggested there were dubious reasons why Davis was treated more harshly. "I think it's because she's Black. I think it's weightist and racist," O'Donnell opined. As CBS News noted, "American Idol" executive producer Nigel Lythgoe strongly refuted her claims in a statement, while Davis refused to confirm either way, acknowledging only that she appreciated O'Donnell's support.
David Archuleta's 'stage dad' was banned from being backstage at American Idol
David Archuleta didn't win "American Idol," but he remains one of the most-beloved contestants in the show's history regardless. His sunny disposition during the grueling competition process was even more impressive considering everything he was reportedly dealing with backstage. According to ET, one of his performances was negatively affected by an intense argument with his father, Jeff Archuleta, which occurred right before he went onstage. The reality star's "stage father" was allegedly verbally berating David to the point of tears. Elsewhere, Jeff was previously banned from the "Star Search" set after allegedly harassing one of his then-12-year-old son's competitors.
Unsurprisingly, Jeff was later banned from attending "American Idol" rehearsals too, per the Associated Press (via CBS News). He allegedly changed the lyrics to a song, incurring an additional fee for the show. David's vocal coach denied there were any issues, however, claiming he'd never known Jeff to raise his voice to his son. Jeff defended himself in an interview with Us Weekly, as reported by MTV News, claiming there was "no truth" to any of the rumors. Jeff even described himself as a "music consultant" rather than a stage dad.
Joanna Pacitti was kicked off American Idol due to her history with the music industry
Joanna Pacitti was gaining traction on the eighth season of "American Idol," when she was abruptly disqualified. However, far from doing anything nefarious behind the scenes, Pacitti was reportedly kicked off for being too successful in the music business. Per Billboard, Fox confirmed in a statement, "It has been determined that Joanna Pacitti is ineligible to continue in the competition." No elaboration was offered, but rumors swirled about the singer-songwriter formerly having a record deal with A&M/Geffen, as well as a gig opening for Nick Lachey on tour.
Most pertinently, Lachey was signed to Jive Records at the time, which is owned by Sony BMG, from whom the winner of "Idol" secures a record deal at the end of the show. Pacitti was also allegedly heavily involved with people working at 19 Entertainment, while cuts from her back catalogue appeared on soundtracks for movies such as "Legally Blonde," as well as on albums for artists like Britney Spears. She openly did press just a couple years before appearing on "Idol," during which Pacitti dismissed using such shows to propel oneself to fame.
Phillip Phillips claimed the American Idol contract was 'oppressive'
Winning "American Idol" isn't always a fairy-tale ending, as exemplified by Season 11 victor Phillip Phillips, who almost immediately sued the show's co-producers 19 Entertainment over their allegedly "oppressive" contract. Per The Hollywood Reporter, Phillips accused producers of having "manipulated" him into taking certain jobs solely for their benefit. He also sought to cancel his management, recording, and merchandising agreements with 19 Entertainment accordingly. The singer-songwriter's legal documents confirmed he was grateful for the opportunity (via Daily Mail), though "the appreciation does not extend to the oppressive, fatally conflicted 19 Entertainment, Inc."
According to Phillips, he was forced to perform in a live show for airline JetBlue, an important "Idol" sponsor, for free alongside many other similarly dubious jobs. He also claimed that certain major decisions had been made without his input, including choosing the title of his album "Behind the Light." A spokesperson for 19 confirmed, "We have always acted in the best interest of Phillip. We will vigorously defend ourselves from any baseless claims to the contrary and from any attempt to interfere with our rights and relationships." The two parties eventually reached a settlement agreement, according to a follow-up report by THR.
Did Wyatt Pike leave American Idol after fighting with Luke Bryan?
"American Idol" doesn't suit everybody, but Wyatt Pike's shocking exit during Season 19 left fans stumped. Writing on Instagram at the time, Pike noted simply, "I had to leave the @AmericanIdol competition for personal reasons but am so thankful I get to play music for the rest of my life," and he promised new stuff soon. However, according to E! News, fans of the hit show were convinced his sudden departure occurred following a backstage confrontation with judge Luke Bryan. The country star missed an episode of "Idol" after allegedly sustaining a black eye in a violent scuffle with Pike.
Bryan didn't acknowledge the stories, only confirming on social media that he wouldn't be taking part in the episode in question after testing positive for COVID-19. Unfortunately, the conspiracy theories gained traction after host Ryan Seacrest announced during that very same episode that Pike had left. He'd been doing well in the competition up until that point. Bryan's wife, Caroline, set the record straight about the alleged altercation, writing, "Trust me, he has Covid. I kinda wish there was a fight. I'm sick of taking care of kids alone and sanitizing."
Fans thought AT&T may have caused Adam Lambert to lose American Idol
"American Idol" is certainly no stranger to voting controversies, and when Kris Allen shockingly won out over fan favorite Adam Lambert, viewers called foul. Looking back, considering all the success Lambert has had in the years since, it seems kind of cute that "Idol" fans were so concerned about his career. But, following a New York Times report about show sponsor AT&T providing Allen's fans with free texting at viewing parties in Arkansas, which allowed them to mass-send 10 messages or more at once, questions were raised about whether the voting was swayed as a result. Per THR, in a joint statement, Fox and "Idol" producers 19 Entertainment and FremantleMedia confirmed Allen won the show fair and square.
"Kris Allen is, without a doubt, the American Idol," they stated firmly. "We have an independent third-party monitoring procedure in place to ensure the integrity of the voting process. In no way did any individuals unfairly influence the outcome of the competition." AT&T released a similar statement, confirming nothing untoward had occurred and, more to the point, "It's quite a leap to suggest that a few individuals could have impacted the final results."