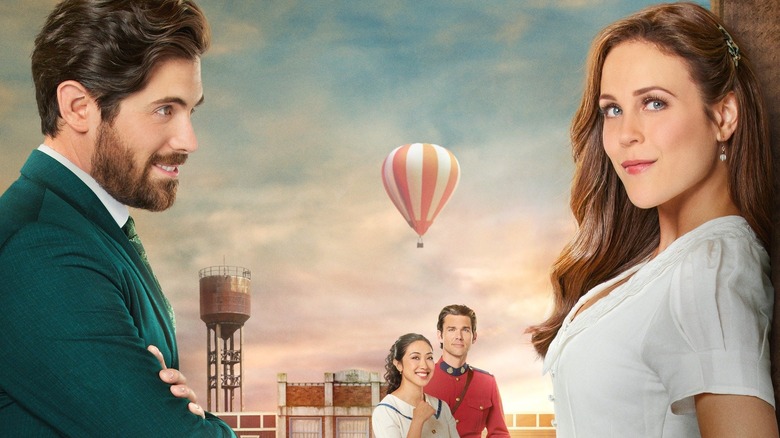 The Hallmark Channel is the go-to place for romance and holiday-related programming, which makes total sense when you consider the network was started by the same people who pretty much invented greeting cards and wrapping paper (per Hallmark).
The Hall brothers (Joyce Clyde and Rollie) were a couple of young entrepreneurs who sold the cards and wrapping paper they'd printed themselves in their Missouri shop during WW1. When they noticed soldiers and their faraway loved ones sending the cards to each other, they knew they were onto something. In 1928, they changed the name of their burgeoning greeting card business to Hallmark. Years later, in 1951, Hallmark entered the realm of TV (per The New Yorker).
Greeting cards are all about messages, as is Hallmark programming. Hallmark's first original TV series—a popular morning talk show—was called Home and Family. Many others followed. And though each show is different, certain earmarks are unmistakable. They're family-friendly enough for kids to watch with grandparents—no profanity or sex and little violence—and they often communicate heartfelt lessons about love and caring (via Vocal Media).
Nobody will argue that our world could benefit from a little—or a lot—more love and caring, which is why millions turn to the Hallmark series for comfort. And when the series get canceled, we're understandably upset, especially when the reason for the cancellation isn't apparent. So we did a little research about some favorites that've recently disappeared from the small screen. Here's what we learned.
Chesapeake Shores
"Chesapeake Shores" chronicled the O'Brien family and the challenges they faced over multiple generations. It was based on novels written by Sherryl Woods (via Hallmark). Stars included Jesse Metcalfe and Meghan Ory, and the plot focused heavily on the characters played by those actors for several seasons. When Metcalfe left the show after Season 4, ratings fell sharply (per TV Series Finale). Then in March 2022, the Hallmark Channel announced on Twitter, "The news is finally here! #ChesapeakeShores is coming back for a sixth, albeit final, season."
The tweet included a lovely photo of the O'Brien family smiling on the beach. But hardcore fans weren't smiling. Replies on Twitter expressed confusion, denial, heartbreak, and hope that the network would change its mind about canceling such a beloved series. When one fan (@LerumLerum6) asked why the decision had been made, Hallmark replied with another tweet, saying they wanted to end on a "high note."
But it may not be over yet. Because "Chesapeake Shores" executive producer and "show boss" Phoef Sutton told TV Insider that things were in the works. When he was asked if the sersomehowontinue in some way, Sutton replied, "I can't really share anything yet, but we are in discussion about something like that. I don't really know what it would entail yet, but I don't think you've seen the last of the O'Briens, let me put it that way."
The Good Witch
"The Good Witch" was about a woman and her teenage daughter with "special intuition" and their new next-door neighbors, a single father and his son (via Hallmark). In July 2021, Hallmark announced the series would end with a finale on July 25, 2021 (via TV Insider). Star Catherine Bell—who'd been playing protagonist Cassie since the first "The Good Witch" movie in 2008—was understandably disappointed.
On Instagram, Bell said, "I am so grateful for seven seasons … and 13 years (of movies) of being a part of 'Good Witch,' working with the KINDEST and most talented cast & crew, producers, network! It has always felt like family." Co-star James Denton added, "It would be unseemly to complain about your show being cancelled after seven seasons, and I won't. I've been very fortunate to have been on other long-running series, but 'Good Witch' was special" (per Deadline).
But why was it canceled? Hallmark didn't specify a reason. However, the website TV Series Finale states that ratings for the show in Season 7 were down 29% from Season 6, and it was also down 18% in viewership. Still, in August 2022, when Hallmark Executive VP of Programming Lisa Hamilton Daly was asked about the series during the Television Executives Association summer press tour, she said, "As far as 'Good Witch,' I think we're always interested in thinking about what we can do with our most popular IP … I can't announce anything specific about that" (via TV Line).
When Calls the Heart
"When Calls the Heart" has a twisty history. Based on Janet Oke's books about women braving the Canadian frontier, the series has remained extremely popular with viewers, even though it went on a brief hiatus in 2019 when news broke of the Varsity Blues scandal involving one of its main stars, Lori Laughlin. After the hiatus, the show reappeared with Laughlin's character written out of it, and a seventh season—without Laughlin—was announced (via Entertainment Weekly).
The COVID-19 pandemic halted filming for a while, but eventually, production on Season 8 began. Star Erin Krakow said that although everything was a bit more difficult due to the virus and requisite masking, things were progressing fairly well (via ET Online). And in March 2022, to the delight of the show's die-hard fans, known as "Hearties," Season 9 began. There were even a few new cast members (via Parade).
According to Parade, fans became concerned that there might not be a Season 10, but in June 2022, Hallmark announced that "When Calls the Heart" would eventually be back. Lisa Hamilton Day, EVP of programming at Crown Media Family Networks, told the press, "There are many more stories still to be told about the lives of the beloved characters in this series, and we cannot wait for everyone at home to tune in to see what unfolds." The only bad news is that the show won't return until mid-2023 (via Us Weekly).
Signed, Sealed, Delivered
Okay, strap in because this one's pretty convoluted. "Signed, Sealed, Delivered" began as a Hallmark movie in 2013, and it was then adapted into a ten-episode TV series that aired in the spring of 2014. It would be several years before more episodes aired due to complications from COVID-19 (via TV Series Finale).
According to Hallmark, the plot focuses on four postal detectives who go to great lengths to track down recipients of undeliverable mail. All incarnations of "Signed, Sealed, Delivered" have been popular with viewers, at least partly because its creator, executive producer, and writer is Martha Williamson of "Touched by an Angel" (via Parade).
In mid-October 2021, Southern Living aired an exclusive clip of what many believed would be the final installment of Signed, Sealed, Delivered. The film aired a few days later, and it was a tearjerker titled "The Vows We Have Made." But is the series over? Perhaps not, because Hallmark media president/CEO Wonya Lucas said something quite encouraging about "Signed, Sealed, Delivered" at the Television Critics Association summer press tour in August 2022. "The fandom and the passion for that franchise is unusual. And so we listen, we hear. There's more to come" (via TVLine).
Home and Family
"Home and Family," a morning talk show hosted by various people over its ten-year run, was the first original series on the Hallmark Channel, so its demise was particularly sad (via Vocal Media). However, in March of 2021, Variety announced that Hallmark had permanently canceled it. As almost all productions learned the hard way over the past few years, COVID-19 made it difficult—if not impossible—to continue working, at least consistently. Production on "Home and Family" was paused twice due to the virus.
A spokesman for the program said in a statement, "The ninth and current season of 'Home & Family' will be the series' last. For nearly a decade, the show has anchored our daytime lineup, featuring countless hours of cooking, lifestyle, DIY, health, entertaining, and decorating segments. We want to thank the heart and soul of the show, our incredibly talented cast and crew — led by co-hosts Debbie Matenopoulos and Cameron Mathison — for their creativity, hard work and dedication."
Was there more to the story of "Home and Family's" cancelation? We did more digging, but all we could find were multiple sources reporting that the challenges related to COVID shutdowns proved too difficult for the cast and crew (per The Things).
Cedar Cove
"Cedar Cove" was a popular romantic series set in coastal Washington State that featured many talented and well-known actors, including Andie MacDowell, Dylan Neal, and Sarah Smyth. MacDowell, the protagonist, played a goodhearted judge trying to do the right things in all aspects of her life. It was based on books by Debbie Macomber (via Hallmark).
Fans of "Cedar Cove" loved the show and were excited to see what would happen in Season 4, but it wasn't meant to be. On November 13, 2015, Hallmark posted a statement on the Cedar Cove Facebook page that read, "Cedar Cove" was the first series launched on Hallmark Channel, and we are incredibly proud of the exquisitely beautiful three season arc it delivered. It was an honor to bring to life the kindness, consideration and courage of this story that Debbie Macomber envisioned. Our heartfelt thanks go out to the extraordinary cast, writers, artists and designers—especially Andie MacDowell, executive producer and show runner Sue Tenney, and of course, Debbie Macomber. It is a privilege to continue a creative working relationship with the incredible talents associated with this series—both in front of and behind the camera—for upcoming projects on Hallmark Channel USA and Hallmark Movies & Mysteries."
As is typical of Hallmark, the network didn't provide a specific reason for dropping the series, but the cancelation was due to drooping ratings (via TV Series Finale).
Matchmaker Mysteries
"Matchmaker Mysteries" was a Hallmark series that seemed destined for huge success and longevity. It starred Hallmark favorite Danica McKellar—as a celebrity matchmaker—along with Victor Webster and Bruce Boxleitner. Each episode artfully mixed elements of mystery and romance (via Parade). So what happened?
Hallmark didn't formally announce the cancellation of "Matchmaker Mysteries" after just three movies. Still, McKellar broke the news to fans on Twitter with this tweet, "They decided to stop making them, along with many others! Let them know how you feel; I'd love to make more mysteries—alot of us would." Even more baffling is the fact that Hallmark's only statement about "Matchmaker Mysteries" seems to have been in an email from a network spokesperson to the website Showbiz Cheat Sheet that reportedly said, "At this time, there are no further installments of "Matchmaker Mysteries" in development" (via Showbiz Cheat Sheet).
And if you haven't heard, the Hallmark Channel has a new competitor: Great American Family, which is part of GAC Media, owned by former Hallmark Media CEO Bill Abbott (per Us Weekly). And many Hallmark stars—including McKellar—have signed contracts with GAC (per TV Insider). Still, in a recent conversation on Twitter with The Resident Rulebreakers Podcast, McKellar tweeted that she loves "people in front of and behind the camera at both networks … and I'm only exclusive with GAC for rom-coms and Christmas movies." So maybe there's hope for more "Matchmaker Mysteries?" The mystery continues.
Hailey Dean Mysteries
"Hailey Dean Mysteries" was a series of Hallmark mystery movies starring Kellie Martin as a therapist—and former prosecutor—who keeps being pulled into investigations regarding suspicious deaths. At present, nine movies have aired (via Hallmark).
According to Cinemablend, the demise of "Hailey Dean Mysteries" sounds suspiciously similar to what happened to "Matchmaker Mysteries." In short, just as Hallmark didn't officially announce the cancellation of "Matchmaker Mysteries," they didn't make an announcement about "Hailey Dean Mysteries" ending, either. Martin was privately informed and was left to break the bad news on her personal Twitter with the tweet, writing, "I just found out that Hailey Dean is done at Hallmark (broken heart emoji) Really sad and sorry to report."
Fans responded appropriately with shock, sadness, and sympathy. Notably, actor Viv Leacock, who'd been part of the series, expressed his dismay at the decision by tweeting, "I'm very disappointed … I think we had some magic with this one. Myself and @Kellie_Martin heard from folks around the world about how much they loved our show." Yet, as far as we can tell, it's been nothing but crickets from the Hallmark Channel.
Aurora Teagarden Mysteries
"Aurora Teagarden Mysteries" was one of the Hallmark Channel's most beloved movie series. Starring Candace Cameron Bure as a librarian-slash detective and Marilu Henner as her mother, the series appeared to be going strong until quite recently. Between April 2015 and February 2022, eighteen episodes aired (via Hallmark).
But unlike former Hallmark stars Danica McKellar of "Matchmaker Mysteries" and Kellie Martin of "Hailey Dean Mysteries"— both of whom were reportedly given no say in the fate of their series—Bure exited the Hallmark Channel of her own volition. In an interview with Emily Longeretta at Variety, Bure explained that she jumped from the Hallmark Channel to its new rival, Great American Family, after negotiations regarding her Hallmark contract went poorly. So she contacted the competition and liked what they had to offer. Of course, it didn't hurt that Bure and Abbott have a longstanding relationship. "I trust what Bill has done over the years … That's also why a move to Great American Family was a good move for me."
So what about the "Aurora Teagarden Mysteries?" "It's open," Bure told Variety. "It's definitely something we would like to revisit for Great American Family. It's about putting puzzle pieces together, but it's very possible."
Martha's Vineyard Mysteries
If you loved "Martha's Vineyard Mysteries," don't give up on seeing more episodes in the future. At least not quite yet. Based on the books by Philip R. Craig, the mystery show—set on beautiful Martha's Vineyard in Massachusetts—introduced us to a retired police detective who can't turn his back on solving crime. Starring Jesse Metcalfe as the former cop and Sarah Lind as his sidekick Dr. Zee, Hallmark aired four installments of it in 2020 and 2021 (via Hallmark).
Viewers responded well to the series, which, as Metcalfe notes in this Hallmark video clip filmed in August 2022 at Christmas Con, Pasadena, contained more action and grit than most Hallmark fare and was written with less predictable plots (via YouTube). He mentions feeling great professional chemistry while working with Lind and reveals that he was an executive producer of the series. He claims it "hurts my heart" that the network hasn't ordered more installments because "that was really my baby … I was involved in every aspect of the production."
Alas, although Metcalfe seems to express genuine optimism that more "Martha's Vineyard Mysteries" may be in store, we've also learned that—like so many other Hallmark stars—both Metcalfe and Lind have migrated over to the Great American Family network in recent months (via Parade). Hence, it remains to be seen if their contracts with GAF would allow them to work on the Hallmark series if given the option.