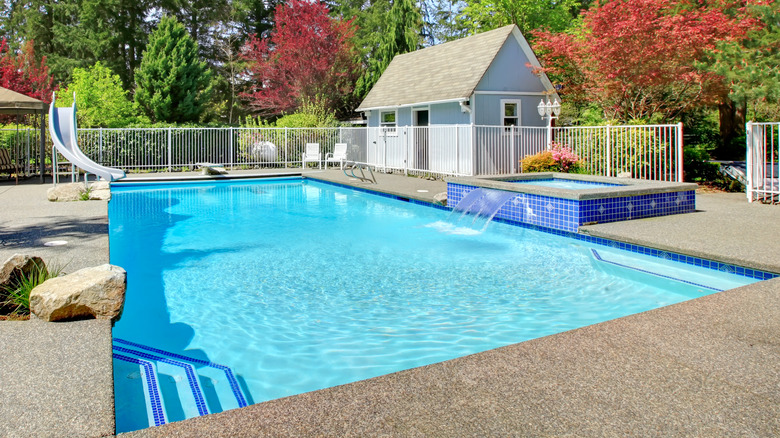 We may receive a commission on purchases made from links.
Owning a pool house comes with many benefits and perks to take advantage of. For example, as Summer Style points out, this design can help increase your property value. Should you ever choose to sell your home, buyers will likely be more interested in your property because of this addition, which can then lead to a bidding war, raising the value even more.
In addition, a pool house offers many regular benefits. If you're doing some gardening or hanging out in the pool but need a break, this is the place you'll likely go to. Similarly, if a sudden rainstorm hits and you need a quick escape, you'll be able to take shelter here. Homestead Structures also points out that this is a way to entertain guests in an outdoor/indoor setting. In doing so, your guests won't need to make their way into your home to do simple things such as use the bathroom or take a break from the sun.
With so many benefits, it's easy to see why many people decide to create this luxury addition. However, many may not know what to display within it. Whether you're building your first pool house or remodeling the current one, here are 15 must-haves to update it.
1. Plenty of storage space
Of course, one of the most important aspects you need in a pool house is plenty of storage space. From towels to pool essentials, it's important to have an organized place dedicated to these items. Amazon's nine-cube organizer is available for less than $66 and can fit in with any aesthetic.
2. A simple mini fridge
Some pool houses contain a smaller kitchen as well. Within this kitchen, you'll need a place to store cold drinks and food. Amazon's mini fridge contains a small freezer is a perfect way to accomplish this. It saves a ton of space for other necessities and costs anywhere from $170 to $216 depending on the color.
3. A mirror or two
A pool house is the place where people change in and out of their swimsuits and clothes. Therefore, a mirror or two is needed. Amazon sells this over-the-door mirror for less than $70. It's black in color and full length in size, making it the perfect addition to any pool house.
4. Comfy sofa
Whether you're in the pool or hanging out nearby, you'll need a place to relax at some point. While there are many furniture pieces to accomplish this, the most beneficial is a sofa. Amazon's convertible sofa retails for around $137 and doubles as a bed, should you ever have a guest stay the night.
5. Microwave
Just like with a mini fridge, you'll need a microwave to warm up those TV dinners. Fortunately, these gadgets are naturally compact in size just like Amazon's digital microwave oven, which costs just over $120. It features a black and stainless steel design and even contains a child safety lock feature as well as 10 power setting modes.
6. A few board games
When you do take a break from the outdoors, you'll need something to keep you occupied. Ideally, for kids or family fun, the best way to do this is to invest in board games. You can find the classic, yet modern Monopoly game on Amazon for less than $17.
7. Room-divider
Depending on size, you may need to invest in a room divider. This can work as separating one large room into two or giving guests some privacy. Amazon sells this three-panel room divider that stands 6 feet tall for $57. The panels fold up so you can use as much or as little space as needed.
8. Plenty of towels
It goes without saying that when you own a pool and a pool house, you'll need plenty of towels. Luckily you can invest in Amazon's six-pack bundle of white towels for less than $40. These towels are 24 inches long and 48 inches wide and are made from 100% cotton, making them highly absorbent.
9. A drying rack for towels
Of course, when you have wet towels, you'll need a place to hang them so they can dry. The most convenient way to do this is by investing in Amazon's towel rack for under $28. This black-colored design contains five hooks and has a basket installed above them to place dry towels.
10. Small-sized TV
If board games don't do the trick, you can always turn on a TV. Since it's a pool house, you can get by with a smaller-sized model. Amazon sells a 24-inch Smart TV for less than $80. It supports many apps, including Netflix and Hulu, and comes with an Alexa-controlled remote.
11. A table with chairs
Whether you're playing board games or eating food, you'll need a place to do so. You don't need a full dining set — a simple table with chairs will do. Amazon's folding matching table and chair set sells for just over $125. It's black in color, making it easy to incorporate into any theme.
12. Floor mats
While towels can dry you off enough to come inside, you're almost guaranteed to still track water in. To help prevent this, invest in Amazon's gray absorbent floor mat for $16. It's said to be a quick-drying model and can fit under doorways.
13. A small dishware set
Much like the mini fridge, you don't need a ton of dishes within a pool house. They will take up a lot of room and may not get used. Instead, Amazon's unbreakable 36-piece set will work as it contains plates, bowls, cups, spoons, forks, and knives and is microwave, dishwasher, and freezer safe.
14. Summer themed décor
Since it's a pool house, it's safe to say that most of its usage will occur during the hot summer months. However, you don't have to go overboard with the décor. Amazon's flip-flop welcome sign for $9 will do the trick.
15. Bluetooth speaker
No matter if you're listening to music by the pool or taking a break inside, you'll greatly benefit from a Bluetooth speaker. While many of these gadgets are costly in price, you don't have to spend a fortune. Amazon offers a waterproof Bluetooth speaker for $26. It houses 15 watts of stereo sound and has active extra bass.