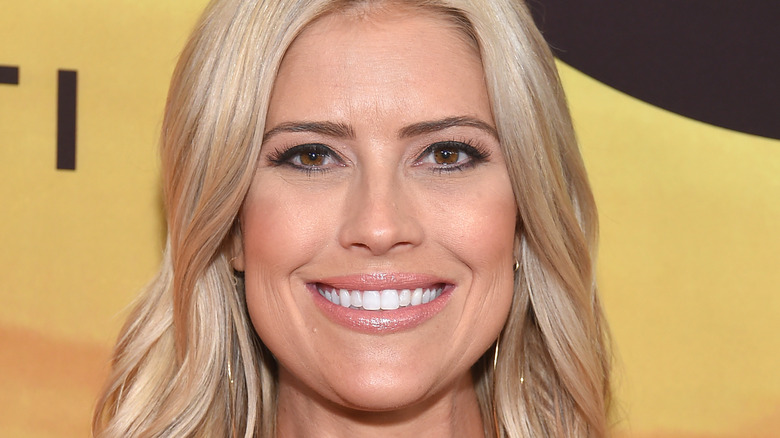 Christina Hall has proven her expertise in selecting and redesigning houses on her HGTV show "Flip Or Flop," which aired for an impressive 10 seasons from 2003 until March 2022, per HGTV. She has that traditional style with a modern flair down pat, as seen on her hit series. Her interest in homes dates back to when she first entered the working world. She started selling real estate at Prudential soon after she graduated from San Diego State University; next, she and her then-husband Tarek El Moussa opened the El Moussa Group, where they worked side by side for years (via The Orange County Register).
After years of selling houses, it finally became their time to buy their own home. In 2010, with investor and friend Pete De Best, the husband and wife team plunked down $115,000 for a small home in Santa Ana, California, which they did for investment purposes (via CNBC). Not long after, they sold the house for $115,000, which yielded a hefty profit of $34,000. The three decided house flipping was a good business for them, and they kept at it, even working in Arizona and Nevada (via The Orange County Register).
After many successful years of flipping houses, the El Moussas treated themselves to a large Mediterranean-style mansion in Yorba Linda in 2013, paying $2 million and putting $1.5 million into it for stylish renovations. But when the couple split in 2018, they sold the home for $3 million, leaving them with a loss (via People). That was the first of many houses for Hall. Here is a look at all the addresses the designer has called hers in the past 12 years.
Her first house in 2010
The star at first rented houses with her husband Tarek El Moussa when they were busy newlyweds working as real estate agents in the Anaheim, California area, as per The Orange County Register. But when they saved up some money in 2010, they invested in a home in Santa Ana, California, for $115,000 with fellow investor and friend Pete De Best. They knew that with their expertise and the right elegant touches, they could turn the ordinary house into something special, and they were right (via CNBC). They were keen to find a new way to make money outside of being real estate agents, as the financial crash in 2008 had made their jobs hard to do.
El Moussa, who was handy with a hammer, and his wife, who had a knack for tapping into what was trendy, turned out to be a dynamic duo. The married couple dug deep into their pockets to find an extra $15,000 to pour into the renovations. They ended up selling the cute one-story home for $169,000, which means they walked away with a nice $34,000 profit. That gave them the idea to turn their house-flipping know-how into a reality TV show. In 2011 he sent footage of the two working on the home to a production company, asking if they had what it took to host a TV show about fixing up plain-looking homes (via Insider). His buddy said yes, and he helped El Moussa submit his footage to HGTV. The executives there liked the married couple, and the meetings started. Now the El Moussas were in business. Two years later, the show "Flip or Flop" began airing on TV. The pressure was immense, though; they had to flip 13 houses in 10 months. But they did it with charm, winning them an instant fan base.
A massive mansion in 2013
With some money under their belt, the El Moussa couple decided it was time to buy a dream home of their home. They purchased a two-story mansion in Yorba Linda, California, for $2 million in December 2013 and added another $1.5 million to remodel it for "Flip or Flop," per The Orange County Register. It was a 6,366-square-foot family home with five bedrooms and nine bathrooms. A lot of the money went into the backyard, where they added a pool with a waterfall and grotto, a dining area, an outdoor kitchen, a beer tap, putting green, and a fire pit. Inside, it had a home theater and a tech center. The kitchen was designed with Carrara marble and had Thermador and Sub-Zero appliances. And though the home looked new, it had old-world touches such as travertine and stonework.
But then things went sour with the El Moussas, and they split in 2018. "Like many couples, we have had challenges in our marriage," they said in a statement (via E! News). "Together, we have decided to separate while we reevaluate the future of our marriage. During this process, we are committed to our kids and being the best parents we can be. We will continue to work through this process civilly and cooperatively, and plan to continue our professional life together." After their marriage ended in 2018, they listed the beautiful home for $2.995 million and sold it for $2,925,000 (via People). "That was her dream house," listing agent Dean Lueck told The Orange County Register. "She knew she was over-improving it for the neighborhood. I don't think she ever bought this house to flip it." The couple took great care to make it a family home, as most people do. "This is what people do. They get emotionally tied up in their house. She took some liberties to make it really special for her family."
A black and white family home in 2018
After her 2018 divorce from Tarek El Moussa, Hall sought a new life. And she found it when she fell for British TV host Ant Anstead of "Wheeler Dealers" fame in October 2017, per People. They married the following year, and with a new marriage and four kids between them, they needed a roomy home. The two bought a beautiful 4,804-square-foot property in Newport Beach for $4,100,000. It had five bedrooms and 4.5 bathrooms. There were high white ceilings with brown wood floors, and an indoor/outdoor feeling with large sliding glass doors that connected the living room to the backyard.
In 2020, the couple split and put the house on the market. Hall still hoped to keep it as her family home, but found it hard to heal from the relationship while still living there. In a clip from "Christina on the Coast," Hall told her best friend, "I was trying to redo things, and I built the bar, and I had plans to change the wine cellar and add a cabana in the backyard, to make it my own space but it's just … I need a fresh start," she explained. "It's a beautiful home, and a new family is going to come in here and create wonderful memories. It's just time to start over."
She added that the choice was also financially motivated. "Honestly, the prices are high right now. I've been getting these like off-market offers, and they're very hard to pass up. I can make a good profit on this house enough so that I can transfer equity." Hall listed it for $6 million in April 2021, then sold it in June 2021 for $5.35 million (via TMZ).
A dreamy coastal home in Dana Point in 2021
Hall was single again in 2020 and needed to buy a new home in Southern California so her children could easily see their fathers. She settled on a roomy home along the coast in Dana Point, California, in a gated community. The star bought it for $10.3 million in early to mid-2021, per TMZ. There was plenty of space — it had 6,000 square feet of living space with five bedrooms and 6.5 bathrooms. The house had plenty of fun stuff: In addition to a fantastic backyard which included a pool and hot tub with a view of the ocean, the inside had a home theater, a chef's kitchen, a game room, and a rooftop lounge area.
The home is also where she resided with her new husband, Joshua Hall, per Page Six. In 2022 she said "I do" to Hall, first in private and then in Hawaii. But for some reason, the newlyweds felt the Dana Point house was just not right for them. In April 2022, she took to Instagram to announce they were moving. "Loved redesigning our Dana Point pad and all the memories we made in this home. It's bittersweet we're moving soon, but I can't wait to make our next home our own." They sold the hillside palace for $11.5 million in March 2022 (via TMZ).
She went country in early 2021
After she split from her husband Ant Anstead in September 2020, she took some time to herself, per People. The star traveled east, landing in Tennessee, where she took to the slower pace of life. She was so impressed with the southern state, she purchased a vacation farmhouse in Franklin, Tennessee, just south of Nashville. She bought it for $2.5 million after it had been on the market for only one day in August 2021 (via The Dirt). The star told People she took to the two-story white house right away. "I fell in love with Tennessee when I took the kids out there in October to visit my friend and nutritionist Cara Clark who had recently moved out there," she said, referring to a trip she took with her two oldest kids. "It's on 23 acres, super private, and has everything I could imagine and more.
She has featured the property several times on Instagram. "Tennessee is gorgeous and the people out there are so nice," she told People. "Being out there on all that land reminded me of my favorite childhood memories, which were staying summers on my grandparents' farm." Tennessee is also where she had some of her first dates with Joshua Hall, a real estate agent from Austin, Texas. In April 2022, the two wed in California (via TMZ). She and Hall seem to have settled in nicely, and in late August, she let Instagram fans know that she had built a chicken coop on the property. "Dreams do come true — chickens for our brand new chicken coop!! Can't wait for some 🥚 🍳!"
The home is also where she will film her new spinoff series, "Christina in the Country," a six-part docu-series (via People). "I am so excited and grateful 'Christina in the Country' has officially been picked up," Hall said in a statement. "I love that I get the best of both worlds — the coast and the country. It's an incredible opportunity to get to work in Tennessee, our home away from home."
A modern mansion in Newport Beach
Once again, it was time for a new home to settle into with her family. And this time around, Hall did not want a cozy Mediterranean villa like the one she shared with Tarek El Moussa, nor did she want a black-and-white farmhouse-style dwelling like the one she lived in with Ant Anstead. Instead, the TV personality craved something modern with plenty of glass and hard edges. In May 2022, she bought a home in Newport Beach for $12 million near her kids' schools, per TMZ. "Our new home is our long-term family home," she captioned her Instagram post as the family posed on the beach near the house. "Coming from a restless soul, my soul is ready to rest. At 38, I'm exactly where I want to be and can't wait to make the next house our home."
The two-story glass and steel frame home is just under 7,000 square feet (via Insider). It has a home theater, a chef's kitchen, and an indoor/outdoor feel. There are also high wood-paneled ceilings with recessed lighting and stone work on the walls for a rustic touch. Outside there is plenty to do, thanks to a very long lap infinity pool with umbrellas over the water. A hot tub is also built into the pool, with a covered lounge area nearby with a fire pit and a small lawn. Off to the side is a kids' play center with a slide and mini house that keeps her three little ones busy. Tall hedges and mature trees border the property for even more privacy.
In June, she shared a video of her family in the sprawling home on Instagram: "Celebrating and settling in. Absolutely obsessed with our new home. Finally all boxes are checked. We made a wish list of every single thing we wanted in a home, and then the next day this off-market listing appeared before us. Manifesting at its finest. This home has the best vibes ever, time to make it our own ."