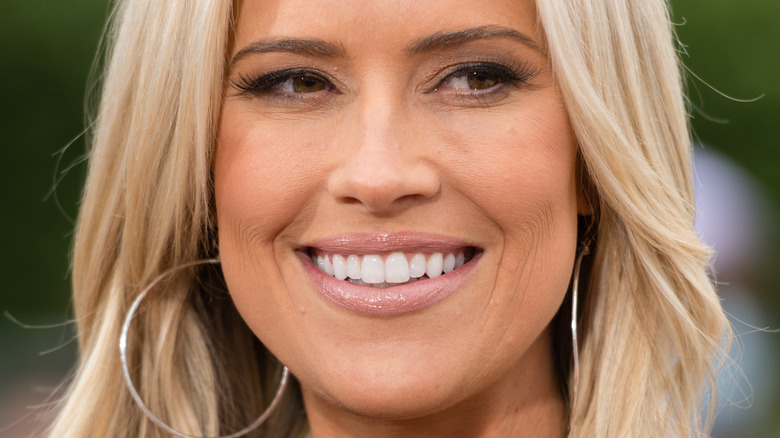 We may receive a commission on purchases made from links.
Since Christina Hall first graced our television screens in 2013 as Christina El Moussa, co-star of HGTV's "Flip or Flop" alongside her then-husband, Tarek El Moussa, it's clear she has excellent style — not only in real estate and design but also in fashion. In 2018, Country Living even referred to Hall as "the best-dressed HGTV star." For 10 years, we've enjoyed checking out her outfits almost as much as her design ideas!
While "Flip or Flop" aired its final episode in March 2022, per Deadline, Hall still appears on the network in her spinoff series "Christina on the Coast" and "Christina in the Country," her latest, set to premiere either in late 2022, as People confirmed, or early 2023, according to HGTV. This means fans can expect more design inspiration to come.
Hall was known for her expensive design taste on "Flip or Flop" (something we've seen more of on "Christina on the Coast"), which also extends to her taste in fashion. Whether dressed casually in a sweatshirt and ripped jeans, for example, she never leaves her designer accessories at home — among them sunglasses, shoes, jewelry, and handbags from high-end designers including Louis Vuitton, Chanel, Tom Ford, Gucci, Saint Laurent, and more. Follow along as we explore Christina Hall's edgy sense of style.
Christina Hall stunned in a custom Ines Di Santo gown for her wedding to Ant Anstead
In December 2018, Christina Hall and then-fiancé Ant Anstead, the British host of "Wheeler Dealers," shocked their family and friends with a beautiful wedding they hosted in the backyard of their Newport Beach, California, home (via HGTV). Hall revealed exclusive details to People regarding the wedding and her show-stopping Ines Di Santo gown featuring sheer lace sleeves and plunging neckline.
The designer had some idea of what she wanted, telling People, "I knew I wanted it to be romantic." To get Hall her dream gown for her big day, she worked with the design team at bridal atelier Ines Di Santo. In the end, she went with a form-fitting mermaid-style gown with lace detailing throughout and a low back with buttons and removable sleeves. "We added sleeves to a dress that didn't have sleeves, and we made them detachable so that I could walk down the aisle with this dress with long sleeves and lace and then take them off for the party," she said of the dress, which made her "feel beautiful."
While the exact price of the gown is unknown, we know that Ines Di Santo designs typically range in price from $3,500 to $9,000. Considering the custom nature of the dress, it likely cost an amount closer to the higher end of that range.
She wore a floral dress and $925 black Saint Laurent platform sandals for several 2019 TV appearances
In the spring of 2019, Christina Hall was seen wearing a navy floral mini dress and sky-high platform sandals at several events. In the photo above, she is seen alongside her then-husband, Ant Anstead, arriving hand-in-hand at NBC studios in May 2019 for an appearance on "Extra" (per the Daily Mail).
Her dress is the Niles Mini Dress in Navy Floral by the Nicole Richie-owned House of Harlow 1960. Though now sold out, the dress was initially priced at $248, though we found a pre-owned version sold for $104 (via Poshmark). Hall paired the dress with Saint Laurent Farrah Sandals in black. Though this exact pair no longer seems to be available, we did find a similar pair, Saint Laurent's Bianca Platform Sandal in smooth black leather, priced at $925.
The HGTV star also wore the dress and heels for a May 22, 2019, appearance on "Entertainment Tonight" (via Star Style) and an April 24, 2019, Discovery Channel event. In addition, she posed alongside Anstead at the Wynn Las Vegas on May 2, this time, however, pairing the dress with Stuart Weitzman's $795 Highland Over-the-Knee Boot in black.
The HGTV star fancied up a casual bodysuit and jeans with $1,450 Louis Vuitton boots
All you sometimes need to level up a casual outfit is a pair of pricey designer boots. Christina Hall knows this well, as she chooses the look often. In an Instagram photo of her and her best friend and publicist, Cassie Zabisch, which Hall shared to Instagram, the designer wrote, "Filming with your bestie makes it not feel like work at all." Don't we wish we could also do the same?!
In the pic, Hall is wearing Good American's Funnel Tank Bodysuit in beige, sold at Nordstrom for $59, and high-rise AG jeans, priced at $168 at Shopbop.
The HGTV star elevated her look with Tom Ford's Wyatt sunglasses, $415 at Nordstrom, in black, and a pair of $1,450 Louis Vuitton platform boots known as the Laureate Platform Desert Boot, per the designer's official website. Hall's otherwise plain outfit lets her boots do all the talking.
Christina Hall displayed her inner country girl in denim and western boots in Tennessee
Since falling in love with Tennessee, Christina Hall can't hide her inner country girl. On August 25, 2022, she posted an Instagram photo in which she and her husband, Josh Hall, are each holding a chicken. She captioned the pic, "Dreams do come true- chickens for our brand new chicken coop!"
In the photo, Christina dons head-to-toe denim. According to Star Style, her denim jacket is Hooey's Ladies Hooey Classic Denim Jacket in light wash for $90. Christina's $225 denim skirt, known as Retrofete's Ambrose Skirt, is sold at FWRD. A country girl's gotta have a pair of cowboy (or cowgirl) boots: Her white Jeffrey Campbell Dagget Western Boots are available, as of this writing, at Nordstrom for $269.95. She smiles behind her $415 Tom Ford sunglasses, via Nordstrom. But, the priciest items of this outfit are her two white gold Cartier bracelets priced at $8,000 and $11,900, respectively.
Christina's followers apparently love witnessing her new country vibe, with one commenting, "Someone is slowly transforming into a country girl! and I like it" (via Showbiz Cheatsheet). Christina and Josh may have been filming her upcoming HGTV show, "Christina in the Country," which focuses on her expanding design business and life in Tennessee. "It's an incredible opportunity to get to work in Tennessee, our home away from home," the show's star told Deadline.
She rocked a distressed denim jacket, jeans, and Dior accessories for an outing in Los Angeles
In early August 2022, Christina Hall and husband Josh Hall spent some time with Josh's former law enforcement colleague and friend, who showed Christina what the line of work is like. In the pic she shared to Instagram, Christina is seen standing with her husband's friend and former partner, with Josh on the other side, during their outing with the LA County Sheriff's Department (via People). "So fun getting to spend some time with one of Josh's best friends/former partner and his crew," she captioned the photo. "What an experience seeing all that they do! … Forever grateful and appreciative for these kind[s] of heroes."
For the outing, Christina wore another denim jacket, a distressed version by Wren & Glory called the 'Angel' Denim Jacket (while you can't tell from the photo, the jacket has a pair of white angel wings painted on the back), available at Verishop for $350. She paired her denim jacket with a pair of $168 AG jeans, available at Revolve.
As for accessories, Christina chose Tom Ford's Poppy Plastic Cat-Eye Sunglasses, sold at Neiman Marcus for $455. She also wore Dior both on her feet and around her neck. Her black Dior combat boots, known as the Diorcamp Ankle Boot, list for a hefty $1,150. And her $890 Dior choker necklace made of antique gold-finish metal adds a touch of elegance to her otherwise edgy look (via Celeb Style).
The mom of three donned a denim mini dress with $770 Gucci sneakers while at home with son Hudson
In one pic on Christina Hall's Instagram page from July 2020, she's seen standing in the kitchen of her Newport Beach, California, home while holding her son, Hudson, then an infant. In the photo, Hall is wearing an adorable denim mini dress — not the typical outfit for caring for a baby at home. It's likely she had just finished bathing Hudson, as she captioned the pic, "Love his fresh out of the bath comb over." Her baby boy does look like a cutie, we have to say.
Hall's dress is the GRLFRND Eliana Denim Mini Dress from Intermix, available, as of this writing, for $69, 40% off its $268 retail price. While that's not so hefty a price tag, the price of Hall's sneakers more than makes up for it (though her sneakers aren't visible in the pic, Star Style had the scoop). Her Gucci Women's Ace sneaker with bee is available, per the designer's website, for $770. Additionally, on her wrist she wore a beaded bracelet called the Bridgehampton from The Lace Project, the same jewelry company that Hall partnered with for her own line of Venetian Murano glass beaded bracelets.
Christina Hall wore a floral maxi dress and pricey Gucci tights for her BFF's November 2021 baby shower
In November 2021, Christina Hall attended the baby shower for her best friend and publicist, Cassie Zebisch. In a photo Hall posted to her Instagram account, she posed alongside her very-pregnant friend with a beautiful setup visible. She captioned the pic, "Such a beautiful baby shower for @cazeb! So happy for Cassie + James. We can't wait to meet baby J!"
On this day, Hall wore a black maxi dress with white flowers, long sleeves, mock neck, open back, and two slits down the front. The Flynn Skye Cedar Split Maxi Dress was initially listed for $220 at Asos but was last listed at the final sale price of $44 before it sold out.
Nothing out of the ordinary there. What is unusual is her tights cost more than the dress! Hall paired the maxi dress with Gucci patterned knit tights for $330. As usual, she wore a pair of sunglasses on this sunny day, this time wearing $450 Chanel Square Sunglasses in black acetate.
She posed for a photo in a super cute denim romper while filming in Tennessee
On Instagram, Christina Hall has shared her experiences filming her newest HGTV show, "Christina in the Country" — showcasing her "new chapter in life," her expanding design business with clients in Tennessee, where she owns a vacation home — with her many followers. In one post, she poses alongside her husband, Josh Hall, while wearing an adorable denim romper, the Chelsea Romper from Joe's Jeans, perfect for a hot summer day. As of this writing, her $228 romper is on sale for $91.19 at Saks Fifth Avenue. She captioned the pic, "Quick work trip in Tennessee filming some great content for Christina in the Country. Loving Tennessee, the crew and all of our new clients! Grateful to live/work in California but still get to film a TV show while enjoying our second home in Franklin, Tennessee."
She completed her casual outfit with $80 Superga sneakers, available at Shopbop, $455 Tom Ford Poppy sunglasses from Bergdorf Goodman, and an $8,000 white gold bracelet from Cartier.
Christina Hall turned heads in a strapless turquoise fringed mini dress for a summer 2022 wedding
In July 2022, Christina Hall posted a photo to Instagram of her husband, Josh Hall, dressed up, posing under a chandelier and archway, with a lovely view of the manicured lawns beyond on a sunny summer day. She captioned the photo, "All dressed up with my handsome wedding date." Christina chose to wear a gorgeous fringed ombré mini dress in turquoise for the wedding, while Josh selected a white shirt, black pants, navy blue blazer, and brown dress shoes.
Christina's dress is the Anastasia Dress by Retrofete, available at FWRD for $695. She paired the mini dress with a pair of Saint Laurent metallic leather platform sandals in platinum. Originally priced at $1,384, the heels are, as of this writing, on sale at The Outnet for $968. While we're not sure whose wedding they attended, Christina (and Josh) definitely dressed to impress!
Christina rocked a cute tie-dyed dress for a couples' date night
For a fall 2021 night out with her husband, Josh Hall, and two other couples at the Mayors Table (via Star Style), Christina Hall donned a casual tie-dyed mini dress from Young, Fabulous & Broke. The Dax Dress in pink silver wash, constructed from a combination of cotton, modal, and spandex, is sold out from Revolve, where it was marked down to $103 from $114. The stylish designer completed the look with a pair of Sam Edelman heeled sandals in golden caramel suede and an upside-down moon necklace in gold, known as the Nashville Necklace, from the Reese Witherspoon-owned brand Uncommon James.
Christina, Josh, and the rest of the group were all smiles in the photo Christina posted to Instagram. "Those kinda friends who are happy for each other's success," she captioned the pic. "Building one another up and wanting to see each other succeed is what life is about. Life is short- be happy and kind."
Her black-and-white dress literally made headlines
In early October 2021, Christina Hall posted a photo of her and Josh Hall to Instagram posing together at home in her massive closet dressed for a night out at a costume party. Captioning the pic, "Heading out to that '70s party," Christina looked the part in a black-and-white mini dress and over-the-knee brown platform boots. Known as the Letiiza Printed Mini Dress from Superdown, the unique dress features an all-over newspaper print. As of this writing, it's available in black and white and black and pink at Revolve for $82.
The star's poofy hairstyle was parted in the middle with a thin braid framing either side of her face. Around her left wrist, she displayed several black beaded bracelets. Christina's disco partner date looked just as stylish in a blue collared shirt, black pants, gold watch, and aviator sunglasses. We bet they had a ball!
The California-bred designer looked stylish in a tie-dyed tank and jeans alongside her BFF
These days, if Christina Hall isn't posing alongside her husband, Josh Hall, or sharing a fun moment with her kids, she's posting a pic with one of her best friends. Her publicist and longtime friend, Cassie Zebisch, is often pictured alongside the HGTV designer. In one such post to Instagram from April 8, 2022, Hall is seen wearing a casual tie-dyed tank partially tucked loosely into a pair of dark denim skinny jeans with a small rip visible on the left knee. She wore her hair loose and flowing, and accessorized with beaded bracelets on her left wrist and pair of shiny black combat boots. We found her pink, peach, and white Young, Fabulous & Broke tank sold out online from Poshmark, with the listing noting the original price as $102.
Hall captioned the pic, "Happy Birthday to my beautiful bestie. True friends in this world are hard to come by, I'm very grateful to have had the truest friend for 25 + years. Our unconditional friendship is everlasting." Swipe right on the photo for a glimpse of the pair from 21 years earlier. Wow!
She loves the look of a sleek bodysuit and jeans
Christina Hall loves the sleek look of a bodysuit worn with a pair of tight jeans. On March 23, 2022, she shared a photo of herself smiling to Instagram, posing alongside husband Josh Hall giving her a kiss on the cheek outside of what could be their Southern California home.
On this clear, sunny day, she wore a white bodysuit from ASTR the Label known as the Half Sleeve Sweetheart Neck Bodysuit. The feminine shape of the $59 bodysuit pairs perfectly with her high-waisted skinny ankle jeans from Hudson Jeans in what is deemed the Masterpiece wash. Though the pair is sold out from Revolve, a similar version is available directly from Hudson Jeans online in a variety of washes. The HGTV host completed her outfit with a pair of $925 designer platform high-heeled sandals in brown from Saint Laurent, sold at Farfetch.
Christina looked fresh and ready for spring in a white cropped sweater and coordinating skirt
On March 24, 2022, Christina Hall shared an Instagram story of herself and husband Josh Hall posing on the steps of a house. In the photo, via Celeb Style, she's seen wearing a soft, feminine ensemble consisting of a cream-colored cropped sweater and flowy floral mini skirt paired with casual but cute white sneakers.
Her Sinfonia Cropped Pullover sweater in cream from LoveShackFancy featuring scalloped edges is described as made of "100% organic cotton with open pointelle detail throughout" in a lightweight knit fabric. The sweater was sold at Revolve for $172, down from $245, though it is now sold out. The coordinating $295 pull-on Sari Skirt from LoveShackFancy — also sold out at Revolve — features an elastic waistband, scalloped hem, and delicate eyelet detailing. Christina's white Superga platform sneakers are available at Shopbop, as of publication, for $80.
The next day, Christina posted a photo of herself to Instagram posing alongside Josh and crew members of her HGTV solo series "Christina on the Coast" while wearing the outfit. She labeled the pic, "Best team ever! First week back to filming #ChristinaOnTheCoast" and added that she and her husband had launched their own production company called "Unbroken Productions" along with a partner and another production company. "Having my own production company to produce what I want has always been a huge dream!" she wrote.