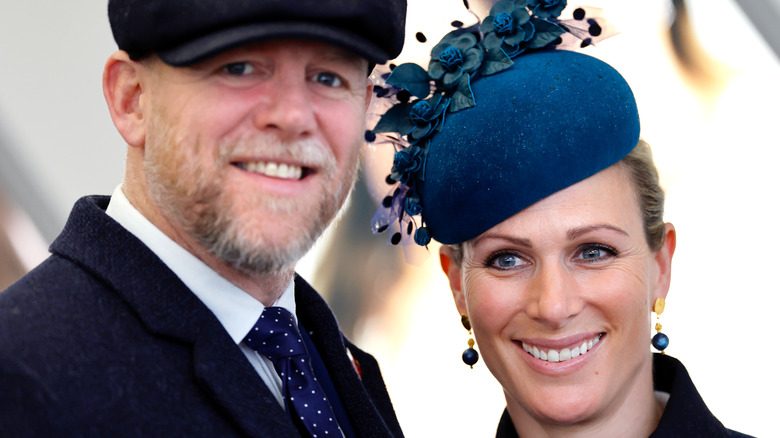 The world has always admired Zara and Mike Tindall's relationship, and the fact that they're part of the royal family isn't the only reason. They are a no-nonsense couple thousands can relate to, and their relationship has withstood the test of time.
Something Zara and Mike could definitely bond over when they first started dating was their mutual love for sports. Zara has had an amazing equestrian career and even made it to the 2012 Olympics, according to Express. Mike, on the other hand, has had a successful career as a rugby player (via Hello! Magazine). Both Mike and Zara inherited their love for sports from their families. Zara's mother, Anne, Princess Royal, was also a competitive rider, while Mike's dad and uncles all played for Otley — his dad was also the captain of the team at one point. Mike, just like Zara, achieved some great feats in his career, one of which was when his team won the 2003 World Cup. In 2007, Mike was awarded for all the hard work he put into the sport when he was made a Member of the Order of the British Empire.
While sports definitely run in their blood, Mike and Zara also have other interests. Zara is a qualified physiotherapist, and Mike is a successful podcast host. He also recently launched his own gin brand (via Hello! Magazine).
Zara and Mike are definitely one of the most interesting royal couples out there. Join us as we take a closer look at the relationship between Queen Elizabeth's oldest granddaughter and her husband.
Zara and Mike met each other at a pub in 2003
When we picture royal couples meeting for the first time, we automatically imagine a fancy event not unlike what you see in fairy tales, but Mike and Zara Tindall's first meeting wasn't really glamorous at all. In fact, this couple first met in the most unlikely of places: a pub.
Mike and Zara both happened to be in Australia at the same time in 2003, and their paths crossed at the Manly Wharf Bar, Mike revealed on an episode of "I'm a Celebrity … Get Me Out of Here!" in 2022 (via People). "I was at the World Cup, she was out watching," Tindall explained, adding, "I got dropped from the semi-final. I was pissed off and so I went for a beer with another guy who got dropped and a guy who was over [in Sydney]. They'd met her before and they introduced us and then got chatting." The rest, as they say, is history. The couple hit it off right away, and their romance blossomed soon after.
During an interview with the Daily Mail, Mike revealed that Zara wasn't shy when it came to pursuing him. Once they were both back in the U.K., they kept in touch via text, and Zara invited him to join her at the North Cotswold Ball. Mike seized the opportunity, and they continued spending time together and eventually made things official.
Zara introduced Mike to her family shortly after they started dating
Mike Tindall can remember the exact day he and Zara officially started dating. "I think it was April 27 (2004) — that would be the official date we said we were going to go out with each other," he told the Daily Mail. He can still recall their first date in vivid detail. During an episode of "I'm a Celebrity … Get Me Out of Here!" (via People), Mike revealed that the two of them went out to lunch for their first date. "[It] ended up being quite a boozy one," he said, adding, "Then we figured out that we both quite like getting smashed. It was a good start."
Once they officially started dating, Zara introduced Mike to her parents, Anne, Princess Royal, and Mark Phillips. According to Brides, Mike revealed that he gets along very well with Zara's family during a 2008 interview. "Zara's mum is a legend and her father is lovely too," Mike said, adding, "My mates in Wakefield are forever asking how I fit in among the royal family but they are really down to earth." During an interview with The Sunday Telegraph (via People), Mike admitted that meeting Queen Elizabeth II and the rest of the royal family was a "nerve-wracking experience," adding that memorizing all the royal protocols wasn't exactly a walk in the park. He did, however, get used to it after a while, and now he fits right in.
Mike asked Zara to marry him in a very unglamorous way
One of the things we love about Mike and Zara Tindall is that they're incredibly down-to-earth. From how they first met to the way Mike asked Zara to marry him, we can absolutely relate.
When you're a royal, significant life events like getting engaged are a pretty big deal, but instead of arranging an exquisite dinner and a string quartet, Mike simply asked for Zara's hand in marriage in the comfort of their own home. There were no fancy dinners, music, or rose petals. Instead, Zara was watching television while Mike was pacing upstairs, trying to pluck up the courage to ask the big question. Mike told the Daily Mail that he was going for the element of surprise. This is one of the reasons he didn't plan a big proposal. "I wanted to catch her when it was quiet and she wasn't expecting anything," he told the outlet. We'll admit — there's no better way to catch someone by surprise than when they're completely captivated by their favorite TV show.
"I walked in there and got down on one knee, with the ring. She was on the sofa, so that made it easier. I said, 'Will you marry me?'" Mike revealed, adding that Zara was so shocked by his sudden proposal that she started laughing. Her answer was, of course, yes. If that's not the definition of a real-life fairytale, we don't know what is.
The couple opted for a private wedding
Royal weddings are usually big events, but Mike and Zara Tindall continued to do things differently by having a small ceremony.
The couple got married on July 30, 2011, at the 17th-century Canongate Kirk in Edinburgh, Scotland. It was a pretty intimate event, with only 300 guests in attendance (via People). This didn't come as too much of a surprise to those who understand the workings of the royal family. Royal historian Hugo Vickers told BBC at the time that the wedding wouldn't exactly be seen as a royal wedding, and that Zara preferred it that way. "The whole set-up is much more informal, it's very much a family thing," he told the outlet. Joe Little, who was the managing editor of Majesty Magazine at the time, added that Zara doesn't really see herself as a royal. "She would even dispute the fact it's a royal wedding," Little said, describing Zara and Mike as "Mr. and Mrs. Laid Back." Zara told Hello! Magazine (via People) that she didn't plan on having an extravagant wedding. "It will be a lot smaller, just close family and friends," she said.
Despite not making too big a deal about the wedding, Zara still borrowed a few things from the royal family on the big day. Us Weekly reported that the Greek Key tiara Zara wore was borrowed from her mother, Princess Anne, and her wedding gown was designed by the queen's personal couturier, Stewart Parvin.
They went on to have three kids
Zara and Mike Tindall welcomed their first child, Mia Grace, on January 17, 2014 (via Reuters). It was a big moment for the couple as well as the royal family, and Mike took to Twitter to share the good news. "Thanks so much for all your kind messages. Definitely the best day of my life today, so happy! The girls are both doing great!" he wrote.
Four years later, Mia was blessed with a little sister, Lena Elizabeth, who was born on June 18, 2018. A spokesperson for Zara revealed the baby's name to Sky News, saying, "It was just a name they liked," adding that the baby's middle name was chosen to honor Queen Elizabeth II.
Zara and Mike also had a third child, a baby boy, who ended up making an unexpected appearance that led to his mother giving birth in the bathroom because there was no time to rush to the hospital. Lucas Philip was born on March 21, 2021, and Mike Tindall excitedly announced the news on his podcast, "The Good, The Bad, and The Rugby" (via CNN), saying that the baby "arrived very quickly," and that he had to scramble to get a mat and towels to the bathroom. The couple had two midwives, and one of them was able to get there quickly. The other arrived just in time to deliver Lucas. As for how Zara handled the chaotic birth, Mike said that "she was a warrior, as always."
Zara and Mike grieved together after she suffered a miscarriage
Before Mike and Zara Tindall experienced the joy of welcoming their second child into the world, Zara suffered two miscarriages. The first one occurred in 2016, about a month after the couple publicly announced the pregnancy, according to BBC. Zara only revealed that she'd had a second miscarriage after the birth of her second daughter, Lena Elizabeth.
During an interview with The Sunday Times (via BBC), Zara said that the reason she didn't publicly talk about her miscarriages before was because "it's too raw." She added that many people sent her and Mike letters about their own experiences after the news of her first miscarriage was made public. What was most painful for Zara during that time was that she had to go on to deliver the baby because the pregnancy was already pretty far along. "For me, the worst bit was that we had to tell everyone, everyone knew," she added.
Her second miscarriage happened very early in the pregnancy. Once again, her husband and family rallied around her. "It makes it uneasy, going through the pregnancy. You are always wondering what could be round the corner," Mike told The Telegraph. "It was devastating, but you've just got to find a way to deal with it," he added. He also admitted that he and Zara wondered if the miscarriage had somehow been their fault, but that they found peace in believing that these things happen for a reason.
Zara and Mike have always supported each other
If there's one thing we admire about Mike and Zara Tindall, it's the way they support each other no matter what. Shortly after they got married, media outlets asked them when they would be having kids, but they both decided to give each other a shot at realizing their dreams first. "Obviously it's the Olympics this year, the Europeans next year, the World Championships the year after for her," Mike said during the 2012 launch of his charity, Rugby For Heroes (via The Telegraph). He added that they were both respecting each other's goals and waiting to find a window where having kids would be possible.
Mike was also incredibly supportive of Zara shortly after he met her, The Telegraph reports. "He met me just after I'd found out my horse had injured himself, so I was quite low and vulnerable," Zara said. "[H]e understands the pressures, and vice versa, which obviously helps." Mike frequently supports Zara whenever she takes part in competitions as well and was present at one unfortunate event where she took a scary fall from her horse, per Entertainment Tonight.
Zara also once took a stand against her family when her mother, Princess Anne, asked Mike if he would get surgery to straighten his nose before their wedding. "[Zara] didn't tell me that I had to have it done, whatever you may have heard or read," Mike told the Daily Mail.
The couple likes to go out but loves spending time at home
Mike and Zara Tindall aren't all that different from the rest of us. When they're not busy conquering the world in their respective fields, they like spending time at home. "Saturday night, on the sofa with the dogs, watching 'X-Men.' That's pretty much what our life is like. Rock 'n' roll, baby," Mike told the Daily Mail in 2011, adding, "We keep ourselves to ourselves. We enjoy being on the quiet side now."
Now that they have kids, life is likely not as quiet as it once was, but the couple still loves spending time at home. During an interview with Country Living in 2016, Zara revealed that their eldest daughter, Mia, had already shown an interest in horses and occasionally joined her cousins riding Shetland ponies. She joked that Mike likely hoped Mia would take an interest in golf so he'd have an excuse to play more. "I love the quiet and isolation of where we live," Zara told the outlet, adding that she and Mike enjoyed walking the dogs, exploring the woods, and cooking together.
The holiday season is also a very special time for their family, and Zara told Country Living that they always spend it together. During the day, they'll enjoy some outside activities if the weather permits, and then go home to watch a movie in front of the fireplace.
Zara supports Mike's participation in I'm a Celebrity
We're well aware that Mike and Zara Tindall are each other's biggest cheerleaders, and when Mike became the first-ever member of the royal family to join "I'm a Celebrity … Get Me Out of Here!" he did so with his wife's approval. "She is fine, otherwise I wouldn't have done it, would I?" he told The Sun when asked how Zara felt about the whole affair. He also revealed in one of the episodes that Zara would be flying to Australia to cheer him on in person if he made it to the end of the show (via the Daily Mail).
Mike told his campmates that Zara told him to make the most of the time he had there. "Zara told me to go and be myself, which is all you can be," he revealed (via Cosmopolitan). Zara did, however, have some reservations, one of which was how loud Mike breathes when he's eating. "It's always a point that she brings up," Mike joked, adding that he really can't help it and that it's a result of having broken his nose a couple of times. Regardless of her worries about his loud breathing, Zara made it clear that she fully supports Mike. He revealed that the two of them have built their relationship around their crazy schedules for years, so they were not too worried about being apart during his time on the show.