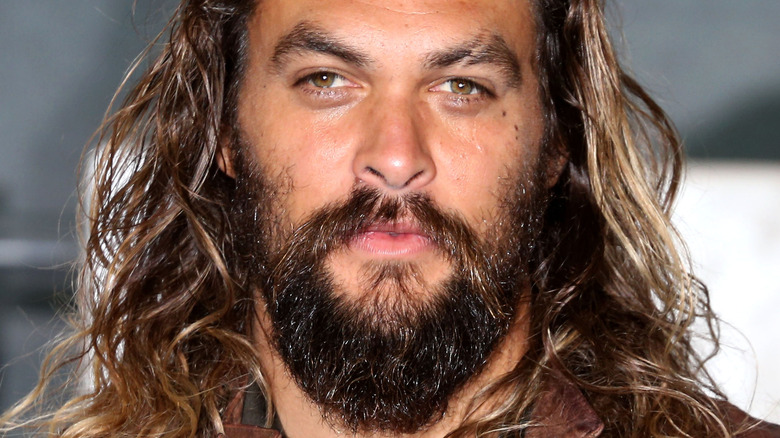 It's hard not to love Jason Momoa. Not only does the "Aquaman" star always give off warm and friendly vibes in interviews and through his social media, but he truly seems like a fun person to be around, one who hasn't been jaded by Hollywood. The Hawaii native has been in the spotlight for some time, though, making his debut in 1999 on "Baywatch Hawaii" at just 19 years old. While he managed to land other roles from there, like the TV series "Stargate Atlantis," it's safe to say that it was the hit series "Game of Thrones" and the film remake of "Conan the Barbarian" that launched him into fame. Since then, Momoa has become a household name, appearing in major blockbusters like "Aquaman" and "Dune."
Although Momoa comes across as big and tough on screen, he's often referred to by his costars as a "teddy bear." His "Game of Thrones" costar Emilia Clarke even gushed on the "Armchair Expert" podcast that on set, "He was so kind and considerate and cared about me as a human being."
When Momoa isn't charming people on and off-screen, he seems pretty low key in his personal life, revealing to E! in 2018 that he liked to spend his downtime, "Cuddling babies, kissing my wife … just being with my kids." However, in January 2022, Momoa made headlines for his shocking and sad split with his wife, actor Lisa Bonet. Because of Momoa's usual positive demeanor, fans may not know that the actor is no stranger to tragedies.
Jason Momoa lived far from his dad and home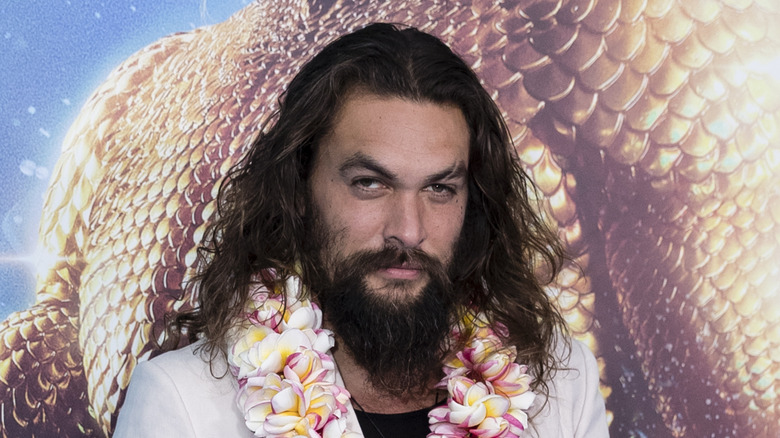 Jason Momoa was born in Hawaii but actually grew up in Iowa due to his parents' divorce. Momoa explained to Star Advertiser, "my mom made it over there [to Hawaii] in the '70s and met an amazing Hawaiian family and had me." Unfortunately, when it came to his parents' relationship, "that marriage never made it." Because of that, Momoa had to move with his mother back to her native Iowa, away from his father who remained there. His father, Joseph Momoa, dished that while he wanted to be with his son, "I explained to him when he got older that it's hard for a Hawaii boy to go up there on the mainland, you get so homesick."
It seems Momoa was homesick as well, even though he spent summers in Hawaii before returning for college. Joseph recalled, "I told him, you need to go and gain all this knowledge, and when you graduate you can come back here." It wasn't that Momoa didn't like Iowa, but he explained, "there's just not a lot of diversity … And with no diversity you definitely have a singular view of what the world is."
His mother also had a hard time making ends meet. Momoa revealed to EW, "My mom's a single mother, and she just couldn't afford a babysitter … she worked three jobs." Momoa is thankful for all her sacrifices, though, writing in an Instagram tribute to her, "God bless all the single mothers. You are truly superheroes."
The Dune star was bullied as a kid
While it's hard to imagine "Aquaman" being bullied, Jason Momoa admitted he was tormented as a kid and had a hard time fitting in. The "Frontier" actor told InStyle that he was harassed by bullies because he stood out as "the only mixed-race kid," in his school, explaining, "I'm definitely a product of two very opposite worlds." He continued, "I got beat up a lot. Just for being slightly different — it was gnarly."
Momoa revealed that the other kids also teased him for his artsy, skateboarder style. He recalled, "I wore Birkenstocks in middle school, and it was like, 'You are a freak!'" It probably didn't help that Momoa didn't have his famous bulging muscles yet, telling EW another reason he was picked on was because, "I was small." He pointed out, "I graduated when I was 16. So I was the youngest boy in my class."
While Momoa clarified, "I love Iowa, but I just didn't fit in," he believes, "If you're a Hawaiian kid in Iowa, you're kind of a fish out of water." Yet he apparently didn't have it any easier back in Hawaii, either. He dished, "I went back to Hawaii and I got ostracized there too," explaining to InStyle that he wasn't seen there as a local since he grew up on the mainland. Despite his difficult experiences in Iowa and Hawaii, Momoa claims, "I loved both, but just made my own path."
A violent assault led to reconstructive surgery
Jason Momoa's eyebrow scar may now just be seen as part of his ruggedly handsome look, but the actor actually got the disfigurement after a terrifying ordeal. According to NBC Los Angeles, in November 2008, Momoa was at the Bird Cafe in Hollywood when he was violently assaulted by another man during a bar fight. The "North Shore" actor recalled to Access Hollywood, "It was crazy. A guy smashed a pint glass in my face."
Momoa went on to explain that his facial injuries were so bad that he had to get reconstructive surgery: "I got a little over 140 stitches in my face." Now, because of that, he says one of his eyebrows "just doesn't grow there anymore." Yet, true to Momoa's style, he pointed out the bright side, saying, "It helped get those mean roles." He also dished to the New York Post he didn't mind how it impacted his image. He said, "I got called 'pretty boy' my whole life," adding, "If anything, it's like, 'Good.' It's not my thing now."
As for the other guy involved, Dominic Brando, he pleaded not guilty to assault with a deadly weapon and suffered injuries to his hand that required 15 stitches. His lawyer attempted to shift the blame, claiming (via NBC), "In every bar fight, there's a minimum of two or three explanations about the events, and this is no exception." However, Momoa himself believes the fight stemmed from a "gang initiation."
The actor was broke and starving after GOT
Jason Momoa struggled financially during and after his breakthrough role in "Game of Thrones." In May 2019, Momoa shared a particular moment on his Instagram when he was "too broke to fly home" on a break from filming the hit show. He recalled in the caption, "We rented a panel van aka UHAUL in Belfast and drove around beautiful amazing IRELAND" instead. Although Momoa put a positive spin on his troubles, writing, "It was the simplest moments I remember the most," things eventually got more dire.
Despite the show's success, Momoa was still in a lot of debt, struggling to pay bills and care for his family. He recalled to InStyle, "I mean, we were starving after 'Game of Thrones.'" He explained, "I couldn't get work … It's very challenging when you have babies and you're completely in debt." Momoa believes that playing the role that made him famous, Khal Drogo, had pigeonholed him into one kind of part. He dished to EW, "For a while afterward, a lot of people bagged on me. It hurt me a lot. People thought I didn't speak English … They didn't know I was playing a role."
Unfortunately, Momoa was all too familiar with not being able to work. He recalled to InStyle that after he wrapped his debut show "Baywatch Hawaii" in 2001, he moved to L.A. to continue to act, but "couldn't even get an agent for three or four years," proving that he definitely wasn't an overnight success.
Jason Momoa was seriously injured on set
Jason Momoa wasn't just seriously hurt in a bar fight; he's also sustained some pretty bad injuries on his movie sets. The father-of-two got pretty beaten up filming "Aquaman and the Lost Kingdom" specifically, revealing on "The Ellen DeGeneres Show" that "I messed up my eyes. I just got something in it that kinda cut it up, and then I've gotta get surgery." He clarified that despite his scratched cornea, he's still able to see. Yet that wasn't the only thing that happened to Momoa. He dished, "I have a hernia, I've got ribs out. I'm just getting beat up."
The film's director, James Wan, also pointed out another painful thing Momoa had to deal with during filming, telling USA Today about "the swimming rig we had to put him in." He explained, "It puts a lot of pressure around the crotch. So for someone like Momoa, who is more than 200 pounds, it's not the most pleasant experience."
The "Aquaman" sequel wasn't the first film that left Momoa with damage, either. He posted on Instagram about how his past injuries include a broken femur, as well as ankle, knee, and shoulder issues. He dished, "night shoots and me don't mix. OOOOF. i feel all those fights scenes when i was young and stupid." These days, Momoa blames his wounds on "getting old." He told Ellen, "I love my job and I get a little too excited … I'm an aging superhero right now."
The action star was body shamed online
As if being bullied as a kid wasn't bad enough, Jason Momoa was trolled online as an adult while just trying to enjoy a vacation in 2019. According to the "Today" show, paparazzi photos surfaced of the "Justice League" star shirtless by a pool, which led to some people taking to social media to fat shame Momoa. The trolls wrote things like, "been working on his dad belly" and "someone needs to start lifting again."
Of course his fans were not here for the body shaming and defended the actor, with one person tweeting, "If you're honestly trying to imply Jason Momoa has a Dad bod, then it's clear you don't know what a Dad bod is." Another wrote, "Apparently, the internet is body shaming Jason Momoa … saying he has a 'dad bod'. Hahahahaha! Go home, internet. You're drunk."
Momoa seemingly brushed off the criticism, even though it presumably had to be hurtful for someone who spends a lot of their time training and working hard to be an action star. Yet when asked if he was offended by the comments, Momoa claimed (via USA Today), "No, not at all," adding, "Tell TMZ I'll show you my dad bod soon." He also later joked about it on his Instagram, when he wrote a message on his bare chest during a protest in Hawaii. He included the hashtag "#dadbodisagreatbillboard" in the caption, once again trying to make the best out of an unfair situation.
He was devastated over the death of a fan
Jason Momoa may be beloved by millions, but there was one young "Aquaman" fan who especially touched the actor's heart, named Danny Sheehan. According to People, the 8-year-old went viral in November 2020 for his overjoyed reaction to receiving an "Aquaman" action figure. Sheehan had been fighting brain cancer at the time, so once Momoa got wind of the video, he reached out to Sheehan personally on FaceTime. Momoa posted videos of their chat on his Instagram, writing in the caption, "I just wanted to say thank you to the community … for reaching out and showing me this beautiful boy Danny who is going through chemo." The actor included a link to Sheehan's Go Fund Me page and later sent him more "Aquaman" merchandise.
It's clear Momoa had a special bond with Sheehan, which is why he was obviously devastated over his death the following year. Momoa took to his Instagram to pay Sheehan tribute, sharing a photo of a mural of them dressed as "Aquaman." He expressed his sadness in the caption, writing, " just found out this heartbreaking news … Love u baby boy rest in piece You will live in my heart I dedicate aquaman 2 to you lil angel."
E! reports that Momoa also posted a TikTok for Sheehan to his Instagram story, which read, "All I can say is what a privilege it is to be your friend … You are as bright as the sun. I'll always be awestruck by you."
Jason Momoa split from his dream girl
Although Jason Momoa got to marry his childhood crush, "Cosby Show" star Lisa Bonet in 2017, the two sadly didn't last. The "Road to Paloma" actor took to his Instagram to announce in January 2022 that they were "parting ways in marriage," seemingly blaming changes brought on by the COVID-19 pandemic. They wrote, "We have all felt the squeeze and changes of these transformational times … our family is of no exception" (via Vanity Fair).
Momoa is presumably heartbroken that they couldn't make it work since he has previously spoken about Bonet being his "dream girl" and that he'd been in love with her since he saw her on TV as a kid. He even joked to James Corden that he was her "full-fledged stalker," adding "I'd just always wanted to meet her. She was a queen." When the two did meet in 2005, Momoa said he felt "fireworks going off inside," and from there, they were together for 16 years. While neither revealed what went wrong, they wrote that they now "free each other."
Momoa has apparently been through a difficult breakup before, with his ex-fiancée Simmone MacKinnon, whom he had dated for seven years. He was rumored to have called off their engagement after meeting Bonet, with MacKinnon later admitting (via Mama Mia) that Momoa moving on so fast was " a shock and … upsetting." Yet, it appears that despite what tragedies may come Momoa's way, he seems to always get through it with his positive attitude.