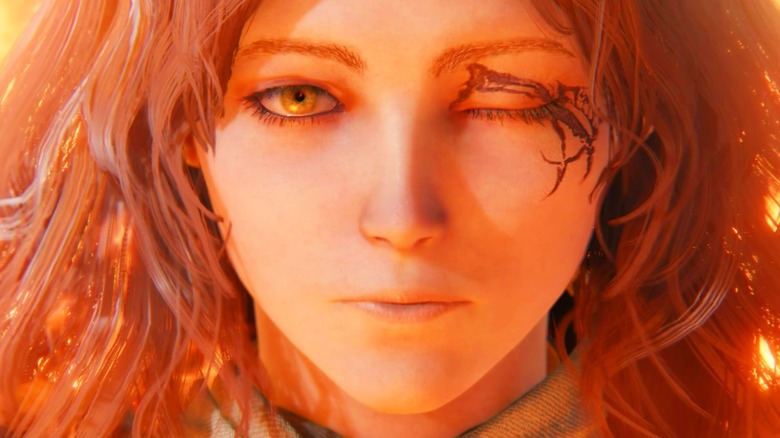 One of the biggest video games of 2022 is "Elden Ring," the latest title from acclaimed developer FromSoftware who have crafted an entire line of fantasy games renowned for high difficulty, intense combat, and gorgeously detailed environments. Games following these sensibilities have been grouped under the soulslike genre, with a growing number of outside developers and established franchises echoing some of these gameplay aesthetics. Rewarding players for thoroughly exploring their environments and precisely timed combat moves, the soulslike genre has definitely broken into the gaming mainstream, embraced by critics and fans alike.
For those looking for a soulslike experience after enduring the awesome triumphs and staggering defeats of "Elden Ring," there are a number of games players should check out next. From other FromSoftware titles to fan-favorite franchises from Nintendo and Sony — many of which made the jump to the soulslike genre — there are plenty of other games to satisfy that high-difficulty hack-and-slash itch.
Ninja Gaiden 3: Razor's Edge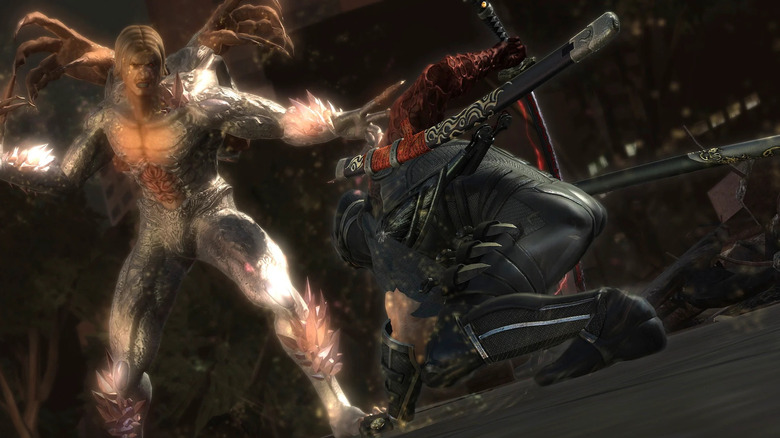 The "Ninja Gaiden" franchise has been renowned for its high difficulty since its original installments on the Nintendo Entertainment System and that has not subsided over time. After being revived on the original Xbox in 2004, "Ninja Gaiden" jumped to modern consoles with 3D gameplay and an escalation in hack-and-slash action, demanding a strong attention to defensive timing. The latest installment of the franchise's 3D revival is "Ninja Gaiden 3: Razor's Edge," initially released in 2012 before being updated and included with the "Ninja Gaiden: Master Collection" in 2021.
The series follows the adventures of master ninja Ryu Hayabusa as he embarks on a globe-trotting mission after a terrorist organization unleashes mythical monsters all over the planet. Like "Elden Ring," "Ninja Gaiden" rewards precise timing with attacks and defensive maneuvers to build combos as Ryu cuts through hordes of enemies. IGN Portugal's review of "Master Collection" praised the updates to "Razor's Edge" while retaining the franchise's signature frenetic action.
Bloodborne
While FromSoftware has largely leaned into the medieval side of dark fantasy in crafting its hack-and-slash epics, the developer went darker and more horror-driven for its 2015 title "Bloodborne." The PlayStation 4 game weaves in Lovecraftian themes and tropes while rendering a gorgeously atmospheric Victorian-esque world, complete with gothic architecture and character designs for its decaying world of Yharnam. As the player character arrives in Yharnam to cure their deadly blood disease, they find the ancient city has become corrupted and its populace turned into ravenous monsters, forcing players to fend for themselves.
"Bloodborne" laid much of the gameplay foundation for "Elden Ring" while creating an immersive world and aesthetic that stands as one of the most beautifully realized by FromSoftware. Perhaps the most accessible FromSoftware title in terms of difficulty level, GamesRadar+'s review of "Bloodborne" complimented the game's weapon system and richly detailed environments. A masterpiece of the hack-and-slash soulslike genre, "Bloodborne" effectively leans into its horror trappings for the ultimate adventure.
The Witcher 3: Wild Hunt
Every video game based on author Andrzej Sapkowski's "Witcher" fantasy novels revamps its gameplay system, and 2015's "The Witcher 3: Wild Hunt" is no different, especially with its combat system. With the grizzled monster hunter Geralt of Rivia back, "Wild Hunt" has the Witcher take on a large bestiary around the dark fantasy world while searching for his adopted daughter Ciri. Placing a greater emphasis on combat and exploration, including an evasion gameplay mechanic absolutely vital for survival, "Wild Hunt" provides an immersive experience with a multitude of quests to undertake.
Destructoid's review of the game noted that "Wild Hunt" was more hack-and-slash oriented with its combat system than its predecessors, with parrying and countering deepening the gameplay. Like "Elden Ring," "Wild Hunt" has players rely heavily on magic in the midst of combat while staying on guard against formidable foes that can kill them immediately on higher difficulties. With a sweeping continent to explore and full of quests to accomplish, "Wild Hunt" has an impressive scope and scale for players to get lost in while saving the day as Geralt.
Dark Souls 3
FromSoftware teamed up with publisher Bandai Namco Entertainment for the "Dark Souls" trilogy, a set of games that doubled down on the dark fantasy combat it previously explored with "Demon's Souls." The 2016 final installment of this trilogy serves as the culmination of this partnership, with fine-tuned combat mechanics and a stronger focus on exploration than its predecessors. "Dark Souls 3" prominently incorporates magical abilities into its gameplay, a nod to "Demon's Souls," and a feature that would resurface in "Elden Ring."
In an interview with VG24/7, director Hidetaka Miyazaki explained "Dark Souls 3" intentionally left its narrative vague and focused on the balance of difficulty and level design as ways to keep players riveted. The Guardian's review of the game complimented "Dark Souls 3" on providing a more well-rounded experience than its predecessors while the game boasts the highest fan score of the trilogy on Metacritic. A solid conclusion to the trilogy, "Dark Souls 3" closes the franchise on a strong note while laying the foundation for FromSoftware's incredibly successful future.
The Legend of Zelda: Breath of the Wild
The "Legend of Zelda" franchise changed up its gameplay drastically with the 2017 installment "Breath of the Wild" for the Wii U and Nintendo Switch. Opting for a completely open-world experience, the game saw Link explore a sweeping vision of the fantasy realm of Hyrule to defeat the monstrous Calamity Ganon. Presenting a greater emphasis on exploration and more challenging combat, "Breath of the Wild" revolutionizes what a "Legend of Zelda" game can be.
With tricky boss fights, including enemies that can defeat Link in a single hit, and gameplay mechanics involving weapon degradation and crafting, the similarities between "Breath of the Wild" and "Elden Ring" are clear. Review aggregate site Metacritic named "Breath of the Wild" the best game of 2017, with critics hailing the game as an instant masterpiece. With the high level of technical detail and precision in its combat system and high fantasy setting, "Breath of the Wild" is the perfect family-friendly alternative to "Elden Ring."
Monster Hunter: World
Capcom's long-running "Monster Hunter" franchise is a bonafide global phenomenon, with 2018's "Monster Hunter: World" currently the fastest-selling game in the franchise's history (per IGN). While previous "Monster Hunter" installments divided its environment into detached regions, "World" is the first in the franchise to embrace an open-world approach, with its regions interconnected. As players explore the fantasy world of Astera, they rely on a variety of weapons and strategies to defeat hulking creatures roaming in the wild.
Similar to "Elden Ring," "Monster Hunter: World" features a combat system that has players dodge incoming enemy attacks and strike, with evasion and attacks costing stamina. Battling truly formidable foes, players are sent back to their base camp upon their defeat, with several monsters incredibly difficult to take down. Players then harvest parts from fallen monsters to sell, upgrade, or craft equipment, not unlike the looting and crafting system from "Elden Ring," while retaining the "Monster Hunter" franchise's flair. A triumph, "Monster Hunter: World" is like a series of "Elden Ring" boss fights, each more thrilling than the last.
God of War (2018)
For the eighth installment in the "God of War" series, developer Santa Monica Studio decided to rethink what was possible for the franchise, both with setting and gameplay. The 2018 game relocated protagonist Kratos from Ancient Greece to Scandinavia where he took on the Norse Pantheon with his young son Atreus. In a press conference, creative director Cory Barlog explained the team wanted to rebuild "God of War" from the ground up, from its new setting to moving away from the fixed camera angle from previous games (per GameSpot).
While it's not an open-world game, the developers of "God of War" revealed that they were inspired by the way "Bloodborne" approached level design, looking to give paths within the levels a sense of purpose and reward (via Rolling Stone). Though past "God of War" games had Kratos rely on the Blades of Chaos, the developers gave him a battle ax for the revival, feeling the weapon change made for more grounded combat (via Polygon). These changes to the franchise connected with critics and fans alike, with GamesRadar+'s review praising the 2018 "God of War" for bringing brutal combat and an immersive scope, redefining and reinvigorating the franchise.
Assassin's Creed Odyssey
After exploring the early days of the Assassin Brotherhood and their eternal conflict against the Templar Order with 2017's "Assassin's Creed Origins," the popular Ubisoft franchise shifted to Ancient Greece for 2018's "Assassin's Creed Odyssey." Set in the midst of the Peloponnesian War between Athens and Sparta, the story follows a Spartan mercenary dismantling the insidious Cult of Kosmos. Featuring a more refined combat system and greater emphasis on open-world exploration, "Odyssey" breathed new life into the venerable action-adventure franchise.
In an interview with GameSpot, director Scott Phillips cited "The Witcher 3" among the influences behind "Odyssey" to offer players more freedom in gameplay and the narrative than prior installments. In an interview with IGN, creative director Jonathan Dumont explained the developers wanted to "Odyssey" a greater sense of challenge and consequence with its powerful enemies to keep them engaged. This resulted in "Odyssey" bringing the "Assassin's Creed" franchise to match its contemporaries, with Game Informer's review complimenting it for the more intense hack-and-slash action in contrast to past games.
Sekiro: Shadows Die Twice
After creating a number of games inspired by European fantasy, FromSoftware turned its attention to Japanese folklore and design aesthetics with its 2019 title "Sekiro: Shadows Die Twice." Set in a vision of feudal Japan, the ninja warrior Wolf targets the samurai clan that kidnapped his master Kuro, battling through waves of human enemies and monsters. In contrast to FromSoftware's preceding titles, "Sekiro" opts for a more focused gameplay experience, eschewing character creation and conventional RPG elements while retaining the challenging combat system.
Befitting Wolf's background as a ninja, "Sekiro" includes more stealth gameplay sections, encouraging players to approach and strike enemies undetected for instant kills and higher damage. One of the more innovative mechanics in "Sekiro" is the ability to strike down enemies with a single blow after whittling down their health sufficiently, increasing the emphasis on precision timing and player engagement. PC Gamer's review of "Sekiro" praised the importance of timing and its counter system as a rewarding twist on the soulslike genre. With its immersive and imaginative environment along with its heightened combat elements, "Sekiro" is perfect for anyone looking for the ultimate experience in gameplay precision within the genre.
Star Wars Jedi: Fallen Order
The "Star Wars" galaxy revealed its tougher, meaner side in the 2019 video game "Star Wars Jedi: Fallen Order," noticeably more challenging than many preceding "Star Wars" titles. Set five years after the events of "Revenge of the Sith," the game has Jedi Padawan Cal Kestis on the run from Sith Inquisitors as he attempts to rebuild the Jedi Order. As Cal learns more about the history of the Jedi and the Sith, he gains new abilities through the Force and mastery in wielding his signature lightsaber.
In an interview with IGN, "Fallen Order" director Stig Asmussen cited "Bloodborne" and "Dark Souls" as being an influence for the combat gameplay, striking a balance between punishing difficulty and accessibility. GameSpot's review of "Fallen Order" observed the game was less difficult than SoftWare titles though challenging enough to stay engaged with defensive timing and stamina usage. An incredible success for publisher Electronic Arts and a hit with fans of the iconic franchise, "Fallen Order" received over 20 million players across its platforms within two years of its launch (per GamesRadar+).
Nioh 2
After successfully launching the action RPG "Nioh" franchise in 2017, developer Team Ninja upped the ante with its 2020 direct sequel "Nioh 2" for the PlayStation 4. Set in 16th-century Japan, the game has a group of warriors band together to stop supernatural creatures from sweeping across the feudal nation. Along the way, players can use recovered souls to upgrade their gear and temporarily enlist spirits to assist them, not unlike using a Spirit Calling Bell in "Elden Ring."
Like many FromSoftware titles, "Nioh 2" was widely recognized for its high difficulty level, with reviews from both IGN and GameSpot crediting it as part of the game's charm. Facing waves of intimidating enemies, players adapt and hone their skills while gaining new abilities over the course of the game, though the combat is quick to punish mistakes. With precise, fast-paced combat and merciless enemies on all sides, "Nioh 2" is a triumph in the soulslike genre, and was remastered for the PS5 and PC in 2021 as the definitive version of the game.
Demon's Souls (2020)
The game that helped kickstart the soulslike genre and FromSoftware's success in the industry is 2009's "Demon's Souls," originally released as a PlayStation 3 exclusive. To commemorate the game's tremendous influence and introduce it to a new audience as the genre continues to grow, Sony commissioned Bluepoint Games to remake "Demon's Souls" for the PlayStation 5 in 2020. This enhanced remake retains the visual aesthetic and notorious difficulty level from the original game while significantly updating the technical presentation and adding more modern gameplay features.
IGN's review of the "Demon's Souls" remake praised it as improving upon the original while maintaining everything that made its predecessor such an influential success. Like FromSoftware's subsequent titles, "Demon's Souls" has players dodge and strike at incredibly lethal enemies, using a variety of weapons to steadily clear out dungeons as they explore the medieval fantasy world. To witness where the enter soulslike genre was born and the sweeping foundations of "Elden Ring," the "Demon's Souls" remake is a must-play for any fan of the genre.
Stranger of Paradise: Final Fantasy Origin
The original 1987 "Final Fantasy" saw a complete reimagining with the 2022 title "Stranger of Paradise: Final Fantasy Origin" for modern consoles. The game follows a taciturn warrior named Jack, obsessed with destroying the villainous Chaos, teaming up with his friends Ash and Jed to root out the spreading darkness caused by this powerful enemy. Along the way, Jack learns more about the Kingdom of Cornelia's mythology and his own destiny involving the mythical Warriors of Light.
Eschewing the franchise's typical turn- based combat for a real-time combat system, "Stranger of Paradise" has players explore ancient ruins and other medieval settings that feel "Elden Ring" adjacent. Though the combat is far easier than a FromSoftware title, "Stranger of Paradise" offers plenty of replay value, with a staggering number of side quests and customization options for weapons and outfits. Destructoid's review of the game praised the game embracing the weird potential of what a "Final Fantasy" game can be, while leaning into the aesthetic popularized by games like "Nioh" and its contemporaries.
Horizon: Forbidden West
As the direct sequel to 2017's "Horizon Zero Dawn," 2022's "Horizon: Forbidden West" continues the story of Aloy as she navigates a post-apocalyptic vision of North America overrun by deadly robots. Aloy leads her friends deep into the ruins of the western United States while trying to search for the cause of a deadly contagion sweeping across the continent. With its expansive open world and deadly enemies that require strategy and patience to effectively take down, "Horizon" presents a fun challenge that actively rewards the refinement of skill.
Aloy primarily uses projectile weapons, including her trusty bow and arrow, putting an added emphasis on precision as she sneaks around monstrous enemies waiting for the perfect shot. Wired's review of "Forbidden West" praised the game's open-world scope with challenging, yet more forgiving difficulty in relation to contemporaries like "The Witcher 3." While a bit faster-paced than many soulslike games, "Forbidden West's" keen eye for immersive exploration, focused combat, and powerful monsters makes the comparison clear.