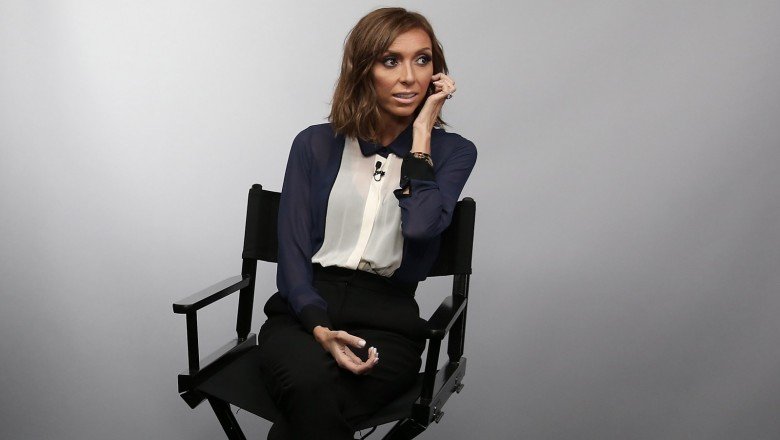 For well over a decade, Giuliana Rancic was everywhere to be seen on E!. From hosting red carpets to E! News, she was one of the network's top faces, but nowadays, you don't see or hear much from this celebrity correspondent. What happened to Giuliana Rancic? Here are a few clues.
Giuliana Rancic sparked a scandal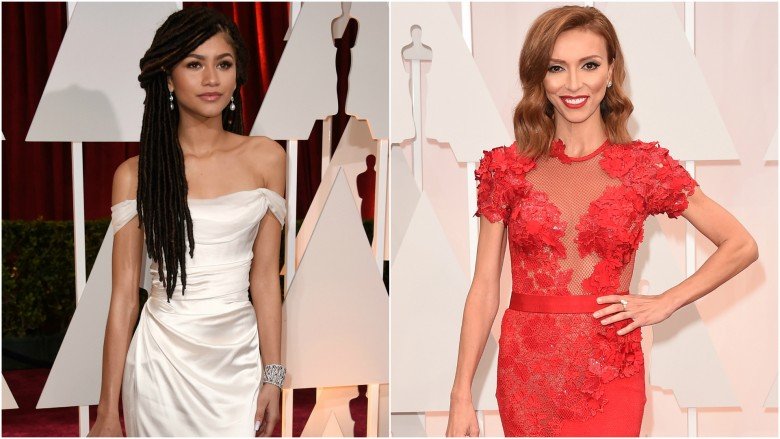 Giuliana Rancic found herself at the center of an intense media scandal after her appearance on Fashion Police's recap of the 2015 Academy Awards. During the show, she quipped that model-actress Zendaya must have smelled like "patchouli oil" or "weed" because she wore dreadlocks. Some of the biggest backlash came from Zendaya herself, who released a blistering statement to her Instagram shortly after the episode aired. "To say that an 18-year-old young woman with locs must smell of patchouli oil or 'weed' is not only a large stereotype but outrageously offensive," Zendaya wrote, without mentioning Rancic by name. "I don't usually feel the need to respond to negative things but certain remarks cannot go unchecked."
As the scandal continued to balloon, Rancic apologized for making the joke—first on Twitter, then again on E! News. "I just want everyone to know that I didn't intend to hurt anybody, but I have learned it is not my intent that matters—it's the result," she said. "And the result is that people are offended, including Zendaya, and that is not OK. Therefore, I want to say to Zendaya and anyone else out that I have hurt that I am so, so sincerely sorry." She continued, "This really has been a learning experience for me—I've learned a lot today—and this incident has taught me to be a lot more aware of cliches and stereotypes, how much damage they can do. And that I am responsible, as we all are, to not perpetuate them further." Zendaya accepted her apology.
Kelly Osbourne tore Giuliana Rancic to shreds
While this was all going down, the producers of Fashion Police found themselves dealing with another crisis when Giuliana Rancic's co-host, Kelly Osbourne, threatened to quit the show over Rancic's comments about Zendaya. "I do not condone racism," Osbourne tweeted. "So as a [result] of this I'm [seriously questioning] staying on the show!" She followed those remarks with a separate tweet, adding, "I'm giving everyone involved 24 hours to make it right or the world will hear how I really feel. Contactually [sic] Im [sic] not allowed to speak!"
Osbourne's departure from the show was announced a few days later in a statement from E!, which said she was leaving to "pursue other opportunities," but even Osbourne's exit did little to quiet the conflict, as evident by an August 2015 interview Osbourne gave to The Wrap. "I will never admit to liking Giuliana because I don't," she said. "I don't think she's a good person and I think she's a liar." Yikes.
Kathy Griffin dissed Giuliana Rancic
Giuliana Rancic's terrible, no good, very bad year got even worse a few weeks after Osbourne's departure when Fashion Police host Kathy Griffin—who had stepped in to host following the death of Joan Rivers—openly criticized Rancic's joke about Zendaya in an interview with the Chicago Sun-Times. "I wouldn't have said the joke in the first place," Griffin said. "Some dude wrote it for her." Continuing to offer her perspective, she added, "Don't have anyone write you jokes or even suggest jokes for you on Fashion Police. You have enough great insider gossip from actually being on the red carpet. That's what fans want to hear the next day. Just talk and be yourself." To make matters even worse, E! subsequently announced that Fashion Police would be put on hold until a retooled version could be launched.
Giuliana Rancic tried to play defense
Weeks after Griffin's departure, Giuliana Rancic appeared on the Today show to promote her new memoir, Going Off Script, but even then, she couldn't escape questions about the Zendaya controversy. This time around, Rancic appeared a bit more defensive about her involvement in the scandal, going so far as to allege that the joke had gotten taken out of context in the editing room. She also claimed that, of the 80 or so people at the taping that day, "not one" of them made any comment that suggested the joke might be offensive.
"I see why people took offense," Giuliana Rancic said, adding she finds racism "reprehensible" and does not tolerate it." "I thought that the joke was not edited in the proper way, and that's just something I have to live with. It's very important for me to just get out there and tell the real story, and I knew I would have my moment. But those darn headlines were so crazy for so long that I thought, 'Let everything calm down, and then I can come out and tell the real story.'" By then, the damage to Fashion Police had clearly been done.
Giuliana Rancic left E! News under a cloud
On July 9, 2015, Giuliana Rancic announced she was leaving E! News as a day-to-day anchor but would continue to co-host the network's red carpet coverage and, curiously enough, Fashion Police. Almost immediately after the news broke, a report from Page Six alleged Rancic was leaving because E! had hired her "archrival" Maria Menounos. "Giuliana knows it's a sinking ship and she's had an awful year," a source said. "It's half her decision to leave and half getting pushed out."
Rancic denied the claims, telling People it was "100 percent my decision to leave." A few months later, Menounos also denied she was pushing Rancic out in an interview with Redbook magazine. "When I was being sought after by E!, I made it very clear to them that I didn't want to be coming over to take somebody's job," she said. "And I was assured that wasn't the case."
Giuliana Rancic struggled with cancer and infertility
Even when you remove the Zendaya scandal, the past few years have been rough for Giuliana Rancic. In 2011, she was diagnosed with breast cancer and underwent a double mastectomy. Then, on New Year's Eve in 2014, Rancic—who welcomed son Duke in 2012 after years of infertility struggles—found out she had miscarried after becoming pregnant with her and husband Bill Rancic's third and final embryo. "It was painful," she told People in April 2015. "We were so optimistic with this last embryo…It was a really hard time."
To make matters worse, many had become concerned about Giuliana Rancic's weight, wondering if the cancer had returned or she if she had an eating disorder. Amid the rumors, Giuliana confirmed to People that her weight loss was the result of cancer-suppressing medication.
Giuliana Rancic pursued other opportunities
Although you may see less of her on E!, Giuliana Rancic certainly hasn't slowed down in her professional life. She's launched a successful clothing line for the Home Shopping Network, a brand of wine, and an initiative to help women battling breast cancer. Her business endeavors and charitable ventures appear to have helped suppress the shadow caused by the Zendaya debacle. When asked whether her uptick in appearances on HSN was a "breath of fresh air" after hosting E! News for more than a decade, her husband, Bill Rancic, bluntly told the New York Daily News: "From your mouth to God's ears!" In other words, don't expect to see Giuliana resuming her old roles in Tinseltown anytime soon.
Giuliana Rancic moved to Chicago
Giuliana Rancic has been splitting her time between Chicago and Los Angeles ever since meeting her husband, who originally hails from The Windy City. But in August 2015, amid the aforementioned Fashion Police and E! News drama, she left California to become a full-time Midwesterner, moving into the couple's newly renovated Chicago home, which is located in the city's swanky Gold Coast neighborhood.
Citing the desire for a more normal schedule for her then-2-year-old son, Duke, Giuliana told People, "He starts school at the end of summer and we want him to have a connection with schoolmates and not be going from city to city." Of course, fleeing the incessant tabloid coverage of her tumultuous year seemed to be a nice bonus that came along with the move, although to hear Giuliana tell it, career considerations didn't have much to do with it.
"I won't be in LA on set as much," she also told People, seemingly referencing her then-yet-to-be-announced departure from E! News. "But there's a lot of work in New York and Chicago too. I don't have to pick one or the other." Unfortunately for Giuliana, those other possible opportunities have yet to bear fruit, and with the October 2017 cancellation of Fashion Police, the only time anyone has seen her on TV has been for awards show coverage, which only happens a few times a year. And even that hasn't been going so well…
Giuliana Rancic's return to the red carpet hasn't been so glamorous
Thanks to wide participation of the Time's Up protest — in which nearly everyone in attendance at The 75th Golden Globes wore black to signify solidarity with survivors of workplace inequality, sexual harassment and assault — the evening became more about activism than it was a celebration of Hollywood's biggest stars. One of the more outspoken celebrity activists in attendance was Debra Messing, who used the opportunity to take the E! network to task over the controversy surrounding former E! News host Catt Sadler's decision to resign after she discovered her male co-host was making "close to double [her] salary for the past several years."
So, what's this got to do with Giuliana Rancic, you ask? She was the one interviewing Messing on the red carpet — on behalf of E! News. Awkward! Giuliana pivoted away from specifically addressing Sadler's situation, then later vaguely addressed the whole thing like this (via TV Line): "I want all of you at home to know, of course, there will still be all the fun and excitement moments you've come to expect from the E! red carpet, but we also want to embrace this moment and allow these celebrities who have a big voice … to speak on behalf of millions who don't. I'm truly looking forward to some great conversations."
While Giuliana handled the situation as best she could, Messing undoubtedly placed her in an impossible situation — either support Saddler and the protest and throw the employer of her last remaining TV gig under the bus, or stick up for her network and look like a sell-out. Giuliana Rancic attempted to walk the line between both, and we're just not sure she succeeded.