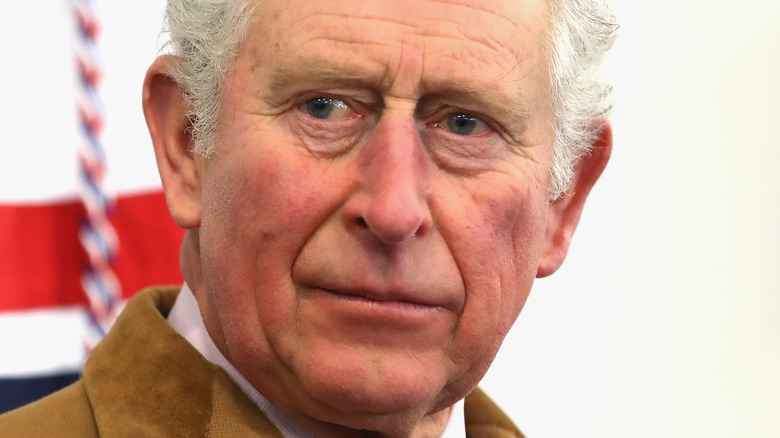 We may receive a commission on purchases made from links.
Prince Charles immediately became King Charles III upon the death of his mother, Queen Elizabeth, on September 8, 2022, and he accepted the role in stride, despite rumors that he may give up the throne to allow his son Prince William to become king. Indeed, Charles jumped right in and embraced his duties wholeheartedly, starting with a heartfelt statement about the queen's death. Unfortunately, a number of viral moments tarnished his first few weeks on the job and caused folks to wonder if he really is fit to rule. For one, his temper sparked concern, as did his visible over-the-top frustration. What's more, some light-hearted blunders (like Charles struggling to find the entrance to Buckingham Palace) left folks laughing at the royal.
Even so, despite the critics and detractors, King Charles still has plenty of support, including from a long list of celebrities. As you'll soon discover, England's new king has a knack for impressing A-listers, and many folks have seen a different side to him that's likely to surprise you. Here's what celebrities who have met King Charles really think of him.
Rod Stewart is BFFs with King Charles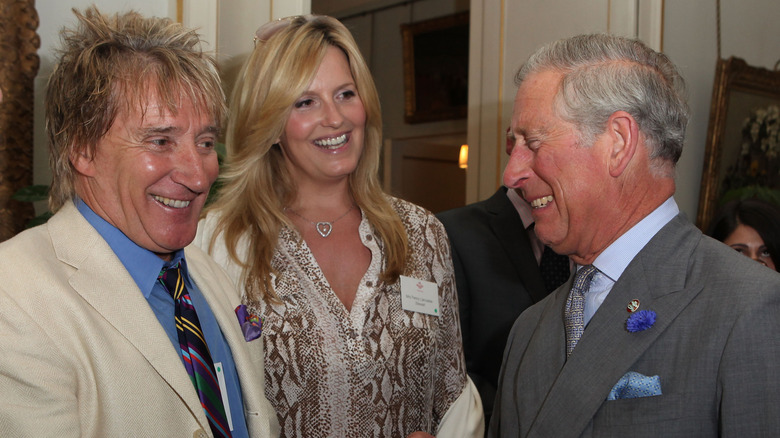 Rod Stewart is no stranger to hanging with royalty, and, over the decades, he's built quite a special friendship with King Charles. Case in point: the British rocker was asked to headline Charles' 60th birthday party in 2008, per NBC News. He's also been a longtime ambassador for the Prince's Trust, and in June 2022, he was invited to play at the queen's Platinum Jubilee concert (although it almost didn't happen after he lost his voice, per Metro UK). While promoting his Jubilee performance, the singer told "BBC Breakfast" just how tight he is with Britain's royals (via Mirror), saying, "[Her Majesty] has been so much a part of my life she's almost like a sister." As for Charles, he's more like a BFF. "I love him, and my wife absolutely adores him," he shared, quipping, "I think they've got a thing going on!"
The praise continued after Charles' coronation, as Stewart told Scottish Daily Express he thinks his friend will make a great king. "He's had a long apprenticeship and I don't think William should take over just yet," he told the outlet, adding that he wants Charles to take it all in and really enjoy it. "This is what he's lived for, this is what he's trained for and he's going to be very good at it," he mused.
Drew Barrymore's royal encounter was … memorable
Drew Barrymore had her first royal encounter when she was just 7 years old, and she had the chance to meet Princess Diana and present her with an E.T. doll. As she told Jimmy Kimmel in 2018, she'll never forget the encounter and how gracious Diana was. "It was the most exciting moment for me to meet a real-life princess," she recalled. But there's another royal moment she'll never forget, although for very different reasons. As she shared on "The Drew Barrymore Show" in September 2022, per Hello!, her 2000 meeting with King Charles saw her make quite the gaffe.
As Barrymore recalled, she was in London to promote "Charlie's Angels" and was invited to dinner. While there, she and co-star Lucy Liu posed with Charles and, while attempting to hug the royal, Barrymore accidentally touched Liu's breast. The moment was immortalized in a photo, but Barrymore had a good laugh about it and still remembers the night fondly. Recalling the dinner, she told her show's audience, "It was so fun! A lot of mayhem ensued." As for the photo itself, she said it proves just how fun it was to hang with the king. "There's other pictures of him laughing hysterically, he's so funny," she shared.
Hillary Clinton is a big fan of King Charles' humor
Hillary Clinton has a long-running relationship with the royals and has enjoyed a good rapport with three generations of the family, starting with the queen. In September 2022, the former secretary of state praised the late monarch for being resilient and "gutsy," per CTV News. Over the years, she's also had climate talks with Prince William (per MailOnline), co-hosted a gala with the prince and Princess Catherine (per Hello!), and reportedly paid a secret visit to Meghan Markle and baby Archie (per Insider). However, her closest bond was with Princess Diana. In 1997, she even received a special invite to the late princess' funeral which read, per the Washington Post, "It is the wish of the Spencer family and of the Royal family that Mrs. Hillary Rodham Clinton should receive a special invitation because of her close personal association with Diana."
As for King Charles, Hillary and Bill Clinton first met the royal in 1995 at the funeral of Israeli Prime Minister Yitzhak Rabin, per USA Today. In 2022, she told "The Drew Barrymore Show" she was a fan (via Hello!). "I like him," she enthused. "He is fun, and funny, and yet at the same time serious about a lot of important things, like climate change and the environment."
Sir Ben Kingsley thinks King Charles is 'unique'
Sir Ben Kingsley may best be known for his work as an actor, but he's equally passionate about a project off-screen: the Prince's Trust. In fact, he's been an ambassador for the trust for over 20 years. According to its website, the Prince's Trust was founded in 1976 by King Charles after he left the Royal Navy and decided to use his severance pay to give back to those in need. Focusing on those between 9 and 30 years old, the trust provides resources and education to help disadvantaged youth enter the workforce, and it had reportedly helped over 1 million people by 2020.
Other famous ambassadors include Benedict Cumberbatch and Helen Mirren, but it was Kingsley who gushed about the charity and its founder during its 40th anniversary celebration in 2016. Praising the king's initiative, he told guests, per MailOnline, "It's not throwing money at the problem, it's throwing intelligence and care and affection, and I think at the center of it is HRH's profound affection for what he does and the people for whom he does it." Sharing how great it was to meet some of the trust's recipients at the party, Kingsley concluded by praising the king's devotion to helping others. "I think he's a very unique combination of enormous compassion, without ego — it's a very rare combination," he enthused.
King Charles really touched Richard E. Grant's heart
Actor Richard E. Grant, whom you may recognize from hits like "Downton Abbey" and "Gosford Park," had a heartbreaking 2021, as his wife, Joan Washington, died of lung cancer that September. As he tweeted, the loss rocked him at his core. "Grief hits us like tsunamis as we try and put one foot in front of the other without her," he wrote. However, he made sure to thank fans for all of the love and support they were giving him and noted how the sheer volume had overwhelmed him.
Among those offering their condolences was one surprising person: King Charles. As the actor later revealed, Charles and Camilla actually visited him and his wife after learning of her diagnosis. Recalling the encounter, he tweeted, "[I] will never forget the kindness of the King, who visited my wife in her final weeks — empathetic, philosophical, compassionate and kind." He also wrote about their meeting in his memoir, "A Pocketful of Happiness," per The Mail on Sunday, in which he dubbed Charles the most gracious guest who spoke with Washington non-stop for half an hour. "Instantly at ease, and complimentary about our cottage and garden, he hugs and kisses Joan, then sits beside her on the sofa in the pergola," he wrote. What's more, Grant shared how Charles sent Washington a "two-page, handwritten letter, full of love, compassion, empathy and encouragement," and arrived at their home with a bag of mangos and roses from his garden.
Miriam Margolyes is pen pals with King Charles
British actor Miriam Margolyes may best be known to American audiences for playing Professor Sprout in the Harry Potter movies but King Charles is a fan of her more serious work. Back in 1998, she recorded an audiobook version of Charles Dickens' "Oliver Twist," and the then-prince liked it so much that he wrote her what, she told Metro UK, could only be described as a "fan letter." She was then invited to meet him at Sandringham Palace at a dinner party, and, as she told This Morning, he immediately showed off his humorous side with a memorable exchange over a … chair. "In the lobby, there is this curious sort of leather thing that wobbles," she recalled. "Prince Charles took me over and he said, 'I'd like you to just sit in there to see what you think about it,' and so I sat in it."
Turns out, the chair was used by King Edward VII to weigh guests before and after dinner and, if they hadn't gained weight, he thought he had failed. Clarifying that Charles didn't actually weigh her, she added, "He is a very sweet, good man, and I hate it when people say horrible things and try and denigrate any of the royal family." Indeed, she told the Mirror that, after that first letter, she and Charles never stopped writing to one another. "I absolutely love Prince Charles and Camilla," she gushed. "He does a huge amount people don't know about."
Alan Titchmarsh shares a mutual fondness and respect with Charles
Alan Titchmarsh has made a name for himself as a star gardener with his own successful show, "Love Your Garden," which has been running since 2011, and a slew of gardening books. He also has a long-running royal connection and had spent considerable time with the late queen, per The Telegraph, as well as King Charles. In fact, as he revealed in October 2022, per Hello!, he was actually with Charles the night before the queen's death as they dined at Dumfries House. While promoting his new book, "The Gardener's Almanac: A Treasury of Wisdom and Inspiration Through the Year," Titchmarsh briefly touched on his relationship with the king, telling the outlet, "I think the King and I have a mutual fondness and respect."
Titchmarsh was also asked about his decades-long friendship with Charles by The Times and admitted he won't be mad if he doesn't see the king for a while. "I have no assumptions our friendship will continue — he's king now, he'll be very busy," he said, but underscored, "I believe our feelings for each other will continue." He then went on to praise the king as a good person and hard worker and slammed social media for giving him such a hard time. "Now people are judging every expression," he argued. "It's inhuman to expect our new king to survive that level of scrutiny. He'll go nuts."
Carol Vorderman is 100% supportive of the king
Carol Vorderman may not be a household name in the U.S., but across the pond, she just celebrated 40 years as a prominent TV personality, per MailOnline. She's also been called "the sexiest woman alive," and, according to her Instagram, she is an ardent supporter of Britain's monarchy. Posting a slideshow of images featuring King Charles through the years, Vorderman told her over 277,000 followers that she's certain Charles will be a great king. Why? Because, as she noted, he was one of the first people to speak up about environmental issues and he's spearheaded the Prince's Trust for decades. Vorderman, who's an ambassador for the trust, praised the charity for changing young people's lives and shared her well wishes with the new monarch, writing, "I wish King Charles every element of peace, joy and strength during his reign."
The TV host went on to add that she's also met and was impressed by Queen Consort Camilla, and she argued that most people don't know the real Charles. Setting the record straight, she shared what kind of person she thinks he is, writing, "One thing I know beyond any doubt whatsoever is that King Charles believes that no matter your background, no matter your story so far, there is goodness and a hope within us all."
Sir Trevor McDonald loves King Charles' environmental commitment
British journalist Sir Trevor McDonald had the opportunity to meet and interview King Charles in 2006 while shooting a documentary called "The Prince of Wales Up Close." The film celebrated the 30th anniversary of the Prince's Trust and during their in-depth conversations, McDonald got to know (and be impressed by) the future king. As he told "Good Morning Britain" following Charles' coronation (via Metro UK), he was particularly drawn to Charles' commitment to the environment, as well as to his extensive knowledge of the matter. "We are terribly fortunate at this time to have someone who took part in a conversation that is now universally recognized as very important about the planet in which we all live," he mused.
McDonald also recalled one poignant moment from the shoot during which Charles spoke candidly about being misunderstood. "He said, 'What people don't understand is that I have a profound love for this country and I would do my duty,'" the journalist shared, adding that he sees the king's commitment and thinks it's a great asset. "He will be a great King," he told viewers. "I think his profound love and respect for the job, and respect of what his mother Queen Elizabeth did, will guide him through."
Ainsley Harriott had a great laugh with King Charles
In March 2020, celebrity chef Ainsley Harriott was dubbed a Member of the Order of the British Empire (MBE) by King Charles. According to Britain's Cabinet Office, an MBE is granted for "achievement or service in and to the community which is outstanding in its field and has delivered sustained and real impact," and Harriott was recognized for his work as a chef and broadcaster. During their meeting at Buckingham Palace, the pair appeared to get on exceptionally well and they were snapped having a serious laugh, per Metro UK.
The light-hearted moment left many wondering what Harriott and Charles had been chatting about, and the famed chef offered some insight during a 2022 appearance on "Lorraine." "He's a very passionate gardener, incredibly passionate, and he also does some amazing things," Harriott gushed. He then revealed that they spoke briefly about potentially launching a program in Scotland that would teach kids about eating healthy and show them how to cook. And while he admitted to being nervous, he praised Charles for being the ultimate host, noting, "He makes you feel relaxed."
Luke Evans loves being in King Charles' company
Welsh actor Luke Evans, who recently appeared in "Nine Perfect Strangers," has had the opportunity to meet King Charles on a number of occasions, and each one has been special. An ambassador for the Prince's Trust, Evans was also asked to narrate the 2019 TV movie "Charles: Fifty Years a Prince."
He opened up about his royal encounters during a 2022 appearance on "Good Morning Britain." Telling viewers that "it's always been a very enjoyable experience," he honed in on what he liked most about the royal and praised the king's knack for making people feel seen. "He's very, very interesting to talk to. But the best part is that he's very interested," he shared. "He's interested in everybody, and, including me, he's made me feel a million dollars by listening to my conversation and finding something interesting for me to talk to him about." Evans also applauded Charles for his charity work and for helping over a million people through the Prince's Trust, while also highlighting his ability to find "common ground" with anyone he meets.
David Duchovny had an awkward exchange with King Charles
David Duchovny may have what is the most amusing and surprising King Charles story of them all. Speaking with James Corden in 2018, the actor recalled how he found himself sitting next to the then-prince at a concert in the 1990s, and a raunchy (and totally unprincely) exchange ensued. As he shared, they were watching All Saints perform their hit song "Bootie Call," and, well, it seems Charles needed a quick refresher on American slang. The royal reportedly asked Duchovny what a booty call actually was, and after offering a disclaimer that the response would be mature, the "X-Files" star explained. "It's when a man or a woman calls a man or a woman to come to their home late at night for the express purpose of getting together and leaving right afterwards," he reportedly told the future king.
Offering further detail on "The Ellen DeGeneres Show" in 2021, Duchovny clarified that he hadn't just accidentally found himself sitting next to Charles. Rather, they were both attending a concert in London's Hyde Park, which was being held in support of the Prince's Trust. As for King Charles' response, he was totally unfazed and responded with a simple, "Oh."