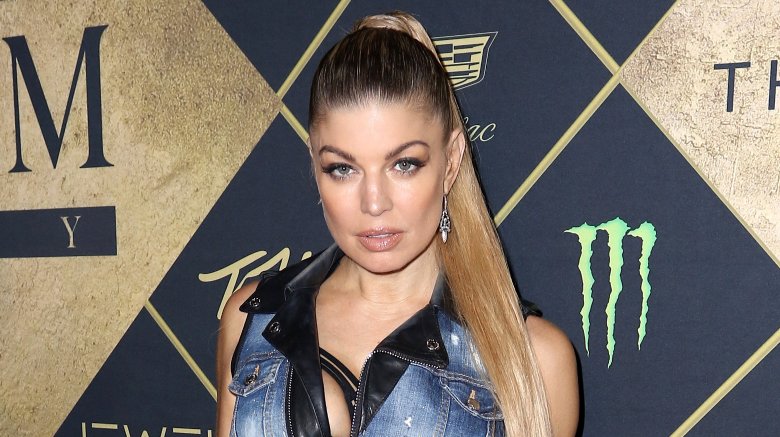 In the mid-2000s, Stacy "Fergie" Ferguson was one of the biggest acts in pop music. As the only female member of The Black Eyed Peas, she played double duty when she branched out with her own record-breaking solo album, The Dutchess, in 2006. What followed was a string of hits with the Peas, including the forever catchy "Boom Boom Pow" and "I Gotta Feeling," alongside huge success with her solo tracks, such as "Fergalicious" and the ballad "Big Girls Don't Cry." But over the last few years, this eight-time Grammy winner has stepped out of the spotlight. Why haven't we heard much from Fergie in recent years, and when will she return to the limelight?
She's taking a break from the Black Eyed Peas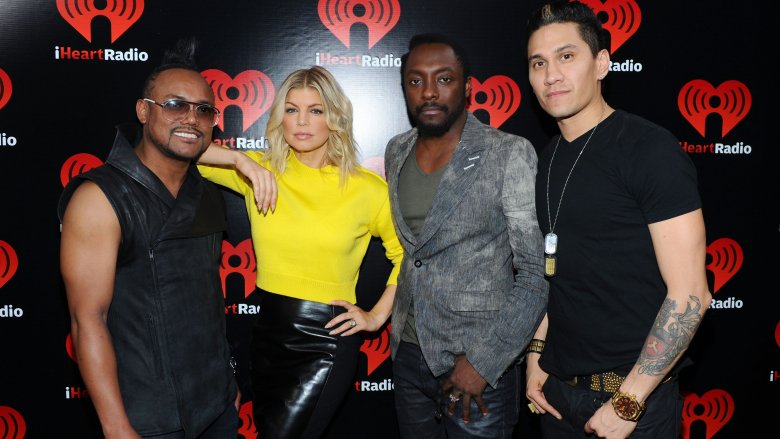 Despite rumors to the contrary, Fergie has not left The Black Eyed Peas, but she is on a break from the group that made her a household name.
As Nicki Swift previously reported, social media blew up in early June 2017 amid reports that will.i.am supposedly told Ahlan! magazine that Fergie was no longer in the mix. The rumor was immediately refuted by Fergie's rep. A statement released to The Associated Press said the songstress was "concentrating on her new album and can't wait for fans to hear it" (via CBS News). Will.i.am spoke out, too. "Fergie is family and will always be a Pea," he said. "She is focused on her solo album which we fully support." Fergie also tweeted support for her bandmates: "Everyone knows I will always love and support my @bep brothers."
While this evolving professional dynamic might be weird for the longtime collaborators, there are clearly no hard feelings. As Fergie told Radio.com in 2016, "I know the guys; they need to make music, and they are creative souls, and we all are. I am so happy for anybody who needs to make music in their life, they need to do that, and we just need to be happy for each other."
Her album suffered major delays
Fergie has been hyping her highly anticipated sophomore effort, Double Dutchess, for nearly five years! The singer-songwriter is well aware of the growing impatience surrounding its release. In September 2017, she sat down with EW to explain the delays.
I'm not going to sacrifice time with my child. That's just not going to happen," she told the mag. "They can keep banging on my door [to release an album], but I'm like, 'I'm with Axl. I'm off the grid! Bye!'" But that doesn't mean Fergie would phone it in once she carved out some time in the booth. "I've never taken this much responsibility," she continued to EW, adding, "I'm executive-producing [the album] and I kept wanting to make it better and better. I wanted to strive for greatness.
She released a string of sleeper singles
Beginning in 2014, Fergie released three singles to serve as an album appetizer, but none of those tracks were well-received.
After a slow climb up the
Billboard Hot 100, 2014's "L.A. Love" peaked at No. 27. That track was supposed to be the album's lead single, but it failed to make a commercial splash. According to a Pop Dust critic, "There isn't a whole lot more to 'L.A. Love (La La)' than a mindless geography lesson over the top of one of those hot DJ Mustard beats that we've already heard ten times before." Ouch.
Fergie switched gears in July 2016 with the tongue-in-cheek, techno-heavy "M.I.L.F.$." Despite its viral music video featuring celebrity moms Kim Kardashian, Ciara, and Chrissy Teigen, the second single performed even worse than the first. Critics seemed downright confused by the track. It peaked at No. 34 before falling from the Hot 100.
The pop star's third strike was "Life Goes On," released in late 2016. This more personal track, with a heightened focus on Fergie's vocals, also floundered, peaking at a paltry No. 39 on the
Billboard Adult Pop Songs chart; it didn't land at all on the Hot 100.
As Variety noted in 2017, her new music's "tepid reception was surprising considering it had been so many years" in the making.
She left her label and launched her own
In May 2017, Fergie and her former label, Interscope Records, dismantled their partnership. A label rep told Variety, "The decision was made to part ways. We were all in concert and want what's best for Fergie."
After leaving Interscope, Fergie immediately struck a record deal with BMG to launch her own label—aptly titled Dutchess Music—that would afford her more artistic control and freedom. BMG executive Jon Cohen talked up the new connection, telling Variety, "What Fergie has put together with Double Dutchess is so inventive it redefines her as an artist. Her prolific output has already made our collaboration one of my most exciting times with BMG and we can't wait for its reveal."
Her marriage fell apart
Family is Fergie's top priority. She told Radio.com (Via E! News) that she's put "everything into being a mom and being a wife and doing this album," but after eight years of marriage to actor Josh Duhamel, the couple announced its separation in September 2017.
"With absolute love and respect we decided to separate as a couple earlier this year," the pair told People in a joint statement. "To give our family the best opportunity to adjust, we wanted to keep this a private matter before sharing it with the public. We are and will always be united in our support of each other and our family."
The couple has had its fair share of ups and downs, including Duhamel's alleged cheating scandal with a stripper less than a year into the marriage. The pair worked through that challenge and seemed to be doing better than ever and enjoying life with their son, Axl, but obviously, there were problems behind the scenes.
She's a busy mom
Fergie and Duhamel welcomed Axl Jack in August 2013. During an appearance on The Ellen DeGeneres Show just a few months later, the new mom couldn't help but gush over her little one, whom she calls a "mini-me" of her husband.
This busy working mom, who turned 42 in 2017, makes sure to carve out quality time with her boy. During her music video shoot for "M.I.L.F.$.," she posted a cute snap on Instagram of her adorable toddler on set. (At some point, that song could get a little awkward for these two.)
In Aug. 2017, Fergie told Entertainment Tonight Canada, "The Google Calendar is everything. It's color-coded, everything's got categories, and we've just got to be really organized about our planning because it's really important for us that [our son] Axl comes first… We're trying to make it happen right now and it's a little bit tough, but we're doing it and we just love him."
She's an LGBTQ+ activist
Fergie, who came out as bisexual during an interview with the Advocate in 2009 (via the New York Daily News), has been a steadfast supporter of LGBTQ+ rights.
She headlined the iconic Dance on the Pier event during NYC Pride in 2016, telling Out Magazine, "This is the party. I've been wanting to do Pride for so many years…It was such an honor and became even more important because of what happened," referencing the fatal shooting at the Pulse nightclub in Orlando, Fla. As Fergie took the stage, she told the crowd, "We are not going to let anyone make us live in fear, we will not let them ruin our PRIDE!"
According to USA Today, Fergie has also worked with various organizations, including amfAR and the MAC Aids Fund, to raise money and awareness to fight HIV/AIDS, and she's a longtime supporter of The Trevor Project, a suicide-prevention organization for LGBTQ+ youth. At Trevor Live in 2011, she spoke out against bullying. "When people get bullied, you actually feel embarrassed because you're being bullied and you don't want to talk about it because you have shame," she said. "Whereas, the other person, the bully, should actually feel the shame."
What's next?
Fergie fans rejoice! At the time of this writing, Double Dutchess is scheduled to debut on Sept. 22, 2017.
What should we expect? The singer told Out Magazine, "It's just a plethora of different facets of myself. Completely different emotions. I've had a lot of experiences to write about, a lot of it is very autobiographical and intimate because writing is therapeutic for me." She added, "When you focus an emotion, it expands, and I really dove into several emotions and expanded on them for the album, but I also kept it fun and flirty. I always like to have a good laugh at myself and give a wink to the audience. It wouldn't be me if I didn't have those moments."
During a November 2016 Facebook Live Chat, the pop diva dished, "There's a lot of…blood, sweat, and tears in this album. And there's personal stuff, there's pop stuff, hip-hop stuff, throwback stuff…some reggae, some ballads, fun, silly, all of the above. So, it's kind of a…cornucopia." Then she said what's been on all of our minds: "I am so ready for this album to come out, you have no idea…I hope it will be worth it."