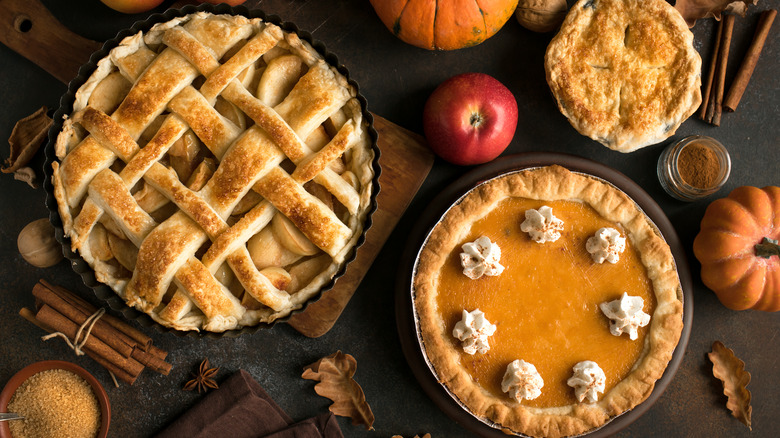 What food do you most look forward to at Thanksgiving? Turkey and green bean casserole are nice, of course, but the best part might just be the Thanksgiving pies. There are so many delicious pie possibilities, with flavors and fillings to satisfy everyone. We gathered up 50 of our most popular pie and tart recipes that you can make this year and many years to come.
Since Thanksgiving is all about traditions, the classics are well represented in our round-up, like pumpkin, coconut cream, buttermilk, and pecan. There are different apple pies and tarts to try, as well as other fruit pies like blueberry, plum, peach, and strawberry.
A zingy, citrusy pie — like Key Lime, Atlantic Beach Lemon, or Sour Orange pie — will taste so refreshing after a big Thanksgiving meal. There are unique flavors here too, like Banoffee pie and Tiramisu pie. Since not everyone has a huge Thanksgiving get-together or all day to bake, there are options here for no-bake pies and mini pies, too. Make your pie plan now for the most delicious Thanksgiving yet.
1. Pumpkin Pie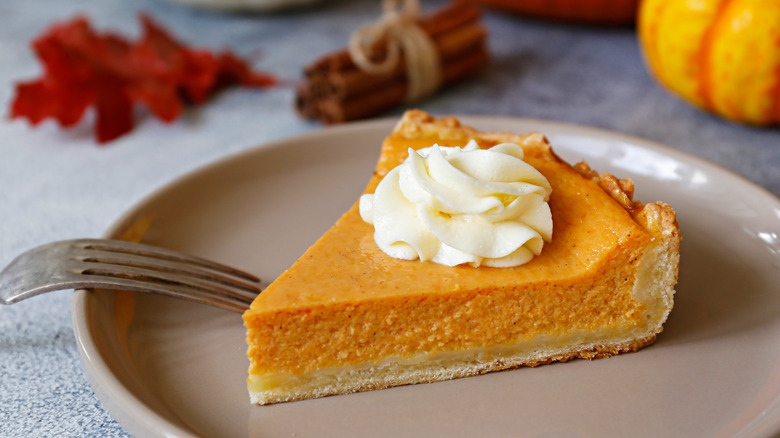 We can't talk about Thanksgiving pies without mentioning the most popular one of all: Pumpkin pie. This recipe makes baking a pumpkin pie a little easier with a few shortcut ingredients. No time to make a homemade crust? Use a store-bought shell. Canned pumpkin puree and sweetened condensed milk make the filling really creamy, and premade pumpkin spice blend replaces several separate spices. The pie bakes up in 40 minutes, and once cooled will serve eight. Don't forget the whipped cream!
2. Pecan Pie
According to Southern Living, pecan pie is the "most popular" pie in the South, and has become one of the most anticipated desserts at Thanksgiving. Best of all, it's easy to make. Whisk together the filling of butter, sugar, corn syrup, and vanilla, then stir in chopped pecans. Pour into a pie shell and bake for about an hour. The result is a rich, caramel-flavored pie filling with crunch from sweet, toasted pecans. Since the pie needs to chill before serving, it's a great one to make ahead of time for your gathering.
3. Apple Galette
Instead of making an apple pie, try making this lovely apple galette. A galette is made by placing a round of pie crust dough on a lined baking sheet, layering fruit in the middle, and then folding the dough up around the edges to hold everything in. It's every bit as delicious as pie in a dish, but easier to make and with a rustic feel. Our recipe includes a simple, all-butter dough and a filling of apples and cinnamon.
4. Coconut Cream Pie
Not a fan of fruit pies? Try this luscious coconut cream pie for the holiday table. The filling is a rich coconut custard and even though it's made from scratch, you'll be surprised how easy it is to pull off. Just cook ingredients like milk, coconut milk, eggs, and shredded coconut until the mixture thickens. Pour it into a blind-baked pie shell, chill, then top with whipped cream and toasted coconut. Use store-bought or homemade dough to make the pie shell — whatever's best for you.
5. Blueberry Pie
All of the classic, best-loved pie flavors make an appearance at Thanksgiving time, and that includes a juicy blueberry pie. Use your favorite homemade pie dough, or pick up a store-bought crust to make the process easier. The filling is made with frozen, wild Maine blueberries, a little cinnamon, and some cornstarch to help the filling thicken. It takes about an hour to make from start to finish, and allow some time for the pie to cool before slicing. (Otherwise, the filling will leak out.)
6. Buttermilk Pie
A favorite pie of the South, immigrants from England brought recipes for buttermilk pie with them from England hundreds of years ago. It has a custardy filling with a tangy flavor from the buttermilk plus vanilla and a hint of nutmeg. Plus, it's a great way to use up any leftover buttermilk you might have. The filling needs no pre-cooking: just whisk the ingredients together and pour them into an unbaked pie shell. Serve slices of buttermilk pie with whipped cream and fresh fruit.
7. Chocolate Cream Pie
Tell your Thanksgiving guests to save some room, because this decadent chocolate cream pie is coming out after dinner! It starts with crust made from crushed Oreo cookies pressed into a pie pan. Then, make the chocolate filling on the stovetop (it's easier than you think). The filling includes melted dark chocolate, coffee, and vanilla. Once the pie is chilled, top it with a thick layer of whipped cream and chocolate shavings. The recipe makes 10 servings.
8. 2-Ingredient Mini Cherry Pies
That's not a typo: You can literally make these tasty, mini cherry pies with only two ingredients. Our recipe shows you how to take store bought pie dough and canned cherry pie filling and turn them into an adorable dessert. This is a great recipe to make with kids, or for folks new to baking. The little pies will be a welcome addition to the holiday dessert table, or to bring to your Friendsgiving gathering. Add toppings if you'd like: Whipped cream, chopped almonds, or a scoop of vanilla ice cream.
9. Peanut Butter Pie
Reese's peanut butter cup fans will be so excited to see this dessert for the holidays. It's easy too, because the only baking required is 10 minutes for the Oreo cookie crust. (Plus, you can always buy a premade Oreo crust to save time.) The no-cook filling is made with peanut butter, whipped cream, cream cheese, and chopped peanut butter cups. Are you swooning yet? Peanut butter pie is a great choice to make in advance, so you can pull it from the fridge and serve.
10. Strawberry Rhubarb Pie
Bring a summertime vibe to the Thanksgiving table with this gorgeous lattice-topped pie. You can make this dessert with homemade or packaged pie crust dough, and the recipe shows you how to weave strips for the top crust. If fresh strawberries and rhubarb aren't available, your grocery store will likely have them in the freezer case: Just allow them to thaw and drain off excess liquid so the fruit will bake through evenly. An egg wash on the crust gives it a beautiful, golden hue after baking.
11. Chocolate Pecan Pie
It's hard to imagine making a classic pecan pie any more sweet or delicious than it already is. Oh wait, here's a way: Add chocolate! Our recipe shows you how to make the filling on the stovetop using corn syrup, butter, sugar, eggs, whole or chopped pecans, and chocolate chips. Pour it into a frozen, deep-dish pie crust and bake for just under an hour. Served with whipped cream, this chocolaty, nutty delight may just be the winner of Thanksgiving desserts this year.
12. 5-Ingredient Key Lime Pie
After a heavy, holiday meal, the zingy citrus flavor of this dessert is so refreshing. This is a no-bake, frozen version of a Key lime pie that you can assemble in only 10 minutes. It's a perfect choice when you have lots of dishes to prepare for Thanksgiving, or if you need a dessert to bring to someone else's house. The pie has only five ingredients, including a premade graham cracker crust, sweetened condensed milk, and lime juice. Allow for two hours freezing time before serving the pie.
13. Chef Nyesha Arrington's Cranberry Ganache Tart
This recipe comes from chef and restaurateur Nyesha Arrington, and it will make all the chocolate lovers at your table so happy. You won't believe how easy it is to create this rich chocolate tart: It only takes 30 minutes to make both the crust and the filling. The hardest part is waiting for it to chill in the fridge before you can eat a slice! The chocolate cookie crust holds dark chocolate ganache, dried cranberries, and garnishes of pomegranate seeds and cream.
14. Peach Pie
Did you know that peach pie is the official state dessert of Delaware? That doesn't mean you have to live in Delaware to enjoy one. The filling combines diced, fresh peaches with brown sugar, cinnamon, and nutmeg. (You can also substitute frozen peaches for fresh and still get a great pie.) Our recipe will show you how to prepare a lightly sweetened, all-butter pastry dough that's just as delicious as the filling. After baking the pie has a lovely, browned crust sparkling with sugar, and the peaches inside are soft and sweet.
Recipe: Peach Pie
15. Nico Norena's Tiramisu Pie
Influencer and "The Succulent Bite" founder Nico Norena has a really unique pie you can make this Thanksgiving. In a recipe shared exclusively with Mashed, Norena packs all wonderful flavor of a classic Italian tiramisu into a pie crust, and don't worry: it's easy to make. Bake pre-made pie dough into a pie shell, or pick up an already-baked shell. Fill it with layers of ladyfinger cookies soaked in espresso and mascarpone cheese-whipped cream. Give the pie time to chill, then dust it with cocoa.
16. 5-Ingredient Lemon Meringue Pie
Using jarred lemon curd (check your grocery store or specialty food shops) takes a lot of the work out of making a classic lemon meringue pie. Grind shortbread cookies or graham crackers into crumbs to make the crust, then spread the lemon curd inside. We show you how to make a meringue from egg whites: The key is to add the sugar slowly during mixing so it completely dissolves. After a short bake, the meringue will have a golden color and crispy edges.
17. Apple Pie
The expression "easy as pie" may very well have been coined by bakers who tried this apple pie recipe. It has that classic flavor of sugar-sweetened apple slices spiced up with cinnamon and nutmeg. Use a premade pie crust to save time: Our recipe shows you how to make the bottom layer (with a trick to prevent sticking) and then how to make a nifty lattice top crust. As it becomes bubbly and browned in the oven, your kitchen will smell so good … and that's nothing compared to how it will taste.
Recipe: Apple Pie
18. Banoffee Pie
The world has two English restaurateurs to thank for Banoffee Pie – that name is a mashup of banana and toffee. It was on the menu of the '70s restaurant The Hungry Monk, and the patrons couldn't get enough of it. Make one for Thanksgiving this year and you'll understand why. A graham cracker crust holds a gooey filling of bananas, caramel, and whipped cream. It's really easy to make and that's a good thing, because once everyone has a slice, Banoffee Pie will probably be the most requested dessert at future gatherings.
19. Sweet Potato Pie
One of the best-loved pies of the southern U.S. (according to Greatist) is sweet potato pie, a dessert that makes the most of these naturally sweet tubers. Use your favorite recipe for pie crust dough or save time with a store-bought pastry from brands like Pillsbury or Trader Joe's. The filling is a simple blend of cooked sweet potatoes, eggs, and sweeteners, which bakes for about 40 minutes until set. Serve slices with whipped cream and a sprinkle of cinnamon.
20. Brown Butter Apple Tart
Here's an apple dessert for the holidays with a unique and delicious flavor. A simple tart crust holds spirals of sliced, tart Granny Smith apples. They're topped with a sweet custard made with browned butter, sugar, and plenty of vanilla. The browned butter is the best part of this dessert: The few minutes it takes to heat melted butter until it browns is so worth it for the deep, nutty flavor that develops. It's a beautiful flavor to pair with apples and vanilla. The recipe makes eight servings, so there'll be plenty to go around.
21. Chess Pie
Chess pie has been made in the U.S. since the days of the colonies, and the recipe is thought to have been brought from England. (Though folks can't agree on where exactly the name comes from.) Our chess pie recipe has a filling made with milk, eggs, sugar, vinegar, and cornmeal. It needs no precooking: Just mix and pour into a baked pie shell. When the pie is baked and cooled, sprinkle a thick layer of powdered sugar over the top before slicing.
Recipe: Chess Pie
22. Huckleberry Pie
Folks living in the Pacific Northwest U.S. are lucky, because that's where huckleberries grow. The tart, purplish fruits are related to both blueberries and cranberries, and are a favorite to add to baked goods like this pie. Pick up a deep-dish pie crust and huckleberries — fresh or frozen berries will work. The berries are cooked with sugar and a little cornstarch, then added to the pie shell for baking. You can add a lattice crust or just skip the top crust altogether. Serve cooled pieces of pie with whipped cream or ice cream.
23. Emeril Lagasse's Mini Banana Cream Pies
One TripAdvisor review called the banana cream pie at Emeril's, the New Orleans restaurant owned by Chef Emeril Lagasse, "the best of its kind." Made as one huge pie with rich custard, bananas, caramel, and chocolate, it's a massive dessert. To make it a little more manageable, we transformed Lagasse's recipe into eight mini pies perfect for sharing. If you have more than one house to visit for Thanksgiving this year, it's easy to divide the pies up between each destination.
24. Atlantic Beach Lemon Pie
Southern Living says this pie tastes as if "a key lime pie and a lemon meringue pie had a child." It was created for the former Crook's Corner restaurant in Chapel Hill, North Carolina and remains a favorite dessert in the area. The filling is creamy, sweet, and brimming with zingy lemon flavor. The best part about this pie is the crust: made with saltine crackers, it gives a salty crunch to every mouthful. Atlantic Beach Lemon Pie is a fun and refreshing dessert to share this holiday season.
25. 20-Minute Air Fryer Apple Pies
Turkey, stuffing, rolls, sweet potato casserole … there are too many dishes that need to go in the oven for Thanksgiving. So why not use your air fryer to make the dessert? These little apple pie pockets are reminiscent of Hostess apple pies, but they taste so much better and take only 20 minutes to make. Just fill squares of pie crust dough with apple pie filling and spices. Kids will especially love making and eating these handheld pies.
26. Mini Fruit Tarts
These fruity, bite-sized treats are such an unexpected dessert to see at Thanksgiving, which is exxactly why you should make them. The vibrant color will stand out from the other baked desserts, and their flavor will be really refreshing after the heavy dinner concludes. Pick up frozen phyllo pastry shells at the grocery store — they're already baked, which is so convenient. Fill them with vanilla pudding (or other flavors, if you prefer) and finish them with whole berries, sliced, fresh fruit, and whipped cream.
27. Derby Pie
Every US state has its pie, and Kentucky's pick is sure to satisfy any sweet tooth. Derby Pie has a cookie-like filling of brown sugar, chocolate chunks, and chopped walnuts. There's a splash of bourbon in there too, for good measure. The filling is poured into an unbaked pie shell and baked for about an hour. What's nice about this pie is that it can be sliced and served while it's still warm, ideally with a scoop of ice cream and a drizzle of bourbon caramel sauce.
Recipe: Derby Pie
28. Sour Orange Pie
The Thanksgiving holiday puts a lot of emphasis on traditional, tried-and-true dishes, but that doesn't mean you can't make something new and unusual. Recipe Developer Kristen Carli created this pie recipe with a creamy, sweet-tart orange filling that's refreshing and delicious. The filling is easy to whisk together with no pre-cooking needed, and once in the pie shell it bakes up in just 20 minutes. Whipped cream and candied orange peel are perfect toppings for this sunshiney pie.
Recipe: Sour Orange Pie
29. No-Bake Pumpkin Pie
Not only does this pie have a cool and creamy texture that's so refreshing, it only takes 20 minutes to assemble because it's a no-bake pie. It's the perfect dessert to make ahead of time: The pie can chill and set in the fridge while you prepare the rest of the food — or take a nap before the big dinner! The filling is a blend of pumpkin, cream cheese, and spices in a buttery, graham cracker crust.
30. Linzer Torte
With its almond-flavored pastry and ruby-red filling, the lovely Linzer Torte hails from Linz, Austria and can be traced as far back as the 1600s. It will make a delicious addition to the holiday dessert table this year. Our recipe uses a clever shortcut ingredient to make a no-fail sweet almond dough that's pressed into a tart pan and cut into strips to make a lattice top. Fill the tart with traditional red currant jelly if you have it, or use raspberry preserves. The Linzer Torte will serve eight people.
Recipe: Linzer Torte
31. Oreo Pudding Pie
Pumpkin and fruit pies get a lot of attention, but never underestimate the power of a good pudding pie. This pie boasts a thick, Oreo cookie crust that holds a no-bake cheesecake filling plus layers of chocolate pudding and whipped cream. It's easy to make and most of the prep time is for the pie to chill in the fridge, which means it's a smart, make-ahead dessert option. The recipe calls for double cream — in the U.S. you can substitute heavy cream.
Recipe: Oreo Pudding Pie
32. 3-Ingredient Plum Pie
This easy Thanksgiving dessert is sweet and fruity with a flaky crust. Instead of using regular pie crust pick up a box of frozen puff pastry, an easy-to-find ingredient at the grocery store. Roll the pastry into a rough circle, then fill the center with canned, sweetened plums. (Look for these where other canned pie fillings and fruit are stocked.) Fold up the edges to hold in the filling and bake. Recipe developer Miriam Hahn says you can also use fresh plums to make this rustic pie: "Just slice them up, and add some sugar and cornstarch."
Recipe: 3-Ingredient Plum Pie
33. Shortcut Shoofly Pie
Shoofly pie is a traditional dessert of Pennsylvania, first made there by the Amish and Mennonite communities. A pie crust holds a thick layer of molasses topped with a sweetened and spiced crumb mixture. Our recipe saves you some time by using a frozen pie crust from the store: With this shortcut, the pie takes only 20 minutes to assemble. Slices of Shoofly Pie taste best warmed up just a little and topped with big dollops of whipped cream.
Recipe: Shortcut Shoofly Pie
34. No-Bake Peppermint Pie
The sweet and creamy peppermint filling of this pie is a refreshing dessert to serve after Thanksgiving dinner, and a fun nod to the Christmas season to come. With a no-bake crust and filling it's an easy pie to make, especially when the kids want to help. Crumble Oreo cookies to make the crust and blend cream cheese, sugar, and crushed candy canes to make the filling. Garnish the pie with red or green candy canes and swirls of whipped cream.
35. Lemon Meringue Pie
If you love making pies from scratch, give our recipe for lemon meringue pie a try. We love serving this bright, citrusy pie at Thanksgiving because it's so light after the turkey and all those heavy sides. Fill the graham cracker-almond crust with a filling of cooked egg yolks, lemon juice, and sugar. Whipped egg whites form the meringue that turns golden brown in the oven. The recipe makes 10 servings of this luscious pie.
Recipe: Lemon Meringue Pie
36. Copycat Shoney's Strawberry Pie
Folks who love eating at Shoney's Restaurant have probably had the chain's famous strawberry pie. Surprise everyone at Thanksgiving this year by making an easy, copycat Shoney's strawberry pie at home. Pick up the best-looking, fresh strawberries you can find along with a prebaked pie shell or graham cracker shell. Arrange the sliced strawberries in the shell, then add a filling made of strawberry-flavored Jell-O mix. After a few hours in the fridge, your pie is ready to slice and serve with a generous dollop of whipped cream.
37. French Apple Tart
Set this dessert on the table and get ready for "oohs" and ahhs" to come your way. It's a beautiful tart with a spiral of thick-sliced apples that gleam against a powdered sugar background. This dessert serves about three, so it's ideal for small Thanksgiving gatherings or if your celebration has a big dessert table. The recipe takes only 40 minutes from start to finish, and you'll need a tart pan with a removable bottom. Use Golden Delicious or another type of sweet apple for best results.
38. Fudge Pie
Anyone who loves brownies will be so happy to see this pie on the dessert table. An old-fashioned fudge pie has a rich, chocolaty filling that tastes just like a rich, moist brownie. Pick up a prebaked pie crust, then just six pantry ingredients for the filling, including cocoa powder, eggs, and sugar. After baking and cooling, serve slices of fudge pie with whipped cream, ice cream, or caramel sauce, and a hot drink like coffee or apple cider.
Recipe: Fudge Pie
39. Layered Pumpkin Pie
This fantastic recipe has the flavor of a traditional pumpkin pie, but with a unique twist. The filling has everything you'd expect, like pumpkin puree, sugar, and pumpkin spices, all poured into a graham cracker crust. However, the magic happens when the pie goes into the oven. The filling separates into two layers: a silky custard on the bottom and a light layer of pumpkin at the top. And incredibly, it only takes about five minutes to put this pie together.
Recipe: Layered Pumpkin Pie
40. Mini Apple Pies
What can you do with 12 little apple pies? Bring them to a Friendsgiving potluck and be the star of the dessert table. Their small size means they can be the perfect special dessert for the kids' table that they can top with whipped cream, caramel, or even ice cream. Better yet, give your kids and teens the chance to make these pies themselves to be part of the holiday preparation. This dessert is also ideal if you're working on Thanksgiving and want to bring in a tasty, easily shareable treat for your co-workers.
41. Million Dollar Pie
Anyone can afford a slice of this no-bake, creamy dessert! It's called a Million Dollar Pie or Millionaire's Pie because of the richness of the fillings — and it's not at all expensive to make. The ingredients include sweetened condensed milk and Cool Whip frozen whipped topping along with mix-ins like coconut and pineapple. Other ingredients you can consider include mandarin orange segments and chocolate chips. Spooned into a graham cracker crust and chilled until firm, this old-fashioned pie is wonderfully sweet and comforting.
Recipe: Million Dollar Pie
42. Banana Cream Pie
No over-the-top toppings or extravagant adaptations here: Just a straightforward, delicious banana cream pie like you might find at a small-town diner. A few shortcut ingredients make it easy to create a banana cream pie for Thanksgiving. The filling is a blend of banana pudding mix and frozen whipped topping poured into a graham cracker crust. (A vanilla cookie or chocolate cookie crust would be tasty, too.) Let the pie chill before slicing and serving. Tip: Wait to add sliced bananas to the top of your pie until just before serving, so they don't turn brown in the fridge.
Recipe: Banana Cream Pie
43. Strawberry Pie
It's true: You can make a gorgeous strawberry pie using only six ingredients. The pie filling is made with fresh strawberries, and the other ingredients like sugar and lemon juice are there to enhance their sweetness and flavor. Premade pie crust dough is easy to roll out and press into a pie plate or tart pan to hold the strawberry filling. The pie is baked with an open top, which lets enough moisture evaporate so that the finished pie isn't too runny. Serve slices with fresh whipped cream.
Recipe: Strawberry Pie Recipe
44. Crustless Coconut Pie
If the mere thought of trying to make a pie crust from scratch — or even rolling out a store-bought pie crust — fills you with dread, we have a solution: Skip it altogether. Recipe developer Catherine Brookes created a delectable recipe for a coconut pie with a vanilla-scented filling and a toasted, golden brown top. The very best part about the dessert is that there's no crust at all. Just spoon the filling directly into a pie dish and bake. The recipe makes 12 sweet slices.
Recipe: Crustless Coconut Pie
45. Instant Pot Pumpkin Pie
Making your holiday pumpkin pie in an Instant Pot means the oven is free to make other Thanksgiving dishes — or you can leave it off altogether. Pick up a cake pan small enough to fit inside your Instant Pot and make the pie filling with ingredients like pumpkin puree, evaporated milk, and pie spices. Two unique ingredients we love in this recipe are the crust made from crushed Canelitas cinnamon cookies and browned butter, which adds extra flavor to the pie filling.
46. Apricot Pie
Apricots are in the same family of stone fruits as peaches and cherries, and they have a sweet-tart flavor when ripe. So naturally, they're delicious when baked into a pie. The fresh fruits are sliced and tossed with sugar, cinnamon, vanilla, and a little flour to help the filling thicken. Line a pie pan with your favorite homemade or store-bought pie crust dough, pour the fruit in, and add a lattice top. The pie bakes in about 40 minutes and serves eight people. Pro tip: Whipped cream is delicious with apricot pie slices.
Recipe: Apricot Pie
47. Chocolate Lover's Pudding Pie
This pie will be a hit with any chocolate-loving adults at Thanksgiving, and with kids too — especially those who haven't yet developed a taste for fruit or pumpkin pies. This pie couldn't be simpler to put together. Get a prebaked pie shell, or a graham cracker or cookie crust. Then, prepare a box of chocolate pudding mix to fill the pie. If your pie shell is deep, you can even make two boxes. Top the chilled pie with whipped cream and it's ready to serve.
48. Lemon Tarts
Here's a small-batch dessert to make for an intimate Thanksgiving or to accompany other desserts. Pick up 3-inch tart rings to make individual lemon tarts. The rings are lined with store-bought or homemade pie pastry dough and then blind-baked. (This means baked without the filling — don't worry, we'll show you how.) Use freshly-squeezed lemon juice to make the lemon custard on the stovetop, and pour it into the shells. The chilled tarts can be topped with candied lemon peel, lemon zest, white chocolate shavings, whipped cream, or edible flowers.
Recipe: Lemon Tarts
49. Egg Custard Pie
This pie is simple as can be, and yet the blend of basic ingredients is what makes a custard pie so delicious. Begin by blind-baking a pie crust: You can use premade or homemade pie crust dough to make a baked shell. Then whisk together the filling ingredients which include eggs, cream, vanilla, and a little nutmeg. The pie bakes up in about 45 minutes. Once cool, the pie can be cut into eight slices.
Recipe: Egg Custard Pie