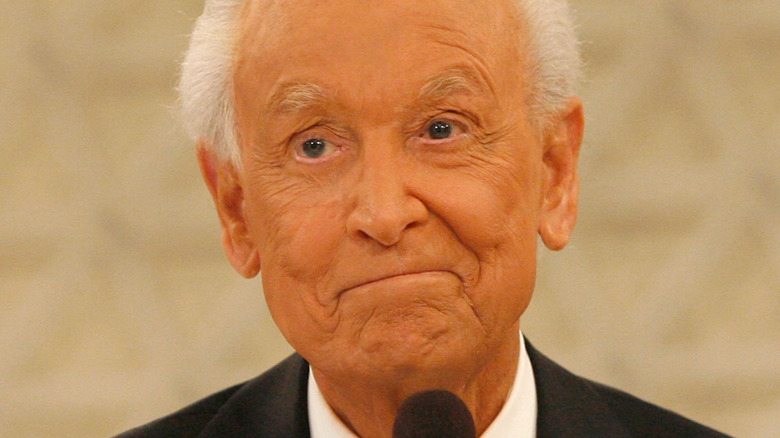 1923 was a year of turbulence, with unrest in Germany, Mount Etna erupting, the Great Kantō earthquake in Japan, and the untimely passing of President Warren G. Harden. 1923 was also a year of great invention, with patents filed or approved for such innovations as the three position traffic light, the "television system," the self-winding watch, and introduction of products like Crystal Hot Sauce, Drano, Cutty Sark whiskey, and Butterfinger and Milky Way candy bars. The year even marked the opening of revered venues like The Los Angeles Memorial Coliseum and the original Wembley Stadium.
While 1923 marked the passing of famed French actress Sarah Bernhardt and tower builder Gustave Eiffel, it ushered in the births of some of our greatest entertainers: Norman Mailer, Sun Records founder Sam Philips, Edith Bunker, Conrad "Mr. Drummond" Bain, Franco Zeffirelli, Charles Durning, Marcel Marceau, Ann Miller, Don Adams, Bettie Page, Aaron Spelling, Albert King, Grandpa Al Lewis, Anne Baxter, Joseph Heller, Ellsworth Kelly, V.C. Andrews, Estelle Getty, Richard Attenborough, Peter Lawford, Hank Williams, Rocky Marciano, Charlton Heston, Roy Lichtenstein, Gloria Grahame, Diane Arbus, Arthur Hiller, Maria Callas, and Ted Knight.
Sadly, those entertainers are no longer with us; it drives home, however, how incredible the journeys must have been for those born in 1923 and about to celebrate their centennial birthdays. A beloved game show host, one of the oldest working actors, a premier diver, and the original singer of "Send in the Clowns" among them. 2023 will also mark the centennial of one of the world's most recognizable signs, and three major entertainment companies — two of which were founded by Jewish brothers fleeing anti-semitism in Poland. Here's a look at the entertainers turning 100 in 2023.
Barbara Wallace (March 24)
As the daughter of a member of a local opera and drama association, Barbara Wallace grew up in a world of performance, landing her first role at age 12 in a Gilbert and Sullivan operetta. From there, she kept honing her craft in local theater, appearing in over 75 stage plays. Wallace didn't move to film and TV until the last decade; she had a brief part as a "coughing woman" on a 2010 episode of "Psych," then went on to appear in shows like "The Flash," "Aurora Teagarden Mysteries" and "Fargo."
She never thought that being cast with a recurring role on "Riverdale" (as Rose Blossom) would give her such notoriety, telling Survived The Show in 2022 that "for an actor of my age, there aren't very many parts that have got much depth. They tend to [be] 'Granny wanders in and Granny wanders out'. So this has been extremely rewarding and I've enjoyed every minute of it," including the additional income, which she called a "bonus." While she is sorry to see the series come to an end after Season 7, Wallace added "nothing goes on forever."
Wallace remains busier than ever, continuing with local theater, and making recent appearances in the "Snowpiercer" series, "Harry & Meghan: A Royal Romance," the holiday film "The Christmas Contest," and the Lifetime movie "Let's Get Physical." In 2019, she won two acting awards for starring in the short film "The Still Life of Annika Myers."
Stan Waterman (April 5)
While some have called Stan Waterman the "Jacques Cousteau of American diving," others see it a different way, with the diving site TDI/SDI commenting: "Cousteau was actually more like the Stan Waterman of France."
Born Herman Shmuckledink, Waterman told Scubapro that his name "has gone very well with what happened to me because I never thought about a career, a vocation that would take me into the sea and take me diving for most of my life… A sense of adventure did come a long time ago."
The WWII Navy veteran and Dartmouth English major was looking to make an income to feed his family, and the diving and scuba pioneer found a path forward filming adventures on the high seas, and below them, all across the world. The multiple Emmy Award winner made quite a splash with the 1971 shark documentary "Blue Water, White Death," and while he had no involvement with Steven Spielberg's 1975 blockbuster "Jaws," he counted the novel's author, Peter Benchley, as a dear friend and collaborator. Waterman provided the underwater cinematography and also helped Jacqueline Bisset learn diving techniques for the revealing 1977 Peter Yates film "The Deep," based on Benchley's second novel. Waterman also worked on David Attenborough's series "Life on Earth," National Geographic's "Hunt for the Great White Shark," appeared on a 2016 episode of "Shark Week," and released the book "Sea Salt: Memories & Essays."
In 2013, at age 90, Wateman "hung up" his fins, posting on Facebook, "Arthritis has reduced me to a tottering old geezer and a safety risk for any dive activity that would include me."
Ralph Senensky (May 1)
After seeing "Gone With the Wind" in his hometown of Mason City, Iowa as a teen, Ralph Senensky's life was never the same. When he didn't get a part in the school play, he did the next best thing and became an assistant to the director. After a stint in the US Army, he studied at Pasadena Playhouse School of the Theatre, made his way to Hollywood and worked his way up from the bottom of the industry.
Senensky went on to become one of the more prolific directors "in that period that is now referred to as classic television," he wrote on his website. His steady eye and direction were applied to an array of hit shows over the decades, including the original "Star Trek," "Dr Kildare," "The Fugitive," "The Twilight Zone "The Courtship of Eddie's Father," The Partridge Family," "Barnaby Jones," "The Waltons," "Dynasty," "Hart to Hart," and his final series, 1986's acclaimed "The Paper Chase." He told his hometown paper, the Globe-Gazette, how he was constantly on the go as, "there were five shows in 12 weeks. I was doing a show every other week," adding "if there were gaps, it was because I didn't want to work."
While he's been retired since the late '80s, his idle hands have kept busy in his later years directing local theater and "telling of my adventures in film and television" on his blog that he started in 2009 and numerous podcasts (often taking about "Star Trek"); in 2013, he even made a short film called "The Right Regrets."
Carlo Giustini (May 4)
Carlo Giustini's first credited film role was in 1944's "La donna della montagna," and while he was described as "a tall, dashing man with curly brown hair," he believed his height kept him from being a true leading man in his own country. "All the women have big dimensions from front to back, but not from top bottom," Giustini told the Sunday Pictorial in 1956. "So, being big like me is no good for Gina Lollobrigida, Sophia Loren and girls like that."
Looking to expand his roles beyond Italian sword and sandal epics, Giustini learned English, and by the end of the '40s was co-starring in British films, starting with 1949's "Children of Chance." He was called "the tallest, handsomest slab of man in Europe," and steamed up melodramas like 1957's "A Novel Affair" (aka "The Passionate Stranger"), playing a chauffeur who reads a romance novel by his employer's wife and thinks she has the hots for him.
Sometimes credited under the names Charles Justin, Carlo Justini, and Carlo Giutini, Giustini went on to work alongside film veterans like Richard Attenborough, Donna Reed, Ava Gardner, Basil Rathbone, Rod Steiger, and Micheline Presle (who crossed the century mark herself in 2022). He tried to keep warm co-starring with titans Anthony Quinn and Peter O'Toole, and Anna May Wong in 1960's "The Savage Innocents," and finally got to stand tall next to Sophia Lauren and Charlton Heston in following year's "El Cid." His final two roles were Italian sci-fi films from 1966: "The Wild, Wild Planet" and "The War of the Planets." His whereabouts and activities since are unknown.
Glynis Johns (October 5)
Born while her parents were on tour in South Africa (dad was Welsh actor Mervyn Johns, mom was pianist Alyce Steele), Glynis Johns first found a love of dance (teaching ballet at age 10!), then took to the stage at age 12, and while she had designs on being a scientist, her parents pushed her to continue with acting. She notably played Peter Pan on the West End at age 19, and in 1938 landed her first film role in "South Riding."
Over the next six decades, Johns had the pleasure of starring opposite luminaires like Jimmy Stewart, Marlene Dietrich, James Cagney, Alec Guinness, and Sean Connery. In 1960, she shined bright along with Deborah Kerr, Robert Mitchum, Peter Ustinov in "The Sundowners," and was nominated for a Best Supporting Actress Oscar for her work. The actress, who told the St. Louis Globe-Democrat in 1953 that she's "a Hollywood star, who has never been to Hollywood," notably played the matriarch in need of "Mary Poppins," headlined her own TV show in 1963's "Glynis" (which has been called "'Murder She Wrote's earlier comic cousin"), played villain Lady Penelope Peasoup on "Batman," and even got prim and proper as Diane Chambers' mother on "Cheers."
Although she almost ended up on the cover of the "Led Zeppelin II" album cover art (as a knock on their former producer Glyn Johns), her greatest contribution to music was singing the song Stephen Sondheim wrote for her — "Send in the Clowns," in the 1973 Broadway show "A Little Night Music." She won the Tony for Best Actress and in 1998 called the song "the best gift I was ever given." Her last film role was playing grandma in 1999's "SNL" Mary Katherine Gallagher spin-off movie "Superstar"; Johns currently resides in Belmont Village, a senior living community in Hollywood.
Vincent Ball (December 4)
Born in Wee Waa, New South Wales, Australia, Vincent Ball flew 57 operations in WWII, and while working in a hospital post-war, took drama and elocution lessons (and married his teacher). An ad for swimmers needed for a film brought him to England, and Ball stayed in England for 25 years. He graduated from the Royal Academy of Dramatic Art in 1950, and told The Daily Telegraph in 2016 that he considered himself "semi-retired" in 1951, as that was "the year I started working as an actor, but the nature of the industry is so precarious you can never be sure of your next job."
Ball said "in this business you have to do a lot of crap to pay the bills," even once being a pitchman for hair cream, and added, "but I can honestly say I have enjoyed most of the things I have done." Some of his favorites include 1956's "Town Like Alice," 1980's "Breaker Morant", 1983's "Phar Lap" and 2001's "The Man Who Sued God." He shared credits along with fellow centenarians Glynis Johns in the W. Somerset Maugham 1951 anthology film, "Encore", and appeared in 1956's "The Baby and the Battleship" with Carlo Giustini. Ball also had parts in 1968's "Where Eagles Dare," 1994's "Muriel's Wedding," and his most recent credits came on two episodes of "Home and Away" from 2015.
He has written several books, including the 1996 memoir "Buck Jones, Where Are You? An Australian Boy's Adventure," and in 2016 was awarded a Medal of the Order of Australia, to which he replied, "'I hope that now [that] people know I'm still alive, they may give me a job."
Bob Barker (December 12)
Being a naval aviator got Bob Barker's foot in the door at a Springfield, Missouri radio station, started as a sports broadcaster, and then one day filled in at the last minute as an announcer, made the contestant laugh and, as he told Larry King in 2002, "I've been doing that ever since." That led to Barker being named the host of the game show "Truth or Consequences," where Ralph Edwards said on his inaugural show in 1956, "Remember this name. You're going to be hearing a lot about him. Here he is, ladies and gentlemen, Mr. Bob Barker."
Producer Mark Goodson hired Barker to host a revamped version of the "Price is Right" (previously hosted by Bill Cullen), which began airing on CBS in 1972, and continues to do so (now with Drew Carey) after he retired in June of 2007. In his Guinness Book of Work Records "Most Durable Performer" career Barker won 19 Emmys (he gave one away to his barber), was inducted into the NAB Broadcasting Hall of Fame, and received endless amounts of hugs and kisses from strangers.
Barker was a friend to furry animals (and still is), and his outro catchphrase, "Have your pet spayed or neutered" is forever ingrained in popular culture. His love of pets even had Barker take a stand on furs and after two decades, quit as host of the Miss Universe and Miss USA pageants. A black belt, Barker threw down with Adam Sandler in the 1996 flick "Happy Gilmore," relying on years of training with neighbor Chuck Norris) to create the classic scene; the pair even went a second round in 2015.
Barker has also played himself on "The Nanny," "Futurama," "How I Met Your Mother," "Family Guy," "WWE Raw," and as "Bob Barnacle" on "SpongeBob SquarePants." When Larry King asked why he didn't do more films, Barker replied, "I refuse to do nude scenes."
Jimmy Weldon (December 23)
Ivy LaVern Shinn grew up Chickasha, Oklahoma, and "knew at seven, one day was coming to Hollywood and be in pictures" (via YouTube). After serving during WWII, Shinn returned home with the stage name Jimmy Weldon (borrowing the names of his brothers), worked as a disc jockey and introduced a web-footed sidekick: Webster Webfoot. A few years later "Uncle Jimmy" and Webster, now in a physical doll form ("my mother has patched and reupholstered Webster a dozen times" Shinn told The Tribune), were co-hosting a popular Dallas children's television show, and in 1952 he made his dream a reality by heading west to California.
Weldon and Wally later hosted the NBC children show "Funny Boners," then took over for Shari Lewis as host of "The Hi Mom Show" (and was later replaced by Jim Henson). Weldon further expanded his quacking talents when he was tapped to voice the new Hanna-Barbera duck Yakky Doodle on "The Yogi Bear Show." He also voiced Solomon Grundy on "Superfriends," Beansie McBeanBean on a 2015 episode of "The 7D" (his latest credit), and appeared in live action fare like "Alfred Hitchcock Presents," "Dragnet," "The Waltons" and "Dallas." In his later years, Weldon became a motivational speaker (with Webster Webfoot in tow) and authored the book "Go Get 'Em Tiger."
In 1976, Weldon bemoaned the state of youth entertainment to the LA Times, saying "The children have no heroes today. When we were on, we talked about the good things, the little fun things. Now, there's no fantasy, no dreams."
Mike Nussbaum (December 29)
Myron Nussbaum "sent the teletype message from Eisenhower to the Pentagon that announced the end of the war" (via ABC7), and with the conclusion of WWII, Nussbaum shelved his acting dreams for the more steady income of being an exterminator. While he admitted to the Washington Post that he could have died at age 60 from all the pesticides, since he transitioned into a life of theater, under the name Mike Nussbaum, he has gone on to become one of the oldest living actors still working in the business.
The native Chicagoan has graced many stages in his hometown, working with the famed Steppenwolf theater, Joan and John Cusack's father Dick, Jeremy Piven's father Byrne, William H. Macy, and even a young actor named David Mamet. Nussbaum teased Mamet "about being a bad actor. And he came back to the theater the next day and he gave me a copy of The Duck Variations," and knew he should stop stick to writing (via DC Theatre Scene). He won a Drama Desk Award for his performance in Mamet's "Glengarry Glen Ross" in 1984, and would appear in three of his films, including 1987's "House of Games." Nussbaum also had roles in the Academy Award winning "Harry and Tonto," "Fatal Attraction," "Field of Dreams," and recently appeared in the 2020 film "Tom of Your Life."
Nussbaum credits his mother's good genes and staying fit for his longevity. He told NPR at age 94, "I am gifted and lucky to still be able to do the thing that is the most fun for me in life … as long as I can do it, I will."
Warner Bros. (April 4)
The brothers Warner — Polish Jewish immigrants Harry, Albert, Sam, and American-born Jack (whose original surnames were reportedly Wonskolaser) — were in the motion picture business well before 1923, starting as traveling exhibitors in 1903, having built their first theater in 1906-1907 in New Castle, Pennsylvania, then distributing films as the Duquesne Amusement and Supply Company, before finally producing them under their own name out west. Harry's granddaughter Cass told The Sacramento Bee in 2013 that "They came from nothing and their dream was as big as anyone can dream," and on April 4, 1923, they incorporated their company: Warner Bros.
Outside of their early "Rin Tin Tin" dog films, the young company struggled, and were teetering on bankruptcy until Al Jolson said "you ain't heard nothing yet" in 1927's "The Jazz Singer," upending a silent picture industry and ushering in the era of talkies. With the profits from the film they expanded their studio, and in the 1930s exploded onto the scene with popular gangster pictures starring James Cagney and Edward G. Robinson, getting rather animated with the genius of Mel Blanc and the Looney Tunes cartoons and then in the 50s, branching out into television and music.
The company is home to 18 Best Picture winners, with the oldest being 1932's "Grand Hotel" and the latest being 2012's "Argo." The studio has over 10,000 other feature films in their catalog (seemingly all of them made appearances in "Space Jam: A New Legacy"): including "Casablanca," "The Wizard of Oz," "Goodfellas," "Lord of the Rings," "Harry Potter," all the DC Comics features and the majority of the works of Stanley Kubrick, Clint Eastwood and Christopher Nolan (his "The Dark Knight" is Warner's top-grossing movie of all time).
Warner Bros. no longer has anyone from the Warner family working for the film division, and the company has merged and changed corporate hands many times over, from Time Inc. to AOL to AT&T, and currently with Discovery. For their centennial, Warner Bros. "celebration will include a fully realized, fan-focused campaign involving every division of the Studio — film, series, consumer products, videogames, themed entertainment, studio tours, live events and more."
The Hollywood Sign (July 13)
Hollywood was put on the map by H.H. Wilcox and Co. in 1887, but didn't get its iconic sign with 50 feet high letters until July 13, 1923, when a foothill area beneath the hills was dubbed "Hollywoodland" and hoped to become "one of the most distinctive home communities In the country," with prices that began at $2,000. The Los Angeles subdivision was not even the only one to sport a hillside advertising sign.
The "largest electric sign in the world" lost some of its luster with the suicide of actress Peg Entwistle, who leapt to her death from the letter "H" in 1932, and in 1938, rain and wind destroying the consecutive letters "LLYW". It was restored, but in danger of being scrapped altogether a decade later when wind took down the "H." Thanks to the President of the Hollywood Chamber of Commerce, John B. Kingsley, the sign was saved in 1949, with the missing "H" replaced, and an agreement was reached to drop "LAND" from its name. The Hollywood Sign ran into more wear and tear in the ensuing decades, and was saved from ruination by some famous friends, like Hugh Hefner, Alice Cooper, Gene Autry, and Andy Williams. The sign was reconstructed from scratch and unveiled to the public on November 14, 1978, in time for its 75th birthday.
There have been times when vandals, pranksters and even advertisers have used the sign for their own purposes, and it has been altered to spell HOLLYWEED, HOLYWOOD (for the Pope), OLLYWOOD (for Oliver North), CALTECH, RAFFEYSOD, FOXLYWOOD (for the launch of Fox prime time), PEROTWOOD, and even HOLLYBOOB.
The Hollywood sign gets repainted about once a decade, and with 400 gallons of High Reflective White SW 7757 from Sherwin Williams in hand, it is "getting its new makeover just in time for its 100th anniversary," Jeff Zarrinnam, the chair of the Hollywood Sign Trust, told the Los Angeles Times.
The Walt Disney Company (October 16)
After a few failed animated business ventures back in Kansas City, Walt Disney and his brother Roy signed a contract with M. J. Winkler to produce a series under the name Disney Brothers Cartoon Studio, counting October 16, 1923 as its birthdate. The brothers moved to Hollywood, expanded their company (including hiring the future Mrs. Walt Disney) and then expanded the world of animation in a short time. Renamed The Walt Disney Company in 1926, and losing the rights to their first character (Oswald the Lucky Rabbit), Disney conjured up Mickey Mouse, who Walt told UP, was based on a "tame" mouse he kept in a cage on his desk that had "a definite personality."
Mickey premiered in 1928 with "Steamboat Willie," one of the first animated works with synchronized sound on picture. The technical feat would be just one of many that Disney and his company would trailblaze for the industry, and for their efforts. Disney has won (as of 2021) 135 Academy Awards, with Walt taking home 32, including a Special Award for "Snow White and the Seven Dwarves," which came with seven additional little statuettes. Beloved films followed such as "Dumbo," "Bambi," and "Cinderella," and screen dreams became a physical reality with the opening of the amusement park Disneyland in 1955. Walt died 11 years later, and while his brother said "there is no way to replace" him, promised to operate the company as he had "established and directed it through the years" (via L.A. Evening Citizen News).
The spirit of Walt and his work lives on, and can be felt and seen in many mediums. From big animated blockbusters ("The Lion King," Pixar films), to other deliverables (Disney+, ABC Network, ESPN, 20th Century Fox, National Geographic), to owning and being stewards of other beloved properties (Marvel, "Star Wars," "The Muppets," "The Simpsons"), and Disney entertainment venues and other theme parks across the world, Disney has built itself into the company "where dreams come true."