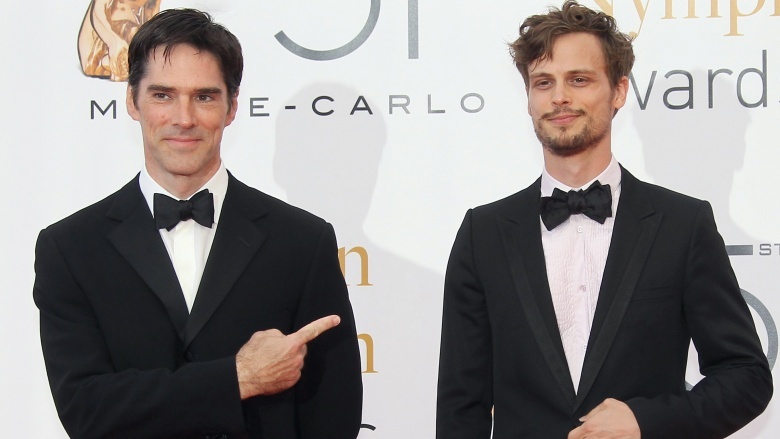 Since its debut in the fall of 2005, Criminal Minds was a steady ratings hit for CBS. Millions tuned in every week to watch the crew of the FBI's Behavioral Analysis Unit profile, investigate, and track down "unknown subjects" (or "Unsubs"), wanted for the worst of the worst crimes, rendered in as much lurid detail as network television would allow. Of course, after all those years on the air, the show has built up a lot of stories—the ones viewers have enjoyed onscreen as well as all the fascinating behind-the-scenes details most fans never hear about. With that in mind, we've rounded up 15 years of trivia to give you a better feel for everything that went into one of television's longest-running dramas. Whether you're a longtime viewer or just getting into the show, there are bound to be some cases you haven't cracked. This is the untold truth of Criminal Minds.
Thomas Gibson got booted for kicking a producer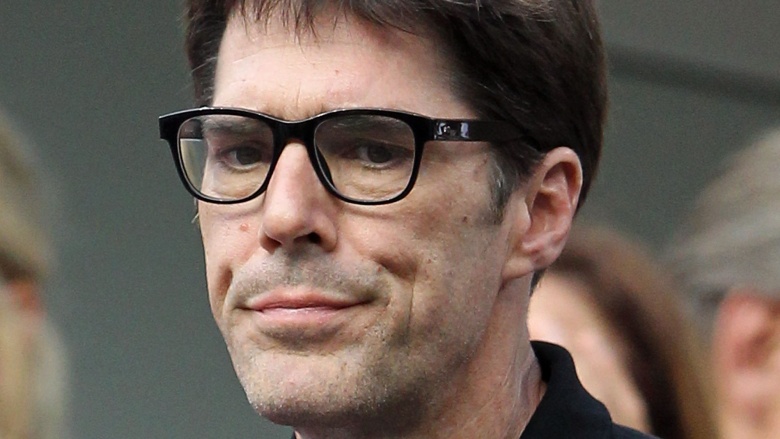 It wasn't Thomas Gibson's mind that proved criminal; it was his foot. The former Dharma & Greg co-star portrayed FBI unit chief Aaron Hotchner since the beginning, but that came to an end in mid-2016. Gibson was reportedly directing an episode for season 12 when he "instinctively" kicked writer and co-executive producer Virgil Williams in the shin. "There were creative differences on the set," Gibson said in a statement. "I regret that it occurred. We all want to work together as a team to make the best show possible. We always have and we always will." CBS suspended the actor, then fired him days later. It was the second time Gibson turned violent on the set: a few years earlier, he pushed another producer and was forced to attend anger management.
Mandy Patinkin left the show, and then trashed it
Mandy Patinkin is something of a serial series quitter: Criminal Minds is the third straight show he abruptly exited, following his aborted starring roles on Chicago Hope and Dead Like Me. He initially said he left Criminal Minds in 2007 to spend more time with his family, but in 2012, he called signing on for the show "the biggest public mistake I ever made" and said he found doing plot after plot about murder and rape "destructive to my soul and personality." Fair enough. Cast member Jeanne Tripplehorn publicly responded to Patinkin's comments, calling him a hypocrite because the show he moved on to, Homeland, was equally violent and misogynistic.
Paget Brewster and A.J. Cook got jerked around
Shortly before the beginning of season 6, cast members Paget Brewster (Special Agent Emily Prentiss) and A.J. Cook were fired from the show. The official word from the network and production company came down to budget cuts, but according to Brewster, the real reason was far seedier. Reportedly, someone from CBS called Criminal Minds showrunner Edward Allen Bernero and ordered him to bring in "new women"—meaning younger women. Cook shot an episode to explain why her character, J.J., was going away, but Brewster's agent negotiated an additional 17 episodes before her demise. Actress Rachel Nichols was brought in to replace Brewster and Cook, and Brewster went on to shoot a pilot. Once the pilot wasn't picked up, Criminal Minds producers (new ones—Bernero quit) claimed that those 17 episodes constituted another year of her contract, forcing her to return to the show that had fired her (and killed off her character). After thousands of fans wrote in letters of complaint, Cook, and J.J., returned to Criminal Minds as well.
At the San Diego Comic-Con in July 2016, Criminal Minds showrunner Erica Messer announced that Brewster was coming back yet again, and would be seen in "multiple episodes" during the 2016-17 season. Before long, Brewster was a main cast member again.
Thomas Gibson got catfished
Thomas Gibson portrayed Aaron Hotchner, an investigator so good at his job he probably wouldn't be catfished in real life. But Gibson is just an actor. In 2011, he struck up a flirtatious relationship with a fan posing as a porn star, who approached him on Twitter. Their messages grew more and more sexual over the next two years, and Gibson sent the fan a super-sexy video of himself in a hot tub. The fan shared it with the media, which is when he found out she wasn't a porn star at all. Even worse: Gibson was married at the time, but he insisted he did nothing untoward because he and his wife were officially separated at the time of the incident.
The show's casting director can get you on the show…for a price
In 2016, Criminal Minds' veteran casting director, Scott David, was named by The Hollywood Reporter during an investigation into acting workshops that were really just "pay to play" scams. Basically, struggling actors would pay to attend a workshop hosted by David (or one of many other casting directors investigated), which would make them more likely to secure auditions. The day after the report was published, Criminal Minds production company Touchstone Television fired David.
Matthew Gray Gubler needed some extra support
Early in the fifth season of Criminal Minds, the line between the seriously bad guys and the Behavioral Analysis Unit that tracks them down became suddenly and violently blurred. The BAU assisted a doctor whose son had been threatened with murder; during a showdown, guns were drawn, and the villain took aim at the doctor. Spencer Reid (Matthew Gray Gubler), in the line of duty, kept the doctor safely behind himself. The doctor didn't get hit, but Reid was shot in the leg.
For the next few episodes, Reid was shown walking around with the aid of crutches. That little plot detail was certainly shocking — and blunt, in that sometimes the good guys suffer for being the good guys — but it actually had to be written into the episode. Gubler needed to be on crutches, and so his character needed to be on them too. Just before season five started filming in 2009, Gubler dislocated his knee…by dancing too hard.
Two spinoffs, two spinouts
Spinoffs of hit TV shows are a calculated risk. A network wouldn't commission or air one if they didn't think it would work, so they base them on characters or concepts from a show that have proven to be popular with audiences. Among some of the smash hit shows that generated hit spinoffs: Cheers with Frasier, Buffy the Vampire Slayer with Angel, and NCIS with NCIS: Los Angeles. Conventional (and network) wisdom holds that an extension of the Criminal Minds brand would be a surefire hit — since the original show is a long-running, highly-rated staple, another weekly hour of Criminal Minds would be welcomed by audiences. Oddly, something about the successful formula of Criminal Minds didn't translate to either of its spinoffs, Criminal Minds: Suspect Behavior or Criminal Minds: Beyond Borders. The former debuted as a midseason replacement in 2011, with Kirsten Vangsness carrying over her character, Technical Analyst Penelope Garcia, to a new BAU team headed by Team Leader Sam Cooper (Academy Award winner Forest Whitaker). It was canceled after 13 episodes. Beyond Borders, centered on crime-fighters solving cases involving Americans that went down internationally, starred CSI: New York veteran Gary Sinise…and it lasted just 26 episodes.
That time a guest star stole a fortune from Shemar Moore
Shemar Moore is so connected with the phrase "Baby Girl" that he named his charity after it. He founded Baby Girl LLC to raise funds to fight multiple sclerosis, the horrible disease that afflicted his own mother. Another place where Moore's personal and professional lives converged: his complicated friendship with a man named Keith Tisdell. The two guys became pals when Tisdell had a bit role on an eighth-season episode of Criminal Minds. Their bond was strong enough that Moore bought Tisdell $10,000 rims, paid for them to go on multiple lavish vacations together, and forked over $20,000 for personal expenses. Moore said they also "went into business together," with Tisdell taking on a position at Baby Girl LLC. But when an audit revealed that the company's coffers were missing about $61,000, Moore suspected Tisdell and confronted him. Tisdell initially denied fault, but was ultimately arrested on suspicion of embezzlement, and in a deal, he pleaded "no contest" to a charge of grand theft. "I'm not here for money. I'm here because he betrayed a friendship," a heartbroken Moore said at Tisdell's sentencing. "This is not OK. You don't do this to people." Tisdell was ordered to repay Moore the $61,000 he stole from the actor's charity.
Some fans didn't Love Jennifer
After her years as a star of teen-oriented movies and TV shows like I Know What You Did Last Summer and Can't Hardly Wait, Jennifer Love Hewitt settled into a career as reliable, familiar presence on TV dramas. She starred on CBS's The Ghost Whisperer for five seasons, jumped over to Lifetime for The Client List, then returned to the Eye Network in 2014 with a sweet gig as investigator Kate Callahan on Criminal Minds, ostensibly replacing the departing Jeanne Tripplehorn (and her character, Alex Blake). Some fans decidedly did not take to the former Party of Five star, nor her character. In addition to the customary negative social media chatter, some fans even signed a petition at Change.org to "Write Jennifer Love Hewitt's character off Criminal Minds." (Originator "A Ng" wrote that "developing a new character just takes away screen time and distracts from the cases" and "the acting and writing for this character is just wild corny.") Ultimately, any perceived problem took care of itself. Hewitt left the show after the 2014-15 TV season, citing her pregnancy as the reason.
It's not exactly a reality show
The Behavioral Analysis Unit is a real division of the FBI that's really based in Quantico, Virginia, and it's very selective. According to former Criminal Minds star Mandy Patinkin, only 26 of the FBI's 12,000 agents are part of the department. But life working in that department isn't quite like it's depicted on Criminal Minds. Only a handful of the most complicated and extreme cases ever make their way to the small, elite real-life BAU team, and they certainly don't solve a case per week. Profiling a criminal and hunting him down can take months of research, study, and preparation — unlike on Criminal Minds, where the team is essentially handed a folder, and they hit the ground running. Also, and unlike on TV, it's almost entirely a desk job. Rarely do BAU team members leave Quantico to hit the field (and probably not in a well-appointed private plane). When they do leave, they're certainly not the ones who confront criminals and put their lives in danger while doing so — the vast majority of that action is handled by police and other law enforcement officials.
Kirsten Vangsness can write her own stuff, thanks
The set of Criminal Minds seems to foster a collaborative, creatively inclusive vibe. Numerous cast members past and present have directed episodes of the series, including Thomas Gibson, Adam Rodriguez, Joe Mantegna, and Aisha Tyler. Matthew Gray Gubler (Spencer Reid) has helmed more than ten to date. It's not too difficult for an episodic, procedural show like Criminal Minds to plug in a new director from time to time — or at least it isn't as tricky as getting a new writer up to speed. In addition to directing a handful of episodes, Kirsten Vangsness (Penelope Garcia) has co-written three installments of Criminal Minds since 2015. It's hardly a lark, as Vangsness is an accomplished playwright. (Her play Potential Space earned a nomination from LA Weekly as the best of the year, and she occasionally performs her one-woman show, Mess.) "Writing for television is so different" than writing for the stage, Vangsness told a CBS affiliate. "The episodes I've written have been half written by me and the other half was written by our showrunner Erica Messer and then we mush it together." Additionally, Vangsness says "the writers expect" her to rewrite the many phone call conversations required of her character. They also asked her to write the final scenes between her character and Derek Morgan when Shemar Moore left Criminal Minds in 2016.
You're gonna want to read this, Baby Girl
Amidst all the murder, assault, kidnappings, and other darkness that fuels the Criminal Minds plot machine is a lighthearted palate-cleanser: the wordy flirtations between Derek Morgan (Shemar Moore) and Penelope Garcia (Kirsten Vangsness). Those two were always calling each other cute and affectionate names, particularly "baby girl," "hot stuff," "silly girl," "sweetness," "sugar," that kind of thing. It feels spontaneous and organic, because it is — those exchanges were based on a bit of improvisation on Moore's part while shooting a first-season episode. "I had a phone call with Kirsten — Penelope Garcia," Moore said. "But then I was in a goofy mood, so when they said 'action,' I was like, hey, baby girl, listen, I need you to work your magic…" To Moore's surprise, the riff made it into the final edit of the episode. Fans online so frequently commented how much they loved the "baby girl" bit that it became a regular part of the show, although Moore said he set a limit of no more than one or two "baby girls" per episode.