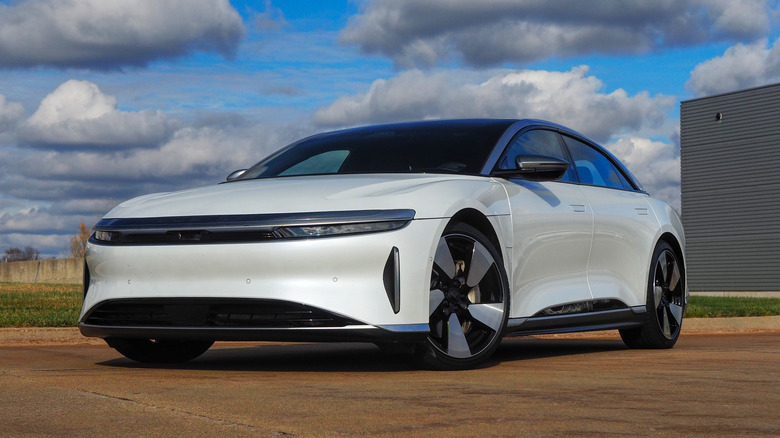 The Lucid Air Grand Touring Performance has no right being this good. At a time when most automakers — new and old — are discovering that building capable, appealing electric cars is tougher than you might think, the California startup's first entrant into the luxury EV space certainly wasn't shy on making big promises in return for its six-figure price tag. The surprise, then, isn't the Air's spec sheet but how compellingly it delivers more than just silly 0-60 times.
Don't get me wrong, I love a good traffic light dash as much as the next person. Rampant acceleration has done more than probably anything else, in convincing electric skeptics that EVs have something more to offer than green Prius piety. Going very fast in a straight line, though, isn't enough by itself.
There's range, undoubtedly, and charging speeds, but more than that it's about offering a holistic package. A car that feels as special on a highway commute as it does being pushed on a weekend joyride; a cabin that neither dazzles nor deprives when it comes to technology and comfort. There are some, frankly, fantastic expensive electric vehicles out there right now, but none have fully nailed each of those criteria. That's not so much a criticism as a frank acknowledgment of just how big a challenge Lucid undertook here.
Smoothly divisive styling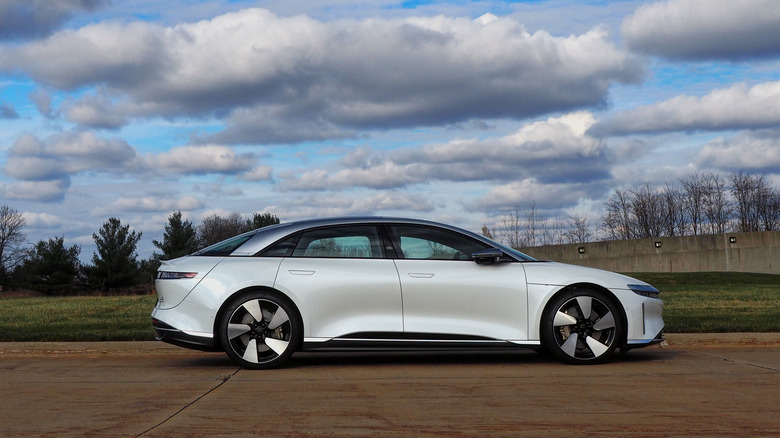 Aerodynamics have clearly swayed the shape of the Air, though it's not quite the amorphous bubble of the Mercedes EQS. It's definitely enough to turn heads, gliding like a spaceship through traffic, with the "LUCID" logos glowing front and rear. I like the alloy wheels, too, with their turbine design that almost resemble spinning food-processor blades.
Some of the angles are more appealing than others, and I know there are people who find the Air's design leaves them flat. The two-tone body and roof is an acquired taste, I'll concede, though the optional Stealth package tamps down the effect, while the trunk — with its low, wide opening — left me thinking about mailbox slots every time I used it.
It'll hold 16.1 cu-ft, though, which is ample for a sedan. Drop the rear seats, and that'll expand to over 23 cu-ft. Under the hood, there's a capacious 7.1 cu-ft frunk.
A vast cabin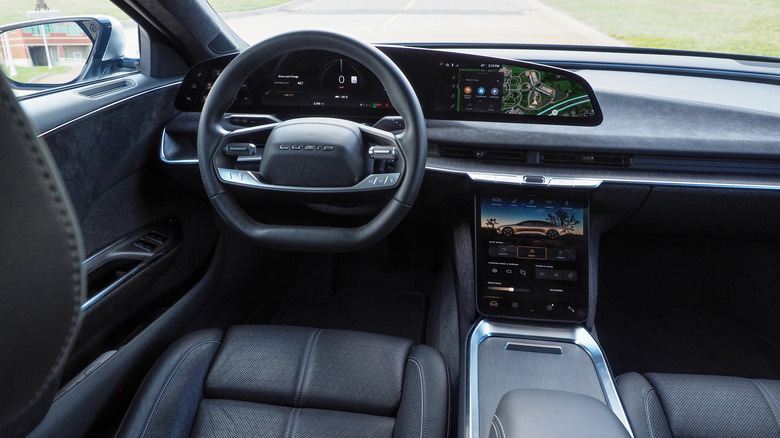 Capacious also describes the cabin, where Lucid has taken full advantage of the Air's electric architecture by prioritizing passenger space. The floor is flat, albeit a little higher than you might expect in the rear given the larger Grand Touring battery, and there's plenty of room across both rows. Lucid's fond of pointing out that the Air has an E-Class footprint but S-Class cabin space, and it's definitely airy inside. I'm a big fan of Lucid's seats, too, which have plenty of adjustment but are also just plain comfortable for long-distance jaunts.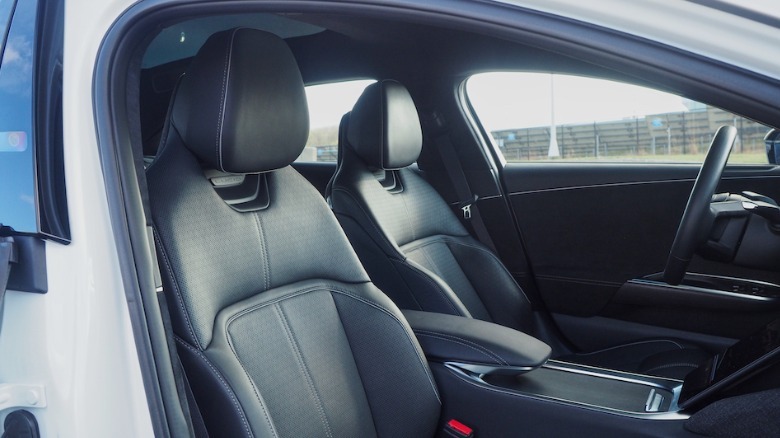 Lucid offers a handful of color schemes, with gray, tan, and creamy ceramic finish Nappa leather. Real wood and Alcantara leave the dashboard and door panels looking and feeling as premium as what you'd find in an S-Class, and compared to the EQS' "Cyberpunk" style ambient lighting and surfeit of screens the Air feels positively restrained in comparison. I'm of a mind to think that's a good thing.
Tech, but not overwhelming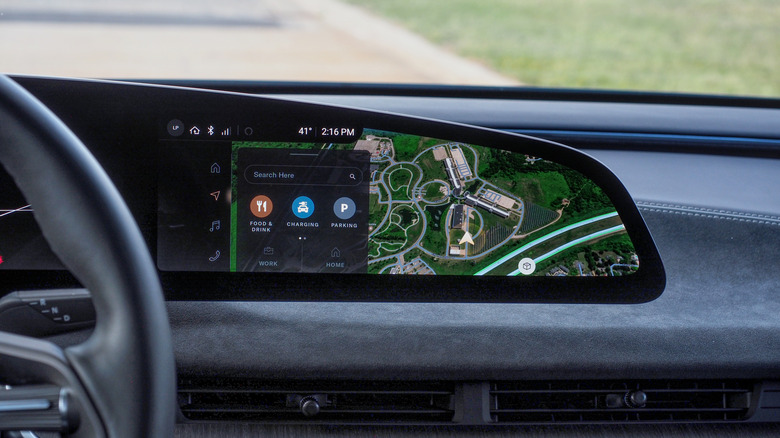 That's not to say the Air is short on gadgetry. A large, curved floating panel handles the driver's instrumentation, an upper infotainment touchscreen, and — on the opposite end, to the left of the steering wheel — a panel for lights, wipers, and opening the trunk and frunk. The wheel itself has two knobs and two rows of not-especially-tactile buttons, handling adaptive cruise control and multimedia.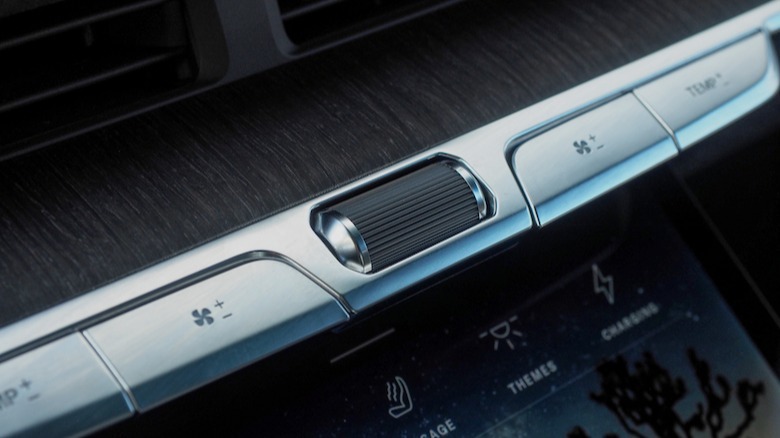 In the center, below a dedicated (and, weirdly, non-illuminated) volume wheel and temperature/fan toggles for the HVAC system, there's a big, portrait touchscreen. That's where you switch drive modes, adjust the climate control and seat massage, and access the Air's settings and charging options. You can also swipe down from the top, which drags whatever app is on the upper touchscreen to maximize on the lower panel too; useful if, say, you want a much bigger map view.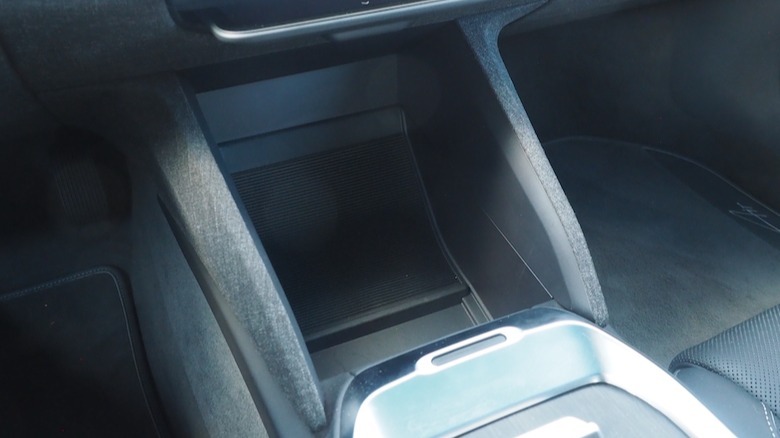 A swipe up from the bottom, meanwhile, sends the touchscreen motoring into hiding. That reveals a sizable cubby, and there's a lidded bin behind that and under the center armrest. They're easy to access; the glovebox, though, can only be opened via a button in the infotainment system.
Fast to update, fast to charge – in theory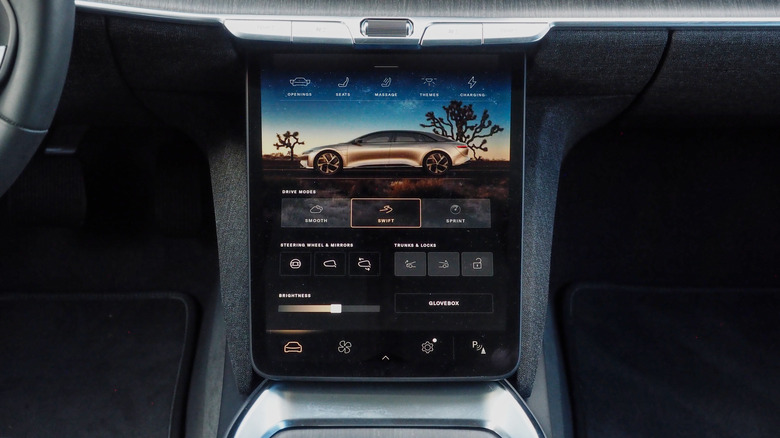 Lucid has been taking full advantage of the over-the-air (OTA) update support for the Air's infotainment system, with a number of tweaks based in no small part on early owner feedback. Some of it is just sensible ergonomic stuff, like moving the upper touchscreen shortcuts for things like navigation and multimedia closer to the driver. The right side of the driver display — squandered, initially, on just the "Air" logo — will now show upcoming navigation instructions, assuming you've set a destination.
I like Lucid's UI generally, though it takes a little getting used to. That's par for the course in high-end cars these days. Being able to build a custom home screen with the controls I use most would be a big help, though that might be a vain hope. At least Android Auto and wireless Apple CarPlay are confirmed as in the pipeline.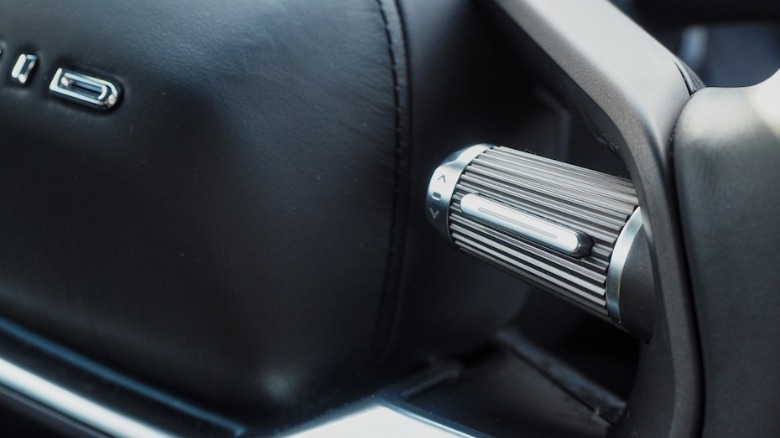 Lucid's HERE-powered maps are swift to throw up the nearest public chargers when requested, and — since Air buyers get 1-3 years of free Electrify America sessions, trim depending — there's a toggle to only show EA locations. Charger availability in the Air's navigation matched up to EA's details in the app, too.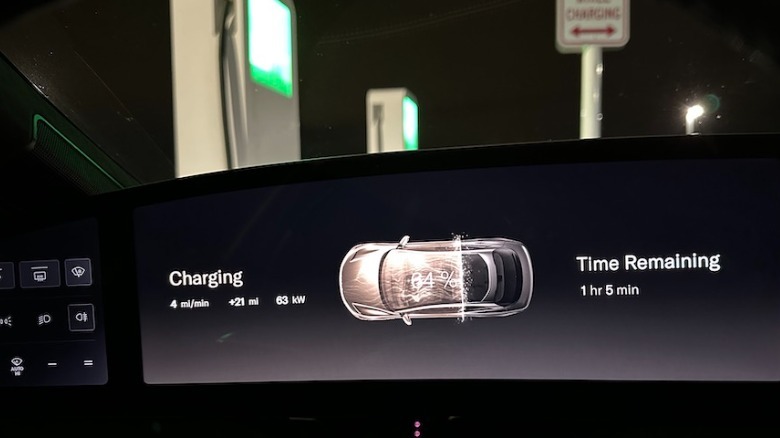 Theoretically, you'll see up to around 300 kW rates with Electrify America's most potent plugs, courtesy of the Air's 900V architecture and 112 kWh battery. In practice, climate seems to have a significant impact. Even having preconditioned the battery on the trip over, I struggled to break the 100 kW barrier with ambient temperatures in the low 40F range. Enough to add 4-6 miles of range per minute plugged in, but a far cry from the Air's potential maximum.
Segment-leading range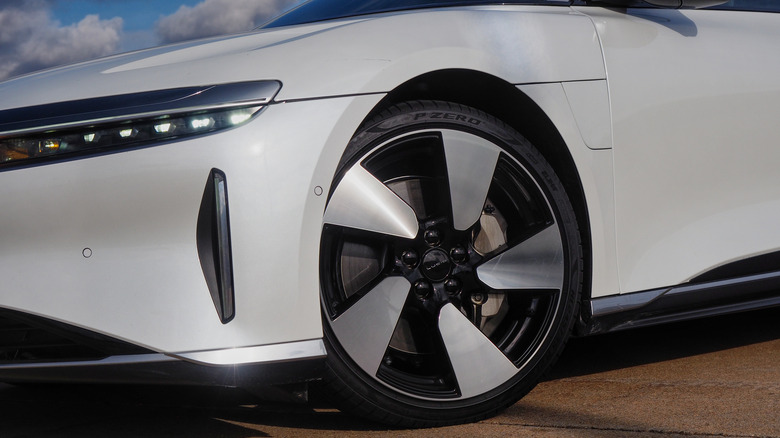 Still, you won't need to visit public chargers as often as you might in most EVs, as the Air has some of the most impressive range numbers of any current electric car. With 21-inch wheels, you're looking at 469 miles of EPA-rated range from the Air Grand Touring; settle for 19-inch versions, and that stretches to a whopping 516 miles. By way of lavish comparison, a similarly-priced Mercedes-AMG EQS is rated for just 277 miles.
Exactly how close to the Air's headline figures you'll get will, unsurprisingly, depend on how much you tap the Grand Touring's hefty supplies of horsepower and torque. With dual electric motors — the upcoming Air Sapphire throws in a third — an Air Grand Touring has 819 hp and a 0-60 mph time of just 3.0 seconds.
This Air Grand Touring Performance, meanwhile, is even more potent. It has a (frankly astonishing) 1,050 horsepower and trims the 0-60 run to a supercar-rivaling 2.6 seconds. It also sacrifices a little range in the process, though even its "lower" 446-mile rating is still well more than most rivals can muster.
No showboating, just speed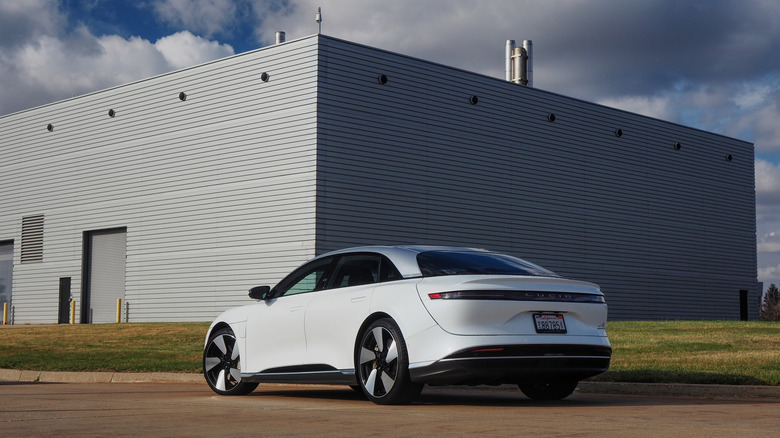 It's also, to put it bluntly, ridiculously quick. With so many horses on tap, Lucid wisely saves the maximum grunt for the Sprint drive mode (and makes you tap an acknowledgment that you understand great power comes with great responsibility). There's no showboating settling of the suspension — Lucid has stuck with steel coil springs outfitted with adaptive dampers, rather than some trick air ride setup — nor any need to wait for motors to cool or batteries to ready their all.
It just goes fast. Really, really fast.
Actual opportunities to fully test the Air Grand Touring Performance's talents are few and far between. Most of the time your foot hasn't had the chance to squeeze the accelerator all the way to the floor before you're in license-losing territory and need to back off again. The fact that EVs can be massively, almost uncomfortably swift is no surprise at this point, and yet Lucid's still manages to shock.
Unexpectedly nimble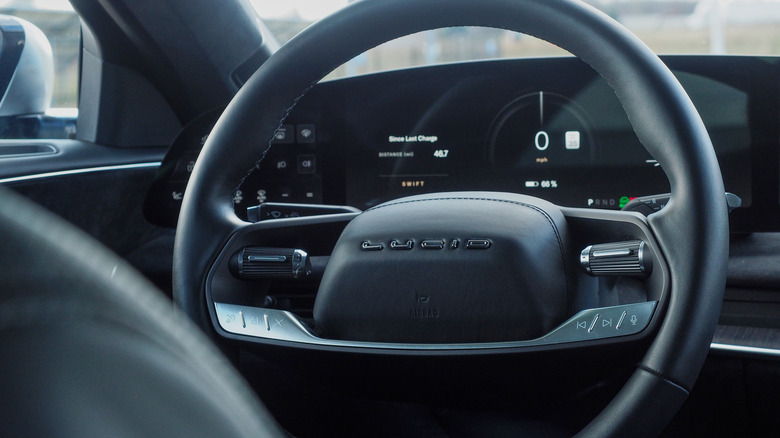 The bigger surprise is how well this big, luxury sedan handles corners. At around 5,200 pounds it's clearly no lightweight, and yet despite not having air springs to count on, Lucid has dialed in a compliant and reassuring ride. Turns are taken flat and chaos-free; it's almost like watching a video of a car slipping through the twists that have been sped up, the Air simply delivering on what's requested with hushed competence.
If it's not exactly sporty, then that's more from the distance Lucid puts between the driver and the real world. The automaker wisely avoids the bizarre, unnecessary fake sounds that some of its luxe counterparts seem to think are vital to delivering engagement.
Settle in for a road trip and you'll question why any luxury car would be anything other than entirely electric. The 21-inch rubber can be a little noisy, but that's really more to highlight the absence of other sounds. Lucid has recently added Highway Assist in an OTA update, blending adaptive cruise with lane-keeping. It's a smooth-acting hands-on system, but it still lacks features like automatic lane change.
Room for improvement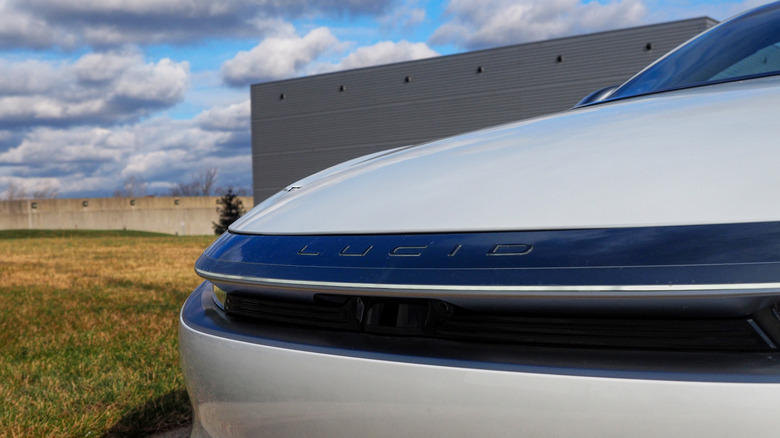 There are still some frustrations, mind, many of which I can't help but think could be ironed out with some more software tweaks. The way the Air unlocks and presents its door handles as you walk near can be a head-scratcher, as the gentleman in the car parked next to me one time — justifiably questioning why I was stood there repeatedly making the horn beep from the key fob — could attest to.
Then there are the high-resolution cameras with their 360-degree view around the car. Useful, certainly, only more often than not they'd fail to load up when I first got in and selected reverse. It's a shame, as one of the more noticeable improvements to Lucid's recent software is speeding up the availability of the infotainment platform generally.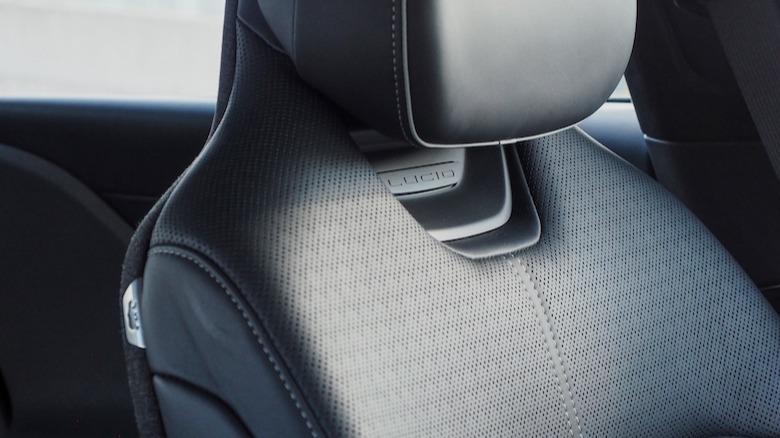 I'll say I'm also not a fan of the touchscreen adjustment of the steering wheel and side mirrors (though the front seats do at least have regular controls on the sides). Lucid isn't alone in doing it that way, but having to dig into a menu and then tap around the main touchscreen just to make small tweaks is a chore.
2022 Lucid Air Grand Touring Performance Verdict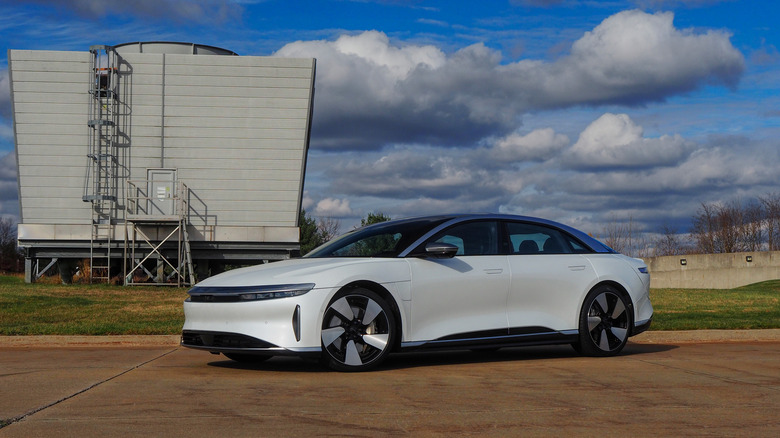 The overall impression, though, is of a shocking degree of refinement considering this is Lucid Motors' first car. Yes, the team responsible has serious credentials and has been well-funded along the way, but it's only fair to point out that plenty of would-be rivals have enjoyed the same and still come crashing into the realities of the auto industry. It is really very hard to make a brand new car, let alone one that competes so effectively from the get-go with electric upstarts and traditional automakers alike.
Lucid's hurdles remain, in no specific order, ramping up production, bringing out more affordable models, and further squeezing out the electronic gremlins. The Air Pure, set to be its most affordable version, will kick off at under $90k; a far cry from the $179,000 of the Grand Touring Performance (or the $154k of the regular Grand Touring). It'll sacrifice some power, range, and luxury, but Lucid says its cheapest car should still do 406 miles on a full charge and feed 480 horsepower through its rear wheels.
Then there's the Lucid Gravity, its second model and its first SUV, and — though the Air Sapphire makes big performance promises with its triple-motor setup — I can't be blamed for hoping some sort of sports coupe might be on the roadmap too. There's really no doubt that the tech is more than up to such a challenge, and should get only more appealing when features like bidirectional charging go live. As it stands today, though, I'm struggling to think of a better electric all-rounder than this Air.