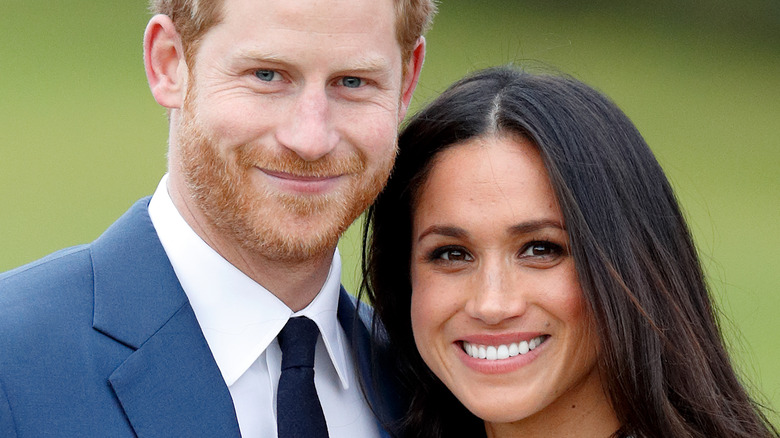 This feature contains discussions of drug and alcohol misuse, racism, and suicidal thoughts.
We love to talk about the royal family. And why not? They're so fun to gossip about! Books, movies, and Emmy-winning TV shows have been produced about the interpersonal drama that plays out behind palace walls. While they don't like to talk about their personal lives, there are some rumors so long-standing they might as well be considered cultural fact. For example, even though King Charles won't address his disastrous marriage to Princess Diana, the rumor that his relationship with Camilla Parker-Bowles played a large part in its demise is widely known. And even though Prince Andrew is at family events, it's also broadly speculated that most of the family would rather not be seen in public with him.
We could spend hours digging into every member of the royal family, but this time we want to talk about the rumors surrounding Prince Harry and Meghan Markle. Since the day they met, there has been non-stop gossip about the Windsor family's most controversial modern couple. First, there were rumors that Meghan gave Harry an ultimatum to go public with their relationship back at the beginning of their relationship, per The Times. In 2021, there was speculation that Meghan never wanted to be a royal and that ditching the family for a lux life in California was part of her and Harry's plan all along.
We couldn't possibly have time to explore all the rumors surrounding Harry and Meghan. So instead, we're getting to the bottom of the ones that turned out to be true.
Meghan's dad sold out
Who could forget Meghan Markle and Prince Harry's wedding? Her two beautiful dresses, the star-studded guest list, and of course, Prince Charles walking Meghan down the aisle. It was a bittersweet moment, as the honor should have gone to her father, Thomas Markle. Just days before the wedding, he was photographed out and about in London prepping for the big day, per The Daily Mail. The next thing we knew, Thomas was hospitalized for heart surgery and would not be appearing at the wedding — as confirmed by a palace press release. The whole thing felt a little oddly timed and sure enough, there were rumors that his absence was less about his health and more about a fallout with his daughter.
Those rumors would prove to be true, though very complicated. Thomas reportedly exchanged some tense exchanges with Meghan and Harry after he was caught staging the aforementioned paparazzi photos before the wedding. Further rumors circulated suggesting that Thomas had faked the heart attacks that led to his hospital visit. However, he adamantly denied the allegations to the Daily Mail, supplying purported medical bills for his treatment as proof.
Per Us Weekly, Thomas has continued talking to tabloids about his daughter and the royal family for years. He even shared a personal letter Meghan wrote to him with the Daily Mail, in which she ironically begged him to stop speaking to the tabloids. In 2021, Harry and Meghan successfully sued the newspaper for publishing the personal correspondence, per The Washington Post.
Tension between Meghan and Kate
The tabloids love to pit women against each other, so after Meghan Markle and Prince Harry announced their engagement, it was only a matter of time before Meghan and Kate Middleton allegedly became enemies. According to The Telegraph, which first broke the allegation, Meghan was said to have reduced her sister-in-law to tears during a bridesmaid dress fitting for Princess Charlotte. Tom Bower's book, "Revenge," further purported that at the core of the argument was a question of whether the bridesmaid outfits should follow royal protocol and include tights, prompting tears from Middleton.
However, in the now-infamous CBS interview with Oprah Winfrey (via Newsweek), the former "Suits" star insisted that the two fell out because Kate was in the wrong. Addressing the rumors that she made her sister-in-law cry, she stated, "No. The reverse happened … And I don't say that to be disparaging to anyone, because it was a really hard week of the wedding. And she was upset about something, but she owned it, and she apologized."
As of 2022, tabloids have continued to stir the pot between the two. However, a year earlier there were reports that the women had made an effort to amend any wrongdoing after Meghan gave birth to Lilibet. Regardless, as noted by Us Weekly, we have yet to see them interact in any meaningful way in public. If they have buried the hatchet, then the reportedly complicated relationship between their respective husbands likely doesn't help matters.
Meghan and Harry are difficult
Soon after their engagement, Meghan Markle and Prince Harry began building a staff to assist with their daily lives and royal duties. Most of them reportedly didn't last long. In fact, they were rumored to have dropped like flies. "Once people join 'The Firm' they tend to stay," former tabloid editor of Britain's Daily Star newspaper, Dawn Neesom, told Page Six. "The swift departure of Meghan's aides raised eyebrows because it was so unusual." This led to gossip that the couple was extremely hard to work for.
When Meghan and Harry left royal life, people went on the record about their alleged experiences with them — and what they had to say was not favorable. Meghan was accused of being very demeaning to staff, with one individual claiming that so much as missing a call from the Duchess left them drastically afraid of the consequences. Things apparently escalated to the point that Prince William and Kate Middleton got involved to comfort Meghan's exhausted staff on more than one occasion, per The Daily Beast.
According to The Times, Meghan and Harry's former communications secretary, Jason Knauf, filed an HR complaint detailing how deeply concerned he was at Meghan's bullying — especially of other women. The couple denied the allegations, with a legal advisor stating, "Let's just call this what it is — a calculated smear campaign," per Evening Standard. Still, some might argue that the sheer volume of people willing to share their experiences could point to some nugget of truth.
William isn't a fan of Meghan
Prince William was allegedly very concerned about Prince Harry's relationship with Meghan Markle from the very beginning. Ever since Harry tied the knot, it's been alleged that things have majorly broken down between the brothers — and rumor has it that everything can be traced back to Meghan.
It's impossible to know exactly what happens behind the palace walls, but we may get an inkling based on what gets leaked. As such, there's a seemingly never-ending list of reasons Will apparently doesn't like Meghan. According to Tina Brown's book, "The Palace Papers" (via InStyle), sources alleged that he warned Harry against marrying Meghan too soon, fearing neither was ready for the pressures of such a public commitment. That relationship may have been further complicated when Harry and Meghan did their bombshell interview with Oprah Winfrey.
As a rule of thumb, the royals do not tend to wear their hearts on their sleeves. So it was a shocking turn of events when the Sussexes openly dished the dirt about palace life to Winfrey. While that alone may have been enough to infuriate William, sources say it was Meghan suggesting his wife made her cry that tipped him into the deep end. "William was disgusted about Meghan's attack on Kate because she can't answer back," royal expert, Brown, alleged in an interview with The Telegraph. Granted, as of 2022, meaningful interactions between William and Meghan seem limited. Could there be some truth to that rumor?
Harry and William had a falling out
The rumor that Prince Harry and Prince William had a falling out has persisted for a long time. However, the exact details remain murky. While some think it started when William warned his brother against marrying Meghan, others think the final straw for Harry was when William refused to speak up in his wife's defense. There was even online theories that William was leveraging the bad press surrounding Meghan to distract from his own rumored affair, as reported by StyleCaster. As posited by Allison Pearson for The Telegraph, Harry and Meghan's decision to move to the states and talk about the family's private lives with Oprah Winfrey potentially didn't sit well with William.
While it's unclear exactly what happened, just one look at William and Harry's body language at the many royal events of 2022 suggests that something went down. In all actuality, it's likely that there was never one thing that led to the fallout. Rather it was just an amalgamation of stressful events. Either way, the relationship between the two princes certainly didn't look promising at that time. According to insiders, the once-close brothers had grown into two very different men. "[William] doesn't know who [Harry] is anymore, and the trust between them is strained," a source told Us Weekly. "They'll never recover from the damage that has been done."
Harry had a drinking problem
One of the first rumors ever circulated about Prince Harry was that he really liked to party. If the rumor was true, then it would have hardly been surprising that a young, rich, and handsome liked to blow off some steam at the weekends. However, there was speculation that his penchant for partying had become a problem. Per The Guardian, one of the first indicators that Harry's behavior was an issue came in 2002. King Charles reportedly discovered that the then-16-year-old boy had been frequently drinking alcohol and using cannabis. He subsequently ordered him to spend a day at a rehab clinic. In the intervening years, tabloids reported him as getting into repeatedly questionable situations such as the time he dressed up as a Nazi for a costume party, or the time he was caught playing strip poker in Las Vegas.
It wasn't until years later that Harry admitted that he'd had a problem with drug and alcohol misuse. In his AppleTV+ docuseries, "The Me You Can't See" (via People) he explained that it took him years to deal with the trauma of his mother's death, and he began binge drinking at the weekends to cope. "I was willing to drink, I was willing to take drugs, I was willing to try and do the things that made me feel less like I was feeling," he confessed. "… I would find myself drinking, not because I was enjoying it but because I was trying to mask something."
If you or anyone you know is struggling with addiction issues, help is available. Visit the Substance Abuse and Mental Health Services Administration website or contact SAMHSA's National Helpline at 1-800-662-HELP (4357).
Meghan was stifled by the family
As soon as Meghan Markle wed Prince Harry, it seemed like she didn't quite fit in. The amount of scrutiny that came with her new title was totally new to the former television star, as was palace culture. And while she played the part well in public, there were rumors that she failed to adjust to palace life behind the scenes. "As an outsider, Meghan did find it very, very difficult to adapt … Of course, Meghan is a very independent career woman, so it is unsurprising that she didn't fit in," one royal expert, Professor Pauline Maclaran, speculated to Express. "I don't really think you could expect an American to really understand that — or the need for that — or actually to want to do it."
It wasn't until 2021, when speaking with Oprah Winfrey, that Meghan explained she felt so trapped by the palace that she became suicidal. She claimed that at one point she was only allowed out of the house twice in four months. Disturbingly, she claimed that things had become so desperate she was afraid to be left alone. When she approached the courtiers about seeking outside treatment, her request was allegedly denied for fear of how it would look to the public. Finally, things escalated to the point that she and Harry decided it was time to step away as working royals and head for the states, to a culture with which Meghan was more comfortable.
If you or anyone you know is having suicidal thoughts, please call the National Suicide Prevention Lifeline by dialing 988 or by calling 1-800-273-TALK (8255)​.
Charles cut the couple off
When Prince Harry and Meghan Markle officially stepped away from their royal duties in January 2020, there was still a lot to figure out with their family. Up until that point, the couple had relied fully on their salaries as working royals — now that they were out of a job, money was going to be an issue. At the time, King Charles was reportedly against continuing to pay Harry and Meghan taxpayer money if they were going to relocate to California and no longer serve the family. Harry said as much during his interview with Oprah, and added that if it wasn't for the inheritance left to him from his mom, the late Princess Diana, he'd still be stuck in the U.K.
According to Vanity Fair, Charles did not think it was fair for the British public to finance Harry's SoCal lifestyle, but he wasn't rash about cutting him off either. According to official royal expenditure reports, between 2020-2021 the royal family still spent more than £4.5 million ensuring the safety and financial security of Harry and Meghan. However, a spokesperson for the couple claimed that this payment didn't contradict Harry's statement as it was part of a different financial timeline to the one discussed.
While things are likely still tense between Charles and Harry, the prince has managed to almost fully move towards financial independence. Shortly after establishing himself in the US, he and Meghan signed multimillion-dollar deals with Netflix and Spotify – something he could never have done as a working royal.
Meghan and Harry were angry about titles
When Meghan Markle and Prince Harry left the royal family, they reportedly did so after tense negotiations with Queen Elizabeth II, King Charles, and Prince William, according to the Daily Mail. Harry and Meghan allegedly left without much notice and before any clear understanding of their roles had been figured out. Almost immediately following the birth of their first child, Archie Harrison Mountbatten-Windsor, it was rumored that Meghan and Harry were considering rejecting a royal title for their son, according to Town & Country. The truth may have been a bit more complicated.
During their interview with Oprah Winfrey (via CBS News), the couple claimed that they did want a title for their firstborn because a title came with security and other protections. However, they alleged that long before Archie was born, the palace made the decision that he would not be given one.
Meghan told Winfrey that while she was pregnant she was purportedly informed that the family intended to break royal protocol by denying Archie his title. She added there was no explanation as to why, and that she was troubled by the implications of the decision. Stating, "[It was] the idea of our son not being safe and also the idea that the first member of color in this family not being titled in the same way that other grandchildren would be." Still, when his grandfather became king, rumors began swirling that Archie's title may finally be granted. As of this writing, that hasn't yet happened.