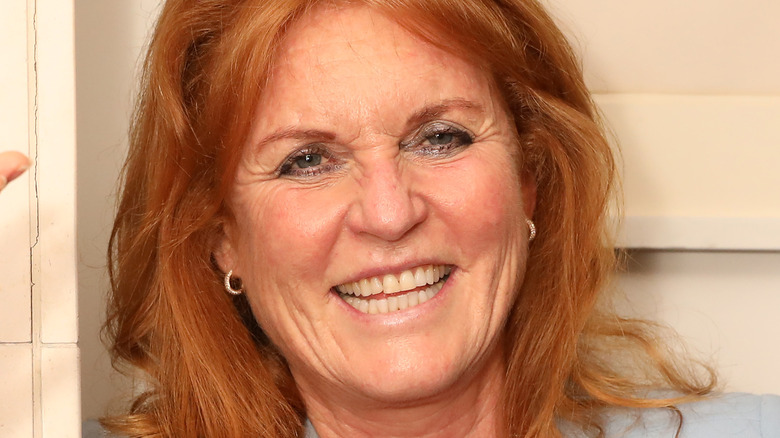 Sarah Ferguson — aka Fergie — is known for her bright red hair, piercing blue eyes, wry charm, and perhaps most notably, for being a former member of the British royal family. She claimed her royal title, the Duchess of York, after marrying Prince Andrew in a lavish royal ceremony at Westminster Abbey in London on July 23, 1986 (per W Magazine). What started out as pure marital bliss for the bride and groom eventually turned into a tumultuous relationship that was heavily documented in the tabloids.
After years of ups and downs, rumors of infidelity, and toe-sucking scandals, the two separated in 1992 and officially divorced four years later (per People). Fergie cited Prince Andrew's naval career as a primary catalyst for their separation (allegedly they were only able to see each other 40 days out of the year, per Harper's Bazaar). Additionally, Fergie expressed that she wanted to start working, and getting a divorce was an avenue that would allow her to do so. "I didn't want a divorce but had to because of circumstance," Fergie told Harper's Bazaar. "I wanted to work; it's not right for a princess of the royal house to be commercial, so Andrew and I decided to make the divorce official so I could go off and get a job." After the divorce was legally finalized in 1996, the Duchess of York's life path changed in a multitude of ways. See below how Fergie's life was dramatically altered and how she blossomed after her divorce.
She realized life is 'not a fairytale'
Following her split with Prince Andrew, Fergie sat down for a televised interview with Oprah Winfrey to share her truth and side of the story. During the intimate conversation, which aired on November 14, 1996, the Duchess of York explained to the queen of talk shows that her expectations and perceptions of royal life didn't always align with reality (via OWN). "You didn't marry the fairytale, you married a man," she told Oprah at the time. "You fell in love and married a man, and then you have to come to terms with the fairytale. Now it's not a fairy tale, it's real life." In the interview, she spoke about the many difficulties of adjusting to royal life, and how this challenge was in part due to the many palace rules, as well as the harsh treatment she received from the British press (per People).
Family life became the priority
The couple welcomed two baby girls a few years into their marriage: Princess Beatrice was born in 1988 and Princess Eugenie in 1990 (via Town & Country). Fergie decided early on that raising her children and being a cohesive family unit was of the utmost importance, regardless of whether she and Prince Andrew were officially together. Co-parenting and creating a supportive and loving environment ranked at the top of her priority list. Fergie told the Telegraph in 2021, "We are co-parents who support each other and believe that family is everything. I'm proud of the job we have done together in bringing up our children and sustaining a strong family unit. Our bywords are communication, compromise, and compassion."
Fergie is also very proud of being a mother and feels it is one of her greatest accomplishments. The Duchess of York told Harper's Bazaar in 2011, "The only thing I know I've done 100% right is be a good mother. I'm proud to say I'm the best mom I know. People say to me, 'What is your brand identity?' And I say, 'I'm a global mother.'"
She rewrote the rules of divorce
The royal divorcee did not go about her divorce journey in the traditional manner. In fact, Fergie and Prince Andrew cohabitated on-and-off for many years, and the two are said to still be living together at the Royal Lodge in Windsor as of this writing. Their close relationship and unusual living arrangements have sparked rekindling romance rumors for years (via the Mirror). In an interview with the Telegraph, Fergie spoke candidly, saying, "'We always say we are the most contented divorced couple in the world. We're divorced to each other, not from each other."
While the two are not technically married, they have stood by each other in friendship amid a bevy of scandals, such as Prince Andrew's involvement in the Jeffery Epstein scandal and Fergie's bribery scandal. In 2021, when the Telegraph asked if the Duke and Duchess of York were considering getting remarried, Fergie stated, "All I can say is that we're happy with the way we are right now." Cheers to appreciating and living in the moment!
Fergie is finding her own voice
After parting ways with the royal firm, the Duchess of York tried her hand at writing, and is now an esteemed children's book author, known widely for her popular "Budgie the Little Helicopter" series, as well as many others. In 2021, at 61, Fergie debuted her first adult novel, titled "Her Heart for a Compass." Publisher HarperCollins describes the novel as "a mesmerizing novel of a young noblewoman's coming of age that richly details both high society and low in Victorian England." Furthermore, the novel's protagonist is based off Fergie's real ancestry, the daughter of the Duke of Buccleuch and his wife, whom in real life were her great-great-great-grandparents (per Town & Country). Finally, in March 2023 you can expect to see her latest historical romance novel, "A Most Intriguing Lady," which follows the same protagonist, Lady Mary Montagu Douglas Scott, on another intriguing adventure during the Victorian Era (per HarperCollins.)
She is becoming a YouTube sensation
The former member of the British royal family launched a children's video series on YouTube, called "Storytime with Fergie and Friends," a show where Fergie reads children's stories to an online children's audience. The show is primarily focused on storytelling, however occasionally Fergie does cooking or science projects on camera as well.
She started the program during the pandemic to help kids smile, and it continues to be a popular show among little ones. The show took a hiatus in early 2022, but is now back in session as of this writing (via Daily Mail.) Her videos display her deep passion for storytelling and connecting with children. Additionally, her cheeky sense of humor and spontaneity shine through in the videos, and make for an entertaining program for both kids and adults. As of this writing, Fergie has over 60,000 followers on her YouTube channel and more than 600 videos to choose from (per YouTube).
She's embracing her inner granny
Fergie is a proud mom, and an equally proud grandma. She is grateful that she is a youthful grandma, since she has the time and energy to spend time with the grandkids. In a letter Fergie penned in Good Housekeeping to her daughters, Fergie wrote, "Being 61 makes me a young grandma, and I love it. I smile from my heart every day, because that is how it feels to be a granny. I have so many fun ideas of things to do with my grandchildren, and of course they're a perfect new audience for all my children's books."
Additionally, she recognizes what a momentous time this is for her daughters, Eugenie and Beatrice, and how special and cherished the transition to motherhood can be. As of this writing, Fergie is a delighted grandma to Princess Eugenie's baby boy August Philip Hawke Brooksbank, as well as Princess Beatrice's baby girl Sienna Elizabeth Mapelli Mozzi (per Express).
She is a great philanthropist
Fergie has long spent her spare time nobly working with charitable organizations. Her philanthropy work became very dear to her and an outlet for personal growth, giving her a renewed sense of purpose and perspective that she believes helped save her own life, stating to the Standard in 2018, "It has certainly made me a better mother to my daughters, giving me a sense of perspective and allowing me to encourage them to use the platform they have to get involved in charitable work. It has probably saved my life, too, by giving me purpose through difficult times. As my grandmother always said, 'When you feel bad about yourself, go out there and do something for somebody else.'"
For the past 30 years, the Duchess of York has been involved in education and childhood-focused nonprofit organizations, including Children in Crisis, Sarah's Trust, Humanitas, the Natasha Allergy Research Foundation, Teenage Cancer Trust, Teen Cancer America, Children's Air Ambulance, the British Heart Foundation, Julia's House and Key to Freedom, and more (via Sarah's Trust).
Over the years she has found more confidence in herself
With age comes wisdom. Over the years, Fergie has been able to cultivate a type of self-confidence that comes from within and helps her feel more authentic and self-assured. She is no longer interested in people pleasing. She told the Telegraph, "'I believe life is ageless and that's how I feel most of the time. I think what you get from being older is perhaps the wisdom to look at life differently. I certainly feel more authentic and sure of myself and where I am going than ever." Additionally, she has learned to love herself and forgive her past mistakes, "It's a very good moment, because I'm free. The truth is, I am 61 years old and I am free of the self-sabotaging Sarah," she told Town & Country in 2021. Fergie has certainly gone through her share of trials and tribulations, but she now appears to be living her best life, and we are all here for that.
She's been 'abused' by the media
Long before Meghan Markle, the Duchess of Sussex, dealt with the beast that is the British press, Fergie was in the eye of the storm. The news of Fergie's and Prince Andrew's separation, divorce, and numerous scandals that surrounded them naturally became fodder for the British tabloids and press. The stories that appeared in the press didn't paint the Duchess in a flattering light at best, and at worst they were outright malicious, criticizing her moral integrity, appearance, and weight (she was once even called the "Duchess of Pork," per the Mirror. Fergie even told the French publication Madame Le Figaro that she "may have been the most abused woman by the press in the history of the royal family."
In a 2011 Time interview, when she was asked about why she garnered so much media attention (specifically negative attention), Fergie postulated, "'Bad Fergie' sells papers. It's a very interesting persona. I don't really know who she is most of the time."
She's had a slew of interesting jobs
In the early aughts, the Duchess of York became an ambassador for Weight Watchers. Linda Webb Carilli, R.D., a Weight Watchers spokeswoman, said of Fergie, "She obviously had the celebrity to grab people's attention. The duchess is a role model. She creates inspiration for people because she is so candid, so interesting, so willing to talk openly about weight, that it makes it OK for others to do the same." Beyond just losing weight, Fergie also credits Weight Watchers with helping her cultivate a healthier relationship with food and live a more balanced life (via Psychology Today).
Later, to underscore her media savviness, Fergie went on to work for a few media companies. She occasionally appeared on "Fox & Friends," and worked as a recurring correspondent for a "Today" show segment called "From the Heart" (via Us Weekly). When looking at her resume, it is clear the Duchess of York has worn many hats over the years, and proven there is almost nothing she can't do.
She had a special relationship with the queen
Even after her divorce from Prince Andrew, Fergie maintained a close bond with Queen Elizabeth. Beyond their mutual love for their family, it appears the two had a shared interest and love for their dogs and dog-walking (via CNN). During their time together, Fergie even had a silly nickname for the queen: "The Boss" (via People).
Fast forward to September 2022, when the queen died and left her family and country heartbroken. Fergie herself spoke out on social media to express how devastated she was by the passing of the monarch, which occurred on September 8, 2022. She wrote on Instagram: "I am heartbroken by the passing of Her Majesty the Queen. She leaves behind an extraordinary legacy: the most fantastic example of duty and service and steadfastness, and a constant steadying presence as our head of state for more than 60 years." She continued, "I will always be grateful to her for the generosity she showed me in remaining close to me even after my divorce." She finished her tribute post on an emotional note: "I will miss her more than words can express."
She has overcome body image and mental health issues
Prince Andrew's ex-wife has gone the record to state that she has struggled with binge eating, body image issues, and other mental health issues. Today, she is a firm believer of therapy and prioritizing one's mental health. In a podcast with Dr. Vijay Murthy, a naturopathic and Ayurvedic practitioner, Fergie details the extent of her past mental health challenges: "I was a binge-eater, I could never get bulimia because I just didn't have that mental state to go that far, but I always wished I could. That just shows you how dangerous and what place I got to. To wish you could have a mental illness to that level is a very serious place to get to."
She later went on to tell Hello! Magazine, "I did have and still have mental health issues, which I work at literally every day, I really do, and I have been in therapy for 24 years," she says. "Sometimes I talk to my therapist on a weekly basis, and then sometimes, when it gets really tough, I jump in and get a quick hit of trying to understand the negativity of the demons of my mind." We say kudos for helping to normalize mental illness and for taking pride in maintaining one's mental health!
If you need help with an eating disorder, or know someone who is, help is available. Visit the National Eating Disorders Association website or contact NEDA's Live Helpline at 1-800-931-2237. You can also receive 24/7 Crisis Support via text (send NEDA to 741-741).
She's an inspiration for following your dreams
Amid her newfound success as a historical romance novel writer, Fergie is an adamant believer in setting new goals and never letting age or time stand in the way of one's dreams. During the Henley Literary Festival, Fergie posted on Twitter an inspirational message: "A reminder that you can be anything you wish to be! I've stared a new career at 62 that I can say I am really proud of."
In today's society, when we look at the job market and the findings of how age and gender discrimination can affect older aged women who are looking to transition careers and job hunt for new jobs, older women are significantly more discriminated against than younger women, and that can make career transitions particularly difficult (via Harvard Gender Action Portal). Therefore, many people on social media found it refreshing and encouraging that Fergie is actively setting a positive example and encouraging other women to follow their dreams despite their age (via Hello! Magazine).
She uses social media to connect with others
Many years after her debut to the world as a member of the British royal family, Fergie continues to be a beloved woman, and one of inspiration, hope, cachet, and intrigue. In today's digital age, she uses her Instagram and Twitter to post pictures and videos of her personal and professional life, showing that even Duchesses are human and relatable. Fergie's Instagram has 423,000 followers as of this writing, and her grid is filled with a variety of photos, including her promoting her new book, hosting story time for children, playing with the royal corgis, posing with her daughters Eugenie and Beatrice, philanthropic efforts, and more. The carefully curated mix of her social media helps Fergie achieve a look that is both polished yet relatable, making her appear royal and normal all at once. Additionally, it is a great way for her to interact and connect with her fans and everyday people from around the world.
She is finding balance with furry friends
Sandy and Muick are the late queen's two beloved Pembroke Welsh corgis who are now living with Fergie and Prince Andrew at the Royal Lodge on the Windsor estate. Fergie considers the adorable dogs to be cherished gifts that have a lot of love to give. Fergie and Prince Andrew appear to the be the natural fit for inheriting dogs, because Prince Andrew is the one who originally gifted the queen the corgis during the pandemic (via the Telegraph). Additionally, sources have also noted that prior to the monarch's death, Fergie and the queen would walk their dogs together (per CNN).
The news that Fergie and Andrew received Sandy and Muick was publicly shared in late October, when Fergie posted on her Instagram a picture of her with the two corgis in a post with a caption that read "The presents that keep giving …"
According to Town & Country, the corgis are quickly adjusting and integrating into Prince Andrew and Fergie's original dog pack of five Norfolk terriers. Furthermore, the additional furry family members are helping bring a spark of happiness, as well as a newfound equilibrium into Fergie's life (per the Telegraph).