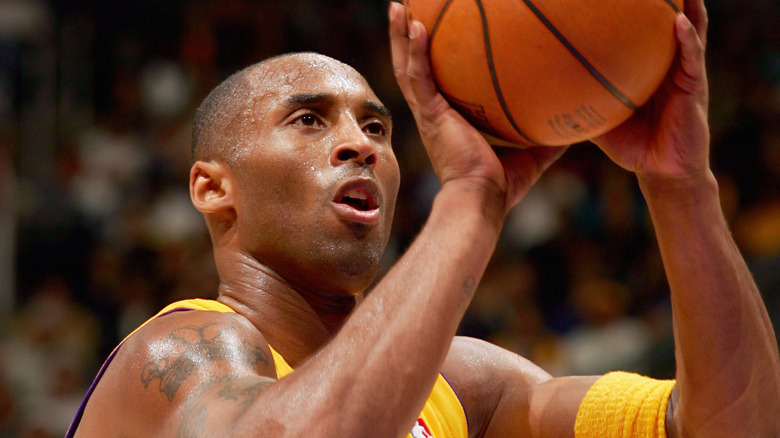 We may receive a commission on purchases made from links.
Few basketball teams can come close to the records, the fame, and the sheer star power of the Los Angeles Lakers. With a roster history that has included legends like Wilt Chamberlain, Elgin Baylor, Kareem Abdul-Jabbar, Magic Johnson, Shaquille O'Neal, LeBron James, and Kobe Bryant, even people who aren't necessarily basketball fans know plenty of players who've worn the gold and purple.
That said, it's also important to note that the Lakers' legacy includes much more than record-setting games (and celebrations), winning streaks, and smooth sailing. Not only has the franchise weathered heartbreaking tragedies, but some of them changed the team forever. From youthful deaths and devastating accidents to forced retirements and even an unsolved murder, the Lakers have had a storied past.
So let's pay a little tribute to the struggles and heartbreaks that made the LA Lakers — and some of their most renowned players — the world-famous team they continue to be.
Wilt Chamberlain's lifelong health issues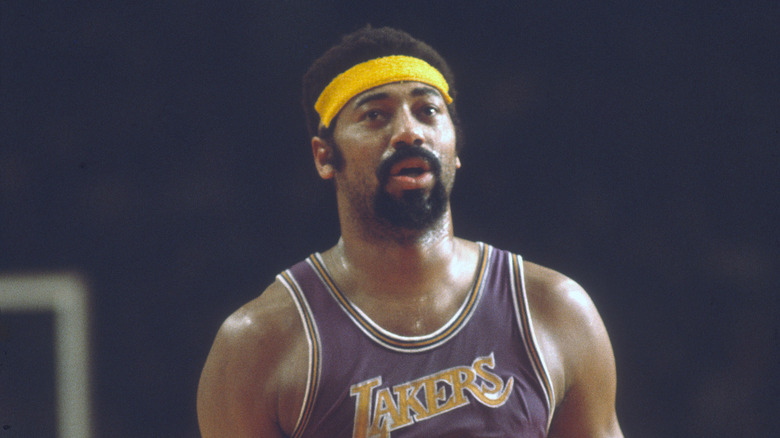 Wilt Chamberlain was a colossus on the court and off. When he died, in 1999, he was still the only person to ever score 100 points in a single game (1962), The New York Times reported. But he died at just 63 years old — and when it was confirmed that his death was connected to congestive heart failure, details started to emerge that he'd had heart problems for much of his life.
After his passing, ESPN pointed to signs that something had been wrong with his health for a very long time. In 1992, Chamberlain was hospitalized for several days due to an irregular heartbeat. His sister later said that not long before Chamberlain was found dead in his Bel-Air home, he had lost around 50 pounds very rapidly, and he had complained about chronic pain.
In hindsight, reports suggested that Chamberlain's heart problems went back to well before his 1973 retirement. In 1964, when he was playing for the San Francisco Warriors, his coach let slip that Chamberlain had a heart attack before the season started. Chamberlain denied it. But CBS said that his complaints of arrhythmia — an irregular heartbeat — went back to at least his early 20s.
The death of Vic Weiss
It was one of the most shocking moments of the HBO series "Winning Time: The Rise of the Lakers Dynasty," and according to The Hollywood Reporter, not only was it absolutely true, but the show's co-creator, Jim Hecht, initially didn't believe it was real.
Vic Weiss, in addition to being a sports promoter, was also really good at closing business deals. It's not entirely surprising, then, that he was smack in the middle of a deal to get the LA Lakers a new head coach. They were on the cusp of the 1980s, they were looking for a change, and it was going to be University of Nevada-Las Vegas coach Jerry Tarkanian (pictured).
But according to the Los Angeles Times, things went sideways in a big way. Weiss disappeared — and three days later, on June 17, 1979, his Rolls-Royce was discovered in a North Hollywood parking lot. Police found Weiss in the trunk: He was dead, courtesy of two bullets to the head.
Despite a nationwide investigation, countless leads, and plenty of tips — among them Weiss' behind-the-scenes involvement with some of Las Vegas' most infamous mobsters and a huge set of gambling debts — the case was never solved. And though Tarkanian's hiring had been pretty much a done deal, the arrangement fell apart amid the murder investigation. Weiss had been carrying paperwork regarding the deal to bring Tarkanian to the Lakers, but fans undoubtedly know that the 1980 season began with Jack McKinney as the Lakers' coach (via StatMuse).
Jack McKinney's bike accident
As The Ringer said, there's a case to be made that the LA Lakers' "Showtime" era revolutionized basketball, brought in a whole new legion of fans, and basically made it all fun.
And here's where the tragedy comes in. The mastermind behind the "Showtime" era was 1979 new-hire head coach Jack McKinney, and he would go on to coach just 13 games, per The New York Times. Why? On November 8, McKinney was riding his bike to play a casual game of tennis against his then-assistant coach (and soon-to-be head coach) Paul Westhead. The gears on his bike locked, and he tumbled to the concrete. He suffered a concussion that put him into a coma for three days. He passed away in 2018 at age 83, and the cause of death was complications from the injury more than 40 years earlier.
Westhead was named interim coach while McKinney was hospitalized. When it became clear that his recovery was going to take longer than the Lakers wanted to wait, Westhead was given the job on a permanent basis. That led to McKinney moving on to other coaching jobs and an early retirement, and it also left the Lakers with a "what-if" moment. In describing his basketball-altering time with the Lakers, McKinney said, "I just put in some ideas that were accepted, and the rest was up to Paul [Westhead] and Pat [Riley] and some great players."
The car accident that killed a 15-year-old boy
It was TMZ that broke the tragic story of a 15-year-old boy who was killed in a 2011 accident involving a car in which the LA Laker and reality-TV star Lamar Odom was a passenger.
Odom was in New York for a funeral when the mishap happened. According to ESPN, the chauffeured Cadillac Escalade Odom was riding in was cut off by a motorcycle, which spun out of control after clipping the Escalade's bumper. The motorcycle then hit a 15-year-old boy named Awsaf Alvi Islam, who was rushed to a hospital but died the next day from his injuries. Just prior to the crash, Odom had greeted fans outside a Queens restaurant. Shortly after, Odom tweeted, "My thoughts and prayers are with the young boy's family."
Islam was buried at Long Island's Washington Memorial Park, after members of the mosque where he was an active member took up a collection to help his family — who are Bangladeshi immigrants — pay for funeral services.
Spencer Haywood nearly had Paul Westhead killed
Spencer Haywood has been pretty straightforward about his struggles with addiction. He once said (via Yahoo!) that he experimented with cocaine when he was at a party in Hollywood, and that from there it was all downhill: "It grabbed me just like that."
Haywood's time with the Lakers would eventually come to an end because of his drug use — he fell asleep at a practice in 1980, resulting in his ousting by the team — but before he was fired, he was suspended by then-coach Paul Westhead. What followed, says The Washington Post, nearly turned deadly.
"In the heat of anger and the daze of coke, I phoned an old friend of mine, a genuine, certified gangster," Haywood later told People magazine. "We sat down and figured it out. Westhead lived in Palos Verde, and we got his street address. We would sabotage his car, mess with his brake lining."
The only reason that they didn't go through with the plan to kill the coach was Haywood's mother: She got wind of the plot and threatened to turn in everyone involved to law enforcement.
Haywood has since spoken freely about how his substance use — which included not only cocaine but Valium, Quaaludes, and alcohol — overshadowed his early career and his trajectory into the ranks of the league's top players. By 2015, according to The Denver Post, he was hoping that his name, too, would be preserved among basketball's greats in the Hall of Fame: "I think I maybe got overlooked."
Magic Johnson's early retirement and HIV diagnosis
According to Jeff Pearlman, a former Sports Illustrated writer and a biographer of the '80s Lakers — it was the freewheeling Lakers' lifestyle of the 1980s that led to a catastrophic diagnosis for one of their best.
It was the height of the AIDS crisis. "There was a lot of infidelity going around the league," Pearlman told GQ, "and I'm not sure the Lakers were incredibly unique in that regard. They just happened to have a superstar who wound up with HIV."
That was, of course, Magic Johnson, who announced on November 7, 1991, that he had tested positive for HIV and would retire from basketball (via History). At the time, he was still known as one of the greatest players in the sport.
Johnson talked about his diagnosis in a 2021 interview with CBS, saying that the hardest part was having to tell his pregnant wife, whom he'd married a month earlier, about the diagnosis. "I wanted to make sure that she was gonna be OK, the baby was gonna be OK, and then I could move forward with trying to make sure I was gonna be OK," he said. Up to that time, his wife and son had not tested positive for HIV.
Johnson has also been candid about his forced retirement, what it was like having old friends no longer want to be near him, and how he needed to reinvent himself as the head of a company dedicated to helping the less fortunate. Johnson's 1995 comeback as a Lakers player lasted just one season.
Things were pretty sexist behind the scenes
Jeff Pearlman is a former writer for Sports Illustrated and the author of "Showtime: Magic, Kareem, Riley, and the Los Angeles Lakers Dynasty of the 1980s." It's a fascinating behind-the-scenes look at one of the most iconic teams in American sports history. According to what Pearlman told GQ, the Lakers' popularity and their larger-than-life lifestyle had some tragic consequences.
At the start of every season, coach Pat Riley would hold a dinner and a pep talk that included players' wives and girlfriends. It wasn't a talk about how they were part of something big, though: "The women, in Riley's words, were … distraction buffers. Kid crying at 2 a.m.? Woman gets up. Man hungry? Woman makes a snack. … If you behave, the result will be rings and money and glory for all."
There was something else the women were expected to respect, and that was whatever happened on the road just wasn't talked about. Not everyone got on board — when James Worthy was busted for soliciting a prostitute, his wife of 12 years, Angela, eventually decided to leave him. She explained to CBS, "Everything that existed before that moment no longer existed. … My whole life just shattered. … We were living two separate lives, and the two were not going to meet."
The death of a 2-year-old boy
In 2010, the Staples Center was the site of a tragic accident that left a family mourning the death of their toddler.
According to NBC News, 2-year-old Lucas Anthony Tang slipped away from his family, who were taking pictures at the end of a game between the Lakers and the Golden State Warriors. Law enforcement said that the toddler had somehow climbed over a skybox safety barrier (which varied in height from 26 to 42 inches) and fallen 25 to 50 feet onto the seats below. He was immediately rushed to a hospital, where he passed away.
The Lakers issued a statement with condolences to the family, and held a moment of silence at the following game. CBS News said an investigation ruled that the boy's death was caused by "multiple traumatic injuries," and that it was accidental.
Multiple Lakers have received death threats
When teams don't do well, death threats definitely shouldn't be expected … but for some LA Lakers, they happened.
In 2020, Danny Green (pictured) missed an important shot in Game 5 of the NBA Finals, and what followed wasn't just abuse on social media, but vows leveled at both him and his fiancee, Blair Bashen. When he spoke about it (via ESPN), he said it was pretty much par for the course, and something he'd learned to block out. "I've been conditioned to everything that I've gotten throughout the whole year and throughout most of the bubble season on social media," Green said. "It was nothing new to me, so it didn't really matter."
The following year, LeBron James received a death threat on a social media post that included a photo of a gun (via Marca). The poster said that at a Nets-Lakers game on February 18, they would fire the gun at James' head "during a timeout." Not long afterward, the same account posted a public apology saying they had no idea death threats weren't funny.
The threats weren't done. In 2022, Russell Westbrook got so many of them that Los Angeles Magazine said he wanted his friends and family to stop attending games — and that they refused to go and experience the hate and vitriol.
Kobe Bryant's death
When Kobe Bryant retired in 2016, he wrapped up a stellar playing career that was also a financial record-setter (via Forbes).
Then, on January 26, 2020, Bryant, his 13-year-old daughter, and seven other people were killed when their helicopter crashed in California. The following year, USA Today looked back at the investigation of the crash and found there were still a lot of unanswered questions. The 1,852 pages of findings were precisely what attorneys needed to pursue wrongful-death suits, but the most heartbreaking lawsuit was still to come.
In 2022, widow Vanessa Bryant sued the law enforcement and fire departments that had responded to the crash, saying they had taken what ended up being personal photos of the crash site and victims, and then sharing them. The photos went public, said NPR, and although they were never shared on the internet or social media, they were passed around by others. Yahoo! later reported that Bryant was awarded $16 million, and another plaintiff in the lawsuit got $15 million.
The accident also resulted in a law making it illegal for first responders to take photos of the scenes to which they are responding.
Multiple Lakers have been charged with domestic violence
Multiple players who have worn the gold and purple of the LA Lakers have been accused of domestic violence.
In 2010, CNN reported that forward Matt Barnes (pictured) had been arrested after a woman called emergency services and the call had been cut short. After officers from the sheriff's department arrived, they said that both were injured, but Barnes was arrested. In 2017, ESPN reported that Barnes (now a Golden State Warrior) had pleaded guilty to disorderly conduct in another choking incident, and in 2022, Yahoo! reported that an ex-girlfriend of Barnes served a restraining order against him.
Two years later, ESPN reported that forward Jordan Hill had been arrested in connection with an incident that led to third-degree felony assault charges, for allegedly choking a woman in his apartment. (The OC Register said he pleaded no contest, paid a $500 fine, was sent to mandatory counseling, and had to make a $100 donation to charity.)
In 2019, The Washington Post reported that DeMarcus Cousins was being investigated over allegations made by a former girlfriend that he had choked her during their relationship and threatened her over the phone. (CBS reported that the case was dismissed.)
Then, in 2021, the New York Post reported that former Laker Darius Morris was being accused of domestic violence in social media posts from his ex-girlfriend. The report noted that Morris had been arrested in 2020 on several charges, including claims that he assaulted and harassed an unidentified woman.
If you or someone you know is dealing with domestic abuse, you can call the National Domestic Violence Hotline at 1−800−799−7233. You can also find more information, resources, and support at their website.
CEO Jeanie Buss has been open about racism and misogyny that the team faces
In 2020, Lakers CEO Jeanie Buss made headlines with ESPN when she shared a letter she had gotten from a "fan" who insisted on spewing racist and misogynistic hate at the team. While the letter isn't worth repeating, her response absolutely is: She shared the letter on her Instagram account, and she said why. "After much thought, I decided to share this letter I received on Monday so that everyone can see the hate is real and living out there. This is happening in our world TODAY. Its real and it exists."
Buss went on to say that it was definitely not the first such letter she'd received. Though she had always been told just to ignore them, she had decided that she was done looking past the hate.
Instead, the team was already taking action. According to the Los Angeles Times, Karida Brown — a UCLA professor of African American studies and sociology, and the Lakers' new director of racial equity and action — posed an excellent question to team COO Tim Harris. Brown asked if the Lakers were a "nonracist organization or antiracist organization," and Harris said that the team was antiracist, in that it was calling out racism in all forms and doing something about it, rather than just "not seeing skin color."