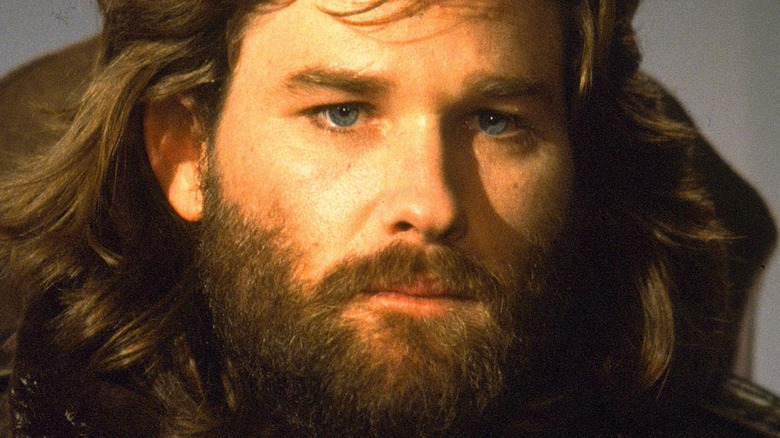 "Nobody trusts anybody now, and we're all very tired." These iconic words spoken by Kurt Russell's character are at the heart of John Carpenter's 1982 classic film, "The Thing." The film takes audiences to a remote scientific outpost on the fringe of Antarctica as it is invaded by a shape-shifting creature from another world. The creature can imitate other life forms, causing the scientists working at the base to start questioning who among them is infected.
Led by dynamic performances from a rather large ensemble cast, this '80s remake of a '50s movie has become an enduring staple of Carpenter's huge filmography (rivaled only by flicks like "Halloween" and "Escape from New York").
John Carpenter's 1982 remake of "The Thing" was a critical and commercial flop when it first came out, with critics failing to understand the appeal of such a gory, paranoia-induced nightmare of a horror film. Legendary critic Roger Ebert only gave the movie two and a half stars. Negative reviews discouraged Carpenter from making big-budget studio movies altogether.
Fortunately, over the years, the film has gained a cult following. These days it holds an impressive 82% score on Rotten Tomatoes with critics and an even higher 92% with audiences. The cast is one of the most praised elements of the film, and each actor portrays their role with incredible nuance.
Kurt Russell
Kurt Russell's character in "The Thing," R.J. Macready, serves as the resident level-headed helicopter pilot of Outpost 31, and he is one of the first characters to realize the severity of the threat an alien thing poses to the team. As one of the last remaining characters alive by the end, fans have long speculated on if MacReady survives or if he was a thing all along.
Since the release of "The Thing" in 1982, Kurt Russell has kept himself busy by continuing to star in movies both big and small. His collaborations with director John Carpenter continued with 1986's "Big Trouble in Little China" and 1996's "Escape from L.A," but his filmography is filled with even bigger starring roles throughout the '90s and 2000s. Some highlights include his role as Dean Proffitt in "Overboard" (co-starring with his wife, Goldie Hawn), Wyatt Earp in "Tombstone," Herb Brooks in "Miracle," and Steve Stronghold in "Sky High."
Within the past decade, Russell has had a bit of a career renaissance with supporting roles in some massive blockbuster hits. Two of these come from collaborations with director Quentin Tarantino, who utilized Russell's talents in both "The Hateful Eight" and "Once Upon A Time in Hollywood." He has also joined the Marvel Cinematic Universe in 2017's "Guardians of the Galaxy Vol. 2" by playing Starlord's father, Ego. Additionally, Russell has become a recurring character in the "Fast and Furious" franchise as the affable government agent, Mr. Nobody.
Keith David
Aside from R.J. MacReady, the only other character to survive the events of "The Thing" is Childs, played by the incredible actor Keith David. Childs is the short-tempered chief mechanic of Outpost 31, who consistently clashes with MacReady throughout the film as they become increasingly suspicious of one another. There is endless discussion among fans about whether or not Childs was secretly infected by the end. While there are some compelling theories involving the drink MacReady gives Childs in that final scene, it all remains intentionally ambiguous to this day.
Keith David has become known for his deep voice and intense method of acting, which has allowed him to continue working well beyond his stint in "The Thing" (which was actually his first credited role). David had starring roles in other notable films such as "Platoon," "They Live," "Armageddon," and "Requiem for a Dream." He has also ventured into more comedic performances with recurring roles in shows like "Community."
In recent years, Keith David has also become renowned as a voice actor for both films and video games alike. Some of the biggest examples of this include voicing the Arbiter in "Halo," Dr. Facilier in "The Princess and the Frog," Spawn in "Todd McFarlane's Spawn," Flame King in "Adventure Time," and as the president in "Rick and Morty." Within the past few years, David has featured heavily with supporting roles in the 2016 comedy "The Nice Guys" as well as Jordan Peele's 2022 horror film "Nope."
Wilford Brimley
You may not realize it, but Wilford Brimley was definitely someone you had seen before on the big and small screens alike. In "The Thing," Brimley played the role of Outpost 31's paranoid senior biologist who quickly realizes that the shape-shifting alien must have infected members of the crew. His role in the story changes from reasonable hero to infected villain when he becomes the last thing left alive to wreak havoc. Overall, Blair is one of the more complex characters in "The Thing" as he rides the line between action and insanity.
Unfortunately, Wilford Brimley passed away back in 2020 from a kidney condition that had been with him for some years prior. He was diagnosed with two-two diabetes in 1979 and famously became a public face for education regarding the disease through a series of commercials for Liberty Medical and the American Diabetes Association.
Although he is no longer with us, Wilford Brimley had an extensive and successful entertainment career under his belt, which continued until his death with roles in films like "Cocoon," "Did You Hear About the Morgans?," "Walker, Texas Ranger," and "Seinfeld."
Brimley was also beloved for his active Twitter account, where he'd make tongue-in-cheek comments about a variety of topics. In one particularly entertaining exchange, Brimley advised Antarctic scientists not to mess with a specimen they found buried in the ice as a hilarious reference to "The Thing."
David Clennon
"The Thing" has a wide cast of characters split into a few camps. Some are brainiac scientists, while others are blue-collar workers, and that's where Palmer comes in. Palmer is a low-key stoner assistant mechanic played by the actor David Clennon. It's revealed towards the end of the film that Palmer was actually a thing. The tension-filled blood test scene is one of the most iconic in the entire film, and it is centered around the reveal that Palmer isn't Palmer anymore.
Palmer is played by David Clennon, although the role was originally going to be given to a more overtly comedic actor like Jay Leno, Charles Fleischer, or Gary Shandling. Instead, it was given to Clennon since he could portray both the silly lines of dialogue along with the more complex dramatic moments required for such a tense film.
Since the '80s, Clennon continued appearing in movies well into recent times with roles in "Flags of Our Fathers," "House of Cards," "J. Edgar," and "Gone Girl." More importantly, he has remained vocal on political issues going all the way back to his active protesting against the Vietnam War.
Following the 2013 release of "Zero Dark Thirty," Clennon openly criticized the movie for its positive portrayal of torture in a statement recorded by Deadline. He opposed the portrayal of torture as an acceptable element of America's war on terror, and he emphasized that he could not vote for the film since he viewed torture as a crime.
Richard Masur
One of the more suspicious characters in "The Thing" is undoubtedly Clark, who handles the dogs at Outpost 31 and is immediately suspected of being infected by Blair, thanks to his proximity to the thing (in dog form). Clark is played perfectly by actor Richard Masur as a calm, cold, aloof loner who prefers the company of animals to people. His standoffishness with the rest of his colleagues puts him in the crosshairs of MacReady, and tensions reach their boiling point as he is killed by gunshot.
Richard Masur's performance is one of the highlights of "The Thing," as he perfectly embodies Clark's introverted personality, his affection towards dogs, and his suspicion towards other people. Masur is a dedicated character actor who has been cast in over eighty films across his five-decade-long career in Hollywood. Some of his most notable recent performances have included playing Geoffrey Solomon in "The Good Wife," Buzzy Rackless in "Transparent," Bill Montgomery in "Orange is the New Black," and Edward L.L. Moore in "Younger."
T.K. Carter
In "The Thing," T. K. Carter plays the role of Nauls, the cook. It's mostly a comedian role, as Nauls is best known for rolling around Outpost 31 on roller skates and seemingly not understanding the severity of their situation until it's too late. In one funny scene where the rest of the cast is discussing the massive extraterrestrial UFO they found in the ice, Nauls is more concerned with someone leaving dirty clothes in his kitchen sink.
As a performer, T.K. Carter has become more known for his various television roles than his feature film appearances. One of his most famous roles is that of Mike Fulton on the NBC sitcom "Punky Brewster," where he starred in 24 episodes of the show.
In recent years, Carter has scored roles in many different series, such as Councilman Johnson in "Everybody Hates Chris," Thelonious Harkness in "How To Get Away With Murder," and Lataurus Price in "Stumptown." He also has an active social media presence on Instagram, where he continues to post about his work, especially "The Thing."
Richard Dysart
Richard Dysart was an award-winning actor who played the role of Dr. Copper in "The Thing." Copper was the base's chief physician and also a close friend of MacReady. The two of them investigate what happens at the Norwegian camp towards the beginning of the film. As Copper becomes implicated as one of the suspects responsible for destroying all the blood samples at the outpost (thus ruining the chance of a blood test), he is sectioned off by his increasingly paranoid companions.
Although he had a long and successful entertainment career, Richard Dysart sadly died of cancer in 2015 at the age of 86. He was a prolific performer with countless credits in both film and television. Some notable examples of his work include his role as Cromwell in "Wall Street" and Henry Sears in "Hard Rain." Overall, the highlight of his impressive career remains his performance as Leland McKenzie in the NBC legal drama "L.A. Law," for which he won a Primetime Emmy.
Thomas G. Waites
"The Thing" isn't all just grumpy old men and angry shapeshifting aliens; there are also some younger characters like Windows (played by Thomas G. Waites). Windows is Outpost 31's goofy radio operator who seems to always be wearing sunglasses regardless of being indoors. He is shown to be a short-fused, lazy, and confused member of the crew who is less equipped to handle the stress of a hostile alien life form than most.
Windows is played by the actor Thomas G. Waites, who has had an impressive career since he got started at the Juilliard School in the 1970s. He has appeared in numerous film and television roles throughout his time as an active performer, such as "The Warriors," "Miami Vice," "Buffy the Vampire Slayer," "Oz," "Homeland," and "The Punisher" to name a few. Interestingly, Waites also has a New York-based acting studio in where students can learn the artform first hand.
Donald Moffat
The leader of Outpost 31 in "The Thing" was Gary, the station commander played by British-American actor Donald Moffat. He was a stern, sensible captain who had difficulties keeping his cool under the pressure of his crew getting infected by a creature from space. Although he lasts longer than most characters in the film, he still meets a grim fate at the hands of the thing alongside MacReady and Nauls in the climactic engine room confrontation scene.
Actor Donald Moffat was an active performer who got his start in the 1950s. He even trained at the Royal Academy of Dramatic Art in London. He had a long and fruitful career in films such as "The Right Stuff," "Babe Ruth," and "Clear and Present Danger." Additionally, he became known for television performances such as in "Logan's Run," "Columbo," "The West Wing," and "Law and Order: Trial by Jury" (which ended up being his last role). Sadly, Donald Moffat passed away in 2018, only six days before his 88th birthday, but he is remembered by many as an incredible acting talent.
Adrienne Barbeau
You may not have even realized it, but Adrienne Barbeau makes a brief cameo in "The Thing" as the voice of the chess wizard computer that MacReady is using in the introductory scene. Although the movie is generally considered to have a male-only cast, this subtle inclusion of Barbeau is fitting since she had been a longtime collaborator with John Carpenter (as well as his wife from the years 1979 to 1984).
Adrienne Barbeau is an actress who has become iconic for her roles in projects like the original Broadway run of "Grease" as Rizzo, Carol in "Maude," Stevie in "The Fog," Maggie in "Escape from New York," and her voice-over performance as Catwoman in "Batman: The Animated Series."
She has remained active in both television and video games in the past decade with appearances in "Sons of Anarchy," "Swamp Thing," "Creepshow," and "American Horror Stories," to name a fraction of her filmography. Barbeau has also continued voiceover work in games like "God of War III" and "Halo 4."