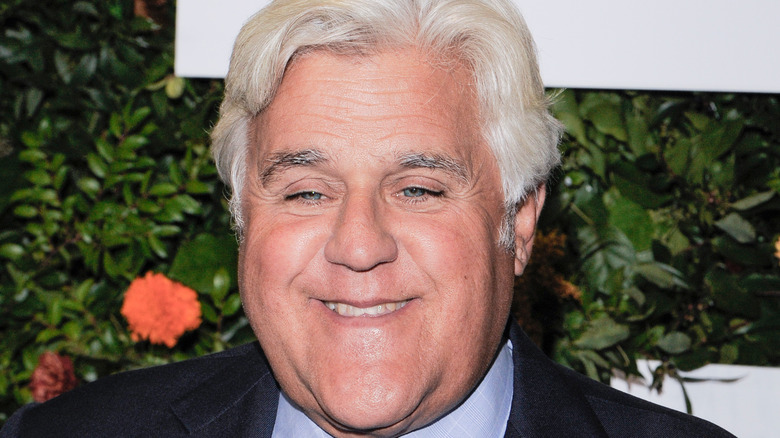 The history of American late-night television would have been remarkably different without the quick wit and observational humor of Jay Leno. The native New Yorker held NBC's coveted "The Tonight Show" hotseat for more than two decades — albeit with a controversial break toward the end of his tenure — picked up several awards, and regularly beat nemesis David Letterman in the ratings war.
But Leno appeared to have just as many detractors as he did fans, particularly in the celebrity world, where his motormouth persona, reported inability to stick to his word, and betrayal of his stand-up roots rubbed a whole host of famous faces the wrong way.
From several of his former talk show rivals to comedians both firmly in and well outside the mainstream, here's a look at 14 showbiz names who have tested Leno's ability to take it as much as he can dish it out.
Arsenio Hall threatened to kick his a**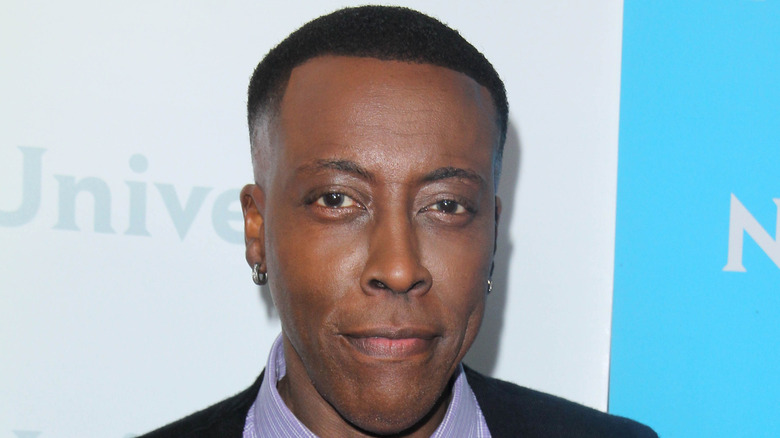 The rich and famous didn't wait long to start taking aim at Jay Leno once he joined the highly competitive world of late-night TV. Arsenio Hall was particularly keen to let the New Yorker know he wouldn't be in for an easy ride, telling Entertainment Weekly in 1992 he had little respect for his new rival's talents.
Hall took particular umbrage with reports claiming he was bosom buddies with the car enthusiast: "I have no problem about saying good things about my competitors, but Jay Leno and I aren't friends! And you know what? I wasn't anointed, okay? No one put the late-night silver spoon in my mouth. I earned every drop of mine. And I'm gonna treat him like we treated the kid on the high school basketball team who was the coach's son. He was there because he was anointed too. We tried to kick his a**, and that's what I'm going to do — kick Jay's a**."
Hall contradicted himself shortly after when he told "Good Morning America" (via Entertainment Weekly) he used to have a friendship with Leno before adding, "Something's wrong with someone who is always surprised about people being upset with him." The "Harlem Nights" star continued his tirade in the same outlet that was oh so invested in the late-night wars. Hall accused his ex-pal Leno of being two-faced and spreading a rumor that was both "racist and insulting," while pointing out that himself, David Letterman, and Johnny Carson had worked harmoniously for three years without a war of words.
Dennis Miller no longer talks to Jay Leno
Just six months after debuting in 1992, the same year Jay Leno took "The Tonight Show" mantle, "The Dennis Miller Show" was dropped from the schedules. The then-jobless comedian appeared to take the news in his stride, telling viewers that he'd release his delegates to fellow talk show hosts David Letterman and Arsenio Hall.
But the fact that Miller didn't mention Leno suggested that there was some kind of beef between the pair. And this was confirmed just weeks later in an interview with Entertainment Weekly, with the former remarking, "Jay and I were very good friends at one point. I don't think I'd talk to him again, nor would he want to talk to me. About 'The Tonight Show,' put it this way: They want to win really badly."
Miller appeared to imply that the NBC staple had played dirty when it came to booking famous names, something which its host refuted: "We weren't keeping people off their show. Do we say to guests, 'We'll give you this and that, we have a bigger audience, we'll fly you in, we'll pick you up in a limo?' Yeah. But please! That's the game!"
Jimmy Kimmel questioned Jay Leno's comic skills
A year before "Jimmy Kimmel Live!" entered the pantheon of American late-night talk shows, its host put the cat among the pigeons by throwing shade at one of his soon-to-be-rivals. Yes, in a 2002 interview with TV Guide (via The New York Times), Kimmel joked, "I want to do the comedy version of 'The Tonight Show,'" a jibe which apparently cut Leno deep.
Although he'd apparently mended his relationship with Leno by the time he spoke to The New York Times months later, Kimmel still couldn't resist getting a few more digs in: "I think he turned comedy into factory work — and it comes across." Kimmel discussed how his publicist had been contacted by Leno following his initial put-down, summing up the situation with, "It's just amazing how insecure he is." To make his feelings crystal clear, the self-effacing funnyman added, "The people who like Leno are largely the stupid group. The people who root for Letterman are the smarter group. The people who like me? Also stupid. I figure I cut into the dummies."
But Kimmel saved his most ruthless shade for a 2010 episode of his self-titled show in which he spent the entirety impersonating Leno. Kimmel sported a giant prosthetic chin and unflattering grey wig for the occasion, and although he was later invited to appear on Leno's show to discuss the impression, the pair apparently haven't spoken since then. Leno appeared on Bill Maher's "Club Random" podcast and apologized to Kimmel for a previous misunderstanding, when Leno was considering moving to ABC and interfering with Kimmel's time slot.
George Lopez described Jay Leno as the biggest two-faced dude in TV
George Lopez found out how brutal the late-night chat show circuit can be when his TBS vehicle "Lopez Tonight" was axed in 2011 after just two years on air. The first ever Mexican-American to be given such a gig was unlikely to have been consoled by Jay Leno, however.
In 2007, Lopez tore into his fellow stand-up-turned-talk show host in an interview on Orlando radio station WOMX 105.1. The star said on the "Scott and Erica Show" (via Page Six) that he hoped to start a beef with Leno, saying, "Leno is the biggest two-faced dude in TV." So what had gone down between the pair to cause such a hostile reaction?
Well, according to reports, Lopez appeared to be insulted by the fact that Leno had dropped him like a hot potato in the wake of his 2005 surgery: "When I had my [kidney] transplant, he called me and was the nice guy on the phone. And then he just puts the knife in your back." The Californian also took aim at his new nemesis' professional capabilities, adding, "It tells you something about Jay Leno if Conan O'Brien is coming into 'The Tonight Show' when Jay Leno is still young enough to be the host. The dude's, like, the worst interviewer on TV."
Patton Oswalt compared Jay Leno to Richard Nixon
While some celebrities were content to stay neutral during the late-night talk show debacle between Conan O'Brien and Jay Leno in the early 2010s, others were more than happy to take sides. And it was pretty clear who multi-talented comic Patton Oswalt was rooting for.
In an interview with podcast "Comedy Death Ray," the Emmy Award winner questioned Leno's determination to wrestle back the most coveted slot in NBC's late-night schedules: "You almost want to take [Leno] aside and go: 'Why do you want this so badly? Because you don't do anything with it.' Whereas Conan clearly wants the show because there are things he's dying to do with his writing staff and on the air…places he wants to take the show."
Oswalt, who'd guested on Leno's show several times previously, also compared the star's obsession with power to Richard Nixon's. But Oswalt was keen to point out that he didn't enjoy roasting the man he once respected: "Comedians that don't like Jay Leno now, and I'm one of 'em — we're not like, 'Oh my God, Jay Leno sucks.' It's that we're so hurt and disappointed that one of the best comedians of our generation … willfully, like, threw that switch off."
Howard Stern feels Jay Leno isn't 'fit to scrub David Letterman's feet'
It's little surprise to discover that the most relentless Jay Leno-basher in the showbiz world is Howard Stern. The shock jock appears to treat insulting his fellow talk show host as a sport, describing him as everything from "insane" to an "a**kisser" over the years.
Referring to Leno's final (well, what was supposed to be final) "The Tonight Show" in 2009, Stern remarked on "The Late Show with David Letterman" (via TV Guide), "I've never seen anybody who behaves like a robot like this guy. Where's the emotion? Where's the humanity?" On Leno's controversial return, the "Private Parts" star revealed to CBS' "Early Show" that the car enthusiast made him nauseous.
"Jay is insane, and Jay is a crook … he steals a tremendous amount of material. He's not fit to scrub David Letterman's feet," Stern said in a chat on "Piers Morgan Tonight." Stern later appeared on Letterman's show to express frustration with the host patching things up with his main rival. He said (via Entertainment Weekly), "I feel like a Vietnam veteran! I feel like I'm still in the jungles fighting your war, and you've made up with Vietnam! Jay Leno will forever blow my mind. This is a guy, he took "The Tonight Show" from you … Mind you, I work for NBC Television now, and I'm not speaking to Jay Leno."
Conan O'Brien will never speak to Jay Leno
Few celebrities have more grounds to hate Jay Leno than Conan O'Brien. In 2009, the latter replaced the former as host on "The Tonight Show," a development which had been in place for years. But the redhead's patience didn't exactly pay off. Instead of walking away gracefully from NBC, Leno decided to stick around with a new eponymous show that initially aired straight after "Tonight." And when the network decided to switch this new struggling show to an earlier time, essentially bumping "Tonight" to a post-midnight slot, O'Brien was left with no option but to quit.
O'Brien first addressed the drama on the show itself, telling audiences (via "Today"), "Hosting 'The Tonight Show' has been the fulfillment of a lifelong dream for me, and I just want to say to the kids out there watching, you can do anything you want in life. Unless Jay Leno wants to do it too."
The star told The Hollywood Reporter in 2012 that Leno hadn't built any bridges: "He certainly isn't calling me. It's not like he's going to sneak up on me in traffic. … The odds are we will both leave this earth without speaking to each other, which is fine. There's really nothing to say. We both know the deal. He knows; I know. I'd rather just forget." That same year, O'Brien guested on "Letterman," where he offered an unflattering impression of his talk show nemesis.
Rosie O'Donnell argued Jay Leno played dirty
Another famous face keen to show they were firmly on Conan O'Brien's side during the ultimate late-night talk show war was Rosie O'Donnell. The comedian, who had her own syndicated daytime chat show back in the 1990s, told HBO's Television Critics Association panel (via Today) she believed that Jay Leno had played dirty.
O'Donnell remarked, "I have been a big fan of Conan O'Brien … and ['The Tonight Show' is] a franchise that has been 60 years with NBC, and if you're privileged enough to be asked to drive the bus, you should say thank you and drive it to the best of your ability and when it's time for them to hire a new driver, you should say, 'Thank you for allowing me to drive this for as long as I did,' and pass the keys to the new guy with red hair, and not try to flatten his tires, before he even gets going."
The funnywoman also compared Leno's behavior to another major pop culture scandal, the 1994 incident in which Nancy Kerrigan was attacked by rival ice skater Tonya Harding's husband. She told Us Weekly, "At least Jeff Gillooly took a pipe and [admitted] he did it. He didn't do it and go, 'I don't know who hit her.' Gee, it was you, you're the one who hit her right in the knee, you know?" It was Shane Stant who carried out the action of hitting Kerrigan, but O'Donnell's point is received.
Johnny Carson snubbed Jay Leno
Sometimes it's what you don't say that can be more telling than what you do. For example, you might have expected "The Tonight Show" legend Johnny Carson to big up his successor after his retirement in 1992. But the name Jay Leno rarely passed the talk show legend's lips.
Indeed, Carson didn't mention Leno on his final episode of "The Tonight Show," nor did Leno ever turn up as one of his guests. To add insult to injury, the TV icon was more than happy to pal up with Leno's closest rival. Yes, Carson made his last ever TV appearance on "Late Show with David Letterman" and reportedly sent its host jokes for monologues right up until his death in 2005.
This love-in continued with an Emmy Awards tribute to Carson shortly after. Letterman delivered a heartfelt and funny eulogy at the ceremony, but a publicist for "The Tonight Show" told Entertainment Weekly that Leno hadn't been invited to contribute.
John Oliver called Jay Leno a hypocrite
In 2019, Jay Leno told NBC's "Today" that he wished there was more "civility" in the current era of late-night television. This call didn't go down particularly well with one of the modern critical favorites, John Oliver, who used his "Last Week Tonight" show as a platform to point out the grey-haired funnyman's hypocrisy.
Oliver reminded viewers that back in the day, the talk show circuit used Monica Lewinsky as a punching bag in the wake of the Bill Clinton sexual relations scandal. And while he acknowledged that many comedians have apologized for their part in the pile-on, Oliver said, "One who hasn't, and who is the among the most relentless, was Jay Leno." The host then recalled some of the latter's offensive quips before adding, "Those jokes have not dated well in any sense of the word. And they're pretty rough, especially coming from a guy who just this week complained about late night TV saying he'd like to see a bit of civility come back."
Acknowledging that he, too, had been guilty of shaming Lewinsky during his time on "The Daily Show," Oliver finished the piece in typically emphatic style: "If that's what he means by civility, may I offer my new book: 'Oh, the Places You Can Go F*** Yourself, Jay Leno!' Look how civil I'm being. Look how civil this is!"
Joan Rivers flipped Jay Leno the bird
Johnny Carson issued a "Tonight Show" ban against one of its regular stand-in hosts, Joan Rivers, in retaliation for her acceptance of a hosting gig on rival network Fox. Of course, this was in 1986, and the restriction could have been lifted by Jay Leno when he became NBC's main man six years later. But the host decided to respect his predecessor's wishes instead.
In 2014, new host Jimmy Fallon finally rescinded the ban and allowed the sharp-tongued Rivers to grace "The Tonight Show" set. After filming her comeback, the comedian flipped Leno the bird while remarking to "Inside Edition," "The f***ing curse is gone. To Jay! Well, Jay. 23 years. I'm still here, and you're going to be selling cars." Two years earlier, Rivers had addressed the feud on "Watch What Happens Live with Andy Cohen" (via HuffPost), where she claimed that she didn't care about patching things up with Leno: "He's not funny, so who gives a s***?"
Following Rivers' death in 2014, Howard Stern conducted an interview with her daughter Melissa and argued that Rivers was more bothered than she led on: "Joan was genuinely miffed that when Jay Leno took over 'The Tonight Show,' that Jay carried on Johnny's hostility and wouldn't have her on 'The Tonight Show.' Now no one's better on "The Tonight Show" than Joan."
Bill Hicks felt Jay Leno was a sellout
Bill Hicks took aim at everyone from Billy Ray Cyrus to Rush Limbaugh during his tragically short career. But perhaps his most famous celebrity takedown was of a man who'd helped secure him a spot on "Late Show with David Letterman." Yes, in a routine delivered a year before his 1994 death, the cult comic destroyed the then-newly-anointed host of "The Tonight Show," Jay Leno.
In one of his darkest jibes, Hicks envisaged an episode in which the lameness of his celebrity guest would cause Leno to kill himself live on air. Impersonating the host, the satirist then conducted an interview with an imaginary Joey Lawrence of "Blossom" fame: "Boy, it was always my comedic dream to be 44 years old and be interviewing a little Tony Danza wannabe every three months. Boy, I'm fulfilled as a human spiritually."
Hicks continued the vulgar impersonation and took umbrage with Leno's decision to front a Dorito's commercial; in his mimicry, Hicks reimagined the ad to have Leno getting intimate with Beelzebub.
If you or anyone you know is having suicidal thoughts, please call the National Suicide Prevention Lifeline​ by dialing 988 or by calling 1-800-273-TALK (8255)​.
Andy Richter has ill feelings toward Jay Leno
Another casualty of the talk show war between Conan O'Brien and Jay Leno was the former's sidekick. But unlike his co-star, who largely kept things diplomatic during all the drama, Andy Richter made his feelings about the whole debacle crystal clear.
On "Live with Regis and Kelly," after Leno essentially put paid to Conan O'Brien's stint on "The Tonight Show," Kelly Ripa asked Richter, "Do you have any ill feelings towards NBC and Jay?" Richter responded, "Yes, yes I do. Why wouldn't I? … Everybody said they were gonna do something and then they didn't."
Later that same year, Richter freely admitted that he took great pleasure in the fact that Leno had failed to beat O'Brien in the ratings, telling the New York Post, "I don't want to wish ill will on anybody, but I would be lying to you if I said it didn't feel a little bit fun to hear that — that there wasn't some kind of feeling of reward in that." The funnyman also proved that he hadn't forgotten about Leno's betrayal during a 2016 chat with Fox News. When asked whether he'd cross the street to avoid talking to the star, Richter replied, "No, I say, 'Hey Jay,' but I keep going."
David Letterman enjoys making fun of Jay Leno
David Letterman took a while to make his feelings clear about his late-night talk show rival. It wasn't really until the year 2000, after he'd just undergone heart surgery, that the TV icon even mentioned Jay Leno. And even after poking fun at the man's turn-of-the-century chat with George W. Bush ("Now, there's a real summit meeting"), Letterman largely kept quiet for another nine years.
But it's fair to say that he's since made up for lost time. In 2009, Leno revealed that a flattering letter he sent to Letterman after another heart operation was never responded to. In 2010, the "Late Show" host described his nemesis as "Big Jaw" while also serving up a derogatory impression (via Entertainment Weekly). As the talk show war continued to escalate, Letterman quipped about a "Law and Order" spinoff, Leno Victims Unit, which would follow two different kinds of hosts: "Jay Leno, and those who have been victimized by Jay Leno."
Letterman's offensive tactics didn't end there, either. During one particular monologue, he admitted, "I'm telling jokes and making fun of Jay Leno relentlessly, mercilessly, simply for one reason: I'm really enjoying it. It's just fun!" (via Entertainment Weekly). And although the pair have since appeared to call a truce, it seems unlikely that they will be sending each other Christmas cards any time soon.