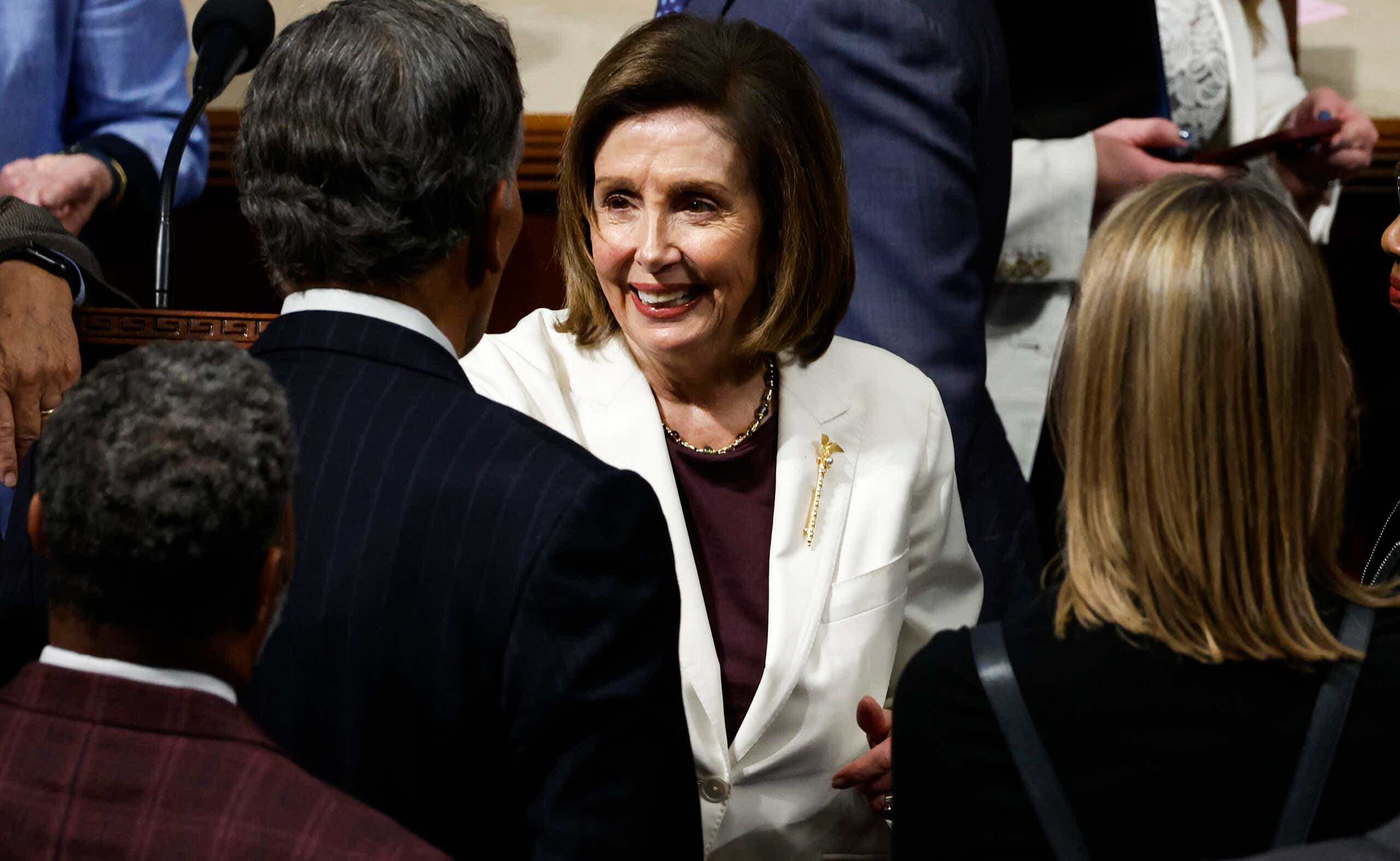 The first female speaker of the House is stepping down after two decades as Democratic leader.
Nancy Pelosi, the first female speaker of the House, has announced she'll step down after two decades as Democratic leader. "For me, the hour has come for a new generation to lead the Democratic caucus that I so deeply respect," the 82-year-old said. Her carefully-worded announcement comes less than three weeks after her husband was brutally attacked at home.
Pelosi did not name a successor, but her words indicated a shift toward a more youthful generation of Democratic governorship. According to reports, Rep. Steny Hoyer, the current majority leader, and Rep. Jim Clyburn, the whip, will both step aside in favor of younger candidates as well. The pair are 83 and 82 years old respectively.
Hakeem Jeffries, the current chairman of the Democratic caucus, has been named by a number of outlets as the most likely person to take over Pelosi's role — and when Mr. Hoyer confirmed his plans to retire to Reuters, he also endorsed Mr. Jeffries for minority leader. Jeffries himself was careful not to formally confirm his candidacy as he left the chamber following Pelosi's emotional farewell speech, telling reporters that it was "the day to celebrate the extraordinary accomplishments of Speaker Nancy Pelosi, a leader for the ages."
In a formal statement, he said that Pelosi "is the most accomplished Speaker in American history and our country is unquestionably better off for her extraordinary leadership."
He continued to call her "the steady hand on the gavel during some of the most turbulent times the nation has ever confronted," adding: "The Speaker often reminds us that our diversity is our strength. I know we will draw on that wisdom as we come together as a Caucus to begin a new chapter."
A corporate lawyer born and raised in Brooklyn, Jeffries has represented New York's 8th congressional district since 2013. If he became leader, the 52-year-old would be the first Black person to lead a party in Congress.
Rep Katherine Clark of Massachusetts, 59, and Rep Pete Aguilar of California, 43, have been pegged as the likely next caucus chair and whip. Elections will be held on November 30 — before which other candidates will have the chance to announce their bids.
The trio is expected to be a tough alliance to beat, as they've worked closely together over the last couple of years. They're most associated with the establishment wing of their party, and the BBC notes that Jeffries especially is prone to clashing with members who lean further left.
Pelosi has also said that she intends to remain in the House as a backbencher, to smooth the transition to new leadership.
"My friends, no matter what title you all my colleagues have bestowed upon me, Speaker leader whip. There is no greater official honor for me than to stand on this floor and to speak for the people of San Francisco. This I will continue to do as a member of the House speaking for the people of San Francisco, serving the great state of California and defending our Constitution, and with great confidence in our caucus," she said.
Want more great content?
Sign up here to jumpstart your mornings with Katie's dynamic daily newsletter, Wake-Up Call.